At These Costa Rica Retreats, Wellness Considers People and Planet
From the jungle to the beach, these immersive experiences are not only inspired by nature but also help conserve it.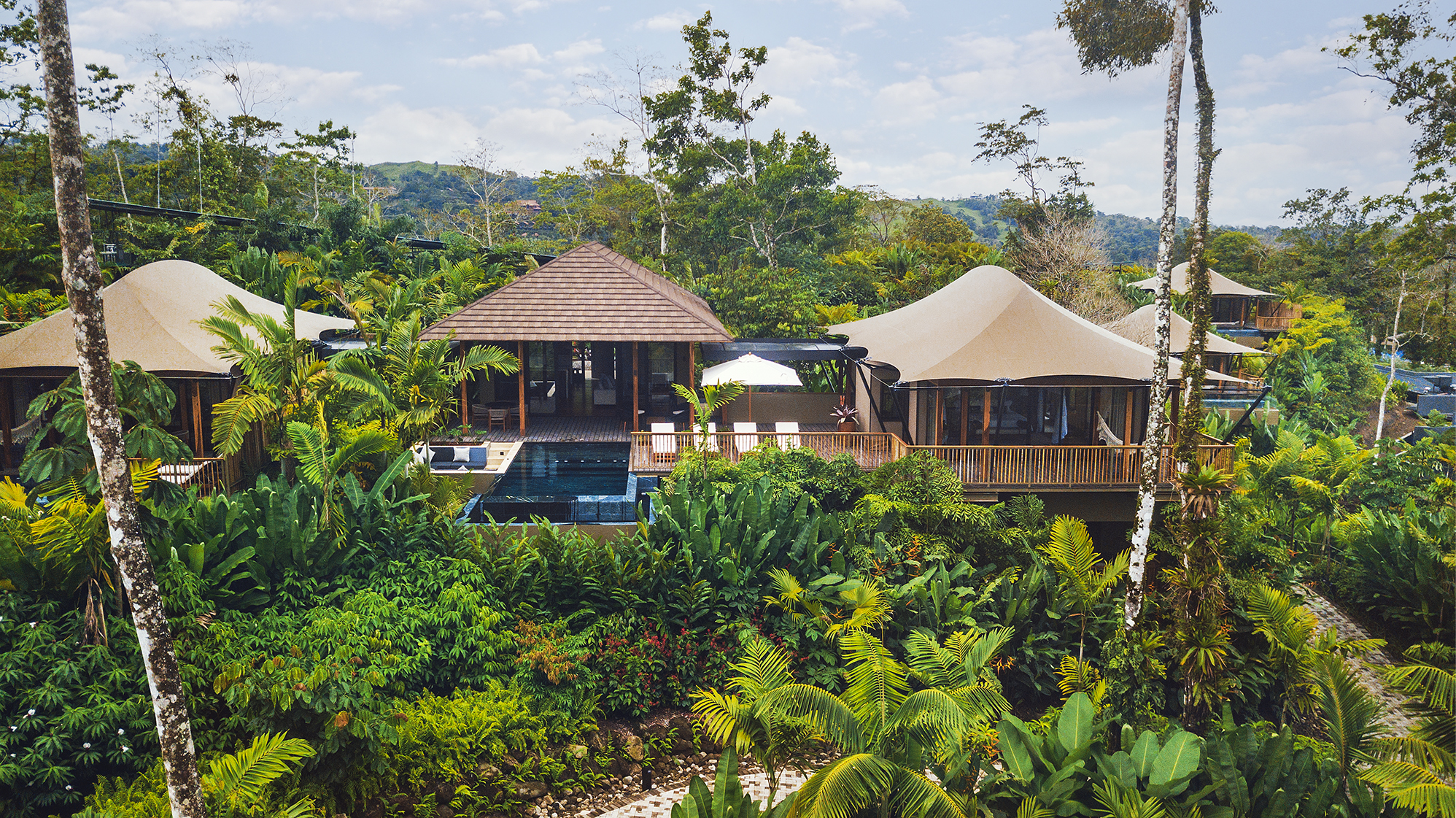 At the foot of the Arenal Volcano in northern Costa Rica, a network of thermal pools and rivers braids through a lush rainforest reserve. It is where Tabacón Thermal Resort and Spa was founded with the aim of protecting this jungle ecosystem while allowing guests to reap the healing benefits of the hot springs. Floating in the therapeutic waters under the shade of giant palms is part of the holistic wellness program travellers come here for, including an open-air spa and an immersive mind-body Escape experience. But visitors are just as likely to find themselves getting their hands dirty planting trees, because Tabacón also prioritizes environmental health.
The resort's founder, Jaime Mikowski, reforested 900 acres of pastureland in the area to re-establish a rainforest that is now home to 200 species of endemic flora and fauna, a legacy that continues today. Tabacón's sustainability strategy aligns with the United Nations Sustainable Development Goals, including reducing energy consumption via solar power, supporting local communities through education initiatives, and continuing to reforest the 870-acreproperty. When guests plant trees, the focus is on species that are in danger of extinction or provide habitat for wildlife, such as the almendro tree, an at-risk species that attracts the critically endangered great green macaw.
Climate change is a mounting threat to human health, and more wellness-focused properties are recognizing that connection with experiences that heal both people and planet. Not far from Tabacón, Nayara Tented Camp embraces a similar ethos. Stilted glamping tents were designed by Luxury Frontiers to have minimal impact on the surrounding environment. The resort worked with forester and landscape architect Matthew Flynn of Vida Design Studio to replant trees like the guarumo—a main food source for sloths—across the property and surrounding mountainside, an area previously used for cattle ranching.
Nestled in emerald rainforest near the Arenal Volcano, a night in one of Nayara's luxury tents set to the sounds of the jungle is enough to make stress levels drop. But the resort also recently launched a wellness itinerary inspired by the four elements—fire, water, earth, and air—which includes sound therapy, meditation, and an Ayurvedic-inspired culinary program. Learning about the surrounding through biodiversity and conservation education is also part of the experience. Guests can take part in tree planting during their stay or tour the surrounding trails with a naturalist, where they'll learn that the property now serves as a sanctuary for animals like sloths and armadillos, as well as myriad bird species.
Travellers seeking a rejuvenating experience in Costa Rica will also want to make their way from the jungle to the white-sand shores of the Nicoya Peninsula. The area is one of five "blue zones" in the world, determined by researcher Dan Buettner as regions where the world's oldest and healthiest populations live. The high number of centenarians living there is attributed to social and environmental factors. Spend a few days at Nantipa, a barefoot luxury resort in the laid-back beach town of Santa Teresa, and you'll see how the soothing environment fosters wellness.
Guests can take in ocean views from one of the beachfront villas or bungalows, experience the holistic wellness program, and spend time helping conserve the surrounding marine ecosystem. Visitors are encouraged to take part in beach cleanups and also have the opportunity to volunteer with Cirenas, a nearby turtle conservation centre. Because in Costa Rica, living pura vida or "pure life," a local expression of happiness and optimism, means considering the health and well-being of the entire ecosystem.