A Modern Art Lover's Guide to Texas
The Lone Star State's must-see museums and installations.
America's second most populous state might be best known for its superlative barbecue and cowboy culture, but Texas' combination of wide-open spaces and oil-boom wealth have also, over the years, made it into a compelling destination for art and design enthusiasts.
Many thousands of visitors from around the world make the lengthy pilgrimage to West Texas each year to tour the Chinati Foundation, a museum in the small city of Marfa, and pose in front of the nearby, Instagram-famous Prada Marfa art project. Across the state, there are six James Turrell Skyspaces, two permanent Dan Flavin installations, and countless contemporary and modern-art museums and galleries hosting world-class exhibitions.
Here are the galleries and artworks you won't want to miss on your next trip to Texas.
Chinati Foundation
A three-hour drive from the closest international airports (in El Paso and Midland), this popular East Texas museum alone is worth the trip to the Lone Star State. Donald Judd's large-scale, site-specific installations in mill aluminum and concrete are the highlights, but you won't want to miss the six buildings housing Dan Flavin's neon lights, or artwork by the likes of John Chamberlain, John Wesley, or Claes Oldenburg and Coosje van Bruggen. If you can, time your visit to coincide with the annual Chinati Weekend in October, when the weather is generally great and the foundation hosts a benefit dinner and special exhibitions, and opens its doors to the public free of charge.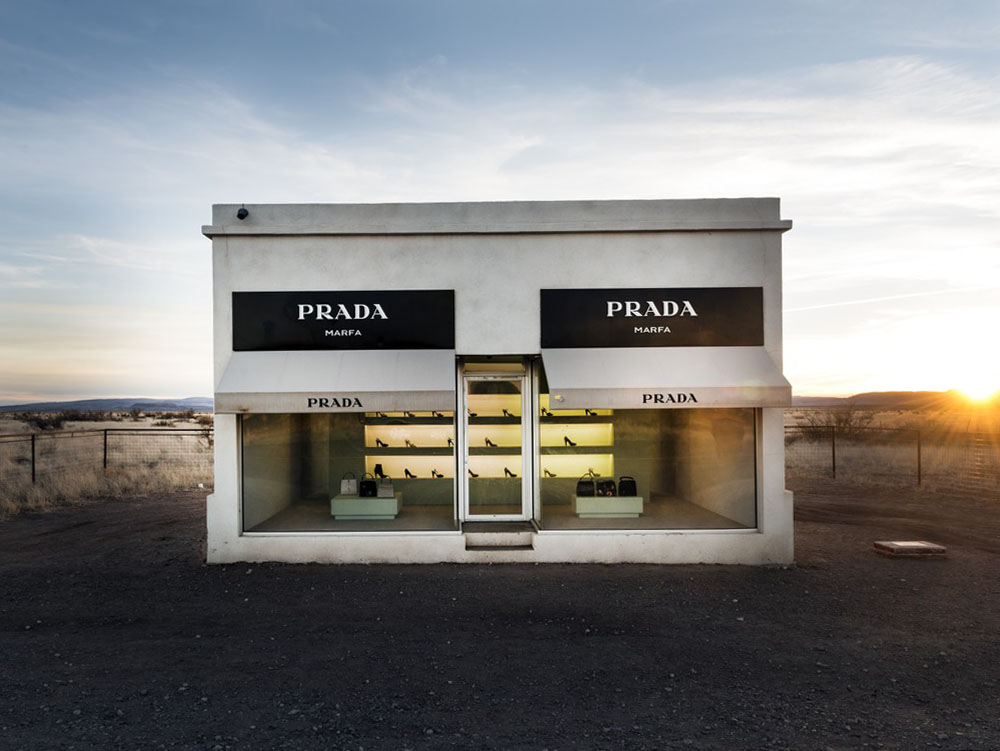 Prada Marfa
Located on the side of a rural highway in Valentine, Texas, this Instagram-famous work is about 35 miles outside of Marfa. Installed by the artist duo Elmgreen & Dragset in 2005, the permanent land-art sculpture mimics the appearance of a Prada store. Real merchandise, donated by the brand, sits inside its locked doors, but with a few notable characteristics: after a theft, all of the purses were replaced with their bottoms removed, and the shoes are all right-footed.
The Contemporary Austin
This art museum has two locations: the modern Jones Center downtown focuses on events and temporary exhibitions, while the beautiful Laguna Gloria outpost offers lush green spaces and the Betty and Edward Marcus Sculpture Park, where peacocks roam the grounds and there are both exhibitions and permanent installations. You'll want to look out for works by Ai Weiwei, Elmgreen & Dragset, Carol Bove, and Tom Sachs in the sculpture park.
Landmarks, UT Austin
The Landmarks public art program—free and featuring over 40 works of modern and contemporary art—at the University of Texas at Austin's main campus makes for a lovely afternoon's walk through downtown Austin. There are sculptures, installations, and canvases by artists including Sol LeWitt, Ben Rubin, and Mark di Suvero, and a highlight is James Turrell's The Color Inside Skyspace. (There's another stunning Skyspace on the Rice University campus in Houston.)
The Menil Collection, Houston
This sprawling, free museum complex in Houston is a must-visit. Its main building features temporary exhibitions and pieces from the Menil's permanent collection—you'll see everything from Andy Warhol silkscreens to medieval art to paintings by Yves Klein and René Magritte. But the outbuildings are not to be missed: the Menil Drawing Institute opened its gallery just last year, and the Cy Twombly Gallery, filled with his large-scale paintings of looping marks scribbled on raw canvas, offers a calming experience. (Note: The museum's Dan Flavin installation at Richmond Hall is currently closed for roof repairs, as is the nearby but separately run Rothko Chapel.)
Dallas Contemporary
This non-collecting museum—meaning, it is without a permanent collection and does not deal in new acquisitions—is free and offers a interesting programming schedule. Currently on view through August 2019 are separate exhibitions by two fashion photographers—Kate by Mario Sorrenti and Mabel, Betty & Bette by Yelena Yemchuk—a retrospective of the groundbreaking indie magazine Self Service, and an installation by Francesco Clemente.
Dallas Museum of Art
With the exception of ticketed exhibitions, Dallas' largest art museum is also free. Its extensive permanent collection features a broad range of artworks and examples of modern design, from a Matisse still life to mid-century Tupperware. You'll want to book tickets for the breathtaking Dior: From Paris to the World exhibition, on until September 1. Featuring over 170 haute couture looks and 32 dresses in a stunning display, the travelling exhibit is a must-see for fashion enthusiasts and design aficionados alike.
Nasher Sculpture Center, Dallas
Located across the street from the Dallas Museum of Art, the Nasher Sculpture Center is a sculpture-filled haven for those seeking respite from the city's bustling downtown scene. Its manicured garden is lovely to walk through, and its special exhibitions and recent installations have highlighted work by artists such as Sheila Hicks and Pablo Picasso.
Modern Art Museum of Fort Worth
This modern, airy museum is certainly worth the 55-kilometre drive west from Dallas. Works on view this summer from the permanent collection include Josef Albers oils, an LED installation by Jenny Holzer, and installations by artists including KAWS, Roxy Paine, Cy Twombly, and Richard Serra. There's also a retrospective of American painter David Park and a show entitled ​​Disappearing—California, c. 1970. In recent years, the Modern has also hosted shows by both prominent names, such as Takashi Murakami, and emerging artists like Ron Mueck and Kehinde Wiley.
_________
Never miss a story. Sign up for NUVO's weekly newsletter here.