A Gin Made With a Mother's Love
Glendalough Distillery's Rose Gin is by Mothers for Mothers.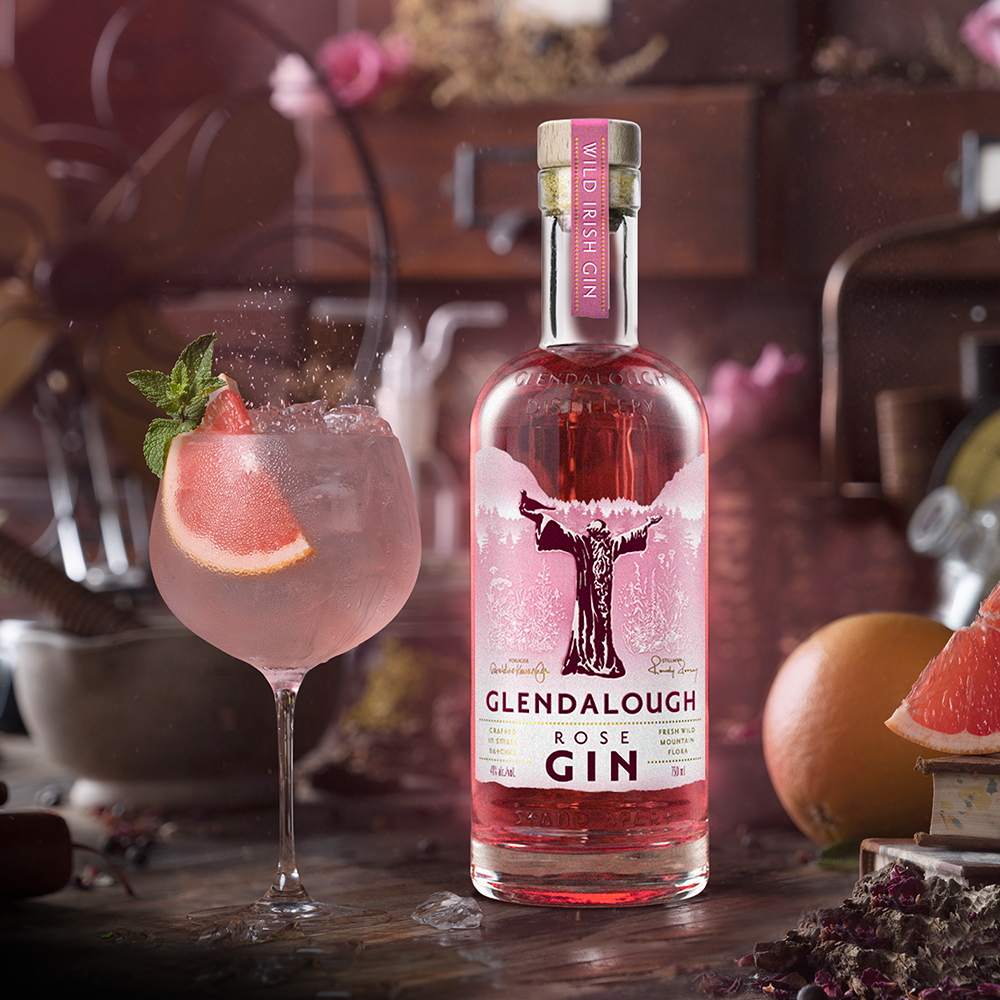 Ciarán "Rowdy" Rooney, the head distiller at Wicklow, Ireland's, Glendalough Distillery, didn't want to make "just another pink gin." Although he doesn't speak favourably of what he calls "confected" pink gins, the main motive behind Rooney's desire to produce a rose gin of distinction is a more personal one. Rooney made the first batch of rose gin for a toast at his brother's wedding, which occurred soon after the death of their mother, Rose. While it was originally intended to be a one-off for friends and family, the gin's reception proved overwhelmingly positive, and Rooney began to produce it as a part of the regular Glendalough lineup.
To this day, every batch of Glendalough Rose Gin includes rose petals from Rose's garden, now dutifully overseen and harvested by Rooney's sister, Yvonne. Because the house is only about 35 kilometres away, about an hour's drive through verdant Irish countryside, Rooney is able to immediately drive to the source when a bush's flowers are ready to be harvested and transport the invaluable goods back to the distillery himself.
Once the rose petals arrive at the distillery, Rooney employs a unique multi-integration technique in order to avoid the bitterness that can come from over-extracted florals. "Macerating overnight in the pot with all the other botanicals, that just doesn't work," Rooney says. Instead, he makes a concentrated tincture that incorporates the rose flavour into the gin and, for the pretty pink hue, he gently runs fresh and dried petals through the gin in a muslin bag.
The dominant tertiary flavour of Glendalough's Rose Gin is, of course, rose, but Glendalough Distillery is located south of Dublin, in the Wicklow Mountains, often referred to as "the garden of Ireland," so a supporting-cast of wild botanicals are accessible to the distillery's experienced foraging team. Water mint provides the expected mint flavours along with a gentle petrol quality, while cleaver calms the rambunctious floral and herbal notes thanks to its cucumber taste. These and other botanicals are the same that Saint Kevin, the distillery's inspiration, foraged throughout the Wicklow Mountains. After it's suggested that perhaps Rose is the second most important figure in the Glendalough Distillery mythology after Saint Kevin, Rooney is quick to correct, "well, no, I'd go the other way around."
Rose Spritz Recipe
Ingredients
2 ounces Glendalough Rose Gin
1 ounce fresh lime juice
Grapefruit soda (enough to top)
Grapefruit slice, for garnish
Fresh sprig of mint, for garnish
Method
Pour Glendalough Rose Gin into an ice-filled glass.
Add fresh lime juice.
Top with grapefruit soda.
Garnish with grapefruit slice and a freshly torn and slapped sprig of mint.