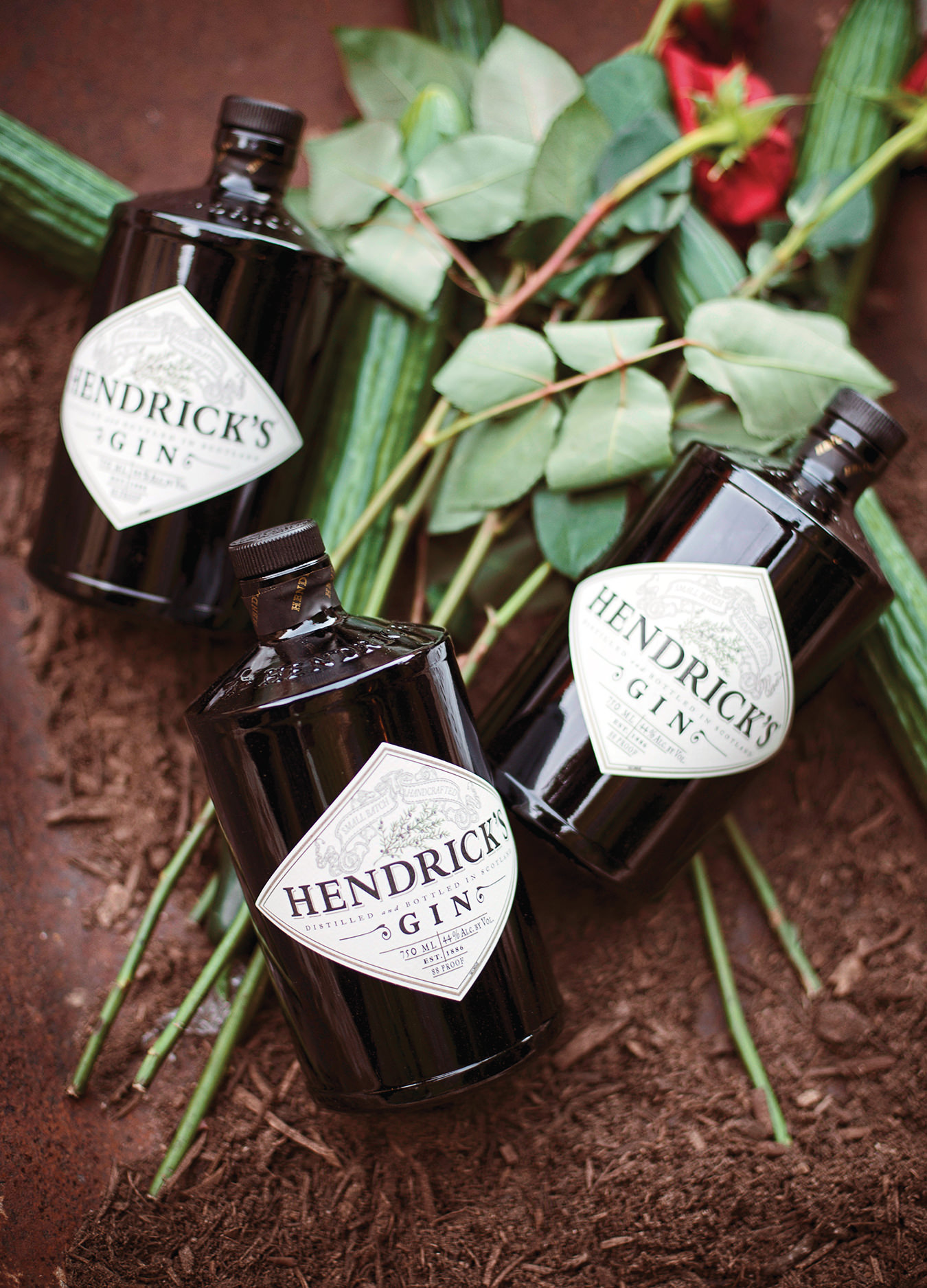 Peculiar. Unusual. Odd. These aren't descriptors that companies generally lean on when trying to sell a product. Hendrick's Gin, however, hangs its tattered top hat on being delightfully strange.
What makes this gin so downright different? It's in a dark, apothecary-styled bottle for one thing. It's made in Scotland by a female distiller, for another. You'll also get lovely hints of cucumber and rose, thanks to a few extra steps in the creation process. Finally, Hendrick's, the brand, is all about an unusually good time. Yes, they might, as is expected, pour you a gin and tonic at their company events (William Grant & Sons is the parent company that makes Hendrick's Gin), but you're likely to find yourself sitting on a giant fake mushroom or enjoying a round of croquet on a rooftop when it happens.
The flavour of Hendrick's is unlike any other gin, thanks to master distiller Lesley Gracie's careful sourcing of an innovative mix of botanicals. "Juniper berries from Italy provide an exotic, spicy, bittersweet taste. Musky, sweet angelica root, imported from France and Belgium, is considered by many to have healing and protecting powers," offers Gracie. "Helping to bind all these flavours to create an intricate blend is orris root, which is aged for up to three years. Lemon peel, chamomile, cubeb berries, orange peel, elderflower, yarrow, and caraway seeds are also among the 11 botanicals. But, only Hendrick's Gin is made with infusions of cucumber and rose petal essences." First, a hint of rose is extracted by gently pressing the essential oils from the petals. Next, cucumbers from Holland or Belgium are mashed, mixed with water, and then added in a final infusion. The Hendrick's profile can be summed up as a botanical blend with cool cucumber and rose taking centre stage against the traditional juniper backdrop.
Hendrick's "all started when Charles Gordon, the great-grandson of William Grant, told me about an 1860 Bennet copper-pot still and an original 1948 Carter-Head still that he had bought at auction back in the sixties," explains Gracie, who started working on the formula back in 1988, and launched Hendrick's Gin in 1999. "They were both lying unused in storage, and we decided to get both of the stills restored. I set to work experimenting with various botanicals until I had something with a truly distinctive taste that was like nothing else on the market."
The brand is built around these botanicals and their penchant for being a bit unusual, but Gracie's creation came at a time when the entire category of gin was making a comeback. "Gin was a very popular spirit from the time it was created up until around the 1950s," explains Jim Ryan, the national brand ambassador for Hendrick's in the United States. "Then vodka came into the picture with the three martini lunch. Gradually, flavoured vodkas started dominating the market and if you look at the cocktails created in the 1970s and 1980s, there's just an entire lack of reason that happened. Thanks to all of these things, gin brands certainly suffered."
When the modern cocktail movement got under way around 2000, bartenders began mixing classic drinks found in older recipe books. The majority of these called for gin, and a new demand began to rise. Hendrick's was poised perfectly to meet it, with a fresh flavour that would work well in a classic martini or gin and tonic, but that would also blend fabulously in a bevy of classic and modern cocktails.
Today, it's easy to spot the iconic bottle in bars worldwide, and bartenders are ever eager to play with this gin in fun and creative ways.
Nate Caudle, bar manager and head bartender at Little Jumbo Restaurant & Bar in Victoria, B.C., loves a shopping list when Hendrick's is at the core of creation. "In terms of grocery items," he says, "I like rhubarb, black pepper, strawberries, basil, and of course cucumber or rosewater. The botanicals are extremely flexible to play with. I can go savoury, sweet, bitter, or sour easily with Hendrick's. In particular, I really love how it works with herbaceous and vegetal flavours with the cucumber background." His Canes & Coattails features fresh cucumber, Hendrick's, rosé wine, rhubarb syrup, and celery bitters. Meanwhile, at Hawksworth Restaurant in Vancouver, the cocktail-making team has incorporated Hendrick's into their Barrel Aged & Bottled Cocktail program.
"We are bottling cocktails for two, and serving them tableside," explains bartender Jon Smolensky. "We are handcrafting cocktails, then bottling them with our labels. We pour them tableside to guests in antique glasses. When guests are finished with their cocktails, they can take the bottles home as a keepsake of their experience. We designed the labels as a co-branding opportunity, so they have both a Hawksworth Cocktail Bar and a Hendrick's Gin logo on the labels."
Whether it's solo in a martini glass, served with carbonation and fruit cohorts, or barrel-aged long before you arrive, Hendrick's is as alluring as any gin on the market. A word to the wise: if you get invited to a Hendrick's party, don't stay home that night. "I once went to a Hendrick's party. It was one of the stranger events I've ever witnessed," laughs Caudle. "The theme was essentially based around the marriage of cucumber and rose. There was an honorary minister marrying people under the blessings of Hendrick's gin…" No more needs to be said.