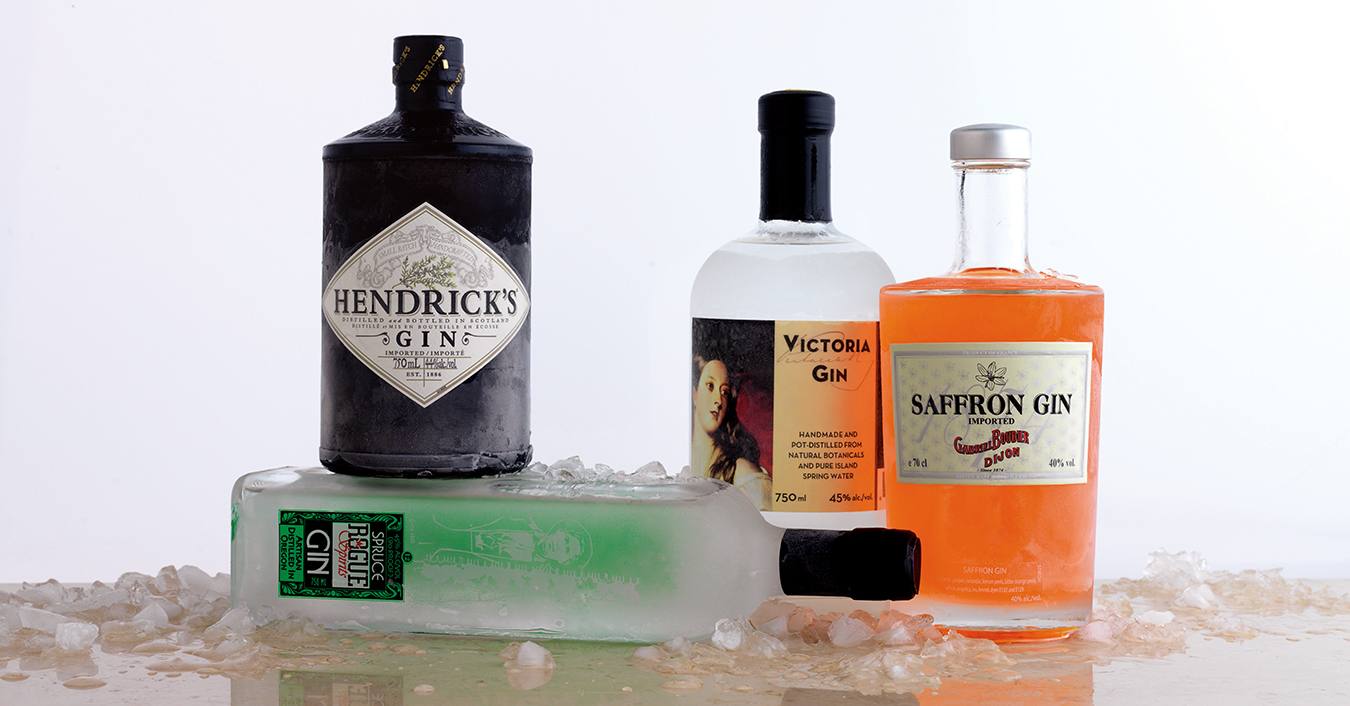 "Great gin simply soars, above and beyond the strictures of any season." No less a libational luminary than the last of the Tanquerays, the late, great John T., told me that one mid-morning as we were about to sit down to lunch at his offices in the old Goswell Road distillery in London.
Then he promptly produced a hot gin toddy to prove it: two and a half ounces of gin (of course using his namesake brand), an ounce and a half of fresh lemon juice, a couple of sugar cubes, and boiling water. Dissolve the sugar in the juice, add the gin, pour in as much boiling water as you like, and float a lemon slice on top.
This time out: artisanal spirits, craft-distilled gins, from France, Scotland, the United States, and Canada.
We'll start with the prettiest one in the glass, the French connection in all its neon-sherried glory. That's the colour—a most appealing sort of electric tangerine-flake hue—of Gabriel Boudier Saffron Gin, from the Dijon-based distillery famous for the world's best crème de cassis. It draws on a colonial recipe from the 19th century, and it was relaunched just three years ago; the ingredient list includes juniper (the essential gin botanical, pretty much common to all), coriander, lemon and orange peel, iris, fennel, angelica seeds, and saffron. Not too much of the latter, just a hint.
It tastes spicy, but in a subtle way, especially iced and neat. If there's any left by springtime, bring it out to celebrate the return of leaves and blossom and colour. It makes a bright and slightly startling-looking martini. A slice of mandarin orange or a kumquat in lieu of the conventional olive makes a nice touch, too. To confound my old English teacher, let me say it is one of the most unique boozy gifts you can give this season.
Scotland is next in this solstice gin tour, where the venerable whisky house of William Grant & Sons of Glasgow presents us with, according to the scribe who penned the label copy, "a most iconoclastic gin": Hendrick's Gin. And right there, on the back of the squat, black, apothecary-style bottle is the caveat, "It is not for everyone." (On the occasion of my first purchase of a bottle, the chap in the liquor store pointed out he'd had some customers returning it because they didn't like its uncompromising taste. Me, I couldn't get enough of it.)
It is the only Scottish gin of my acquaintance, though there may be more, lurking in the highlands. What imparts Hendrick's unique taste is the fact that, alongside the traditional botanicals, the requisite juniper, coriander, and citrus peel, Hendrick's adds rose petals and cucumber. That's where the iconoclasm approaches the palate. If those two flavours are on your list of favourites, this is a sensational gin.
Out of Oregon comes a group of rums and gins—and a bewilderment of beers—thanks to the Rogue Spirits. Surely this one's unique in the world of spirits: Rogue Spruce Gin. Candidly they list the 14 ingredients, including spruce, cucumber, and "free-range coastal water". It copped a double gold at the World Spirits Competition and a silver at the World Beverage Competition in Geneva in 2008.
It's spruce, for sure; intense, herby, and leaping right out of the glass ahead of all the other components. Add an absinthe-coloured edge to your next martini. Create a heated drink using herbal tea, or just toddy it with slices of lemon, orange and lime, demerara sugar, and hot water.
Finally, here comes Victoria Spirits' Victoria Gin, which had its official launch in the world-famous Bengal Lounge of the Fairmont Empress Hotel in Victoria, British Columbia, in 2008. It went right on to win a silver medal at the World Spirits Competition in San Francisco in 2009. The producers make itty-bitty batches of it at a time, and the extra six per cent alcohol above the conventional 40 per cent certainly doesn't hurt.
It's really excellent stuff: peppery, aromatic, and I thought there was something like fresh dill off the nose, a long and spicy finish resulting from 10 botanicals; a pretty standard lineup but also including cinnamon. Stir a little glug into a mug of green or even peppermint tea and see what happens.