3 Brilliantly Bueno Cocktails for Cinco de Mayo
Cinco de Mayo (May 5) is a Mexican holiday commemorating the triumph of the country's soldiers over French troops in 1862. It is sometimes confused with Mexico's Independence Day but is always a good opportunity to get together with friends and family for some tasty cocktails.
NUVO has compiled a list of the three best cocktails to toast the occasion.
La Luna Rossa
Vodka for Cinco de Mayo? Why not? Wheatley Vodka shows complex aromas of earthy toasted grains and yellow cake. This cocktail allows the vodka to shine through the sweetness of the blood orange cordial.
Ingredients
2 whole cherries
1 1/2 ounces Wheatley Vodka
1/2 ounce Solerno Blood Orange Liqueur
1 ounce spiced cranberry or blood orange cordial
3/4 ounce lemon juice
3 whole fresh cranberries to garnish
Method
Muddle cherries in a cocktail shaker to release juices.
Add remaining ingredients.
Shake and double strain through fine-mesh strainer into a coupe.
Garnish with three fresh cranberries on a cocktail pick.
Sooner Than Later
In this vibrant, juicy cocktail, the Espolòn Tequila Reposado provides depth with its bitter, floral aromas, while the Cynar adds earthy and herbal undertones.
Ingredients
1 ounce Grand Marnier
1/2 ounce Espolòn Tequila Reposado
1/2 ounce Cynar
1 ounce lemon juice
1/2 ounce simple syrup
2 drops lavender liqueur or lavender bitters
Grapefruit segments to garnish
Method
Combine all ingredients in a shaker with ice. Shake vigorously until ice is broken up and ingredients are combined.
Strain into a flute glass.
Garnish with grapefruit segments.
Jalisco Mule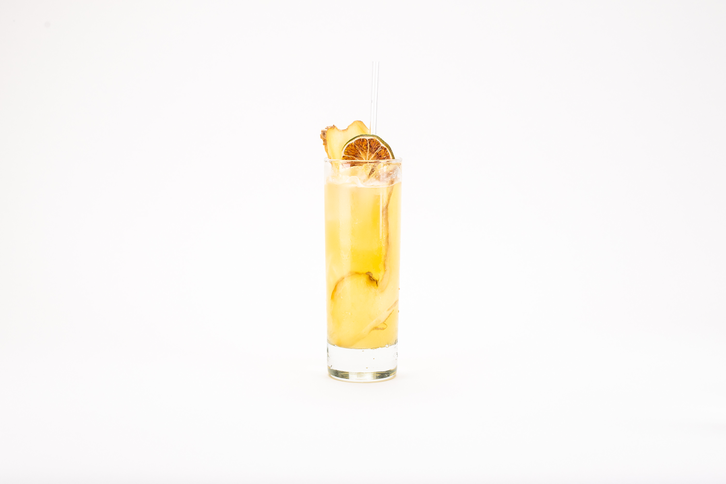 This Jalisco Mule is a simple, crispy cocktail. It's perfectly balanced and takes less than five minutes to make, using lime and tequila blended with ginger beer.
Ingredients
2 ounces Volcan Tequila Blanco
Juice of ½ a fresh lime
3 ounces ginger beer
Candied ginger to garnish
Dehydrated lime wheel to garnish
Method
Combine the tequila and lime juice in a highball glass filled with crushed ice.
Top with the ginger beer and stir.
Garnish with candied ginger and dehydrated lime wheel.