The enchanted forest has long been a narrative staple of fantasy and folklore. Magical and whimsical, mysterious and foreboding, the woodland setting continues to captivate us—and now, it is no longer confined to our imaginations, thanks to a new immersive night walk in Whistler, B.C.
Vallea Lumina takes visitors along a 1.5-kilometre path through the trees of Cougar and Rainbow Mountains in search of two missing hikers and a legendary hidden valley. The journey begins at the base of Cougar Mountain, a 10-minute drive north of Whistler Village, which is made up to look like a ranger's basecamp with wood buildings, fire pits, and camping lanterns. Once en route, the forest slowly comes alive through clever use of light, video, soundscapes, and scenography.
This otherworldly experience was realized by Montreal-based multimedia studio Moment Factory in collaboration with the Adventure Group, Whistler's leading activity operator. This is Moment Factory's eighth night walk, and the first of its kind in western Canada."Being able to create the show in this environment is just incredible," says Moment Factory producer Jonathan St-Onge. "We use two things to inspire ourselves: the local culture and the natural beauty of the site—and here, both are just amazing."
Vallea Lumina works with the natural topography of the land to play on and enhance the already stunning mountain views and lush treed areas. St-Onge worked closely with the Adventure Group's founder, Joey Houssian, to map out some of the best points along the trail to highlight. As such, radio signals transmit cryptic clues from a mountain lookout, towering evergreen trees come to life and sing, and tiny dots of light illuminate a bridge and stream with a dazzling display of "fireflies". Walking through these magical vignettes, you truly feel like the protagonist of your very own fairy tale.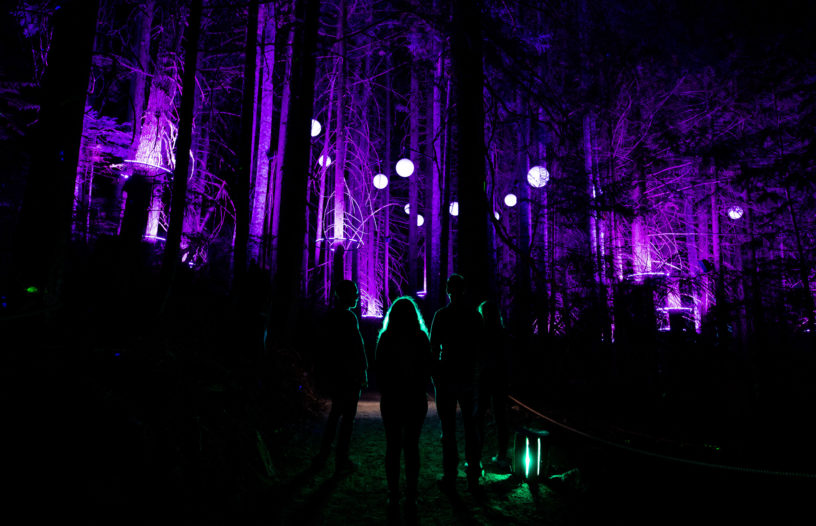 "It's not about doing a light and sound show," says St-Onge. "[It's about allowing people] to be in this fantastic world and rediscover a forest that they know during the day, but that they're going to see differently at night … it's about creating that magic."
The experience is suitable for explorers of all ages, but should you find yourself feeling nervous as you embark into the night, heed the words of encouragement left along the trail. Scribbled notes tacked to bulletin boards and black-lit posters written in "stardust" reveal messages left to bolster your sense of adventure: "Don't be scared of strange sounds—it's the hidden valley calling to you."
Vallea Lumina runs daily until October 15, 2018. The experience begins at sundown and takes place every 20 minutes, taking approximately 60 minutes to complete. More information, here.
_________
Never miss a story. Sign up for NUVO's weekly newsletter, here.