Mahekal Beach Resort, Mexico 
Playa del Carmen's thatch-hut haven.
Imagine a place where every margarita is mixed with Patrón and every abode is a bungalow-style palapa (thatch) hut anointed with fine furniture and fresh towels. By night, a cinema plays movies under the stars and by day, fresh catches of crimson lobster and silver-skinned tuna are carried from boat to beach for guests to select for lunch.
When you check into Mahekal Beach Resort, tucked between Playa del Carmen's longest stretch of beach and the Riviera Maya jungle, you find that place in living colour. And, unlike the majority of resorts in the partygoers' paradise of Playa del Carmen, Mahekal is a beachfront property with distinct personality. (Just ask any of its many repeat customers; one guest from Dallas has visited 45 times.)
Unlike the majority of resorts in the partygoers' paradise of Playa del Carmen, Mahekal is a beachfront property with distinct personality.
It all began 50 years ago when a local Mexican family built six palapa bungalows for backpackers to rent on the beach, then continued to add hut upon hut as it grew into a popular retreat. Since then, the property has undergone a few iterations and most recently, as Mahekal Beach Resort, completed a $16-million refurbishment in 2016.
Rewind, for a moment, to when Playa del Carmen was a very different place than it is today. "When this hotel was just a few years old, it was so far outside of Playa town," says the gentleman checking me in. "I remember when there were still monkeys jumping around these trees." There are no monkeys these days and the municipality of Solidaridad has boomed to over 230,000 residents—a number that is constantly padded by throngs of tourists—but you'd never know it from inside the serene resort walls with its lush, palm-filled gardens and airy shared spaces dotted with colourful Mayan furnishings.
A contemporary-bohemian interior design aesthetic pervades, as curated by Mexican architect Hilda Espino and Texas-based event designer Todd Fiscus, marrying authenticity and modernity on both halves of the resort (called "Aventura" and "Caribe", respectively). Book into a treehouse-style penthouse set back from the water with a knotted hammock swung across a wooden deck, or a hacienda-style oceanfront abode with a private plunge pool—the choice is yours. (One word of caution: Mamita's, a popular beachfront nightclub, sits a few blocks away on the north side of the resort, so if the distant hum of deep-bass club music isn't to your liking, it's best to request a suite out of earshot.)
In stark contrast to the football-stadium sized buffets of far too many Mexican resorts and their all-you-can-eat offerings, Mahekal offers semi-inclusive packages (or room-only bookings) and a handful of excellent restaurants: the poolside Las Olas, the rustic-luxe Cocina, and the ultra-traditional Mayan Culinary Casita. This special al fresco booking provides an experience, not simply a meal. After sips of horchata or hibiscus tea, a hands-on Mayan cooking lesson leads into a long-table feast in a private patch of the garden. Fresh grouper is usually the star of the show, wrapped up in a banana leaf and placed in a terracotta bowl along with onions, red peppers, and a dousing of lemon juice, olive oil, and achiote (a peppery, carmine-red spice). The Fish Tikin-Xic is then cooked underground beneath a sapote wood fire, a culinary technique that is not dissimilar to a Maori hangi. One bite, and bliss; the flavours are wild and fresh and layered. The meal is imbued with an extra level of meaning as the chef describes each dish in the Mayan dialect. "This is a ceremonious experience, and one we do with a lot of love," says Urs Bacsa, the food and beverage manager (and originally from Switzerland). "You will see that many of the staff are here to help because they love this place." Indeed, there's a palpable warmth among guests and staff, many of whom have worked here for 20-plus years, such as beach concierge Gabriel Ventura Uribe, or 24-year resort veteran Ignacio Boli, who even has a bar named after him on-property.
It's tempting to stay put at Mahekal, but it's well-advised to leave the property if only for two reasons. The first: to stroll the town. A 30-second walk away is the mad bustle of Fifth Avenue (Quinta Avenida), prime territory for picking up local knick-knacks. The second: to swim in a mystical cenote. These azure-blue sinkholes are dotted around the country and made up of interconnected underwater streams. One nearby cenote, Chikin Ha, has three different entrance points and it's worth taking time to explore them all, skimming the surface and gazing through one's snorkel mask as fish flit about through beams of sunlight that pierce the water like lasers.
Any excursion is best followed up with margarita poolside, of course, or a glass of Mexican sauvignon blanc. "In Mexico we make sauvignon blanc that's like New Zealand's," notes Bacsa back at the resort, pouring out a chilled blend from Monte Xanic winery in the Guadalupe Valley. "Even though there is still a very small production here in Mexico, there are many very good boutique wineries." Sip sauvignon, savour seafood, then relax and repeat next year—that is the order of the day at Mahekal.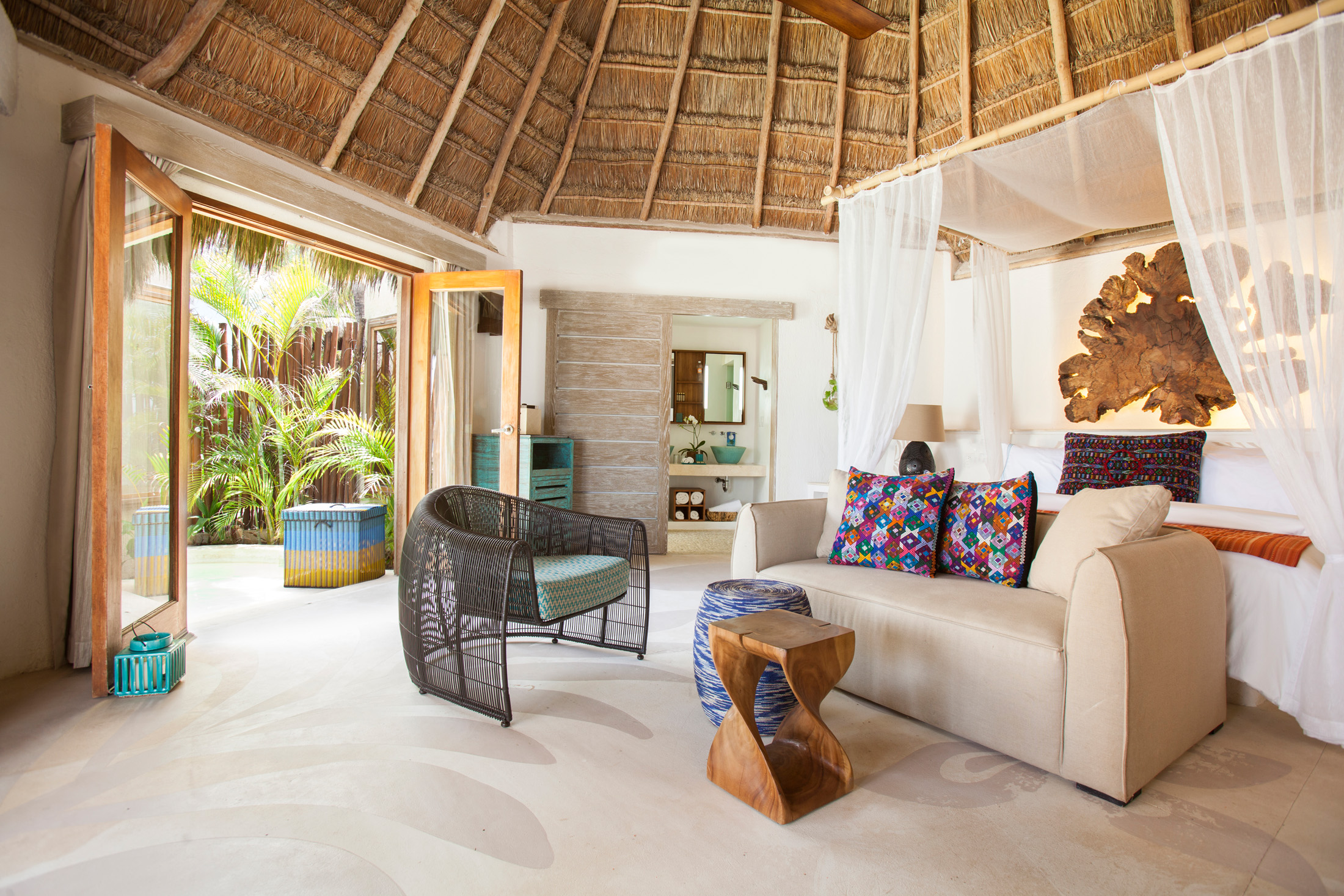 _________
Never miss a story. Sign up for NUVO's weekly newsletter, here.