Tortilla Soup With Chicken, Cheese, and Avocado
A recipe from Vancouver Eats by Joanne Sasvari.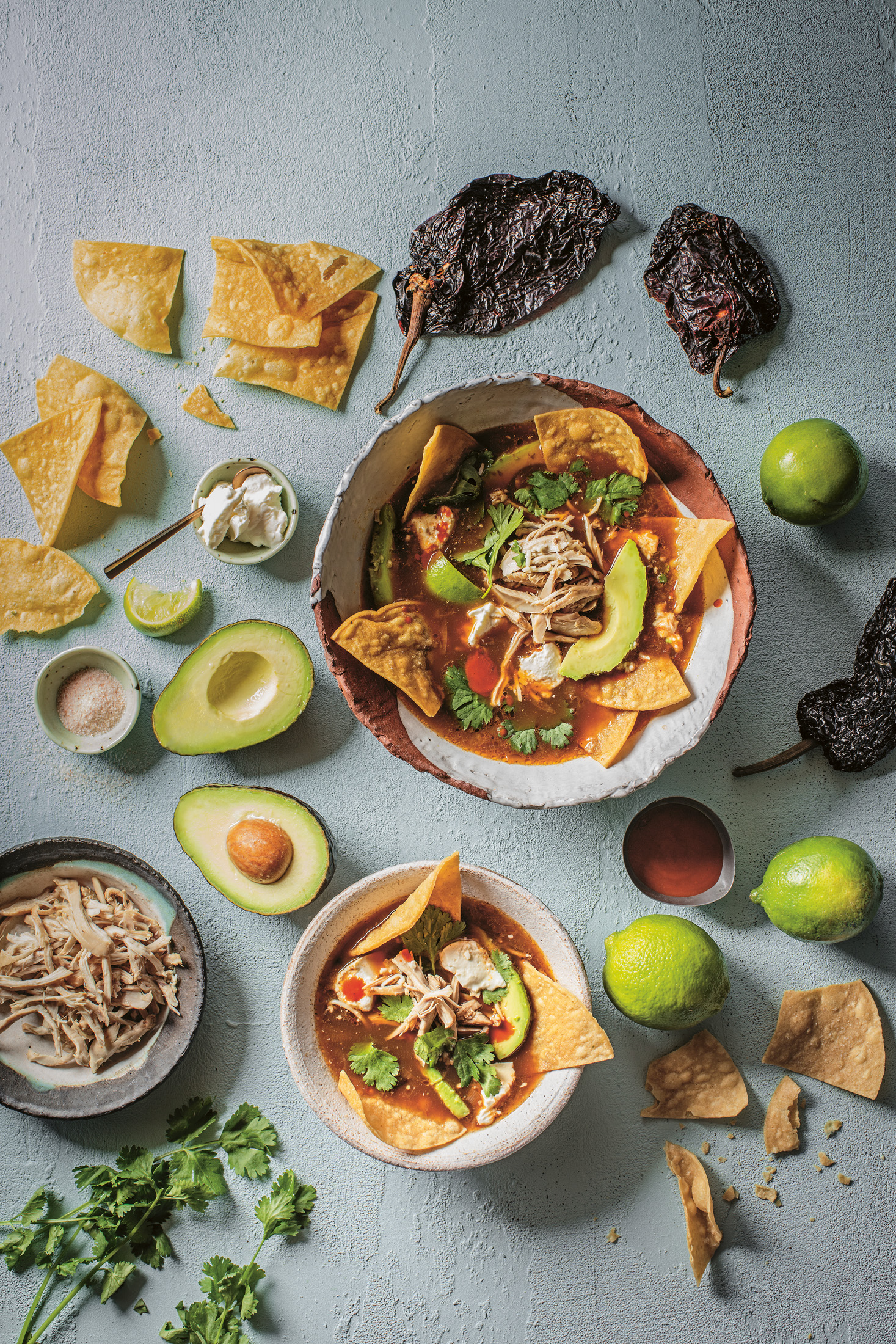 Jason Sussman and Kaeli Robinsong of Tacofino worked together to develop their take on the classic Mexi-Cali soup. It gets added heat from ancho chilies, plus satisfying layers of texture with chicken, cheese, avocados and crunchy corn chips. It's a meal in a bowl that will have you craving more.
Ingredients

Chicken stock (see note)
Bones from 2 free-range chickens
2 whole dried ancho chilies
4 L water
Tortilla soup
1 Tbsp vegetable oil
1 cup chopped onion
8 cups Chicken Stock (see here)
5 Tbsp fresh lime juice
Salt, to taste
Garnish
Roasted chicken meat, shredded
Ripe avocado, sliced
Aged white cheddar, grated
Sour cream
Fresh cilantro leaves
Corn chips
Lime, cut into wedges
Hot sauce (preferably Valentina)
Note: It's best to make your own stock from scratch, but if you're in a rush, you can use a good-quality store-bought chicken stock instead. When you make the soup, sauté the onions, then add 1 tablespoon ancho chili powder and cook for 1 minute, until fragrant. Add 4 litres of chicken stock and simmer for 15 minutes.
Method
Chicken stock
Place bones and chilies in a pot and cover with water. Simmer for at least 6 hours, then strain. Pick out the ancho chilies and peel them. Discard the stem and most of the seeds, and chop up the chilies before returning them to the stock.
Tortilla soup
Heat oil in a large stockpot over medium heat, add onions and lightly sauté for 10 minutes, until softened. Pour in stock and bring to a boil over high heat. Reduce heat to medium-low and simmer for 15 minutes. Add lime juice aand season with salt to taste.Ladle soup into 4 bowls and garnish each bowl with chicken meat, avocado, cheddar, sour cream, cilantro and corn chips. Serve with more corn chips, lime wedges and hot sauce.
More exceptional recipes from Vancouver's best chefs can be found in Joanne Sasvari's Vancouver Eats.
_________
Never miss a story. Sign up for NUVO's weekly newsletter.