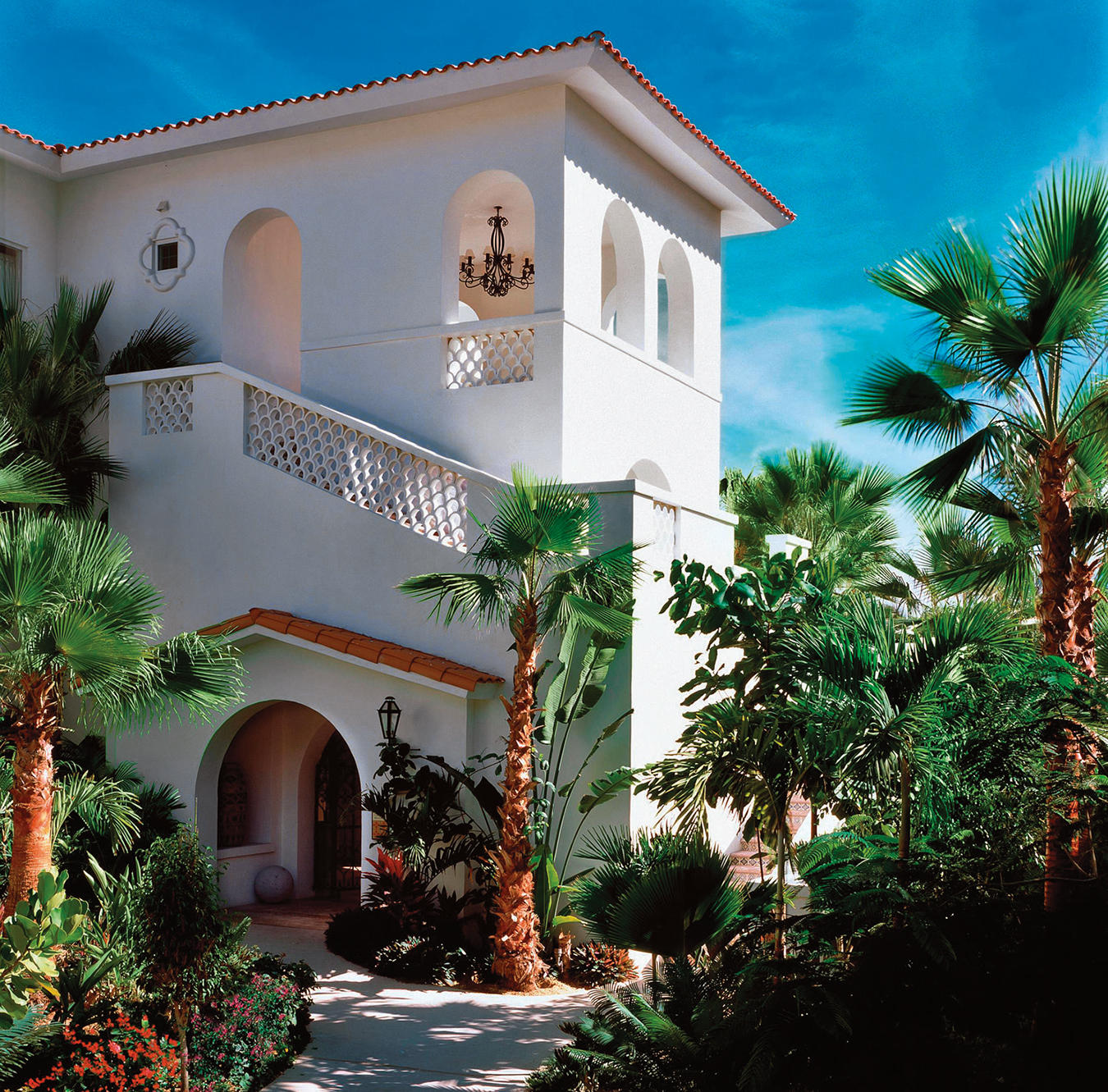 There is something in the air at the One&Only Palmilla resort, a certain distinctive scent. It's heady with a bit of a kick, and it vaguely recalls some sort of exotic flower. You'll smell it when you first arrive at the property, as you walk toward the reception desk situated inside a white colonial building. And as you open the door to your suite, the scent washes over you, emanating from several small dishes of brightly coloured potpourri located in strategic places throughout the room. If you ask about it, you'll learn that it's the scent of the blue agave plant. In fact, the entire resort is scented with it—you'll catch whiffs as you make your way past the pool, through the library, down to the beach. It's everywhere, and yet it is stirring enough that you'll never take it for granted.
Nor will you take much for granted at all at the One&Only Palmilla, located in Los Cabos, Mexico, halfway between Cabo San Lucas and San Jose del Cabo. Yet of all the many, many properties along this 34-kilometre stretch, the One&Only is, as per its name, sui generis. For many reasons.
You'll first notice the unmatched service when you're picked up at the airport in one of the resort's Hummers. Or, rather, you won't notice it, as the driver will be surreptitiously contacting the property in code and letting them know your status—if you're hungry or tired, for example—any of a myriad details that the driver can glean during the brief 20-minute drive from the airport. By the time you pull up to the resort, the staff will be prepared appropriately, either with fruit popsicles and a brief orientation of the property or an immediate escort to your room.
Yet no matter how stressful your flight may have been, a few minutes in the elegant, agave-scented rooms, all with amazing views of the ocean and, often, frolicking whales, will settle your soul. All the expected amenities are there (flat-screen TVs, delicious snacks on the pillows), with a few surprises. In a perfect example of the resort's meritorious attention to detail, you'll find on your second day a sewing kit in your closet that's been customized with coloured thread to match your wardrobe. A tequila service with limes, salt, and almonds ensures you won't go thirsty.
Other niceties, all with the One&Only touch, beckon after you've had time to enjoy the room. The fitness centre is equipped with state-of-the-art exercise machines; the library includes several business stations and a wide selection of movies and music; and service while sitting beside any of the numerous pools is, like everywhere else in the resort, consummate without being overenthusiastic, ensuring that whatever you need—usually a cold beverage—is readily available. A delightful alternative to the busier (but never overcrowded) poolside is one of several beach coves that can be reserved. Appropriately secluded and nestled in between the rock formations along the beach, the coves include a swinging bed, perfect for lazing the day away staring at the infinitely blue ocean.
All of which will undoubtedly work up an appetite, and there's no better place on the Baja to dine. Having several award-winning restaurants at the resort ensures a diversity that means you never have to leave to find a good meal. Agua Restaurant & Bar offers incomparable ocean views and provides an innovative menu of "Mexiterranean" offerings—including a dangerously smooth trio of tequilas as a starter. The menu of Suviche Restaurant & Lounge is another hybrid, this time combining Mexican and Asian flavours; as the name implies, ceviche and sushi both have their place in this menu, which also features an extensive sake selection. And the terrace café, Breeze, offers delightful lunch offerings, like a refreshing watermelon and cherry-tomato gazpacho and must-try fish tacos.
Then there's the pièce de résistance: Market, by superstar chef Jean-Georges Vongerichten.
Under a grand chandelier, diners sit amongst a beautifully designed venue, created by Adam D. Tihany (known for his designs of Jean-Georges's restaurants in New York). And while the decor itself certainly warrants a stroll, the food is well worth an evening, if not several. The menu features several Jean-Georges classics—the black truffle and fontina pizza is a favourite in any country—along with a number of dishes prepared with a Mexican spin. So you can try crab-stuffed squash blossoms or a tasty corn ravioli to start before moving on to a tender duck crusted with Jordan almonds in a red wine and amaretto sauce. Also worth a taste is the Pacific spiny lobster, paired with a black truffle gnocchi that is, really, divinity cooked, plated, and served.
It is fortuitous indeed that Market resides on the premises of the One&Only resort, as it would be worth a trip outside of the resort if it was located anywhere within a 200-kilometre radius. But its location—that is, a short walk from your room—makes it incredibly convenient and immediately elevates the already sublime resort to yet greater heights. On its own, the resort would be a luxury destination relatively unequalled in the world; with the addition of Jean-Georges's culinary talents, it is also a foodie destination and a must-visit for those of such persuasion.
Of course, as frequent travellers know all too well, the more enticing the destination, the more difficult it is to leave. However, there is a remedy for that as well.
After returning home, I opened my suitcase to commence unpacking and was immediately enveloped by the scent that I now knew to be blue agave. It seemed to radiate out from my packed luggage, and after searching a bit, I found a single sprig of the agave potpourri. I don't know if it was I who accidentally packed it away, or if it was the sly work of the staff. But for a few moments, I was transported back, sitting on the beach, dining in the restaurants, watching the whales. Then I continued unpacking, slightly gladder.
Photo provided by One&Only Palmilla.