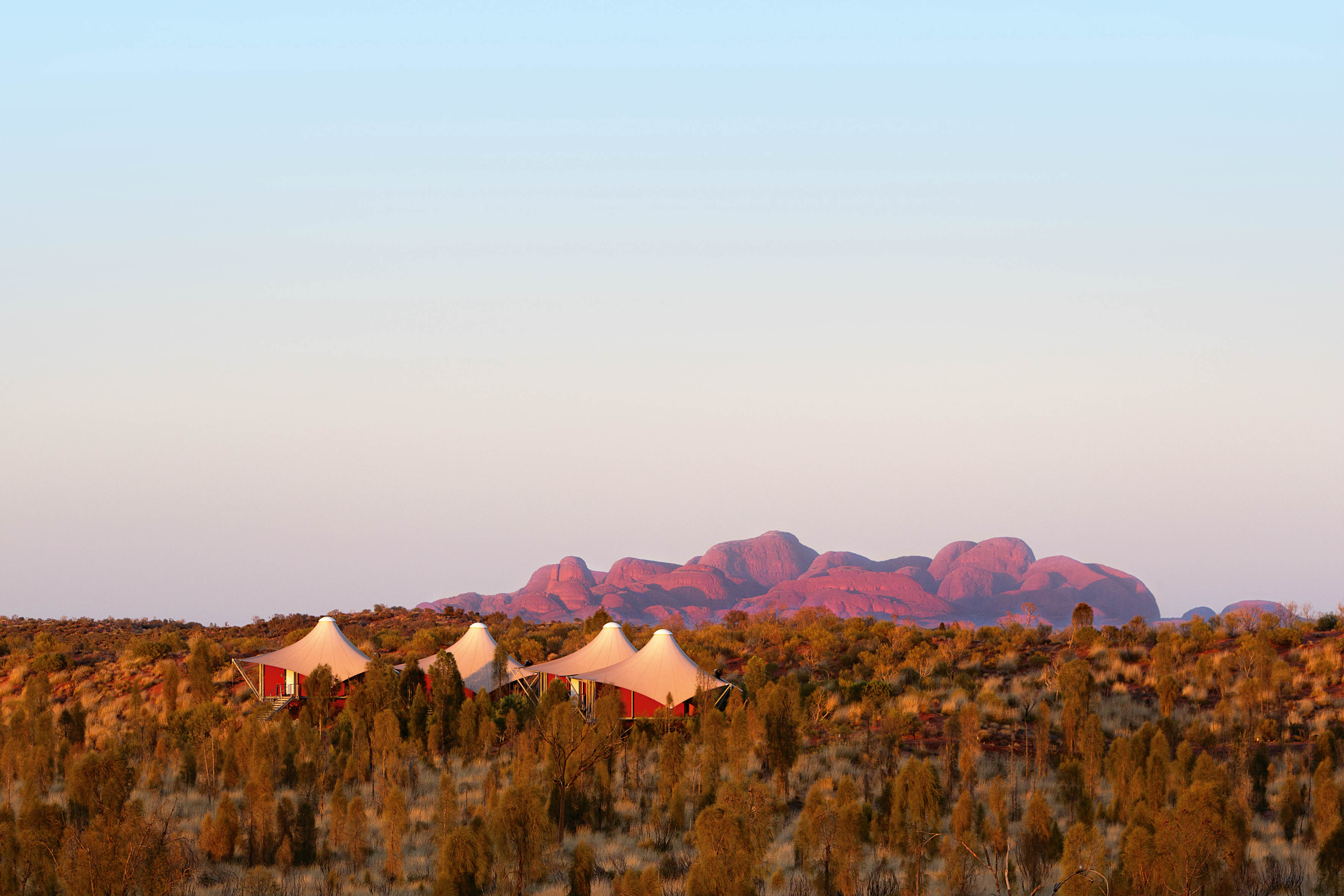 On their 2014 Australian tour, Prince William and Kate Middleton spent a night at Longitude 131—an opulent tented safari camp in the Australian Outback. It may seem incongruous that the Royal couple chose to sleep in the notoriously harsh Australian desert, but in fact, a stay at Longitude 131 is about as far from a "roughing it" outdoors-y experience as one can get. Forget pitching tents and making s'mores; this is not your dad's camping trip.
For one, Longitude 131 is the only Australian accommodation that faces Uluru (or, "Ayers' Rock"), the legendary, much-photographed, rust-red sandstone monolith rising from Uluru-Kata Tjuta National Park. From their tents, guests are treated to sublime views of this celebrated spiritual apex and UNESCO World Heritage site. And, because the tents face the north side of the rock, one can see even natural markings that rarely appear in tourism photos (as they are culturally sensitive to the local Anangu people).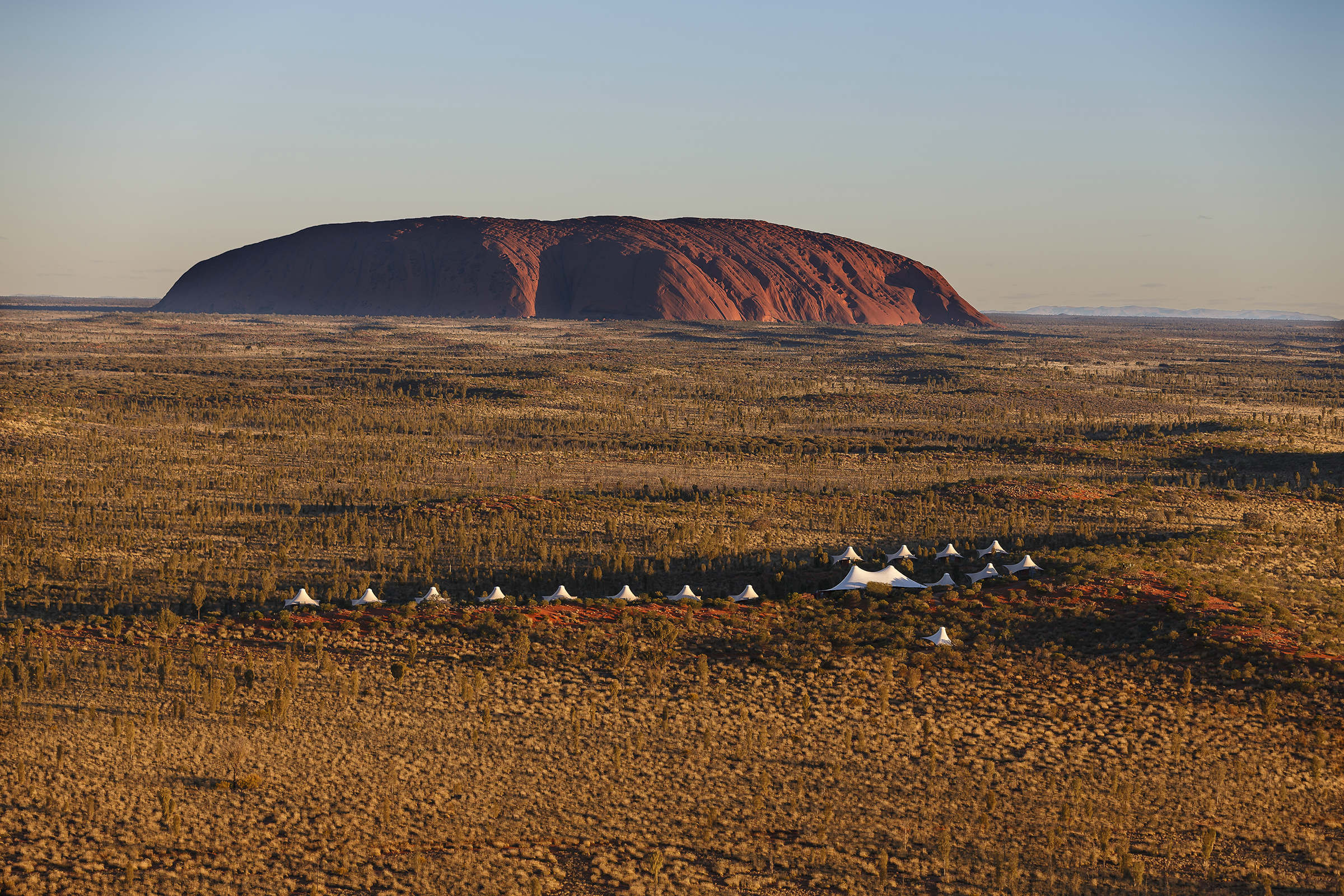 Camping here is luxurious, eco-sensitive, and above all, romantic. Part of the Luxury Lodges of Australia group, 15 luxury tents are set on red dunes, each opening onto a sprawling terrace with a daybed and sweeping views. At night, staff light outdoor fire pits on the veranda and unroll sleeping bags, so that guests may lie back and star-gaze well into the evening. Inside, each tent is outfitted with a king-sized bed or two twins, and floor-to-ceiling windows. In addition to their incredible views, accommodations come are equipped with spacious, spa-like bathrooms and in-suite bars stocked with little luxuries like tea, coffee, cheese, crackers, and of course, wine. Since accommodations are so open to the desert, staying at Longitude 131 evokes elements of what the early settlers must have experienced in the Australian Outback. Except there's gourmet cuisine instead of grubs, plush beds rather than sleeping bags, and a nightly turn-down service instead of unwelcome critters in your tent.
If you can tear yourself away from the tent, Longitude 131 also arranges personalized Outback experiences as part of your stay. One highlight is the nightly sunset excursion, where you can watch the red rock erupt in a kaleidoscope of lively colours, while munching on canapes and sipping flutes of champagne. During the day, take a guided walk around the base of Uluru or Kata Tjuta (a group of large, domed rock formations or "bornhardts", know locally as "The Olgas"), learning about the ancient creation stories behind the rocks' markings, followed by a wine and cheese in the shadow of Uluru.
Despite the lodge's remote location, no shortcuts are taken with the menu. The Dune House features exquisite Outback-inspired fare that fuses "mod Oz" cuisine with indigenous flavours paired with Australian wines. But the most incredible experience? Dining at Table 131, where a multi-course feast is served in the Outback under a canopy of stars. A camping experience fit for royals, indeed.
Longitude 131, Yulara Drive, Yulara NT 0872, Australia, +61 2 9918 4355