Accomodations for everyone.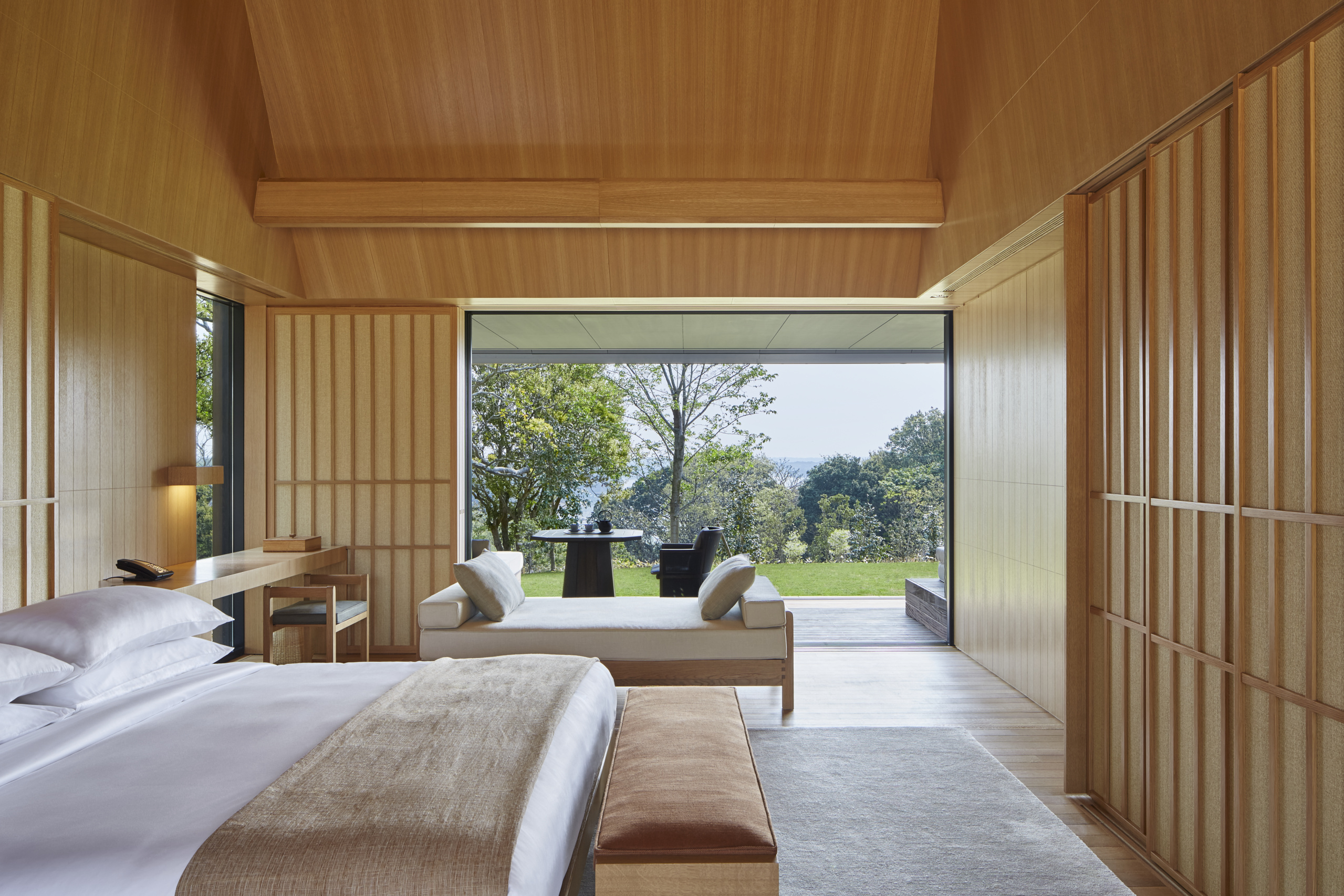 When travelling through the island nation of Japan, one may be surprised at just how dramatically the environment and atmosphere changes. There is the calm of ancient alleyways in Kyoto contrasting with the animated frenzy of Tokyo, yes, but there are also mountains, dense forests, and sprawling rice fields to explore. Accommodation styles change from place to place, too, so it's germane to research your hotels beforehand—or risk missing out on an enchanting locally-specific boutique-style unlike any other.
Ryokans: To step into a local's shoes, first take off your own. The country's most traditional accommodations are ryokans—often centuries-old establishments steeped in traditional Japanese etiquette. Guest rooms are tidy with straw tatami mats and futons, and kimono-clad staff set the tone for appropriate attire (one is encouraged to don a yukata robe when on the grounds). In Kyoto, Tawaraya is one of the country's oldest ryokans, dating back to the 18th century. Rooms and suites overlook a private rock garden, and in-room baths made of Japanese cypress offer supreme solitude. Like many ryokans, Tawaraya's restaurant features kaiseki cuisine, known for its multiple courses presented with seasonal small plates designed to be nearly too pretty to eat—the presentation is itself an art form.
Capsuled Bliss: For business travellers, the capsule hotel is a sensible concept. Designed for efficiency, guest rooms are replaced by single occupant pods with little room to spare. In the past, capsule hotels were not known for stylishness (they often looked like repurposed laundromats), but one top shelf chain, NineHours, is upping the ante in Kyoto, Narita, Sendai, and Shinjuku-North. The concept—that business travellers need only nine hours to shower, sleep, and dress—is straightforward, but the pods at NineHours are uncharacteristically cool. Each spacious, ovular space is lit with a welcoming golden glow, and features a minimal black and white color palette and built-in outlets and alarm clocks. Later this year, the brand will launch a new location entirely for women. Utilitarian chic, indeed.
Onsens: Of Japan's many riches, its over 25,000 natural hot springs certainly bubble to the top. Called onsen, natural baths throughout Japan are rife with healthful magnesium and sulfur, meaning that spa-focused escapes are part of the local culture and resorts cluster around these springs. The latest to open, Amanemu, sets itself apart. Perched on hills in Ise-Shina National Park, the resort is four hours from Tokyo by train. The area, known for its bays and inlets, is a sensible backdrop for a refresh; Amanemu centers itself on onsen culture. To that end, the luxe property's usual doses of tranquility (a 22,000-square-foot spa and a contemporary infinity pool) are second to Amanemu's ultimate flourish: each villa and suite features its own private onsen, so you can sleep where you soak.
Haute Hybrids: Visiting Tokyo can feel like stepping into the future, which makes finding traditional accommodations its own unique game—with few players. Westernized hotels are abundant, but Hoshinoya brings it home. The brand, which opened its first ryokan in Nagano over a century ago, refreshed the concept with its latest opening, Hoshinoya Tokyo. Not far from the Imperial Palace, the property blends the country-style ryokan with city-slick comforts: beds are still low to the floor, but are topped with Western mattresses; no televisions are in sight, as they're hidden within mirrors; each floor features a communal tea room, with traditional miso soup, but also instant ramen (house-made, naturally). As for your shoes? Be sure to remove them at the entrance.
Never miss a story, sign up for NUVO's weekly newsletter, here.