The exhibition of Louis Vuitton's great journey from 1854 to today.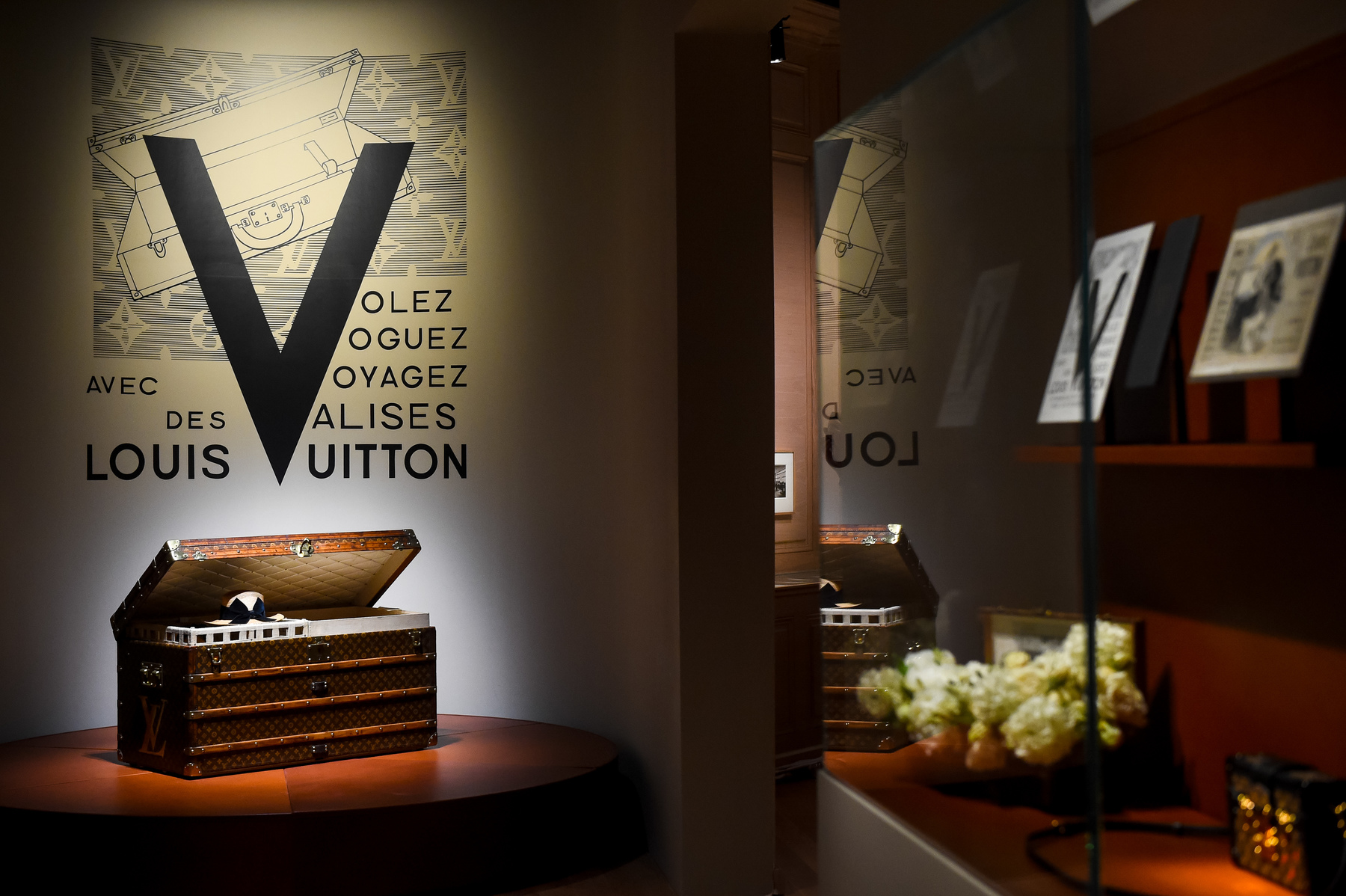 Having first caused a stir at Paris's Grand Palais in 2015 before landing in Tokyo and then Seoul this past spring and summer, respectively, the Volez, Voguez, Voyagez—Louis Vuitton travelling exhibition has landed in New York.
Staged at the former American Stock Exchange building in Lower Manhattan, Volez, Voguez, Voyagez, tagged #NYCVVV, is the brand's first major exhibition in North America, and retraces Louis Vuitton's great journey from 1854 to today through depictions of the maison's founding members.
The expansive show takes up two floors of the stock exchange tower and is packed to the brim with trunks, monograms, and artist collaborations. On a mission to work with only la crème du style, the exhibition was curated by Olivier Saillard, who oversees Palais Galliera, the fashion museum in Paris; it was staged by Robert Carsen, an opera director from Toronto who has titillated spectators at the likes of La Scala and the Met. Passengers time travel through 10 chapters of the Louis Vuitton world, beginning in the 19th century with a young Louis making his humble start as a packer before becoming a malletier ("trunkmaker"). The industrious teen had walked all the way from Jura, in eastern France, to Paris and eventually worked on the see-and-be-seen rue Saint-Honoré.
Regardless of one's knowledge of Louis Vuitton, this free exhibition will fascinate with rooms dedicated to the various categories that Louis Vuitton has prided itself on since 1854: train, automobile, and air travel along with its relationship with women's and men's clothing and literature and art. The rooms are housed as chapters including Classic Trunks, the Invention of Travel, the Beauty of Fashion, Artistic Collaborations, and even the Music Room.
Volez, Voguez, Voyagez is a comprehensive Louis Vuitton dossier. At 86 Trinity Place, you will find the best by Marc Jacobs, Nicolas Ghesquière, and Mr. Vuitton himself. Louis Vuitton's unofficial tag line is "the art of travel"—from a trompe l'oeil train car to a room of lined walls with monogram aubergine suede, this is one journey you don't want to miss.
Volez, Voguez, Voyagez—Louis Vuitton opens at the American Stock Exchange from October 27, 2017 through January 7, 2018. Free admission.
Photos by Travis Emery Hackett
_________
Never miss a story. Sign up for NUVO's weekly newsletter.