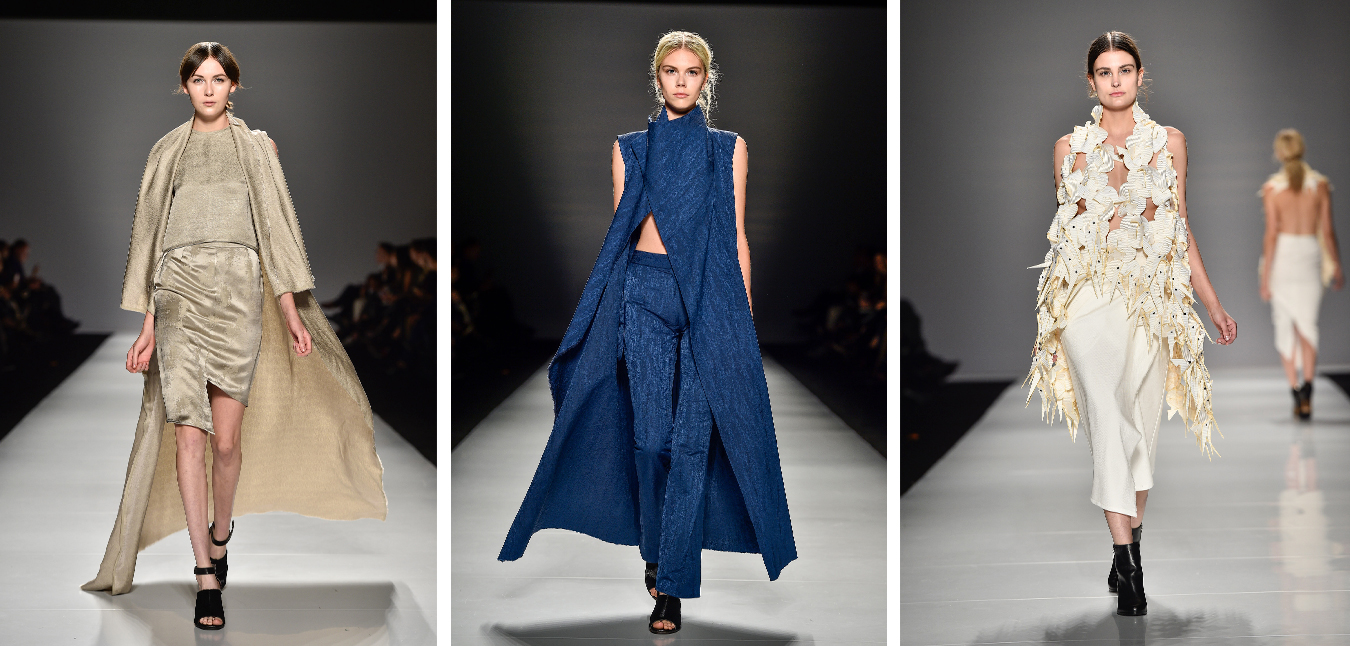 Calling Sid Neigum an over-achiever would be an understatement. At 27-years-old, the Alberta-born, Fashion Institute of Technology-trained womenswear designer has won every major emerging talent award in Canada. Having also recently triumphed at the DHL Exported global fashion competition in London, England, he has already begun making his mark on the international circuit. Yet while Neigum is a prize pony, the young designer is certainly not one-trick. Having presented his first collection at Toronto's World MasterCard Fashion Week in March 2011, his signature minimalist aesthetic has evolved quickly, becoming increasingly wearable and refined.
Neigum's most recent spring/summer 2016 collection, presented in Toronto on October 19, showcases his maturation. Neigum has transitioned from creating predominantly monochromatic sculptural couture to integrating more high-end ready-to-wear looks into his collections. Incorporating a neutral palette of blues, beiges, and military greens in laser-cut fabrics, distressed silks, and liquid jacquards, his spring/summer 2016 show was noticeably more fluid than previous collections (which featured somewhat more rigid designs) and emphasized flowing layers and wide cuts. Fluid should not be confused with watered down, however—his aesthetic came through powerfully.
Neigum's signature is his unique sculptural sense of form, represented by his dramatic structures, the hard lines of his hems, and his flower-like cut-outs. His perennial muses are origami, packaging design, and architecture. "Combining any other area of design with fashion design is where I get the most inspiration," he explains. Had he not gone into fashion, Neigum would have pursued structural design. "Architecture definitely is an indirect inspiration," he says. "I really like minimalist architecture, and I think that informs my work. There's tons of similarities between making clothing and making buildings." Incidentally, while Neigum originally thought his main audience would be young, edgy it-girls, more often than not his clientele consist of savvy women in their 50s and 60s who collect art, travel, follow fashion religiously, and seem to gravitate towards his clean, decisive lines.
Neigum's stylistic maturation has increased commensurately with his commercial success. The designer feels one of his greatest personal achievements was when the Room at the Hudson's Bay Company began selling his fall/winter 2015 line alongside names like Prabal Gurung, Alexander Wang and The Row. While many of his peers struggle to be recognized by international retailers, Neigum can already be found in style-forward boutiques like Des Kohan in L.A., ØDD in New York, and Eizenstein in London, with Hong Kong and Paris on the horizon.
Neigum's recent DHL Exported win means he is now able to present his next two collections at London Fashion Week. When asked about a potential Sid Neigum menswear line, he laughs and says, "It's definitely on my mind. Probably in the next two years. I'm looking forward to it."
Given his track record thus far, it's safe to say that no matter what Neigum does next, he will continue to garner attention and accolades. It seems all eyes are on him.