A Halloween recipe from the new Butter Baked Goods cookbook.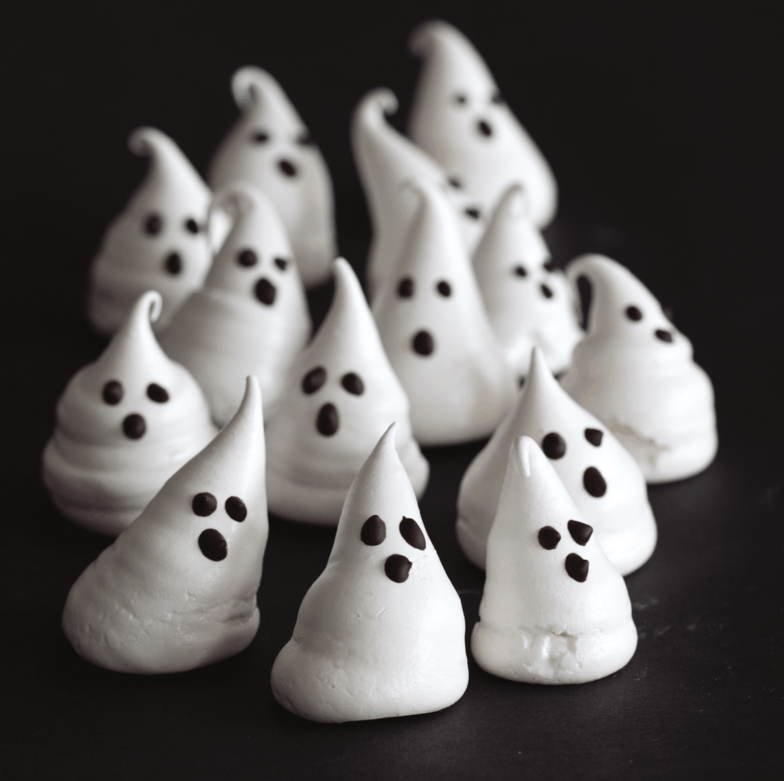 With their crisp exteriors and marshmallow-soft centers, meringues are a confection too often relegated to summer pavlovas alone (ahem, a Whole Foods employee recently informed us that the store's bakery only makes them "seasonally"). How better to express how totally aghast we are at the idea that meringues are a summer food than by making a batch that screams "Halloween"? Excerpted from new cookbook Butter Celebrates!: A Year of Sweet Recipes to Share With Family and Friends by Butter Baked Goods owner Rosie Daykin, this ghoulish meringue flash mob is ready to haunt the next person who dares come between us and our crunchy sweet things.
INGREDIENTS:
5 egg whites
1⁄2 teaspoon cream of tartar
1 1⁄4 cups granulated sugar
1⁄2 teaspoon pure vanilla
1 cup dark chocolate chips
MAKES: 4 dozen little ghosts
YOU WILL NEED:
2 (11- x 17-inch) rimmed cookie sheets lined with parchment paper
14-inch piping bag fitted with a large plain tip
10-inch piping bag fitted with a small plain tip
STORAGE:
The meringues will keep in an airtight container for up to 1 week.
1. Preheat the oven to 225°F.
2. In a stand mixer fitted with a whisk attachment, whip the egg whites on high until foamy. Add the cream of tartar and whip until soft peaks form. Turn the mixer speed to medium and slowly add the sugar, a couple of tablespoons at a time. Once all the sugar has been added, return the mixer to high speed and whip until nice and shiny stiff peaks form. I test this by sticking my spatula in the egg whites and quickly pulling it out. (Switch off the mixer first!) When I hold the spatula upright, the meringue should hold a stiff peak.
2. Fill your 14-inch piping bag fitted with a large plain tip with the meringue. Pipe a ghost onto the prepared cookie sheets by holding the bag upright with the tip pointing straight down. Apply pressure by squeezing the bag to release the meringue and create the base of the ghost. Gently start pulling up as you are squeezing to create the body of the ghost. Stop squeezing and pull up on the bag to create a little pointy top. Repeat, spacing the ghosts about 1 inch apart.
3. Bake the meringues for 1 hour, or until the outside of the meringue is crisp. Turn the oven off and allow the meringues to stay in the oven for several hours, or overnight.
4. In a double boiler over medium heat, or a small heatproof bowl set over simmering water, melt the chocolate chips. Or melt the chocolate chips in your microwave by placing them in a small ceramic or glass bowl for 15 to 20 seconds, depending on the strength of your appliance.
5. Transfer the melted chocolate to your 10-inch piping bag fitted with a small plain tip. Carefully pipe two little eyes and a mouth on each ghost. Allow the meringues to sit for at least 1 hour for the chocolate to set.
Recipes excerpted from Butter Celebrates!: A Year of Sweet Recipes with Family and Friends by Rosie Daykin, Random House, 2015.