How Milan Navigated the Spring/Summer 2021 Shows
The fashion industry as a whole is navigating uncharted waters in 2020. The pandemic has prompted big questions about the business model of luxury fashion: are runway spectacles out of step in a world with different priorities? There is no simple answer. Following New York and London, and in a socially distanced show season different to many others, Milan Fashion Week was a tale of small-scale live shows and digital presentations for the world to see.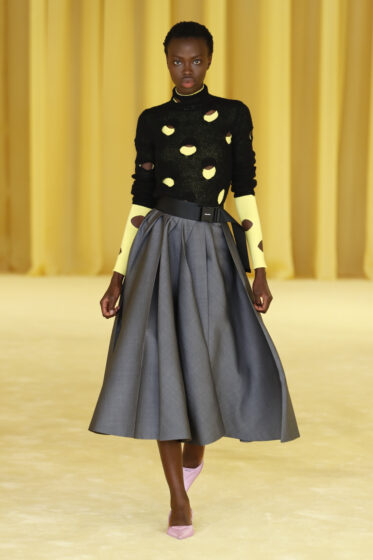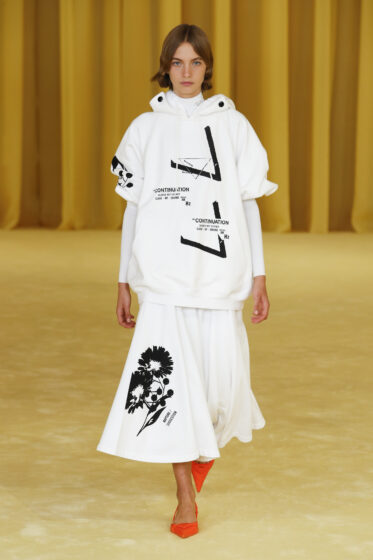 Prada.
Perhaps the most anticipated show of the season was Prada, for this spring/summer 2021 collection was the debut of the co-creative directors Mrs. Miuccia Prada and Raf Simons. The clothes were equal parts Prada and Simons—a meeting of the minds that resulted in pleated skirts with utilitarian belts nipping in the waist, prints by Peter De Potter (a long-time Simons collaborator), sweatshirt suits, demure kitten heels, knits with polka-dot holes, and most importantly, an overarching intention of uniform. A requisite component of uniform is simplicity—reducing clothing to an essence, to the essential, and the wrap, a symbol representative of the collection's overall considerations, was held on the breast with a clutching gesture. Technology was an indispensable presence (made even more prevalent because of COVID) with monitors and cameras hung as chandeliers as if replacing the physical presence of attendees.
"Fashion is about reacting to reality," Miuccia said in a Q&A session post show. Miuccia and Simons sat, socially distanced, on two benches in a theatre-like room with a large screen between them on which questions, submitted from the four corners of the globe, were displayed. "What is the Prada-ness?" asked Ikkei from Nara, Japan, and Simons recounted his perception of Prada as an outsider: "I've always seen it as a community that has a very specific attitude, intellect, aesthetic. And the one thing you can't really define what it is, yet you feel it exists," he went on to explain. (We also came to know that Miuccia drinks hot water before breakfast and Simons coffee, followed by Coke Zero throughout the day.)

Fendi.
On the eve of the Fendi show, the fashion house sent guests two bags of Fendi-shaped Rummo pasta along with Silvia Venturini Fendi's grandmother's recipe for lemon pesto pasta and photos of several generations of Fendis gathered at home in Rome. Nonna's recipe, that ancient way of life, came to life in the collection through lace and embroidery, muted tones, and an overall elegance—the preciousness of the family trousseau translated into something wearable and contemporary.
As announced last month, Kim Jones will take over as the designer of womenswear, stepping into the place left empty by Karl Lagerfeld's death last year. Jones' first collection for Fendi will debut in February while Ms. Fendi will continue with menswear and accessories.
To mark the 20th anniversary of BOSS womenswear, the German giant returned to the exact same venue in the Italian fashion capital, Palazzo del Senato, where it launched its first woman's collection. In a series of garments, for men and women, paraded under the portico of Palazzo del Senato were colours and prints recalling the beauty of flora. Creative director Ingo Wilts asked London-based artist William Farr to create the print: his unique mix of flowers and found objects. The collection was a sequence of relaxed looks with laser cutting in a refreshing palette of blues and greens, along with shades of sand and cream.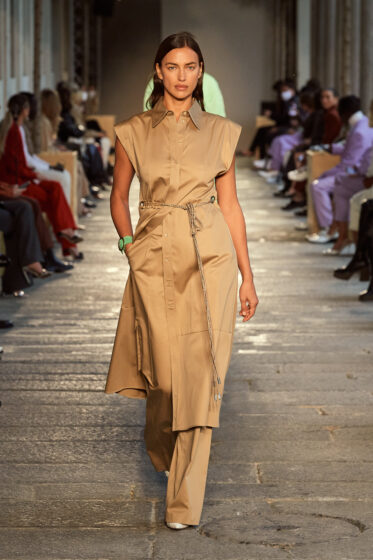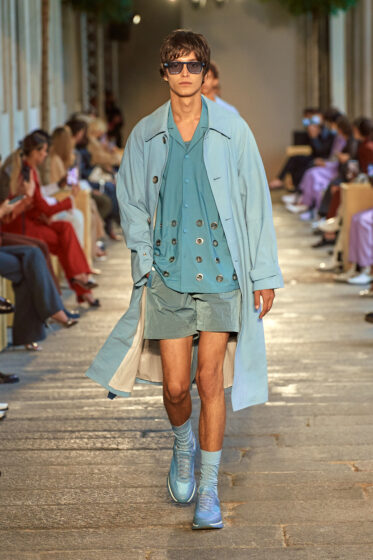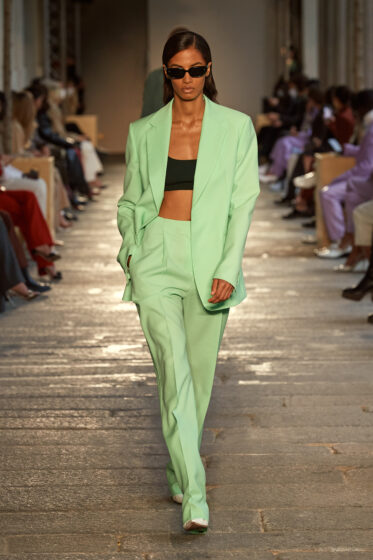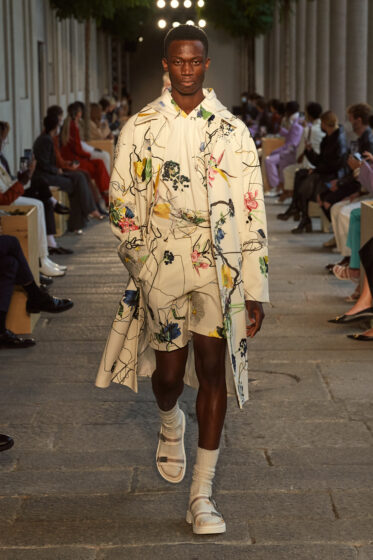 BOSS.
Tod's, Giorgio Armani, Alberta Ferretti, Dolce & Gabbana, Giada Montenapoleone, Salvatore Ferragamo, Max Mara—the slate for Milan Fashion Week was full (a mix of digital events, one-on-one presentations, and in-person shows) though far from the frenetic pace of years past. The Germans came to Milan. So did the Brits. The French aussi. And of course, the Italians were out with their masks on. Pierpaolo Piccoli, creative director for Valentino, was at ease at Caruso at the Grand Hotel et de Milan, partaking in the most sacred of Italian rituals, the morning espresso, the day before the Valentino show. Valentino decamped from Paris to Milan to hold its runway show, reinforcing its Italian roots.
In a year of epochal upheavals, Milan fashion week was both reflection and reaction to the time in which we live.
________
Never miss a story. Sign up for NUVO's weekly newsletter here.