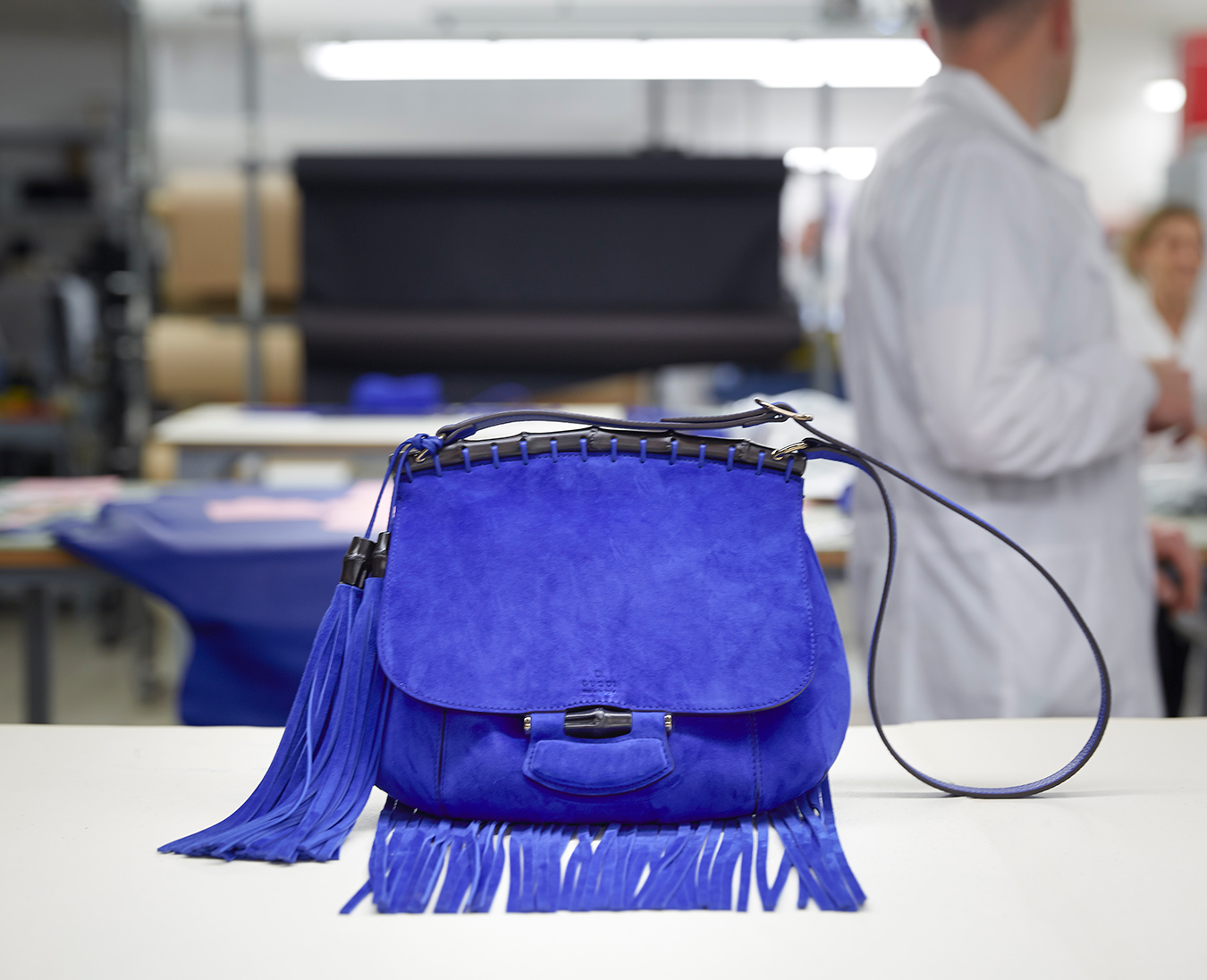 Be it riding the metro, hopping into a cab, or walking down the street, the modern woman is always on the move. This is precisely what Gucci's spring/summer 2014 collection evokes. Creative director Frida Giannini was inspired by the late 1940s, and the Nouveau fringe shoulder bag carries with it both your daily necessities, and the quality and craftsmanship expected from the fashion house. From its lacquered bamboo and polished rose gold embellishments to its signature maxi stitching, each bag is meticulously crafted during a two-day process in Milan that involves delicate handwork, such as manually cutting each fringe tassel. The final product is available in several colours—black, rich berry, electric blue—and materials, including suede, leather, and laminated python.
This commitment to skilled craftsmanship has been a hallmark of the brand since it was founded in 1921, and it's remarkable to see the production process up close. From March 28 to 30, four Gucci artisans will travel from their Florentine leather goods factory to the Gucci boutique in Holt Renfrew at Toronto's Yorkdale Shopping Centre. Gucci's Artisan Corner event began in Naples in 2009 and has since travelled worldwide to Japan, the United States, and throughout Europe. This Canadian leg of the tour offers the opportunity to see firsthand how the brand's handbags and leather goods are made. Artisans will demonstrate their time-honoured techniques, including python and crocodile painting, and will personalize leather goods for customers with hand-embossed monogramming.
Gucci Artisan Corner runs March 28 and 29 from 11:00 a.m. to 8:00 p.m., and March 30 from 12:00 p.m. to 6:00 p.m. at Holt Renfrew in Yorkdale Shopping Centre, Toronto.
March 12, 2014
Updated: March 28, 2014