Winnipeg-born, Toronto-based handbag designer Joanna MacDonald is making a splash with a new Canadian accessories brand crafted from fish leather.
That may seem strange, but in fact, the skin of the pirarucu—the largest freshwater fish of the Brazilian Amazon—is not only super durable, it has an attractive rippled texture, a high colour absorption rate, and softness, making it an ingenious material for the clutches, cross-bodies, and totes MacDonald has created for her Piper & Skye exotic leather handbag label.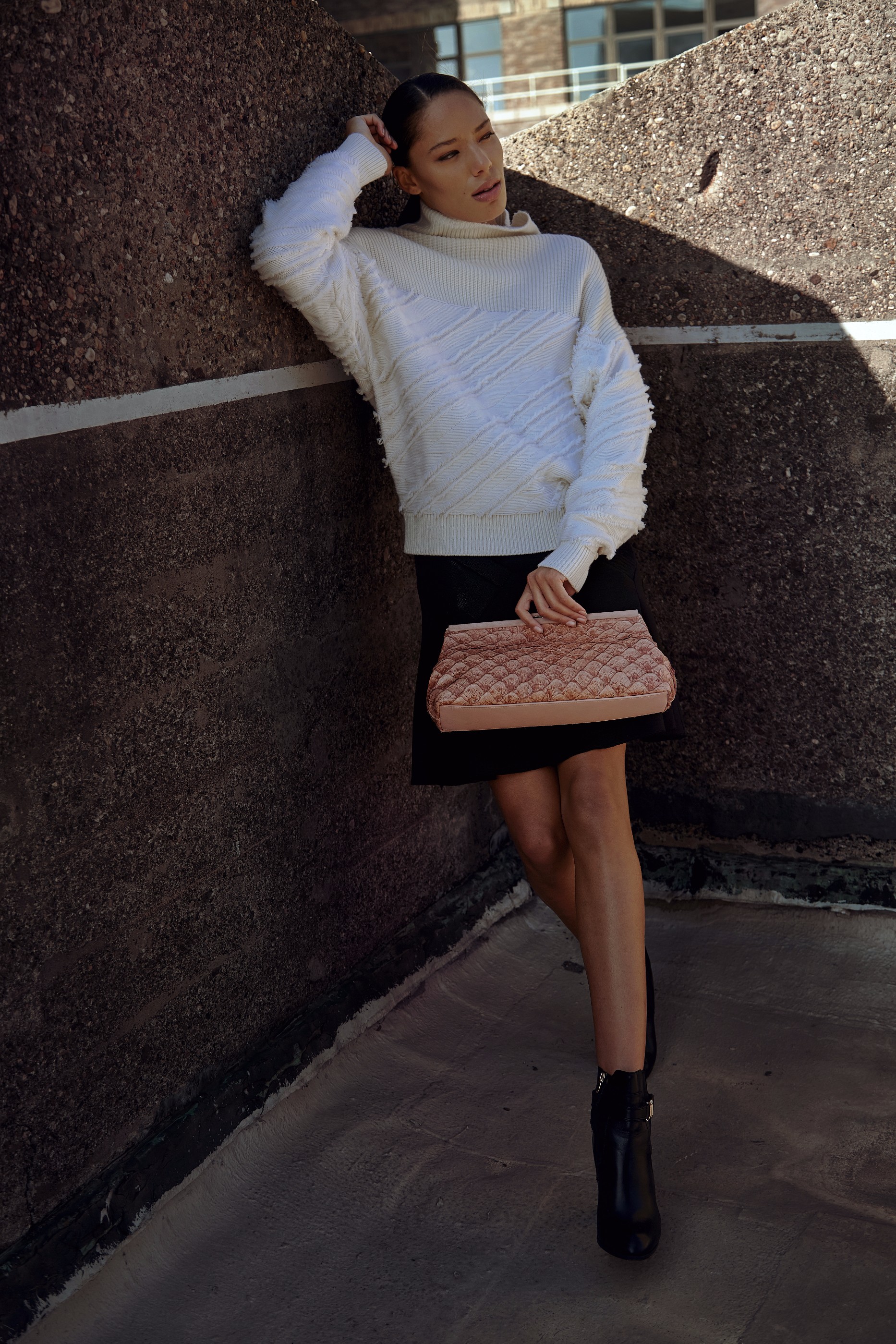 "It is nearly impossible to damage," says the 39-year-old fashion entrepreneur of the biomaterial, itself a by-product of the fishing industry. "Every skin absorbs the dye differently, making each bag a truly one-of-a-kind beauty."
Unlike other exotic hides—or even cow leather—fish leather, which resembles snakeskin, is highly sustainable.
A former HR specialist who switched careers after studying handbag design at the London College of Fashion in 2012, MacDonald sources the pirarucu skins from Nova Kaeru, an award-winning tannery in Brazil whose own biodegradable tannins and chrome-free tanning technologies successfully transform fish leather into an environmentally safe luxury material.
"The tannery recently won the Leather Fashion Smart Creation Prize 2017 at Première Vision in Paris," says MacDonald who runs her company with husband and business partner, Shawn Fulton, a marketing industry expert."The organic process used to remove fish oils and smells allows for more natural and vivid colour fixing, adding value to our bags."
Priced between around $500 for a fish leather clutch lined in suede to $1,800 for a roomy weekender with sterling silver Italian hardware incorporated into the design, each handbag is handmade by a New York City-based artisan who cuts and sews the fish skin much like traditional leather.
But unlike other exotic hides—or even cow leather—fish leather, which resembles snakeskin, is highly sustainable.
With growing demand (Prada, Nike, Alexander Wang, and Dior are among the big brands also working with fish skins right now), the material is poised to help the environment further by cutting down on greenhouse gas emissions emitted by grazing animals. "We believe in our product and are passionate about the ethically sourced materials and unique line of bags we produce," says MacDonald. "The natural beauty of the leather speaks for itself."
It's just a matter of time before everyone is hooked.
Photos by Jesus Baez.
_________
Never miss a story. Sign up for NUVO's weekly newsletter.