Fashionista Meredith Shaw on the Importance of Inclusive Sizing
Confident and crushing it.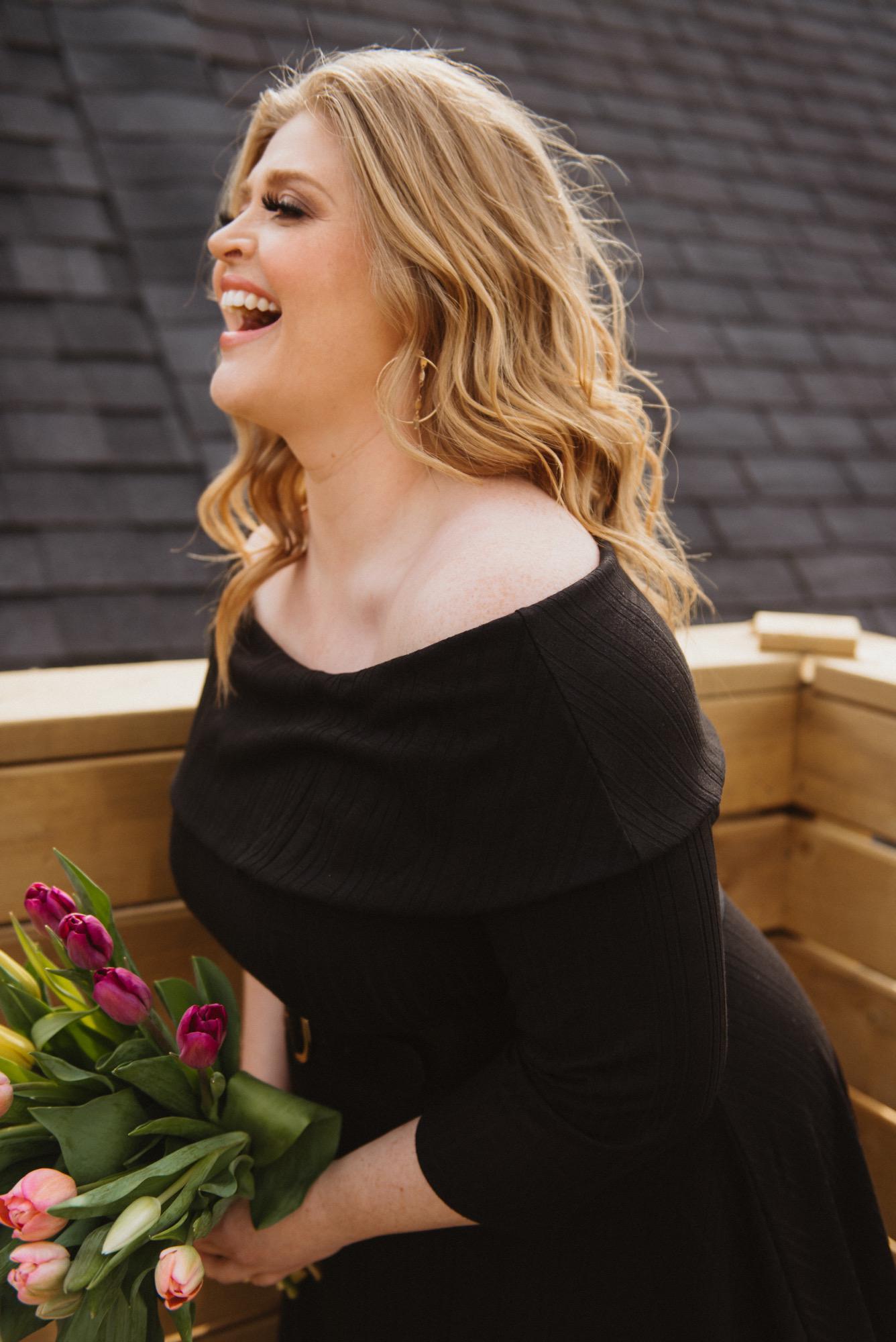 "I never used to dress casually, because I felt like I had to be dressed up as an apology for my body," inclusive stylist and body-positive personality Meredith Shaw says. Her words are hard to hear, but they express what is felt by many women. The former singer juggles many titles—radio host, TV personality, model, writer, and stylist—but primarily she works toward giving women a road map to confidence. She doesn't speak with any modicum of sadness or self-pity but with an infectious, affirmative energy that she has built up over years of radical self-love, a skill she is imparting to others.
Shaw started her inclusive style journey as a curve model (a more inclusive term for plus-sized)—a gig she says helped her fall in love with her body. It's ironic, because the modelling industry has a reputation for being notoriously body-negative and toxic. But Shaw says the experience gave her the opportunity to connect with people and spark change. From the inside, she peeled back the industry to see what does and doesn't happen to promote body positivity. She also witnessed the excuses made to justify underrepresentation.
Tom Ford once said in an interview with WWD that "there is a practical reason that most models are the same size, and that's called a sample collection. You make a sample collection [according to] a standardized selection of measurements for models." But doesn't that feel like a self-fulfilling prophecy? The clothes are made to fit the models, and the models are selected to fit the clothes.
"I see where the breakdown happens, and that's what motivates me to show that it's not that difficult," Shaw says of focusing her powers of fashion on plus-sized women. She states explicitly that the excuses made around sample sizing are untrue. Really, it's a choice made by the industry long before the runway, and it's a choice that can be avoided. There are also arguments that claim sample sizes are smaller because of the additional fabric required to make larger sizes, and the additional cost of said fabric, and some people have even been so brazen as to suggest that clothing just looks more appealing on thinner frames, all of which is a matter of perspective.
Shaw recalls that modelling taught her the importance of design and fit, that after her experience "she shows up differently," both for other women and herself. It's a concept that she emphasizes for her followers on Instagram and her styling on the Marilyn Denis Show. She advises that women should get their measurements and then use them to buy clothing online. "Remove the emotion from it," she says, trying to minimize the stress of sizing for women. It's the "key to opting into your life at any size."
Shaw links style with access, saying that at its heart fashion is "the possibility of who you can be." Once women know who they want to be, "the clothes fill themselves in," she says. "Style has changed my game because I can put something on and feel a different way." When we reframe clothing and fashion as a way to create a sense of self, the idea of size inclusivity becomes crucial.
"Without it, you're not just denying them the outfit, you're denying them the confidence," she says of brands that don't include plus sizing. Some do carry plus sizes but don't market them or even photograph the garments for their sites—a problem Shaw encountered when trying to put together a Canadian Living column dedicated to curve fashion. But the demand is there—in fact, many of the clothing items Shaw mentions on her Instagram sell out afterward. "The curve customer is getting louder," she says.
This is evidenced by the popularity of brands like Veronica Beard, Tanya Taylor, and 11 Honoré that kicked off a movement of third-party brands approaching luxury designers and asking for dresses in sizes 16 to 20 that they would then sell on the designers' behalf. Another increase in demand over recent years is for size-inclusive fashion that is sustainable, and designers like Hilary MacMillan, Lesley Hampton, and Hayley Elsaesser are leading the charge in that field.
Shaw says she is proud to be part of the body-positive space and promote size-inclusive brands. Her social media is a sort of antidote to the fashion malaise many women can fall under when nothing fits them, and her Instagram functions like an ongoing look book for curvy women to return to when they need inspiration or fashion reinvigoration.
Shaw has also recently launched a tangible extension to her methods with Confident & Crushing It affirmation cards in collaboration with Joyful Hearts Co. They were released on March 26 (National Self-Confidence Day) and consist of a daily affirmation and, often, an action message to help women feel more comfortable and powerful in their skin. The realistic asks on each card reflect Shaw's approach to life, fashion, and overall confidence: no-nonsense but delivered with humour and blitheness—something we could all do with more of.