The Superyacht That Comes With Its Own Matching Cargo Ship

One would think that a major benefit of owning a superyacht nearly 60 metres long would be having plenty of space to bring along—well, just about anything you can think of. And that's pretty much the case. But for those who need just a little more cargo space than most, Dutch superyacht builder Royal Huisman has the answer. Meet Phi, the superyacht with its own matching cargo ship.
Stretching a massive 58 metres in length, the Phi is now the longest motor yacht in the world in the sub-500 gross ton category. Ditching the traditional wedding cake profile of most other large superyachts, Phi adopts a sleek, low-profile hull form that devotes every possible micron of space to passenger comfort. With exterior styling by Cor D. Rover and interior design by Lawson Robb, Phi boasts a vast amount of personal space in a hull that its captain describes as "showing feminine lines, but in a dangerous way, like a cobra or a lioness."
The graceful yacht's entertainment areas provide the owners with almost unlimited options for hosting up to 10 guests. With an upper deck devoted to the owner's penthouse and space below for spacious, elegantly appointed guest apartments, Phi's entire main deck is available for relaxation. Of course there's a large heated infinity swimming pool that's protected at night with a powered retractable cover. And as to be expected, Phi comes with multiple expansive lounging/sunning decks. There's a cruise-ship-sized outdoor bar and seating area to the stern, a vast swim platform, and what the builder describes as an "infinite" wine cellar.
Phi even comes with the newest "zero speed" stabilizer systems to calm rough waters whether underway or resting at anchor.
All well and good. But nothing really makes a statement—or impresses even the most jaded friends—quite like cruising along with one's own 36-metre "shadow vessel" following behind. The yacht has its own matching cargo ship to carry all the gear.
This mobile toy shop houses all of Phi's goodies, functioning as a floating garage to stow a couple of large, luxurious tenders, Sea-Doos, fishing and diving equipment, a Ferrari for the owner, or, perhaps, a bulletproof limo. The shadow ship is built around an enormous 157-square-metre outdoor cargo deck with a massive integrated crane for fast loading and unloading, as well as a 33-square-metre workshop for taking care of any requisite oil changes or other bits of maintenance between stops.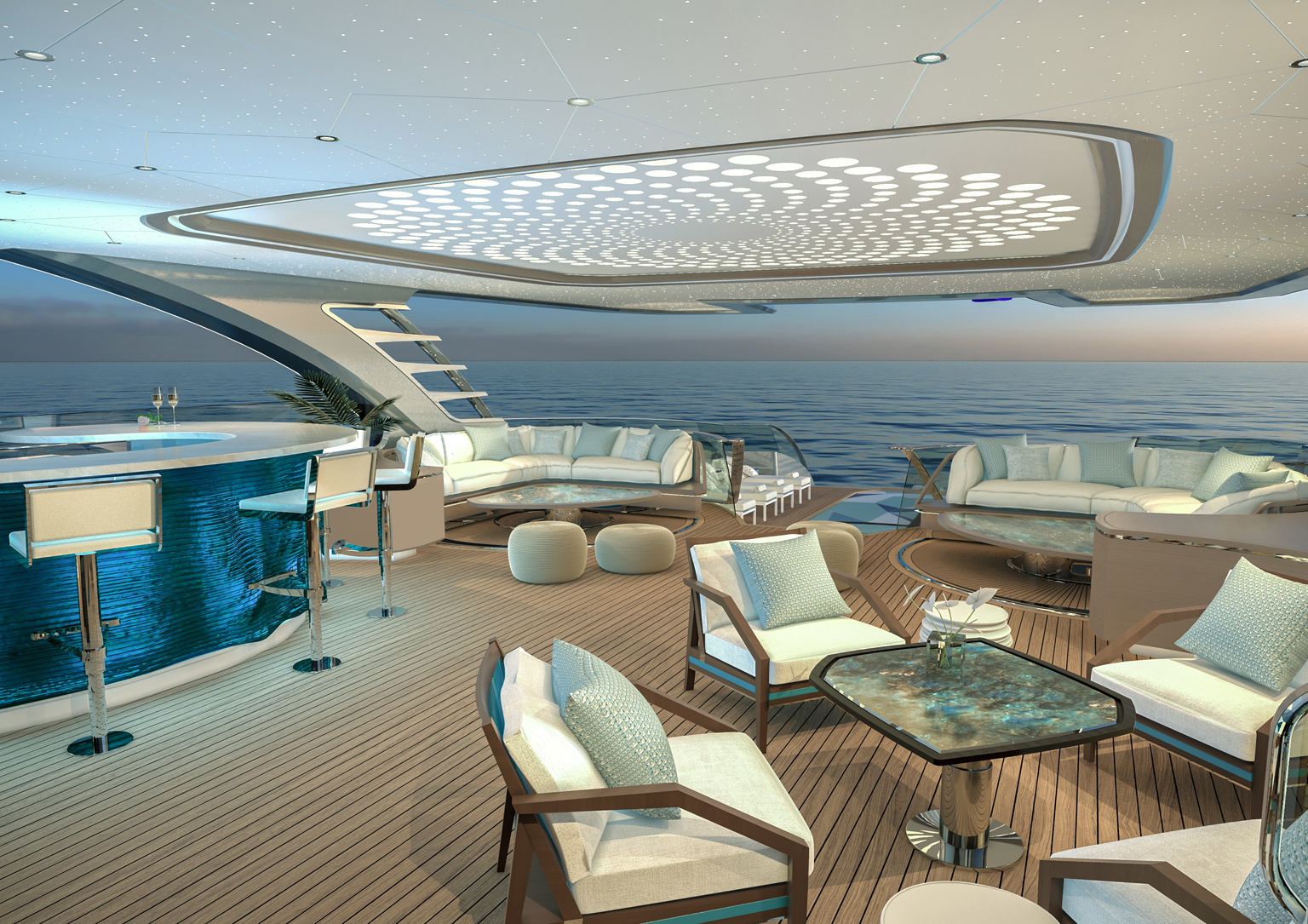 The as-yet-unnamed shadow vessel (Mini-Phi? Baby Phi? Phiphette?) even includes a substantial onboard laundry, where Phi's crew can deal with the weekly necessities for its owners and their guests.
With a stated 21-knot top speed and near 7,800-kilometre range, Phi's cargo companion probably won't spend much time following the mothership so much as sprinting ahead of it, to ensure all the owner's toys are unloaded and ready to be enjoyed upon arrival. Similarly, Phi can head off on its next adventure while its shadow ship sticks around to reload the gear before shooting ahead to the next port of call.
Talk about having your cake and eating it.
Looking for a new boat? Why not have two? By preserving its own space for on-board accommodations and relegating all the gear to a companion freighter, Phi proves that it really isn't possible to have too much of a good thing.