Porsche's 2020 Taycan Makes an Electrifying Statement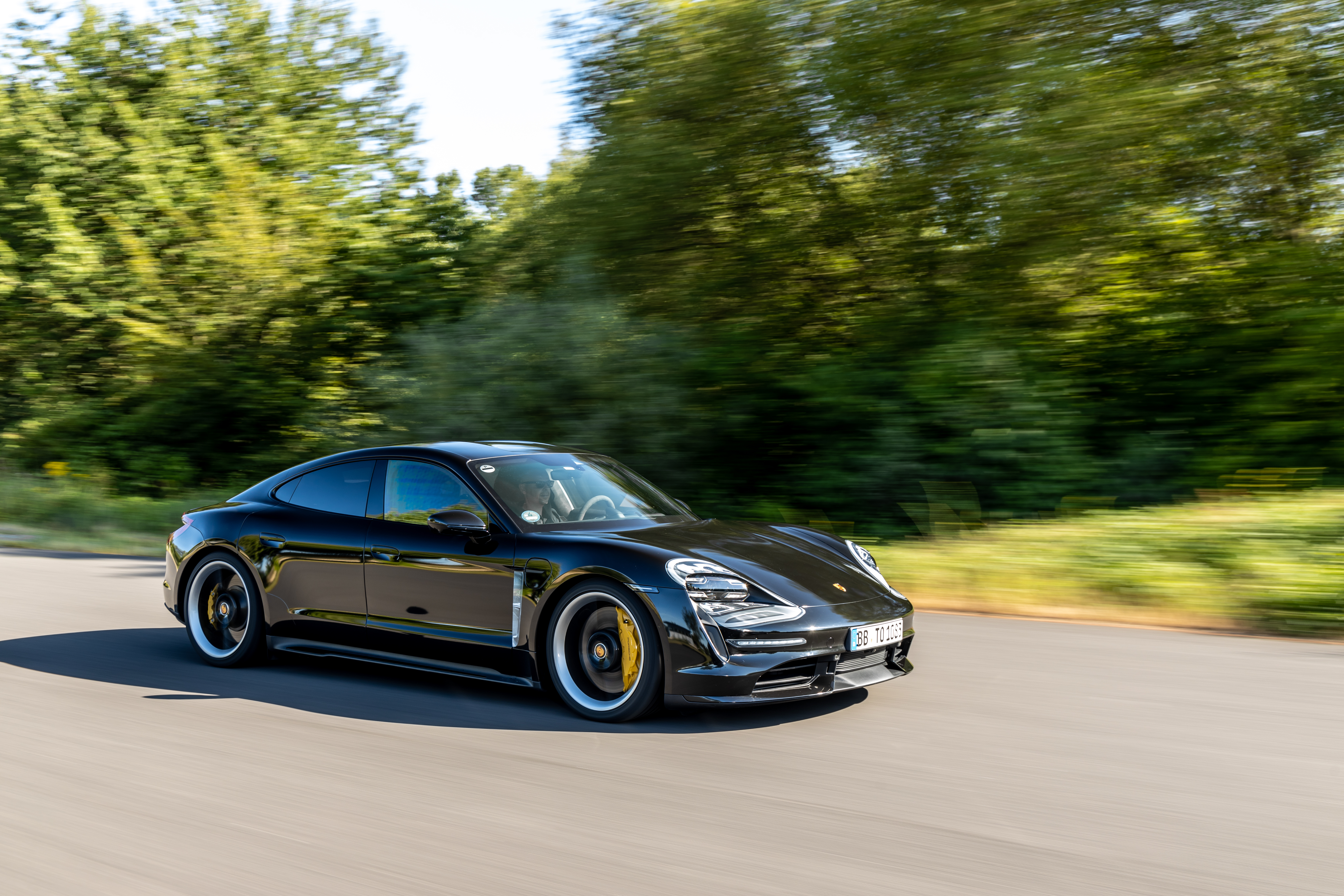 Porsche would like to set the record straight on a couple of things. Number one: it makes the best cars on the planet. Number two: don't you ever forget number one.
At least, that's the impression you get when you take in the brand-new Taycan (TIE-khan), the company's first all-electric vehicle. No, it's not the first EV in the world; nor will it be the last. But it may well end up being the definitive one. For Porsche, it's clear the Taycan not only represents an opportunity to capitalize on the ever-growing demand for performance-oriented green vehicles, but an opportunity to make a statement—to drivers, to car aficionados, and most importantly to competitors—that it intends to be the best at what it does, now and forevermore.
First and foremost, the Taycan is a driver's car. It's gorgeous, with a dramatically sloped front end; an aggressive, wide stance; and flowing, 911-esque curves that speak the visual language of speed and agility. But make no mistake: the car also belongs to the engineers. In typical Porsche fashion, every screw, every circuit, every rivet is carefully considered to offer the apex of driving performance—and, if we're being honest, to settle scores with Tesla, BMW, Audi, and other pretenders to the sports car throne.
Calling the Taycan an engineering tour de force would be an understatement. Porsche started its $1-billion investment in its new EV by ripping up the EV playbook, creating a brand-new 800-volt power system that offers higher continuous power, faster charging, and less volume and weight (because it has less copper wire) than the typical 400-volt architecture in other EVs. The car comes standard with dual synchronous motors (one for each axle) that deliver more than 750 horsepower in the top-of-the-line Turbo S model. That's enough kick to literally suck you into your seatback as it takes you from a standing stop to 100 km/h in 2.8 seconds. Automotive cognoscenti will notice the slightly slower rate compared with Tesla's much-publicized "ludicrous mode". But there's a difference: Porsche's innovative cooling system ensures the Taycan can do it over and over again, without melting the bank of lithium-ion batteries below your feet.
From a practical perspective, all this tech offers owners some serious advantages. Getting from a 5 per cent charge to about 80 per cent will take a Taycan about 20 minutes under ideal conditions—roughly half the amount of time a Tesla would need at a supercharging station. To more closely replicate those ideal conditions, the car's battery comes installed with a "preconditioner", which warms or cools the battery for charging in its ideal temperature range.
While the Taycan's electric powertrain is certainly attention-grabbing, the car is something of a mechanical marvel too. Adaptive air suspension, electromechanical roll stabilization, rear-axle steering, regenerative carbon-ceramic brakes, aerodynamic wheels, traction control—all these have been rethought, redesigned, and re-engineered to be more responsive and more efficient, without sacrificing the sheer driving fun the brand is known for.
On the inside, there's plenty for digital enthusiasts to drool over. The driver's side instrumentation cluster is among the high-tech adornments: fully 16.8 inches wide and slightly curved, its customizable digital readouts offer a distinctly futuristic look without being as radically revisionist as Tesla's "all in an iPad" approach. There's also an infotainment panel in the centre console offering navigation and climate control, and an optional passenger-side screen. Apple CarPlay is a standard feature—but you may be too busy listening to the car's Electric Sport Sound, an engineered mix intended to provide drivers with the same kind of auditory rush they'd get while revving a gasoline engine.
It's clear Porsche has much at stake with the Taycan: reputation, brand, money, pride. And taken as a whole, the car succeeds in honouring Porsche's past while still driving it into the future. In the broadest sense, the Taycan is as much a mic drop as it is a car: a declaration of automotive swagger and engineering virtuosity, written in aluminum and carbon fibre.
But it brings up an interesting question: does a car need this much tech to get from point A to point B? Well, no. Then again, no one ever bought a Porsche with either A or B in mind—rather, it's what happens between those two points that matters. And this is where the Taycan not only succeeds, but triumphs: like its 911 cousin, it is the kind of car that ends up on a poster in a kid's bedroom, hanging proudly above the bed as Junior dreams of speed and sunshine. Or, if you happen to be a certain Silicon Valley entrepreneur with the last name Musk, the kind of car that makes you to wake up in the middle of the night in a cold sweat.
_________
Never miss a story. Sign up for NUVO's weekly newsletter here.