A Venetian Holiday With the Fully Electric Magonis Wave e-550
La dolce vita may seem carefree and spontaneous at a glance, but achieving such a lovely existence in the real world requires much thought, study, and hard work.
No one understands this quite like Magonis, the Spanish-Italian shipyard revered for its unique fusion of Catalan exuberance and Italian design. With its headquarters in Barcelona and production site in Sabaudia, an hour south of Rome, Magonis has earned a global reputation for its unique approach to design, drawing cultural references and influences from both its home countries, marrying brilliant creativity, a zest for life, fine taste, and exquisite engineering. Nowhere is this more evident than in the Wave e-550, which made its world debut at the 2021 Venice Boat Show.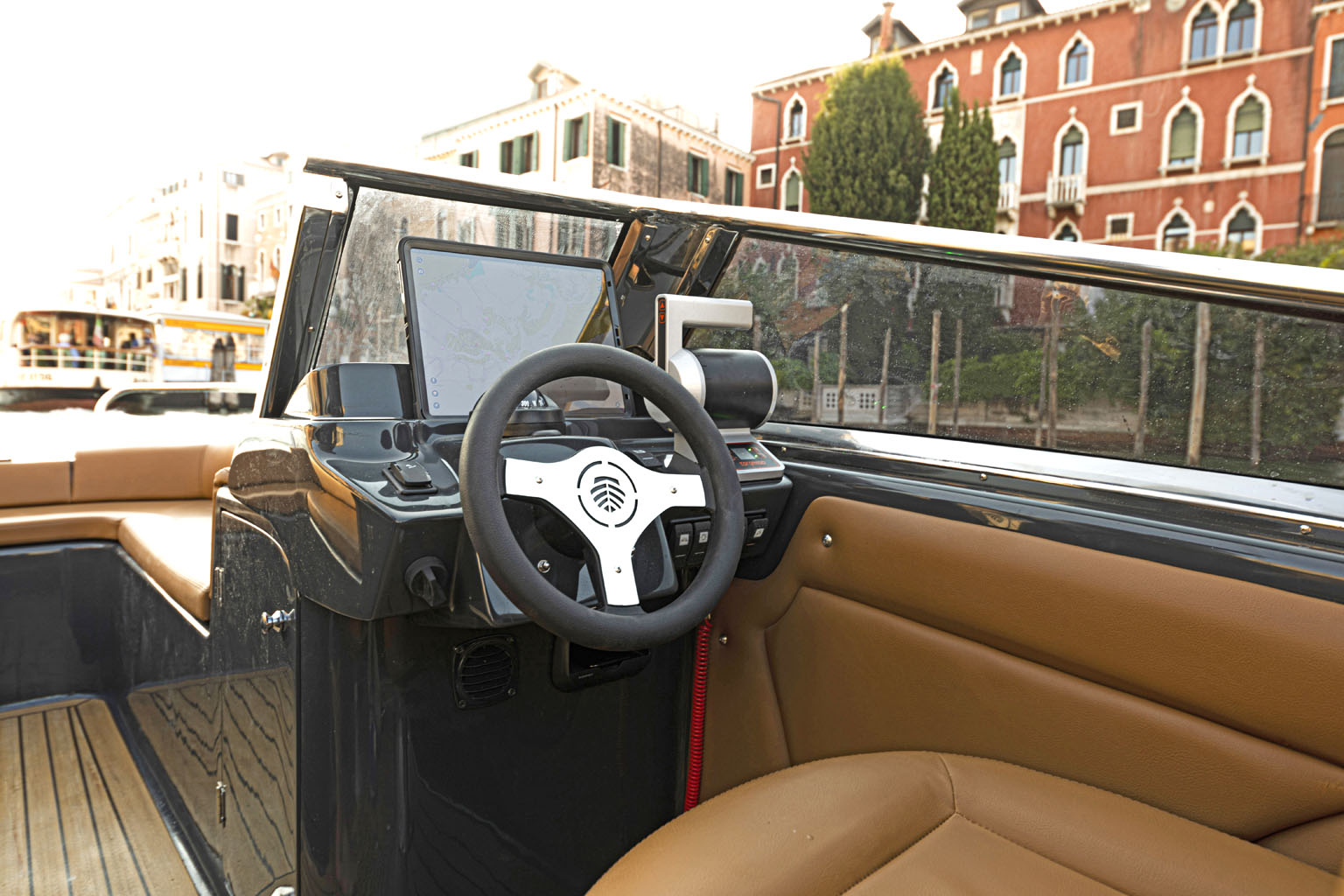 Compact, at just 5.5 metres in length and with a beam of just 1.98 metres, the remarkable Magonis Wave e-550 demonstrates an elegant capturing of life's essentials. The casually chic Wave e-550 is large enough and comfortable enough to explore the blue waters off Capri or make a quick dash from from Ibiza to Formentera, yet nimble enough for comfortable day cruises on Lake Como or Lake Garda—including access to the upper lake routes forbidden to traditional motorboats, thanks to its fully electric propulsion.
Drawing only 0.3 metres, the Magonis Wave e-550 can cruise shallow shorelines or narrow canals in complete silence, pushed along by a Mag Power or Torqeedo electric outboard. The German-made Torqeedo system, benefiting from a recent joint venture with BMW, includes a compact and powerful motor of up to 10 kilowatts maximum power, a 48-5000 lithium-ion battery, and Torqeedo's onboard fast charging system, which recharges the battery from 0 to 100 percent in less than two hours requiring only a standard 110-volt AC outlet.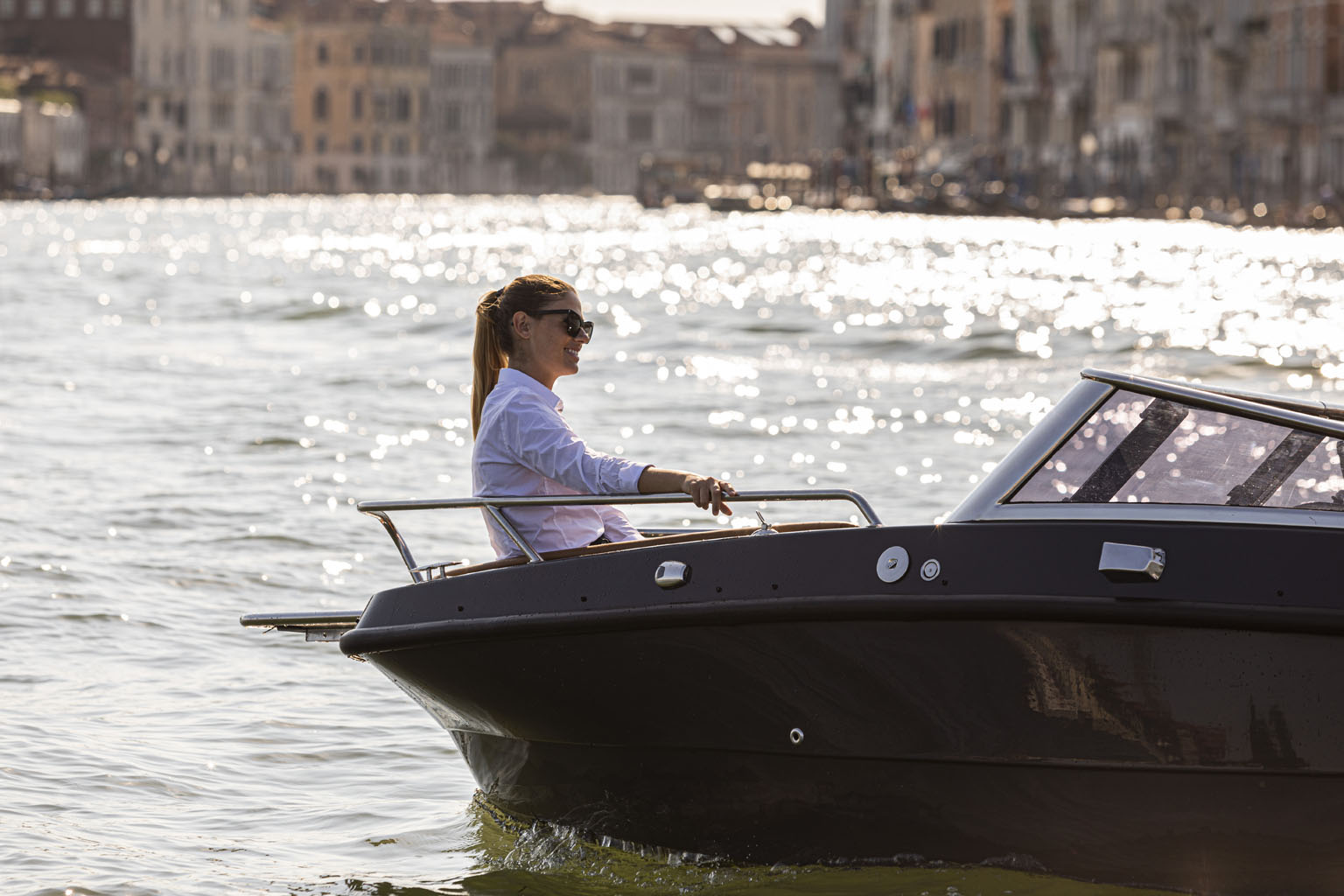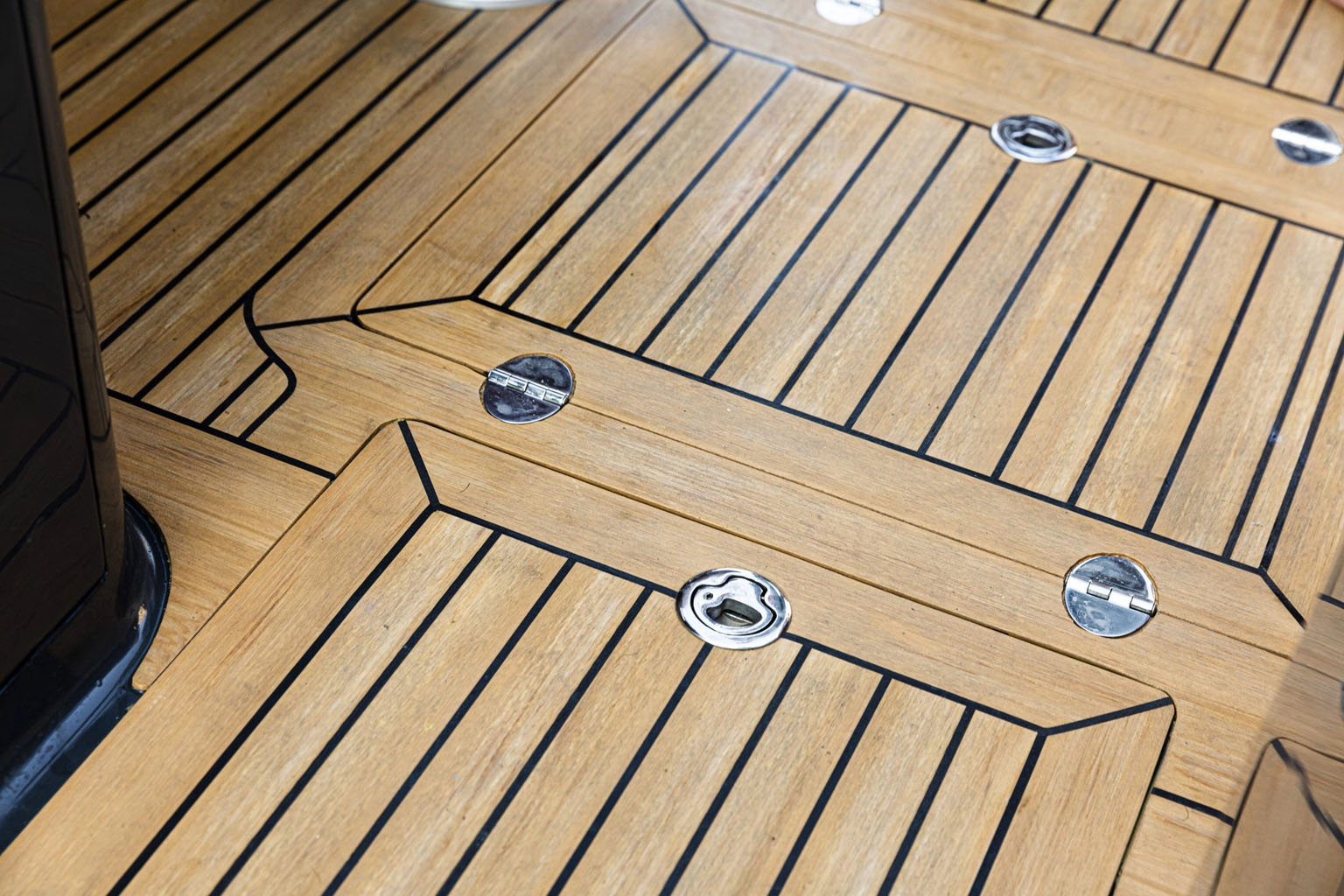 At cruising speed, the Magonis Wave e-550 will run for 12 hours between charges and can hit a top speed of up to 22 knots. With no smells, no fumes, and no need to carry fuel to the dock, the e-550 appeals to boaters who wish to minimize their environmental impact while satisfying the most stringent demands for high performance and low maintenance.
Based on its more than 15 years of experience creating boats for military applications, Magonis leverages its vacuum-infused  Light X Pro technology to reduce the e-550's hull weight to a mere 355 kilograms. And no, that's not a typo—at just 335 kilos, the e-550 is by far the lightest boat in its class, allowing superior performance with off-the-shelf electric power systems.
In keeping with its pedigree, the Wave e-550 follows a traditional bowrider layout, with a few distinctive twists. The bow seating is designed for maximum versatility, providing comfortable lounging underway with the ability to convert to an inviting sun pad with some filler cushions or, with an optional telescoping table, a spacious dinette for a picnic al fresco.
Comfortable cockpit seating is protected by a custom-made Inox walk-through windscreen with tinted, laminated glass and a distinctive stainless steel frame, keeping the evening chill at bay on late-night returns from dining and dancing.
On the helm, the usual dial gauges and displays are replaced by a 13-inch iPad Pro. It comes with a custom-fit, military-grade casing that's waterproof to the IP 68  standard, of course. Detailed nautical charts by Navionics provide exceptionally accurate navigational data that's updated constantly in real time, ensuring the boat's GPS plotter is never out of date.
Additional fine details include an extra-long, four-step boarding ladder that hides neatly out of sight in a swim platform compartment until needed; four flat retractable cleats with an extra-low profile and mirror polish; no less than five flush-mount, stainless steel drink holders; a for-kilogram Bruce-type anchor; and full teak decking by Flexiteek.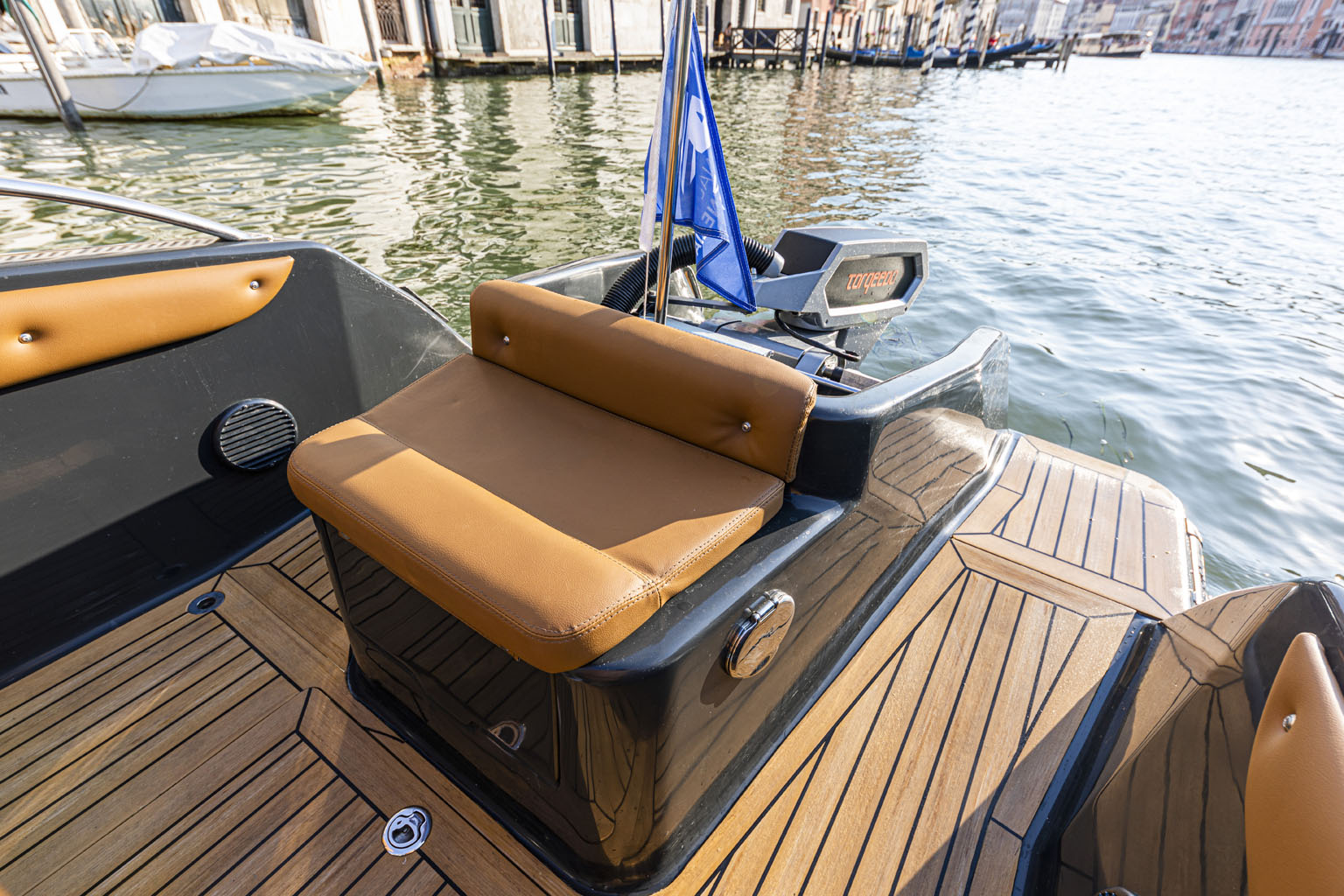 In recognition of the today's connected world, the e-550 comes with an integrated wireless smartphone charger at the helm, with six USB charging ports distributed throughout the interior. Audiophiles will be pleased to learn that onboard audio entertainment is provided by a 120-watt Fusion surround sound stereo system.
Magonis knows every buyer's needs are different, so the Wave e-550 comes with a long and tasty option list that allows endless personalization. Delights such as a cockpit refrigerator, a transom shower, a GPS-enabled antitheft package, and a full-deck awning supported by carbon uprights are some of the available upgrades.
With its refined appointments, technologically advanced design, silent and emission-free propulsion system, and impeccable good looks, it is easy to imagine living la dolce vita with the Magonis Wave e-550. Whether exploring the Channel Islands or wandering the canals on a Venetian holiday, this is one runabout that simply can't help but impress.