The Ferrari Monza SP1 and SP2
Exceptional inaugural models from the new Icona series.
Earlier this week, Ferrari launched two new limited-edition cars that also mark the start of a new series for the brand. Amongst a group of press and collectors, Ferrari unveiled their Icona series and its inaugural models, the Monza SP1 and SP2.
Ferrari Icona is a new line of vehicles that challenge Ferrari's designers to look into the brand's past to find inspiration for special new models. Drawing inspiration from legacy examples in Ferrari's rich history, the new Monza SP1 (a single seat version) and SP2 (two seats) are meant to be modern interpretations of cars like the 750 Monza and 860 Monza.
Both versions look incredible and, to my eye, manage to blend a vintage format with the best of Ferrari's modern design language. With both Monzas operating as speedsters, they look so delightfully uncommon. I hope whichever super collector or mega-client gets tapped to buy one of these from Ferrari, options it in a bright colour and takes it to car shows, so that as many people as possible get to see it in the metal.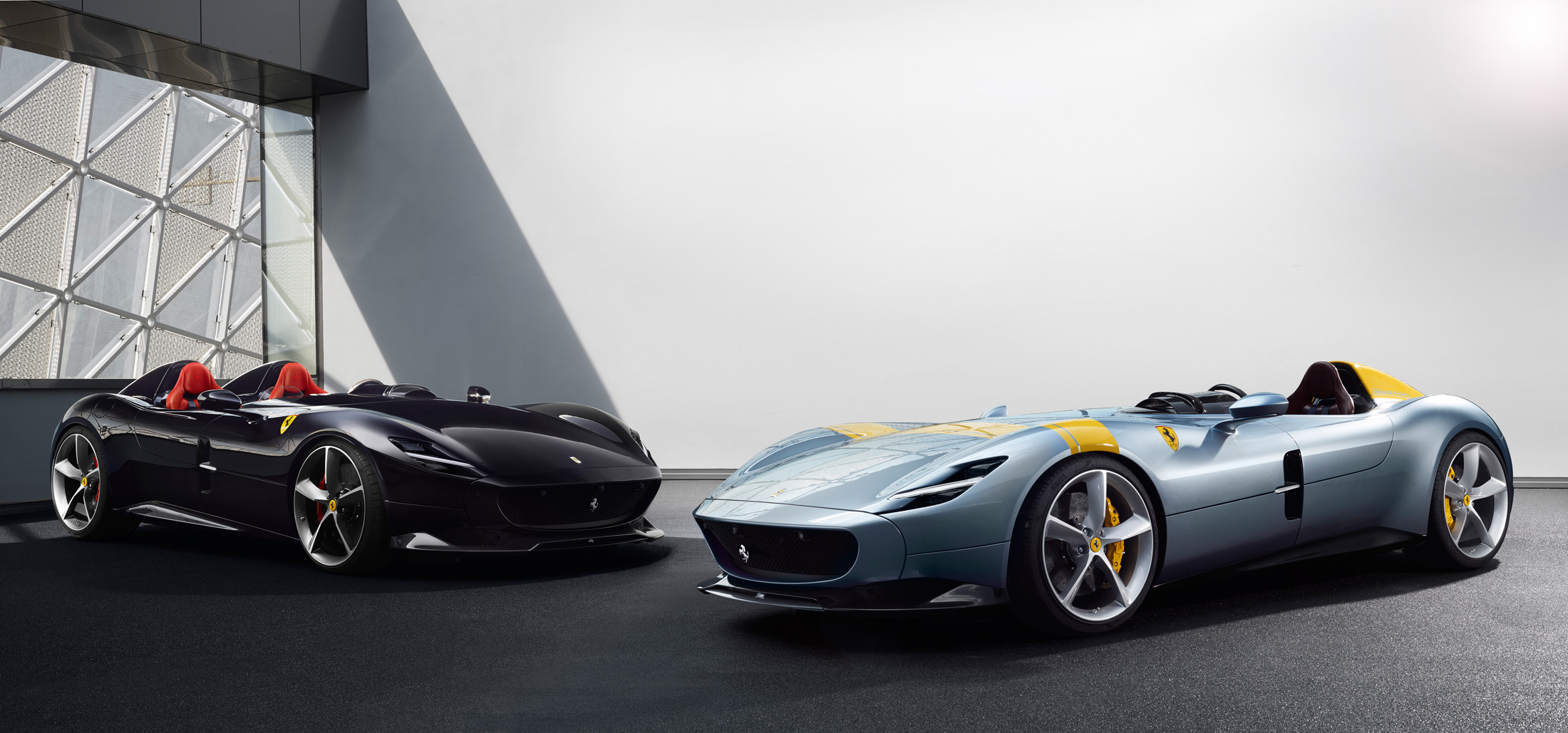 Besides, it's not as though Ferrari skimped on the engine either. With a 6.5-litre V12, both versions of the Monza are meant to be driven, blasting down sunny roads with 808 horsepower on tap and the wind in your hair. Based on the incredible 812 Superfast, 0 to 100 km/h is managed in 2.9 seconds, which must feel especially quick in this stripped down racecar-like format.
Prefer not to have the breeze blowing your mane? Don't worry, Ferrari thought of that too and partnered with both Loro Piana and Berluti to produce a range of Monza-specific apparel that includes a leather helmet, as well as racing overalls, gloves, scarves, and driving shoes. If you're going to drive a car like the Monza, you might as well look the part.
Ferrari claims that the Monza SP1 and SP2 have the highest power-to-weight of any barchetta model (meaning "little boat" in Italian, the term is used for an open top two-seat sports car). While certainly very powerful (easily one of Ferrari's most powerful V12 models), the Monzas are all about the feeling—that classic racecar experience that connects back to the early days of open-cockpit motorsport.
While these two new Icona series models look fantastic, offer extreme performance, and will be ultra-exclusive, I imagine the true appeal lies in actually driving them—just you and the engine. The look is so pure, so minimal, so old school, that if the driving experience is even half as good as the design suggests, these are both very exceptional cars.
While Ferrari is neither openly discussing how many Monzas will be made nor the car's price tag, it's fair to say that production will be low, and cost, high. But you know what? I totally get it. There is no end of expensive conveyance available today, but well-heeled collectors will spend an arm and a leg for a truly extraordinary experience. Just imagine a cool morning around sunrise, maybe in the hills north of Los Angeles, with your favourite person in the right seat of that SP2. Is the Monza practical? Not in the least. But it is special, and a great example of Ferrari continuing to be Ferrari in a world of grey and lifeless crossovers. To that, I say bravissimo.
_________
Never miss a story. Sign up for NUVO's weekly newsletter, here.