Valentine's Day Dinner Recipes
To go out or eat at home. That is the conundrum of Valentine's Day. The holiday of love demands something a bit more special than our usual home cooked fare but during COVID many of us aren't ready to venture out to a restaurant just yet. These Vancouver chefs, Jenny Hui of the Lazy Gourmet and Nikki Tam of Minami Restaurant have shared these recipes to bring restaurant level food into our home.
Braised Short Rib With Potato Latke
Recipe by: Jenny Hui, Executive Chef, The Lazy Gourmet
Makes 6 portions
Short Ribs 
Ingredients 
6 bone-in beef short ribs
Kosher salt and freshly ground black pepper
4 tablespoons vegetable oil
2 medium onions, diced
2 medium carrots, diced
2 celery stalks, diced
3 tablespoons all-purpose flour
1 tablespoon tomato paste
1 bottle red wine
2 sprigs rosemary
2 fresh bay leaves
8 cloves garlic
4–5 cups beef stock
Method

Preheat oven to 350°F.
Generously season short ribs with salt and pepper.
In a large pot, heat oil over medium-high heat. Sear short ribs on all sides. Transfer short ribs to a roasting pan.
To the pot, add onions, carrots, and celery. Sauté over medium-high heat, about 5 minutes. Add flour and tomato paste; cook for about 5 minutes. Then add wine and bring to a boil.
Pour mixture over the short ribs. Add rosemary, bay leaves, and garlic. Cover short ribs with beef stock. Cover with foil.
Place in oven for 4–5 hours or until short ribs are tender.
Transfer short ribs to a plattter.
Strain sauce and pour over ribs. Plate with potato latkes and enjoy!
Potato Latkes 
Ingredients
4 large Yukon gold potatoes,
1 small peeled white onion
3 eggs, beaten
1/4 cup potato starch
Salt
Oil for pan frying
Method
Grate potatoes and onion into a bowl.
Add eggs and potato starch, and season with salt.
Heat oil in frying pan over medium heat.
Divide potatoes into 4 portions. Shape and gently flatten into a round cake.
Drop into pan. Fry until golden on both sides.
Remove and season with salt.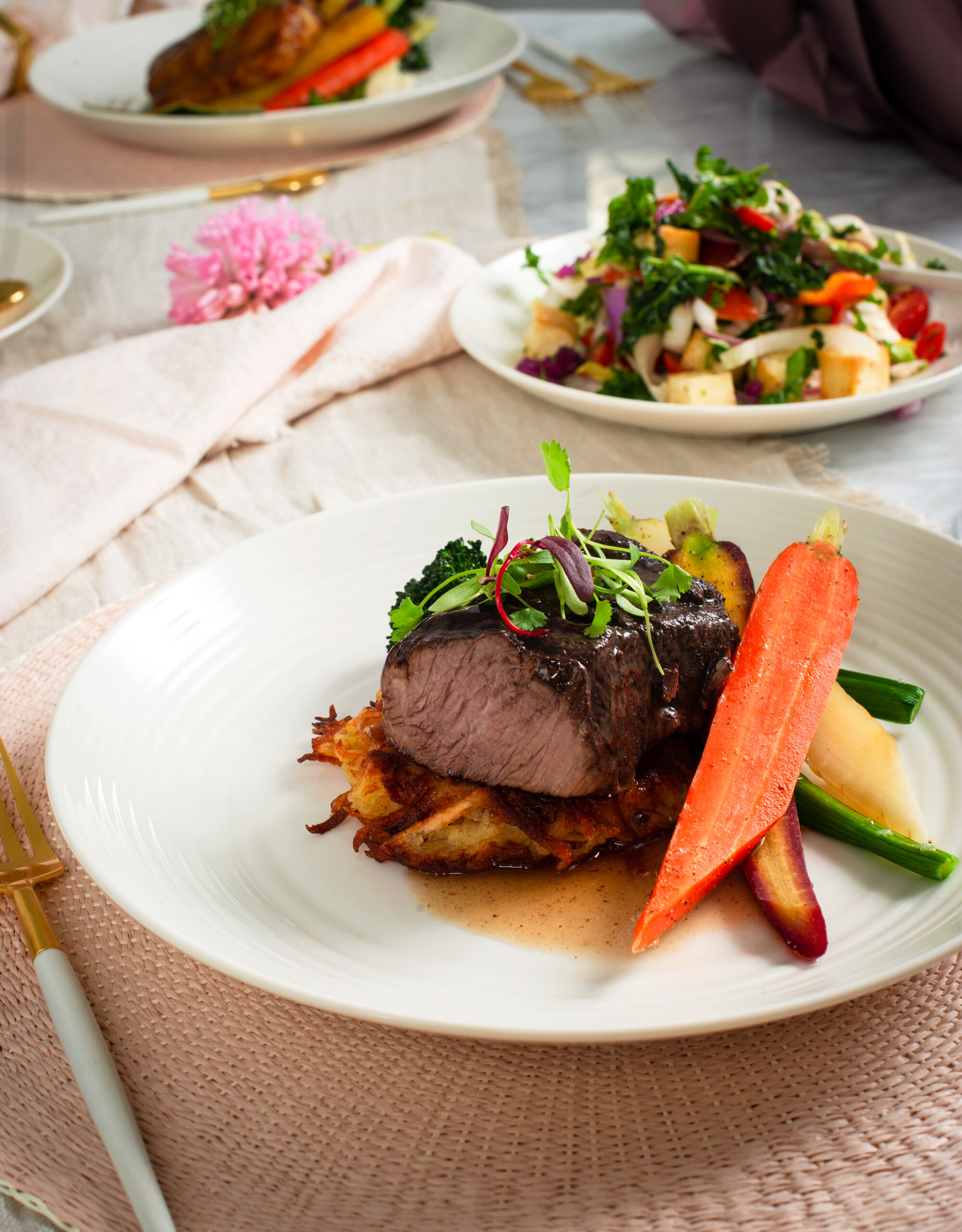 Miso Pecan Mocha Mousse
Recipe by: Nikki Tam, Pastry Chef, Minami Restaurant
(Makes 6 servings)
Ingredients
For the mocha mousse:
1.5 cups dark couverture chocolate chips
2 cups whipping cream
1 tablespoon instant coffee
1 teaspoon vanilla extract
For the miso pecan crumble:
3 tablespoons butter (cold)
1/4 cup pecans
1/2 cup all-purpose flour
3 tablespoons brown sugar
2 tablespoons saikyo miso
For the mascarpone cream:
3 tablespoons whipping cream
1/2 cup mascarpone
For the garnish (optional):
Edible flowers
Method
For the mocha mousse:
Place chocolate chips in a medium-sized bowl.
Heat cream in a saucepan until it comes to a simmer, turn off heat, and add instant coffee (adjust amount to taste).
Stir cream to melt the instant coffee, then pour the mixture over the chocolate chips. Keep mixing to melt the chocolate completely. Add vanilla extract to the mixture and make sure all ingredients are incorporated.
Once the mixture cools down, refrigerate overnight.
Whip the mixture with an electric mixer until it reaches stiff peaks. Be careful not to overwhip.
Fill a piping bag with mixture (star tip optional).
For the miso pecan crumble:
Preheat the oven to 350°F.
Cut cold butter into small cubes 1 centimetre per side, then combine all the ingredients in a bowl and mix together by hand. Keep mixing until it resembles coarse cornmeal with small chunks of butter throughout. Place mixture on a half sheet pan and refrigerate for 30 minutes.
Bake crumble until golden, approximately 8–10 minutes. Rotate the baking tray once and break apart the crumble with a spatula halfway through to ensure even baking.
For the mascarpone cream:
Whip cream until medium-soft peaks. Fold into mascarpone until incorporated.
Fill a piping bag with the mixture (round tip optional).
To assemble (can be assembled 1 day in advance):
Place a spoonful of crumble in preferred glassware (6–8-ounce glasses work best).
Pipe a layer of mocha mousse on top of crumble, then pipe a layer of mascarpone cream, then pipe another layer of mocha mousse.
Top off the dessert with more crumble and decorate with mascarpone cream and/or edible flowers as desired.
Enjoy!