Toronto Brewery's New Magazine Wants to Change How We Think About Food
In the summer of 2019, Toronto-born chef and brewer Max Meighen opened Avling Kitchen & Brewery, a sustainable, circular, farm-to-table restaurant and brewery in the city's Leslieville neighbourhood. Its simple yet radical mission is to emphasize seasonal, local ingredients through sustainable urban food production. The idea for Avling was inspired by SPACE10, the IKEA-supported research and design lab based in Copenhagen, which had recently moved into the home-gardening and food-production space. "It seemed like everything short of full-scale urban agriculture," Meighen says. "It was all on a residential, personal scale." Meighen, who trained as a cook at Montreal's Liverpool House and worked as a brewer in London, England, decided to import that ethos to Toronto. "How do you marry the design aesthetic, the accessibility, the use of construction, affordability with this rather novel concept—namely, producing food at home?" he asks.
After two and half years of serving up seasonal fare and craft beer to Toronto locals, Meighen wants to connect with the culinarily curious far and wide. To do so, he recently launched Serviette, a magazine about the people and ideas changing how we think about food. "The idea, the content that we cover, is really an expression or extension of everything that we do at Avling," Meighen says. As a longtime magazine reader, he believes in their ability to foster community. "The magazine came out of my passion for food and looking at really pressing topics that are facing urban centres these days—food security, design, livable neighbourhoods."
The first issue sees this vision through. Comedian Eric Wareheim dreams up his ideal restaurant; renowned architecture firm Partisans talks about the intersection of urban planning and food; Matt Orlando, the chef and owner of Copenhagen's Amass—one of the world's most sustainable restaurants—explains why byproducts don't exist in his kitchen; and a group of female Indigenous chefs discuss the idea of reclaiming culture through cooking. "I think we certainly have taken a very deliberate approach and have understood that I have the point of view that I have, and there are many more out there that should be represented and should be talked about and should be celebrated," Meighen says.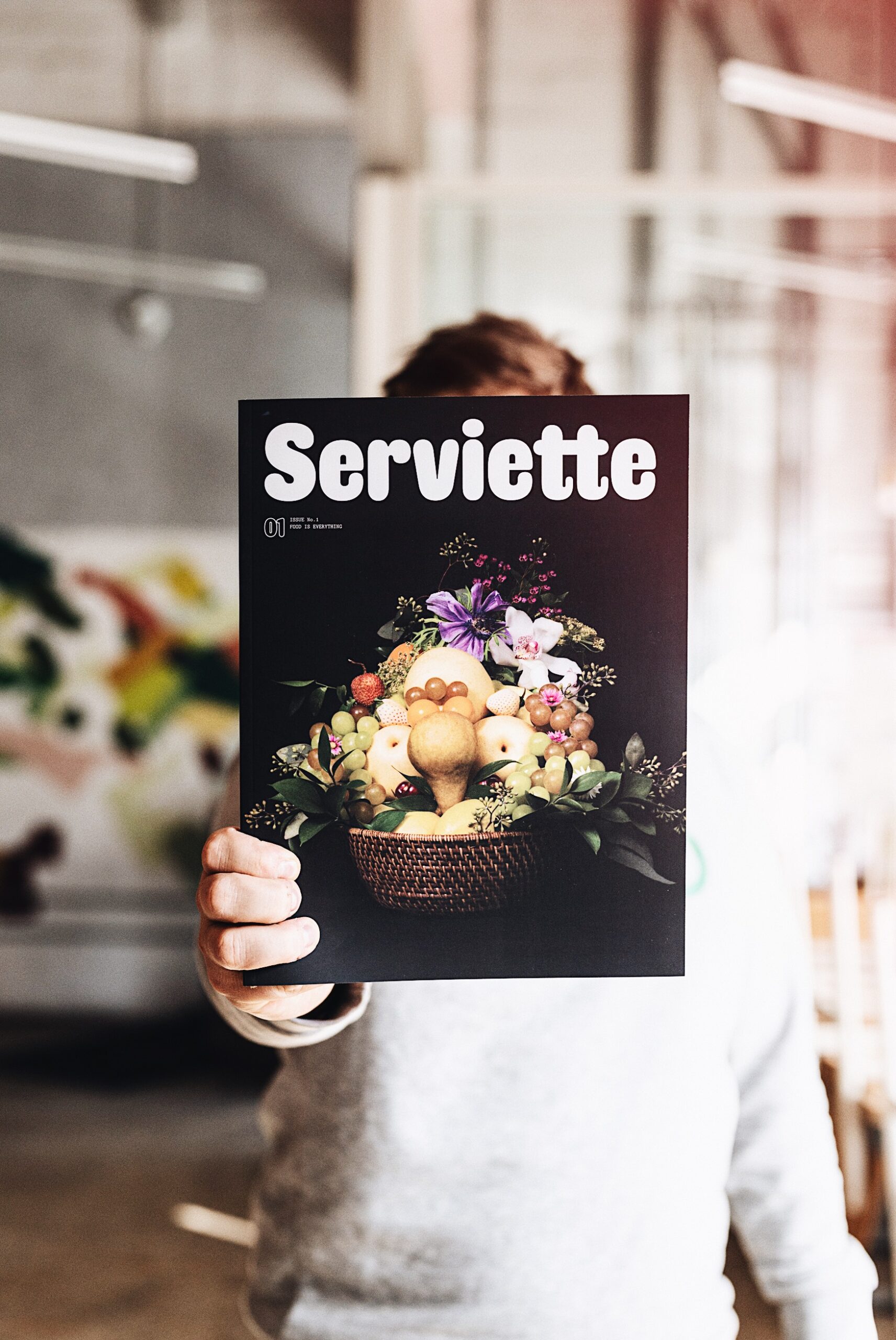 Serviette is part of a larger initiative to develop Avling's circular urban agriculture operations. That means offering a subscription service for grocery boxes with produce from Avling's rooftop garden and local suppliers, investing in vermicomposting, and expanding the garden to grow a wider variety of vegetables that require deeper soil. "We're placing ourselves in this cycle of farming and in a novel point in the chain and creating value where there wasn't value before, and I think that's really exciting," Meighen says. "Looking for those moments where restaurants or breweries or any kind of food system can look for those undervalued opportunities, I believe that's going to be a big part of what our food system looks like in the future. Or at least it should."