Royal Salute's 32-Year-Old Union of the Crowns
Notes inspired by history.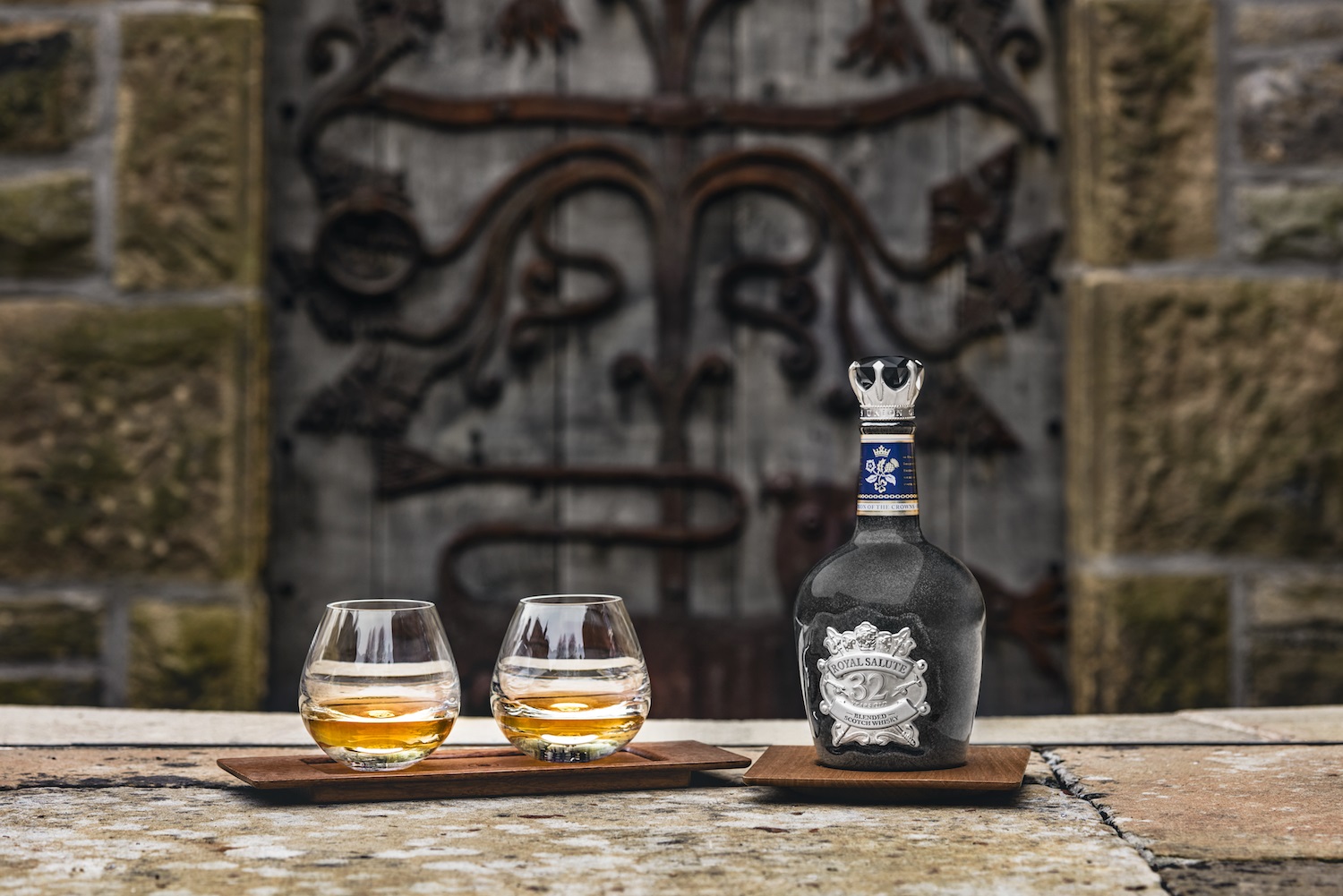 Chivas Brothers–owned whisky producer Royal Salute has created a blend fit for royalty itself. The 32-Year-Old Union of the Crowns has been blended in celebration of the longest reigning monarch and as homage to King James VI's creation of the British monarchy upon uniting Ireland, Scotland, and England in 1603.
Each whisky selected for the blend has been aged to a minimum of 32 years, and harkens from distilleries renowned for their products's distinct flavours. Upon slowly swirling a poured glass, the fragrance of peaches, caramel, cinnamon, and dark chocolate lifts from the drink—thanks, in part, to contributions from distilleries Glen Keith and Tormore, both notable for their sweet and fruity whiskies. A sip reveals an exquisitely smooth, delicate orange flavour, balanced with hints of licorice and ginger cake (from the inclusion of the Braeval distillery's product, known for its richness). There are also incorporations from Lochside and Caperdonich, long-since closed distilleries, which left their remaining whiskies in the hands of Royal Salute blenders to use. While these four primarily make up the profile of each sip, there are many other additions used in delicate proportions from distilleries kept secret by Royal Salute's master blender.
The whisky comes contained in porcelain flagons which vary in appearance due to finishing glazes that create individual patinas. However, what remain the same are the rose, thistle, and shamrock (floral motifs of England, Scotland, and Ireland respectively) that elegantly embellish the front of the bottle.
It is rare to find a blend containing such well-aged whiskies (nonetheless, two of which no longer in production), making the 32-Year-Old Union of the Crowns an exceptional gift for any whisky aficionado. Only available through Global Travel Retail as of October 2016, this bottle of Royal Salute comes just in time to keep warm with in the approaching cold winter nights.