Eggplant, Kale, and Cauliflower Curry
A versatile veggie-based recipe.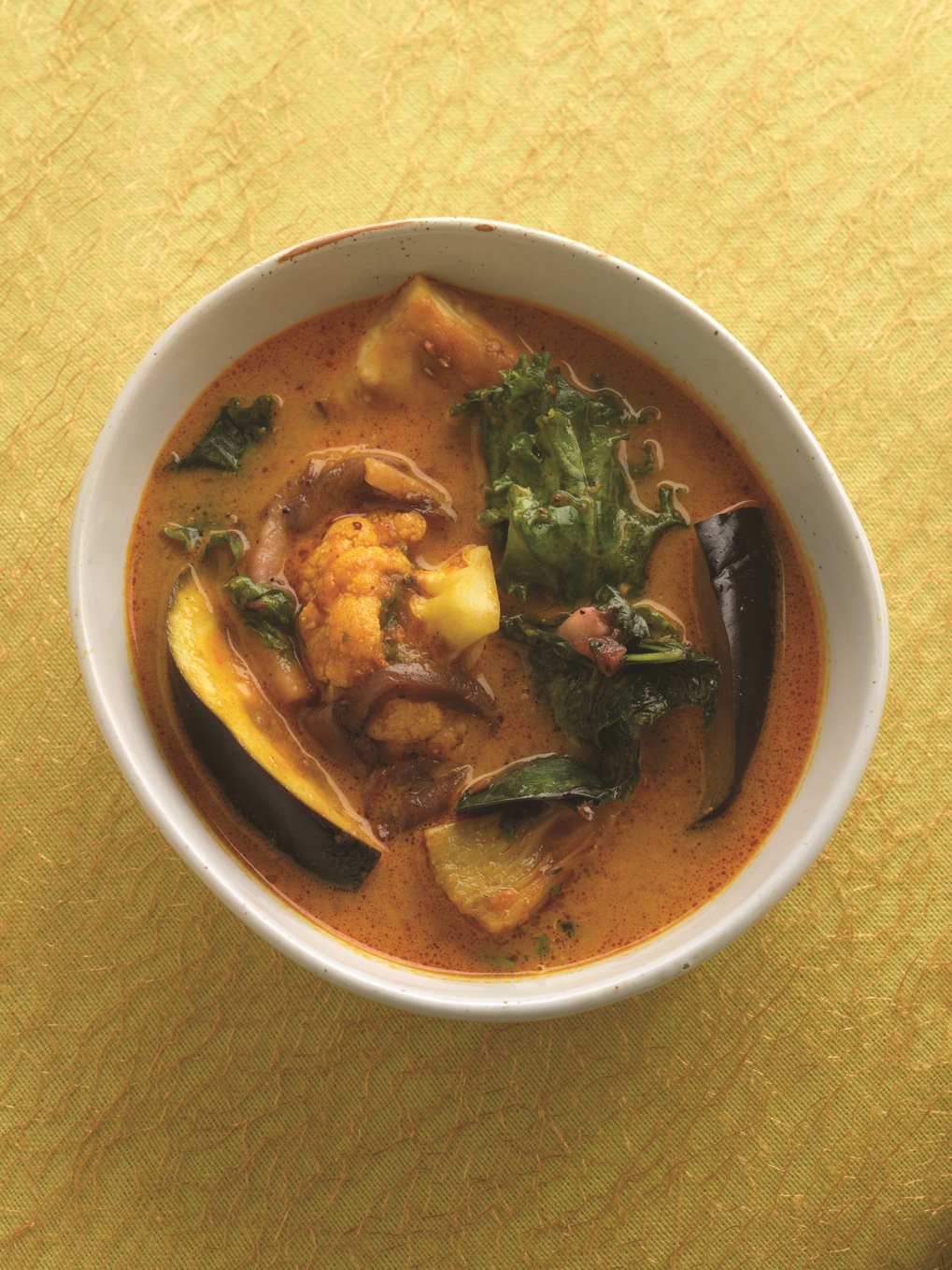 A recipe excerpted from Vij's Indian: Our Stories, Spices and Cherished Recipes by Meeru Dhalwala and Vikram Vij.
Read the story behind the cookbook here.
This versatile curry can be adapted to whatever vegetables are in season or in your fridge, as long as you use the same weight of ingredients. For example, at Rangoli we make this curry with jackfruit instead of eggplant. At home, though, jackfruit is a bit of a bother because it requires draining and flash deep-frying.
This is also our go-to "vegan allergy curry," in that it is dairy, gluten, and nut-free and a big hit with all customers. It is also suitable for Jains, a small and respected sect of Hindus who do not eat any foods grown in the ground (onions, garlic, and root vegetables). This belief is based on a strict practice of ahimsa (compassionate non-violence), which prohibits the killing of any animal and makes considerable efforts not to injure plants that otherwise die once they are pulled from the ground.
Remember to choose the lighter eggplants with oval "belly buttons" (page 84). Cut the eggplant and cauliflower to any size and shape, as long as all the pieces are roughly the same size. Serve this curry over white Basmati rice.
Serves: 6
Ingredients
1/3 cup coconut oil or cooking oil
¼ teaspoon asafoetida
3 cups puréed fresh or canned tomatoes (6 to 7 medium)
1 tablespoon ground cumin
2 teaspoons salt
2 teaspoons ground black mustard seeds
1 teaspoon ground fenugreek seeds
1 teaspoon turmeric
1 teaspoon crushed cayenne pepper
1 pound eggplant, cut into 2-inch pieces
1 small head cauliflower, cut into 2-inch pieces
2 bunches kale, stems discarded, chopped
28 to 30 ounces (2 cans, each 14 or 15 ounces) premium full-fat coconut milk, stirred
2 cups water
Method
Heat the oil in a large pot on medium-high heat for 1 minute. Sprinkle in the asafoetida and allow it to sizzle for 5 seconds. Immediately add the tomatoes and stir. Add the cumin, salt, mustard seeds, fenugreek, turmeric, and cayenne. Sauté for 5 minutes, or until the oil glistens on top.
Stir in the eggplant and continue cooking for 3 to 4 minutes. Stir in the cauliflower and kale and cook for another 3 minutes. Add the coconut milk and water, increase the heat to high and stir well. Bring the curry to a boil, stirring occasionally, then reduce the heat to low, cover and cook for 10 to 12 minutes.
Poke the eggplant and cauliflower with a sharp knife to be sure the eggplant is tender and the cauliflower is cooked but not mushy soft. Remove from the heat.
To serve, ladle equal portions of curry into individual bowls, or pour it into a large tureen and serve it family style.
Find more recipes from the Vij's Indian cookbook, here.
Excerpted from Vij's Indian: Our Stories, Spices and Cherished Recipes by Meeru Dhalwala and Vikram Vij. Recipes Copyright © 2016 Meeru Dhalwala and Vikram Vij. Text copyright © 2016 Meeru Dhalwala. Published by Penguin Canada, a division of Penguin Random House Canada Limited. Reproduced by arrangement with the Publisher. All rights reserved.
_________
Never miss a story. Sign up for NUVO's weekly newsletter.