Get Your Easter Chocolate Fix With Fondue, Two Ways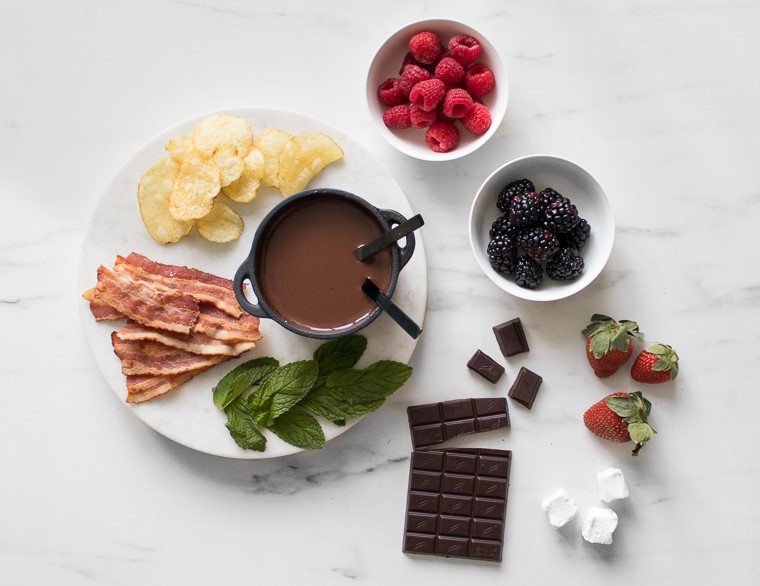 Chocolate fondue is a dessert quite capable of becoming more than the sum of its parts. Essentially comprised of melted chocolate and a dippable partner (fruit, sure, but also whatever you have handy, from biscuits to bacon) its best iterations are made lusciously silken with the addition of cream (or coconut milk). Here, two Canadian food blogger duos, Jeremy and Adrian of Vancouver-based blog the Food Gays, and Philip and Mystique of Toronto's Chef Sous Chef, share their approaches to creating decadent yet straightforward fondues.
Chef Sous Chef's Sweet and Salty Dark Chocolate Fondue for Two
"A few of our favourite things to dip are mint leaves (the herb flavour transforms the chocolate) sea salt chips (giving new meaning to sweet and salty with each bite) and bacon (like the chips, it adds to the sweet, salty, and savoury elements of the experience)."
Recipe courtesy of Philip and Mystique of Chef Sous Chef.
Serves two.
Ingredients
½ cup light coconut milk
2 Tbsp. Amaretto liqueur
2 bars Green & Blacks 70 per cent Dark chocolate, broken into squares
1/8 tsp. salt
A mix of strawberries, raspberries, blackberries, marshmallows, cooked bacon, mint leaves, and potato chips to dip.
Directions
1. In a small saucepan, bring coconut milk to a simmer over medium heat. Remove from heat.
2. Stir in amaretto, then add chocolate. Allow for it to sit for about two minutes, until chocolate begins to melt. Whisk until smooth and well combined. Transfer to a fondue pot or heatproof bowl and sprinkle with a pinch of salt.
Note: If the chocolate becomes grainy, stir in one tsp. boiling water. Continue adding water, one teaspoon at a time, until the chocolate becomes smooth again.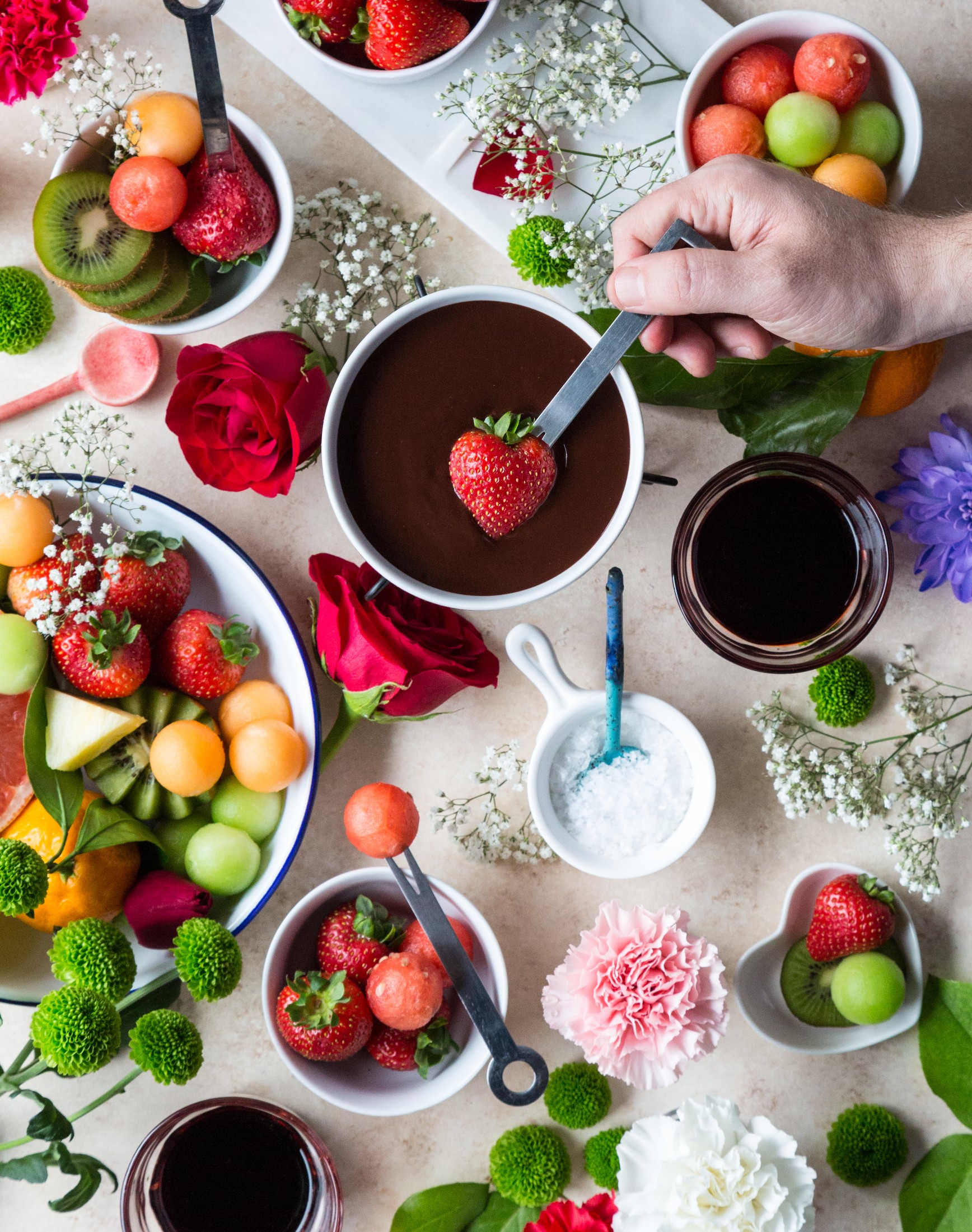 The Food Gays Triple Chocolate Fondue for Two
"We are partial to dipping fresh fruit, but cheese can also be a fun and slightly unexpected chocolate pairing that is absolutely delicious."
Recipe courtesy of Jeremy and Adrian of the Food Gays.
Serves two.
Ingredients
1 bar Green & Black's Ginger Dark Chocolate, chopped
1 bar Green & Black's Sea Salt Milk chocolate, chopped
1 bar Green & Black's 70 per cent Dark chocolate, chopped
1 cup heavy cream
½ tsp. ancho chili powder
Assorted fresh fruit, and whatever else your heart desires, to dip.
Directions
1. Place the chopped chocolate in a medium sized bowl.
2. In a small saucepan, bring cream and ancho chili powder to a boil over low heat. Add mixture to chocolate and let sit for 10 seconds.
3. Stir gently until smooth. Take care not to over stir – you want to incorporate everything just until the cream has absorbed into the chocolate.
4. Transfer mixture to a fondue pot and serve with fresh fruit.
Never miss a story, sign up for NUVO's weekly newsletter, here.