Chef Mark Perrier's Spaghetti and Meatballs Recipe
A red-sauce joint staple.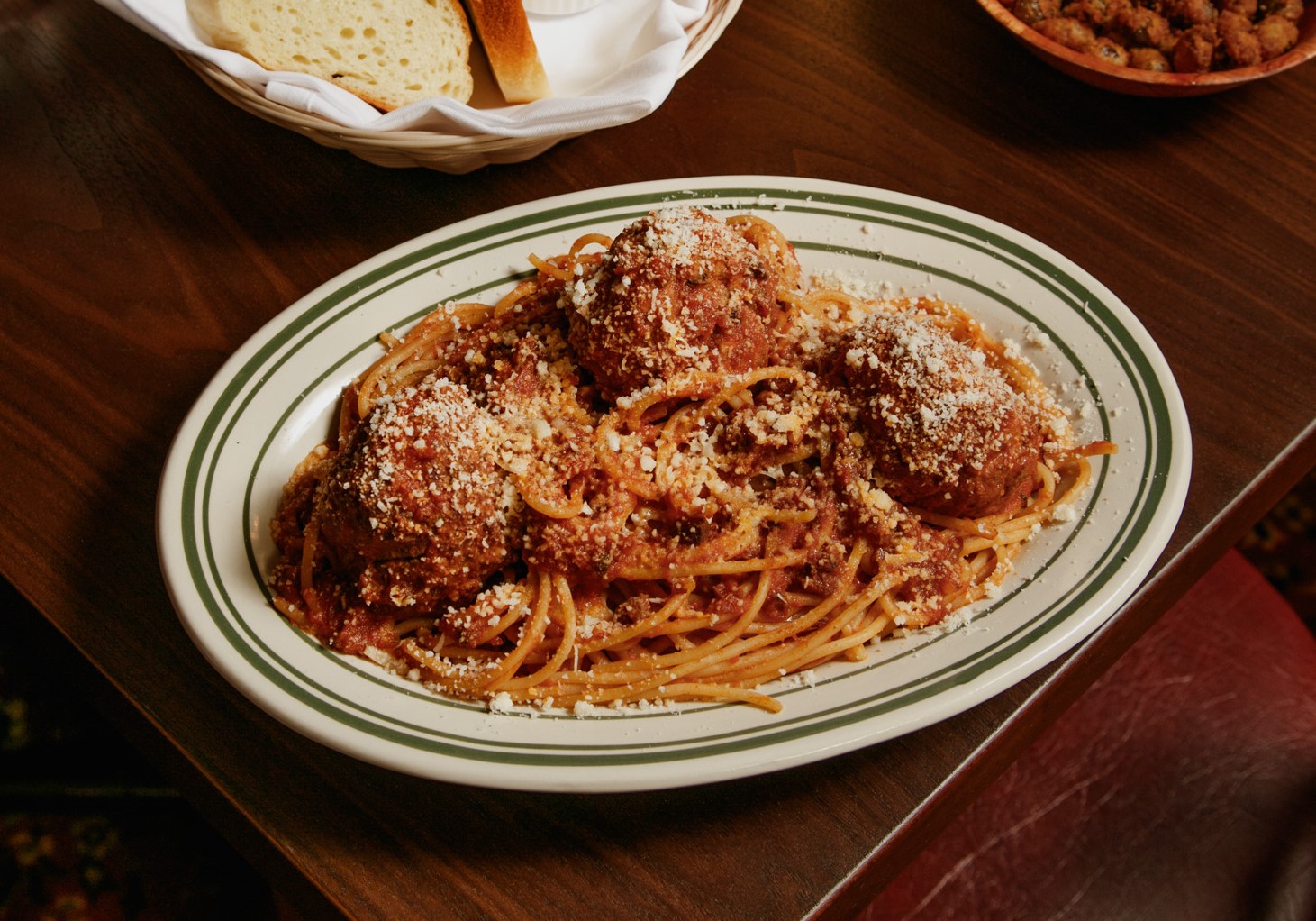 Chef Mark Perrier of Pepino's Spaghetti House and Osteria Savio Volpe shares a recipe for a classic Italian-American comfort food: spaghetti and meatballs.
Ingredients

Sauce
Olive oil
4 cloves garlic (whole)
2 onions chopped
Chili flakes (to taste)
Fresh basil
4 jars of tomato passata
Meatballs
2 cups packed bread (day old, no crust)
Milk to soak
2 eggs
500 g beef
500 g pork
¼ cup grana
⅛ cup pecorino
200 g ricotta
1 bunch parsley (fine chopped)
4 cloves garlic (minced)
Chili flakes (to taste)
2 tsp salt
½ cup dried breadcrumbs as needed
Pasta
Store bought Spaghetti (Italian bronze die extruded preferred).
Method
Sauce
1. Combine oil and garlic cloves cooking gently and slowly until soft and golden. This will take at least half an hour so don't rush it.
2. Add onion and continue to cook until onion is very soft and broken down (half hour). Add pinch chili flakes and basil and fry one minute until fragrant.
3. Add tomato, bring to a boil, reduce heat and simmer 30-40 minutes until thickened slightly and flavors have come together.
Meatballs
1. Combine all ingredients. Mix gently and form into tennis ball sized balls. Fry balls off in olive oil till nicely browned.
2. Cover with the tomato sauce and simmer lightly for roughly one hour until fully cooked through and sauce in nicely flavored.
Pasta
1. Boil pasta according to directions on package, when al dente combine with meatballs and sauce.
2. Finish cooking the pasta in the sauce. Plate, garnishing with grated romano cheese.
_________
Never miss a story. Sign up for NUVO's weekly newsletter.