Afternoon Tea, Reimagined at Park Hyatt Toronto
Afternoon tea at the recently reimagined Park Hyatt Toronto in the city's Yorkville neighbourhood is anything but a floral-wallpaper, lavender-scented, draped-in-Victorian-lace experience. At Joni Restaurant, you're greeted by an interior designed by Alessandro Munge that borrows its palette and materials from Canada's seasonal landscapes. A sculptural black staircase accentuates one end of the dining room, and a permanent art collection showcases renowned Canadian and First Nations artists, including a large-scale tapestry by Shannon Bool.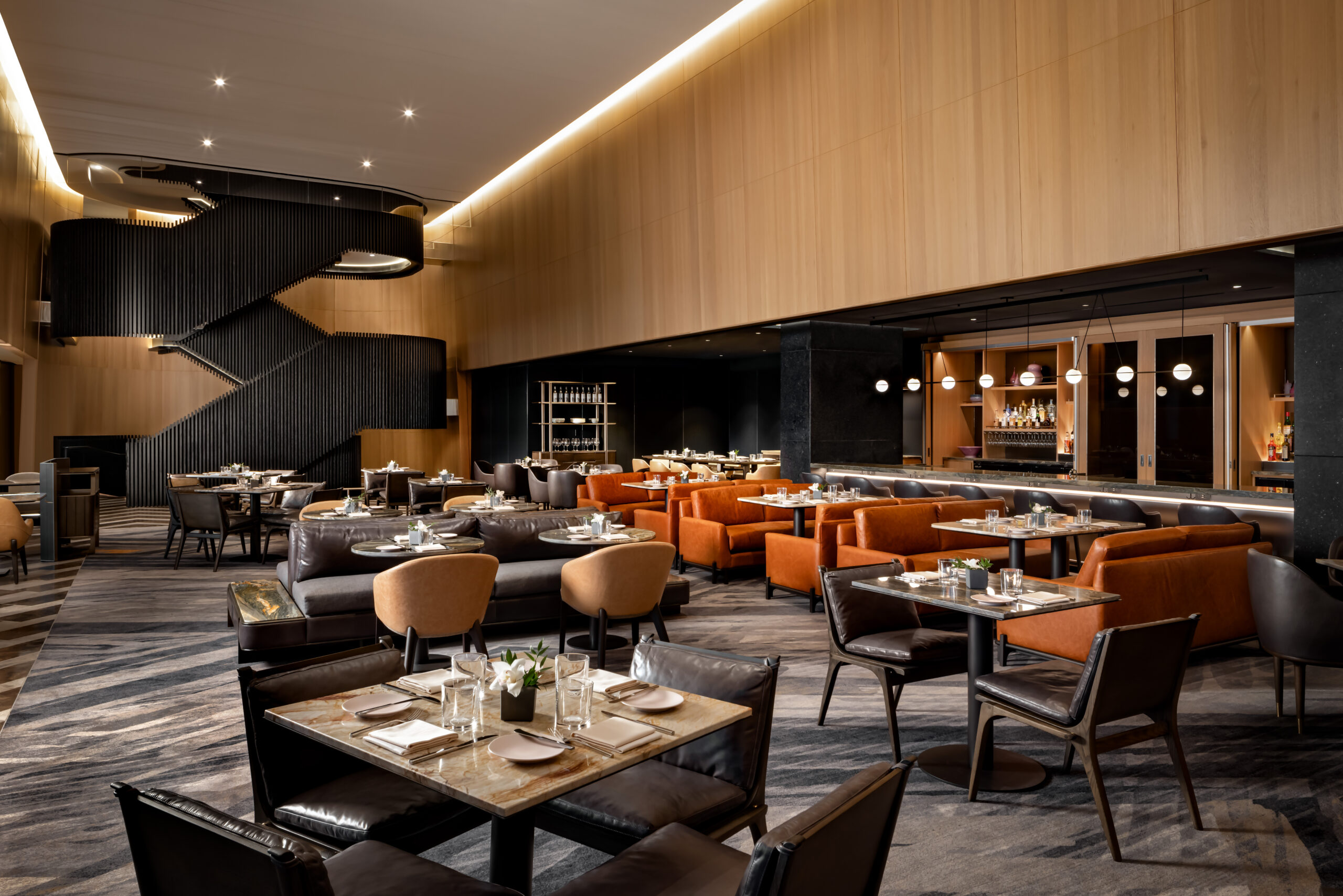 Seated in buttery leather couches the colour of golden autumn leaves, we decide upon the luxurious Tea at the Park menu, described as "a progressive assortment of sweets and savoury bites, perfectly paired with two sommelier-selected creations from Sloane Tea." Unlike a traditional afternoon tea, where tiered trays of crustless sandwiches and sweets arrive at the table simultaneously, here you get beautifully plated individual courses.
Drawing on the bohemian culture of 1960s Yorkville, Joni does things its own way, as does the talented woman who crafts the Tea at the Park menu, pastry chef Sarah Tsai. Tsai's zero waste cooking philosophy has her repurposing food scraps using lacto and koji fermentation, and kombucha- and vinegar-making techniques.
The savoury bites arrive first, along with a beautifully brewed pot of Jasmine Snow Dragon, a delicate green tea. My husband selects the prized Darjeeling Second Flush single estate black tea, with its earthy yet fresh notes. As we sip, foie gras cream puffs with blueberries appear, followed by maple candied trout sandwiched between maple-flavoured tuilles. A mini shrimp roll tucked into a housemade brioche goes down way too easily, as do the leek and gouda quiche and the truffle croque monsieur.
To pair with the eight handcrafted sweets to follow, we receive fresh pots of Oolong Crème that's buttery, silky smooth, and slightly sweet, the perfect tannic, earthy foil for the parade of pastries. Highlights include chef Tsai's fanciful ruby-red cherry on a piece of Black Forest cake, einkorn scones with clotted cream and housemade strawberry jam, and black sesame choux reminiscent of the most elegant dim sum desserts.
If you're feeling boozy, the Day After Day cocktail features a bespoke blended black tea called Park Hyatt #4, vodka, lemon, and maraschino cherry, or the zero proof D Sharp, also made with Park Hyatt #4, plus passionfruit, pineapple, and lime.
Whether it's a group of friends catching up, a cozy respite for two, or a family gathering, afternoon tea has never looked so sweet.