24-Karat Gold Kit Kat Bar
A Chinese New Year special edition.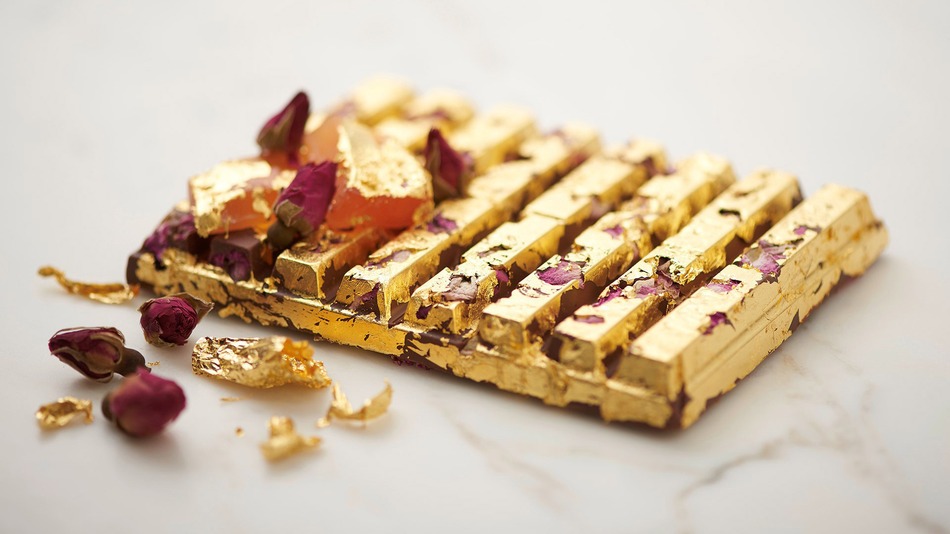 It's practically de rigeuer for visitors to Japan to delight over the country's diversity of Kit Kat bar flavours. The similarity between the candy's name and the Japanese phrase kitto katsu (roughly translating into "I believe in you") has helped turbo-boost its popularity, resulting in the availability of versions like apple cider vinegar, cherry blossom, and potato (incidentally, the most exciting Canadian flavour is likely peanut butter). Yet now that the world's first Kit Kat Studio (headed by Shangri-La Sydney's pastry chef/ self-proclaimed punk princess of pastry Anna Polyviou) has opened in Melbourne, the title of "country with the coolest Kit Kats" may be reattributed to Australia. There, one may not only design their own Kit Kat, but purchase limited edition specialty bars in gourmet flavours: think crunchy and chewy salted caramel with toasted Queensland macadamias; passion fruit, mango, and kiwi pavlova; and Japanese matcha with kikusui (Asian pear tree) leaf.
In honour of Chinese New Year, Kit Kat Studio will be outdoing itself with an edible 24-karat gold leaf–enrobed Kit Kat bar flavoured with rare Feng Huang Dan Cong Oolong tea from Guangdong, rose petals, and sweet lychee, finished with rose jelly and wrapped in red silk. A calligrapher is available to write a special message to accompany the gift (assuming this is not a "scarf it in your car" kind of Kit Kat). Priced at $88 AUD (approximately $88 CAD), only 88 of the Midas-touched chocolate bars will be available, starting at 8 a.m. on January 28. Perhaps gilded chocolate is over the top, but breaking off a piece of a 24-karat gold Kit Kat is inarguably a novel way to start the year on a sweet note.
Photo courtesy of Nestle Australia.