A Lisbon Rooftop Is Transformed With Subtly Triumphant Design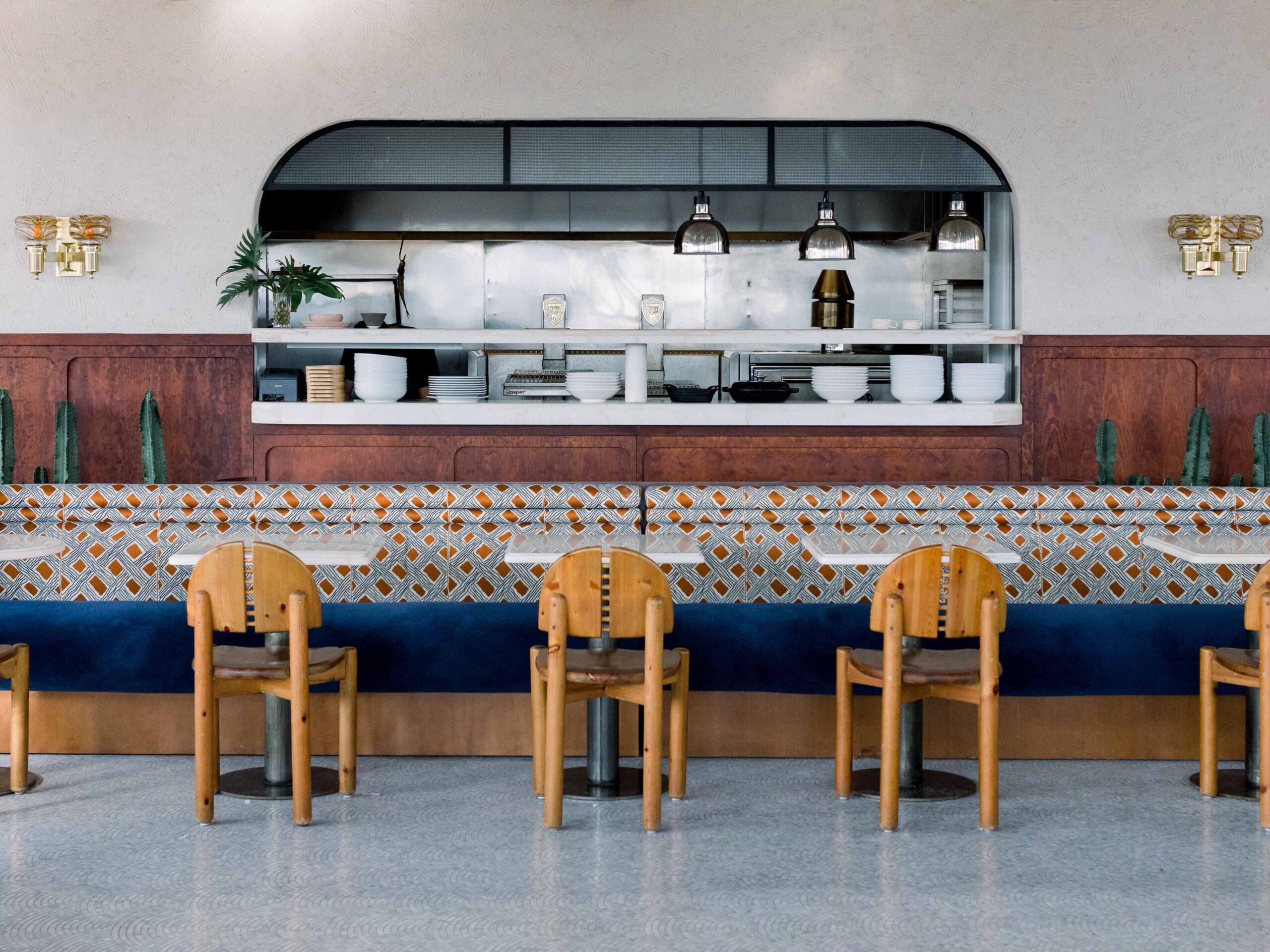 The Tagus River ends its journey across the Iberian Peninsula in Lisbon, the shining Portuguese capital. The river is fully in view from Javá, a new rooftop restaurant designed by Studio Pim, an interior design practice headed by Perrine Velge. In the blue-velvet booths and the outdoor lounge seating, the deep colour of the river flows through the space, connecting the deeply textured and quirky moments of the designs.
Outside, the design tends toward classically Portuguese. The backs of the wicker café chairs are hatches with black and blue; the mineral white of contemporary terra cotta tiles pairs well with the fabrics; local artisans created the marble railing that lines the patio. The patio also provides a sort of median area between the stunning views of the the iconic Ribeira Market and river below. From here, guests can luxuriate in the hilly scenery while still feeling attached to the inside of the restaurant via the windows to the bar with its golden taps.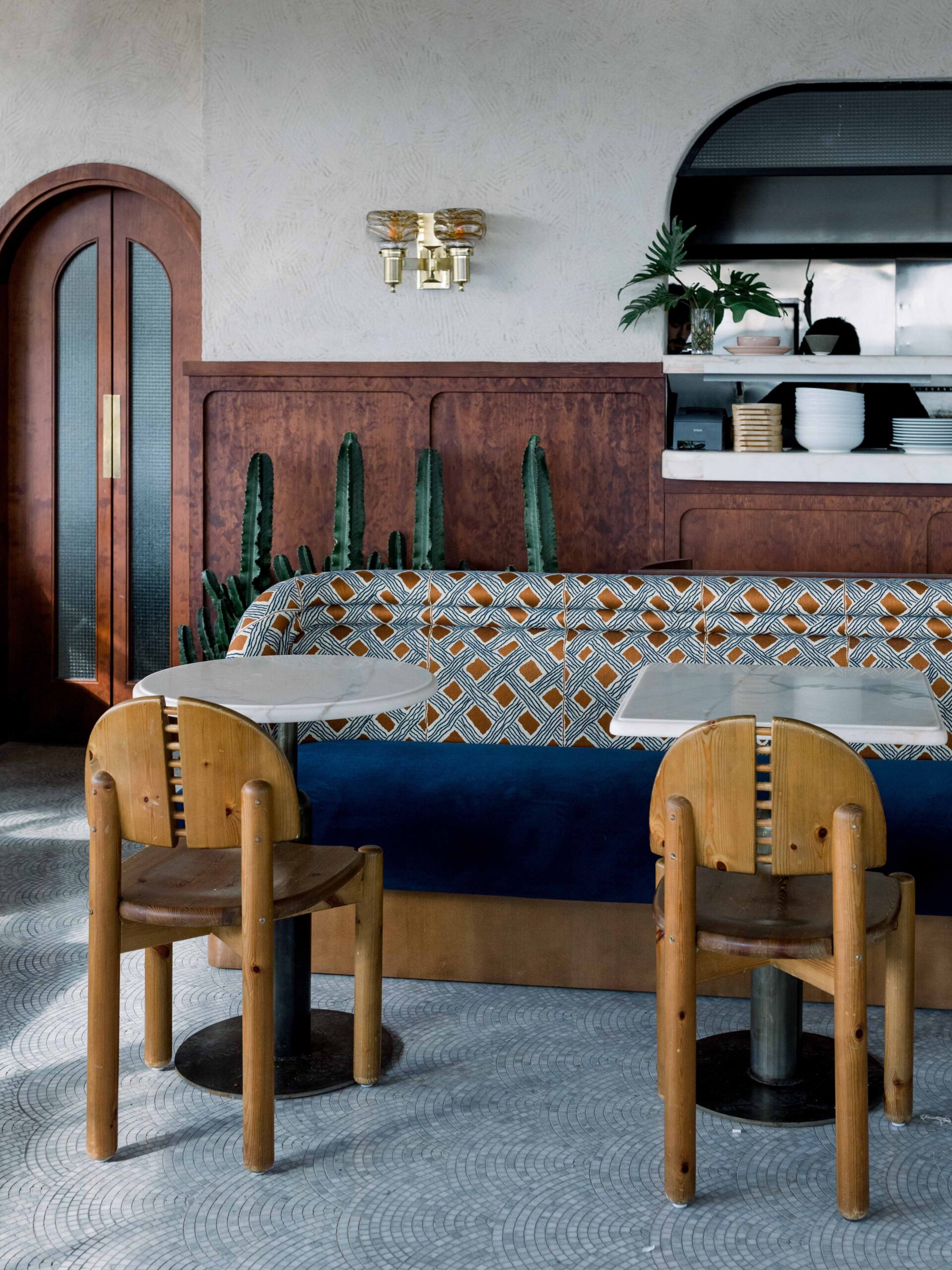 Inside, some of the key themes of the exterior continue—rich blues and terra cotta line the bar area—but in many ways the interior feels a completely different space from the patio. The dark woods, cacti, and variety of retro light fixtures give it a design-forward, modern feel common to the contemporary rival and remaking of the colours, patterns, and textures associated with midcentury modern design. A custom fabric by Pierre Frey on the long banquette seating contrasts with the disarticulated high-craft wooden chairs.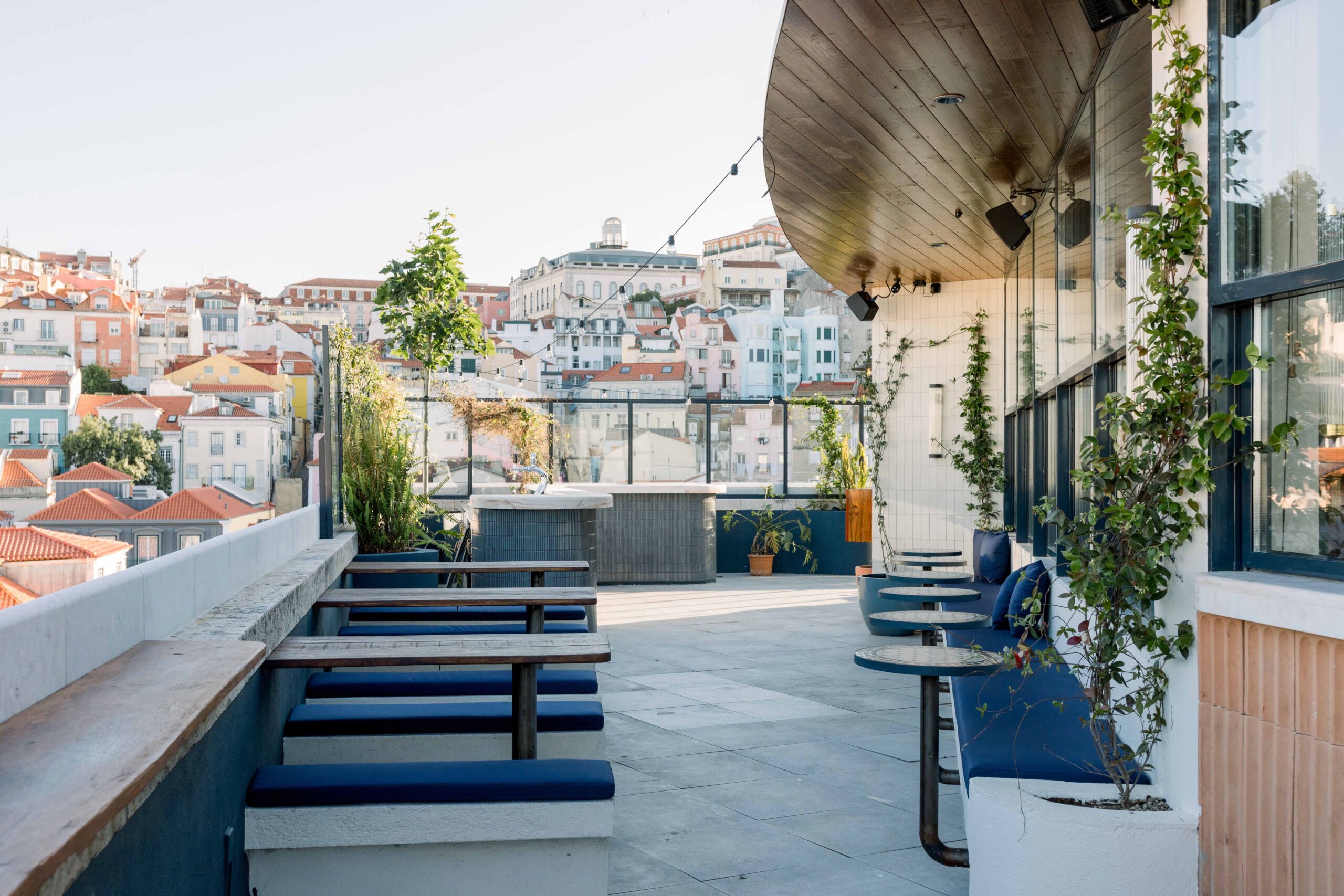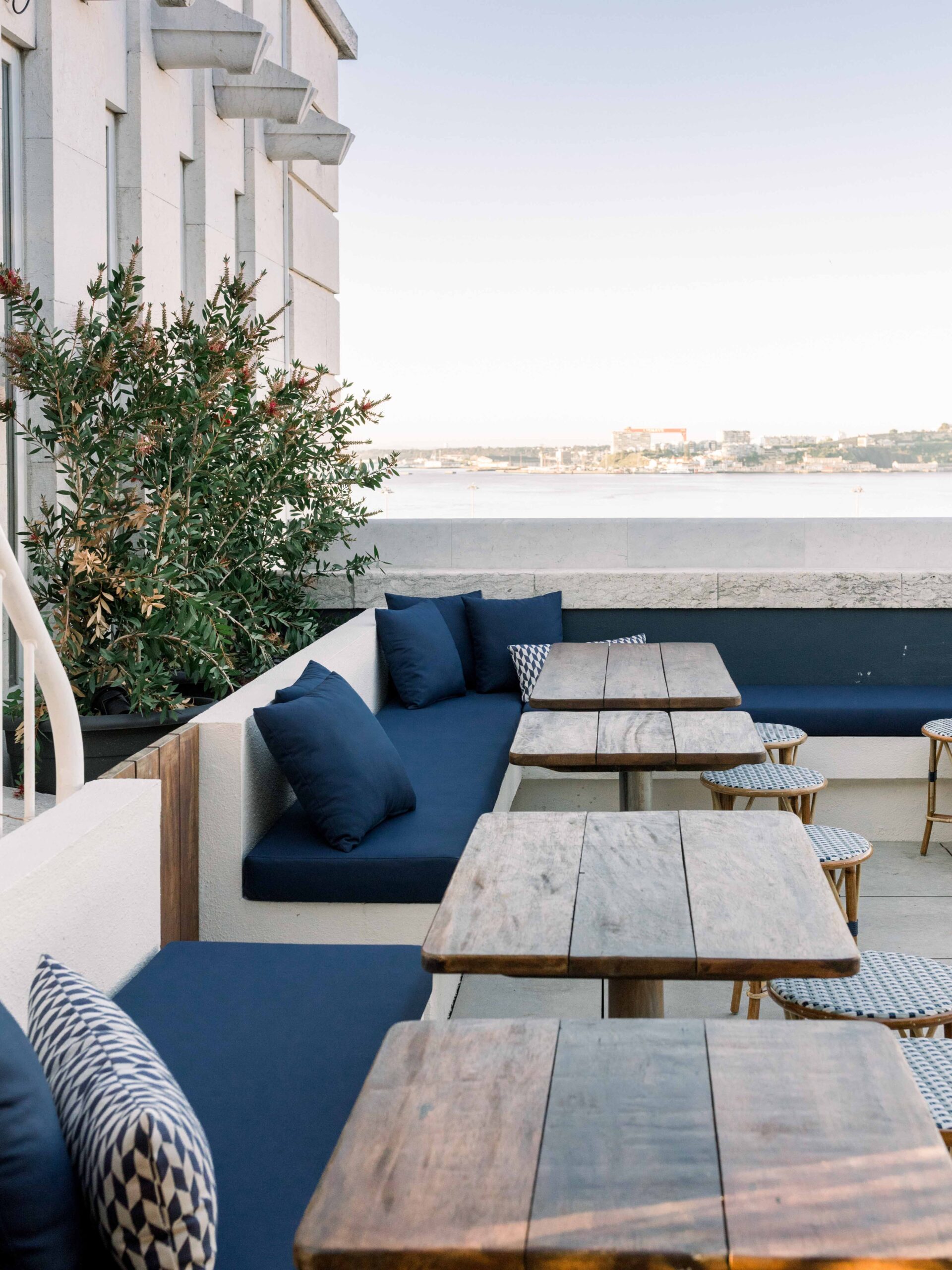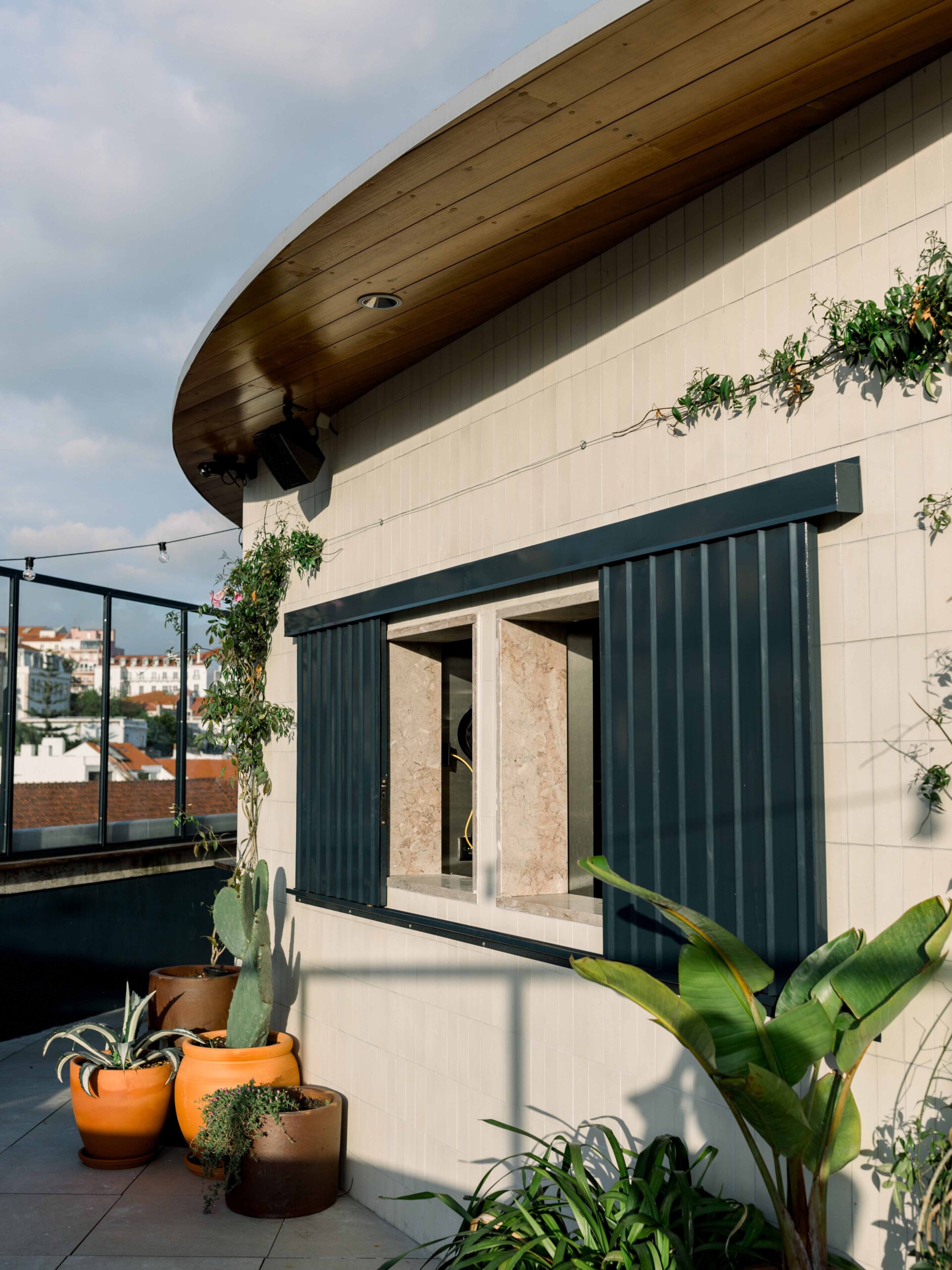 The kitchen is visible through a rounded aperture. These softly curved lines continue in the arched shape of the entrance door, in the booths and tables, and in the wood wainscotting. Brief hints of gold in the wall-mounted lamps express a sort of decadence as well as highlight the juxtaposition of the wood panelling, the rough plaster walls, and the cacti. But it's the blue of the seating that makes this design so singular; this colour-blocking, compared with the studio's other designs, which use similar materials in different ombinations, allows for cohesion under the banner of a pervasive feeling: celestial, relaxed, cool.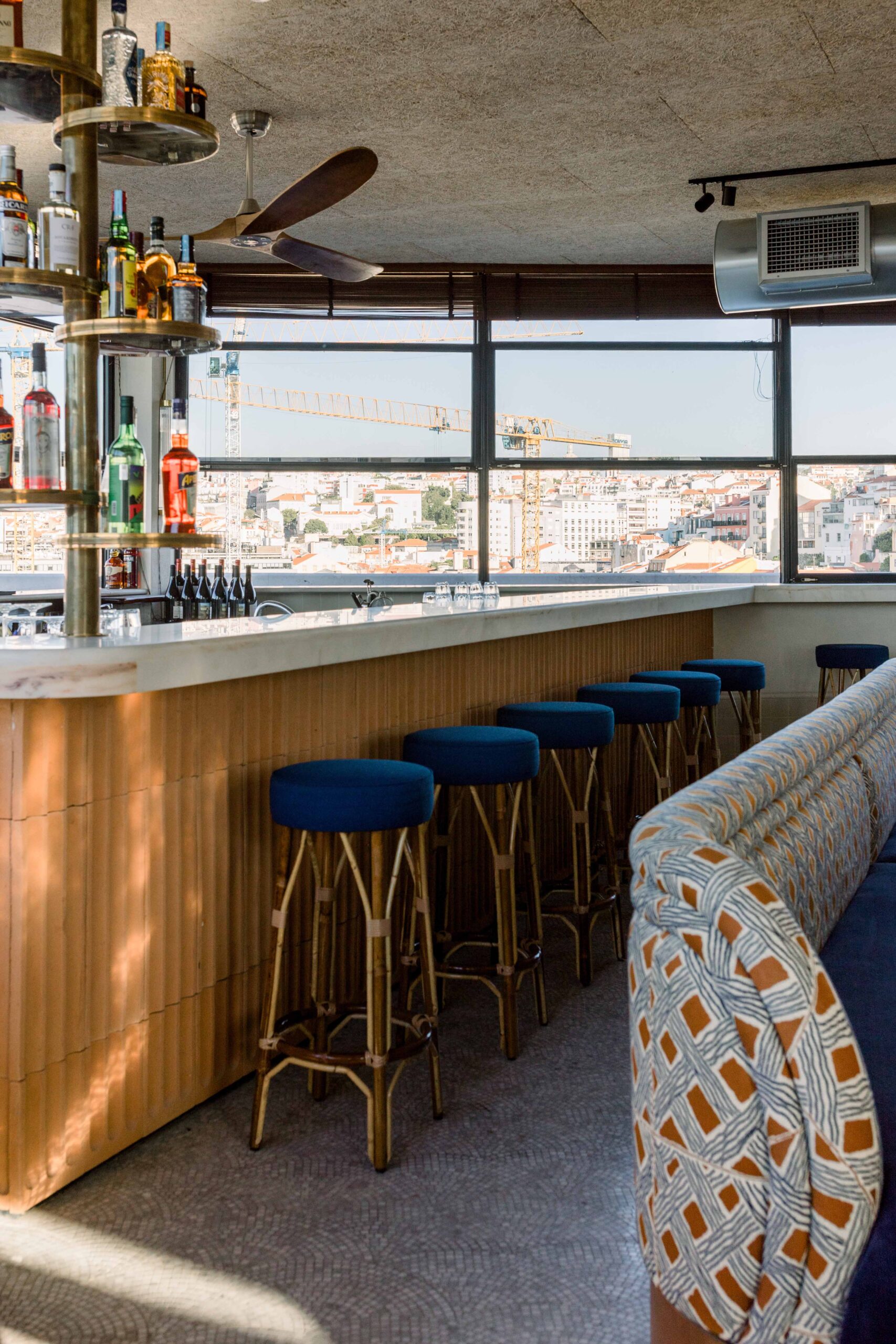 Opaque globe lights hang from the ceiling, and the refraction of the light through the gently pleated glass highlights the complex tile work of the flooring. Studio Pim's design expresses a heterogeneity of styles that come together in a play of vignettes in conversation with the sublime views. The presence of traditional and more modern elements also makes the space simultaneously regionally consistent and singularly itself. Interiors like this keep the tradition of the European café alive.
Photography by Agata Grzaba.