The queen of Neapolitan desserts.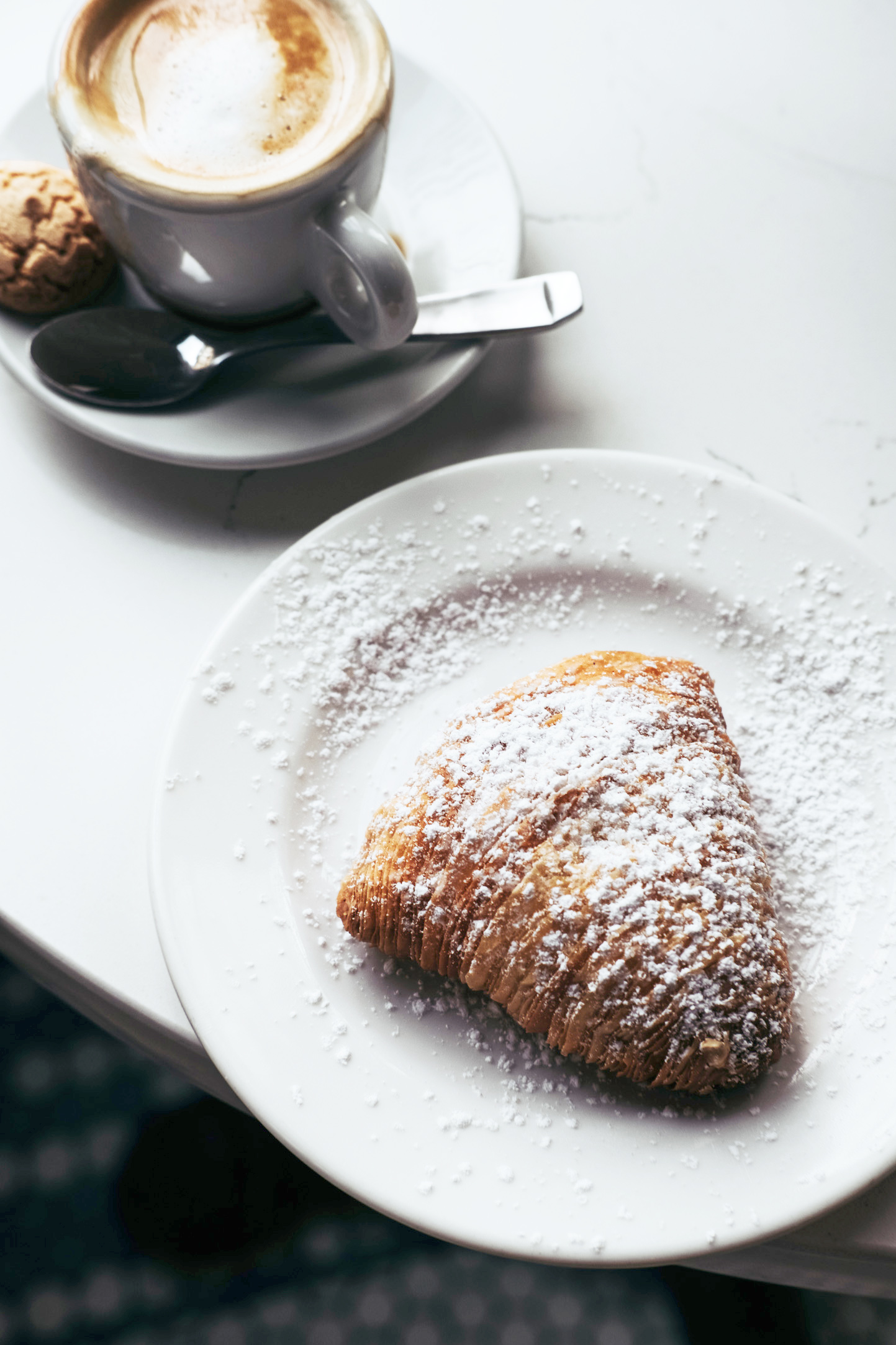 The holy trinity of cuisine in Naples consists of pizza margherita, espresso, and sfogliatella. An oft-recounted story about the first is that in 1889, to honour the Queen of Italy, Margherita of Savoy, a Neapolitan pizzaiolo created a pizza topped with tomato, mozzarella, and basil—the colours of the Italian flag. Espresso is a world unto itself, both culturally and socially. Italians don't "drink" coffee, but "take" it (prendere un caffè), as you would daily vitamins. As for sfogliatella? (Pronounced sfol-ya-tel-la; sfogliatelle is the plural.) The Neapolitan queen of desserts was born from the hands of a cloistered nun on Italy's famed Amalfi Coast.
The clamshell-shaped dainty, admired for its texture and subtle sweetness, is filled with ricotta and named for its overlapping layers of paper-thin pastry. The story of sfogliatella dates back to the 17th century, when a nun at Monastero Santa Rosa (a monastery that today has been transformed into a resplendent hotel, perched on a cliff in Conca dei Marini, midway between Positano and Amalfi), on the day dedicated to baking bread, took some of the leftover dough and turned it into a gastronomic deity.
The clamshell-shaped dainty, admired for its texture and subtle sweetness, is filled with ricotta and named for its overlapping layers of paper-thin pastry.
As we know, wasting food is a sin. Written records of how to make sfogliatella list a few simple ingredients: dough, lard, white wine, semolina cooked in milk, and sugar; the secret ingredient was a lemon liqueur that the nuns added to their dough. It is said that as the sfogliatelle baked in the wood oven, they emitted a scent that won the palate of the Mother Superior. For almost a century and a half, the recipe remained guarded within the walls of the monastery, until the 19th century, when pastry chef Pasquale Pintauro managed to obtain it. Not surprisingly, he made a sfogliatella of his own, eliminating the traditional adornment of custard and sour cherries. (Pasticceria Pintauro on via Toledo is still in place.)
Over time, a number of versions of sfogliatella have emerged, made with varying combinations of ricotta, pastry cream, eggs, flour, milk, and sugar. And while sfogliatella Santa Rosa is the original—the name honouring the saint for whom the monastery was named—others are also worth trying. Sfogliatella riccia (curly) has many layers that curl up as the pastry cooks; sfogliatella frolla (smooth) is a less time-consuming version that does not have layers but maintains all the flavour; and sfogliatella coda d'aragosta (lobster tail) resembles the curled tail of the crustacean and often incorporates whipped cream. Spend some time in Naples and it doesn't take long to notice that competition around this pastry runs deep.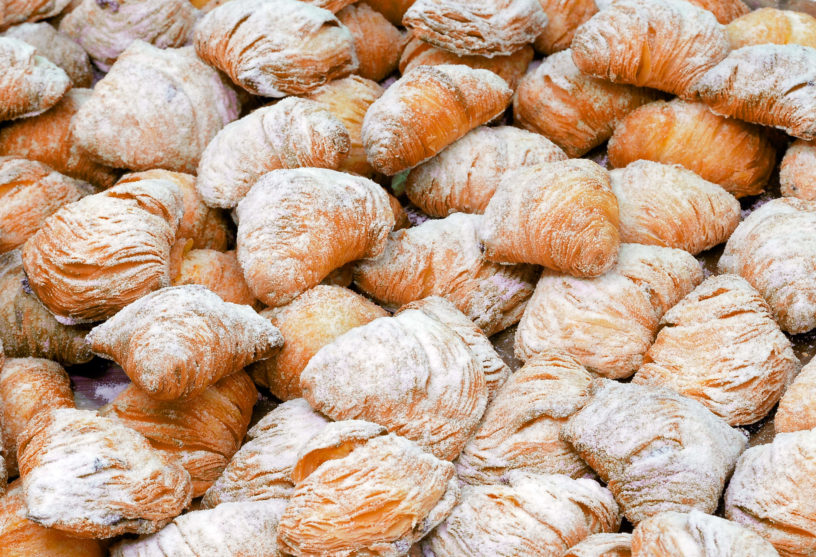 Making sfogliatelle is laborious. There is one Neapolitan expat in Vancouver whose finesse of the flavoursome pastry is a matter of pride and tradition. For two years, Emiddio Isernia has been working his dough in his bakery (called Antise, but there is no Antise storefront, as Isernia is a pastry chef whose baked goods are at a handful of cafès)—experimenting with ingredient proportions, atmospheric conditions, rest time, fridge time, and plenty of elbow grease. "It became a passion project," he says of the obsession. What makes this pastry special is the delicate dough. And while there are multiple stages of rolling, at its longest, the dough stretches to 15 metres in length. Each of Isernia's sfogliatelle has roughly 400 razor-thin dough layers, madly fluted. Inside is a cavern of moist, dense sweetened ricotta with a hint of cinnamon and candied orange zest. And while the golden baked pastry, lightly snowed with powdered sugar, may look unassuming, you just need to take a bite (no forks!). When you do, there is a whole progression of textures, from the crunchy exterior to the smooth filling. Isernia's sfogliatella is so successful a pastry, it's worth trying to say it the right way. Because at Small Victory, Caffè Di Beppe, and Caffè La Tana—three Vancouver nosheries serving his sfogliatelle—you don't want to be tongue-tied. It won't be long before your morning routine of caffè and sfogliatella will become a sacred ritual. 
Opening image by Chris Giannakos at Caffè Di Beppe.
_______
Never miss a story. Sign up for NUVO's weekly newsletter, here.