The Aston Martin 2019 DBS Superleggera
The British manufacturer's new flagship.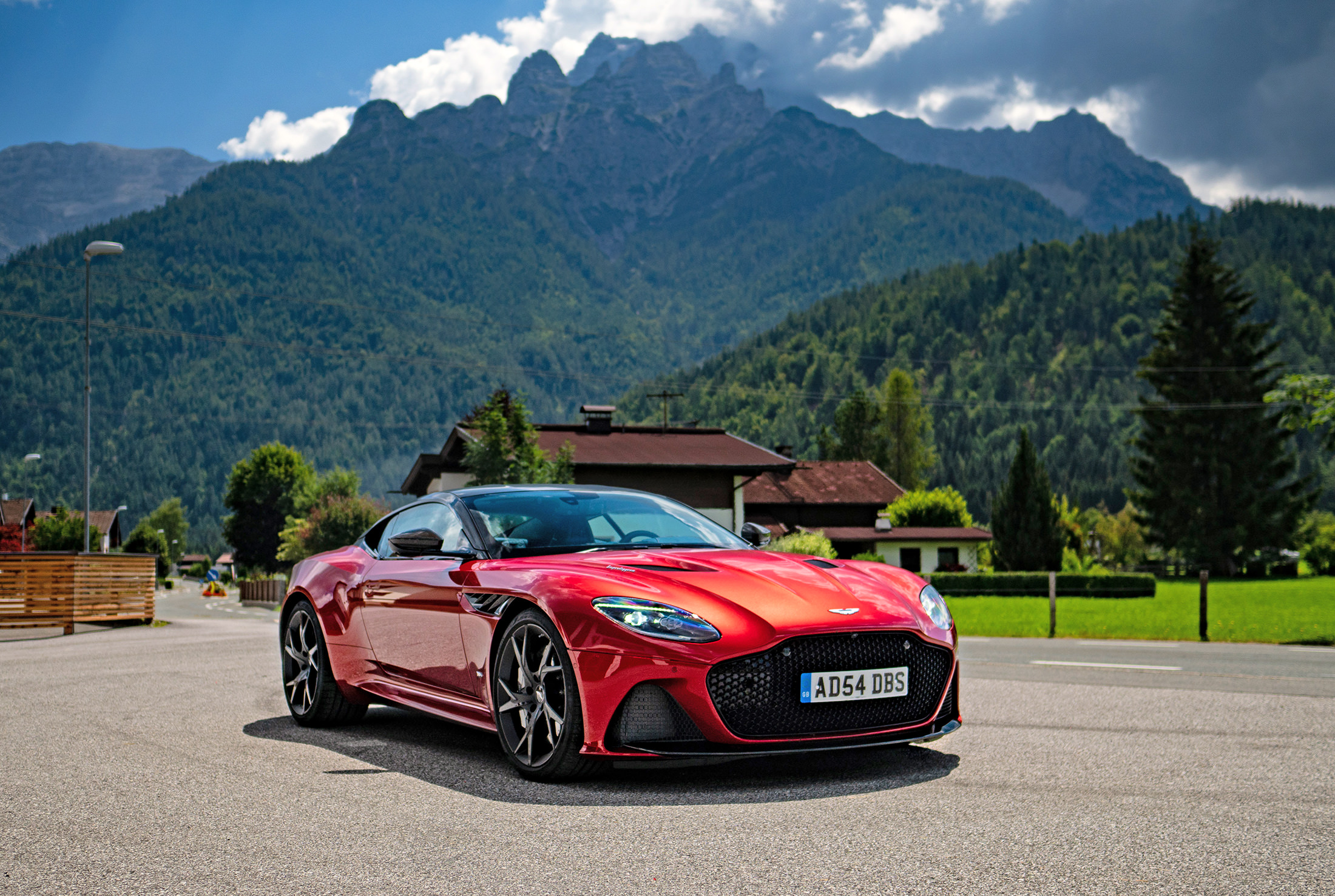 Only the third time in its history that Aston has applied the DBS badge to one of its cars, the 2019 DBS Superleggera does not take its flagship positioning lightly. It replaces the outgoing Vanquish S as the top dog in the brand's lineup; with an unbelievable amount of power, a series of performance modifications, and distinctly aggressive good looks, this dog can bark, run, and if not kept on a leash, it might even bite.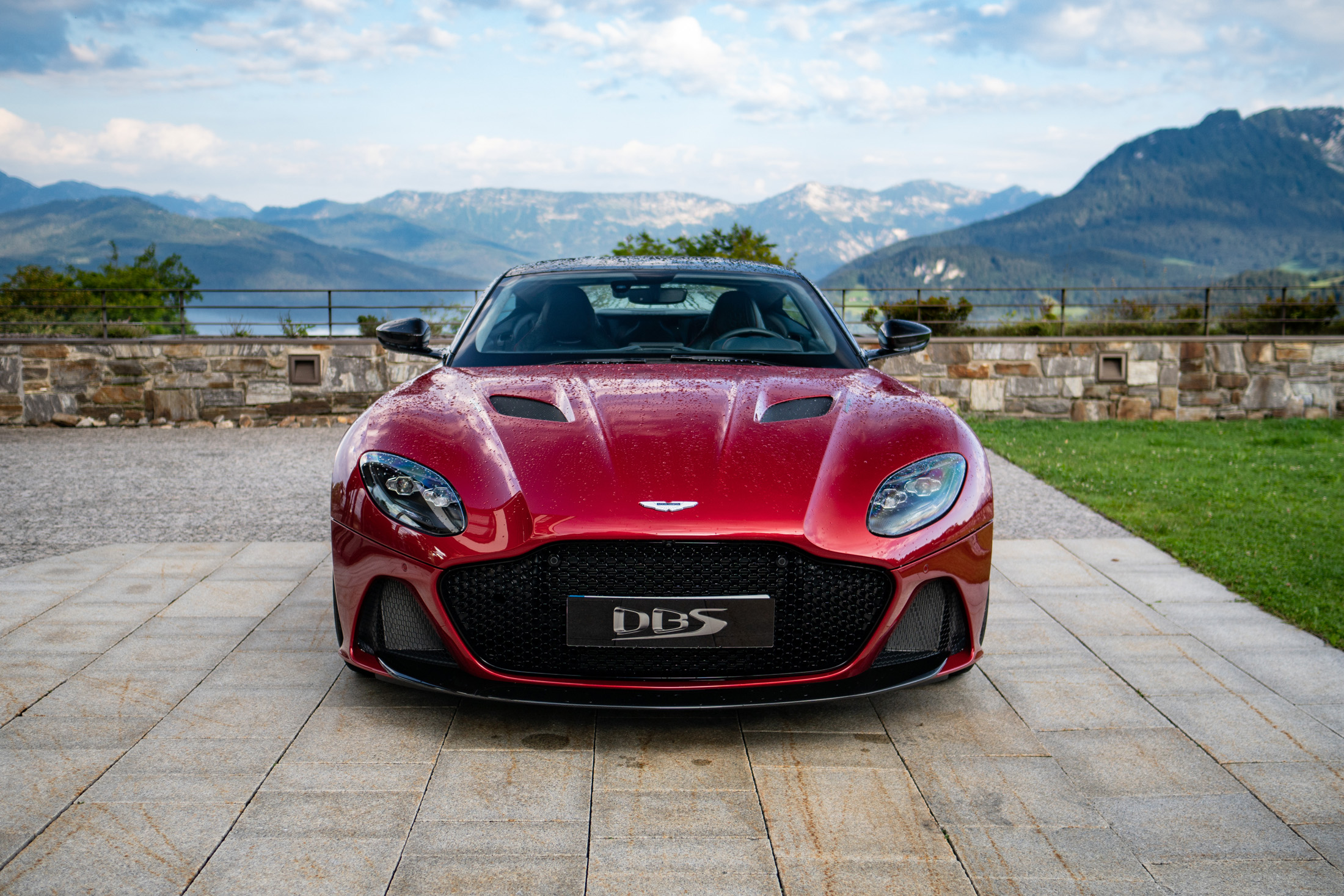 Essentially Aston Martin's attempt at packing as much performance and excitement into a car as possible while still providing comfort and poise over a long drive, the DBS' most obvious feature is its 5.2-litre twin-turbo V12 engine. The output is incredible: 715 brake horsepower and 664 lb-ft of torque is approaching hypercar territory, and the DBS connects that snarling, whistling, crackling live wire of an engine to a beefy new automatic 8-speed ZF transmission with paddle shifting. The engine produces so much power and torque that full output isn't possible until you're in third gear. Thus, and perhaps unsurprisingly, flat out in third is entirely next-level, like having a button that delivers a strong hit of adrenaline on demand and leaves you wondering how that big stretch of road is now entirely in the past. Weighing some 72 kg lighter than a standard V12 DB11 (which has only 600 horsepower), the DBS hits 100 km/h in 3.4 seconds, and tops out at an impressive 340 km/h.
With a backdrop of southern Germany flashing past, the DBS positively snarls, its exhaust popping and barking as I follow some of the region's excellent back roads through the endless greens and blues of a Bavarian summer. Slower-moving traffic (read: all traffic) is dispatched with a quick drop to third gear, a whistle from the turbochargers, and a strong shout from the exhaust. I swear my eyes widened with every pass. There's no two ways about it—the DBS is really fast. It's fast all the time. Thankfully, the new transmission works well, with fast shifts in Sport Plus mode and smooth operation in the less aggressive GT mode. While there are three settings, GT, Sport, and Sport Plus, I recommend leaving the suspension in GT and the engine in Sport Plus—it is perfect and sounds amazing at any speed.
The engine, while completely unhinged, is not the full story. Aston has described the DBS as "a brute in a suit", and it is an apt description. Much of the bodywork is carbon fibre, the brakes are carbon ceramics, and the DBS produces the most downforce of any series production car in Aston Martin history. That downforce, some 180 kilograms worth, is developed via a number of aerodynamic enhancements including a new front splitter, side aero elements, new rear spoilers, and a massive rear diffuser.
The DBS Superleggera looks simply incredible, and it has the performance, noise, and visceral qualities to match the brash take on Aston Martin's much-loved styling.
Sitting both lower and wider than a DB11, the DBS channels all of these improvements through a set of bespoke Pirelli P Zero tires, ensuring enough grip for what adds up to being the makings of a seriously exciting experience. The steering is fast, not too heavy, and provides some actual feedback as the car negotiates a corner. Thankfully, the DBS is still an Aston Martin. It is smooth and progressive, and while certainly aggressive and entertainingly high strung, it doesn't feel like a race car. That said, since it's a rear-wheel drive car, that's a lot of power to push through 305-section rear tires. Traction control and a level head are advised if you plan to find some pace on a winding mountain road.
It's a straightforward, if albeit sometimes too complicated, interior that does not get in the way of enjoying a car like the DB11 or the DBS, which in comparison can only be described as so extra. The driving interface is clear and focused, with a nice blend of aggressive styling crossed with Aston's usual bent for elegance and detailing.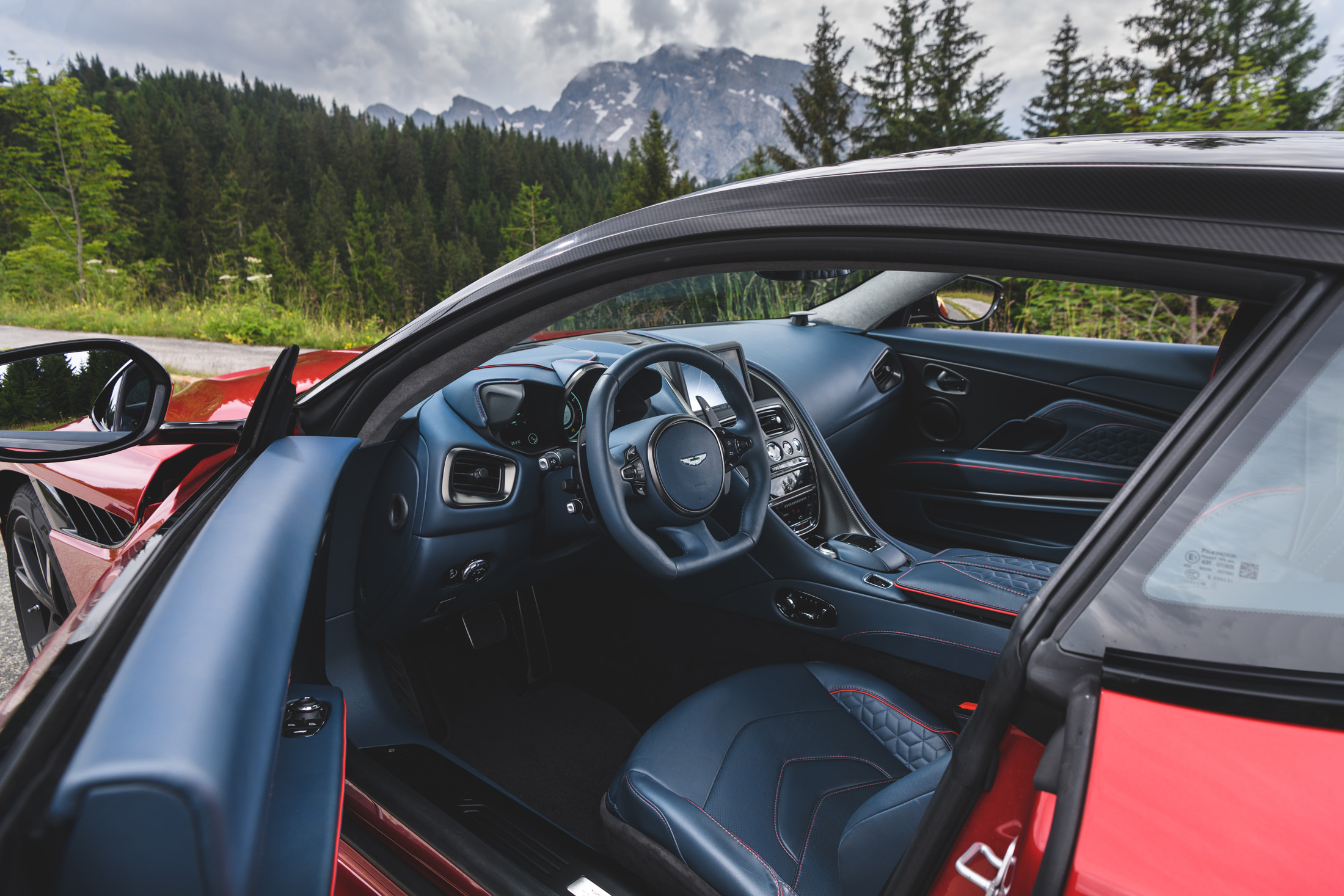 As Aston Martin's alternative to other super GT cars, like the suitably named Ferrari 812 Superfast, the DBS is an engi-neering study in making a ridiculously fast car that's relatively easy to drive and not the least bit scary when you want more of a grand touring experience. You can still feel the spirit of the DB11 under the DBS' carbon skin, but not unlike the last DBS (which was driven by James Bond in 2006's Casino Royale as well as Quantum of Solace in 2008), this next-gen DBS is more enthusiast driven; it's louder, faster, and more raw.
From a brief but unrestricted run on the autobahn to wonderful winding backroads and an endless supply of picturesque towns on Germany's side of the Alps, the DBS is just pure fun. As a five-year-old obsessed with cars, I had an uninformed idea of what it was like to drive a sports car. The DBS is like my imaginative creation brought to life. I cannot help but giggle on downshifts, smile when the exhaust cracks like a shotgun, and drop my jaw on full throttle. It's a provocative, childish, and endlessly enjoyable car. Priced from around $365,000, the DBS Superleggera looks simply incredible, and it has the performance, noise, and visceral qualities to match the brash take on Aston Martin's much-loved styling.
Driving the DBS, especially on tight mountain roads, required a recalibration of my expectations of a car. The DB11 V8 I drove last year was fast and very sporty, but the DBS is a different beast altogether. As my comfort grew, it seemed to get faster, more playful, and entirely forgiving. Like any good brute, the DBS is hard edged and ready to go at a moment's notice. But this DBS was my brute, and together we drew a Hyper Red streak across some excellent roads, filling the German countryside with the wail of a V12, the flittering expressions of two boisterous turbochargers, and the astonished laughter of a much younger me.
Photos by James Stacey.
_________
Never miss a story. Sign up for NUVO's weekly newsletter.