Stefano Ricci's Grand Family Estate in Tuscany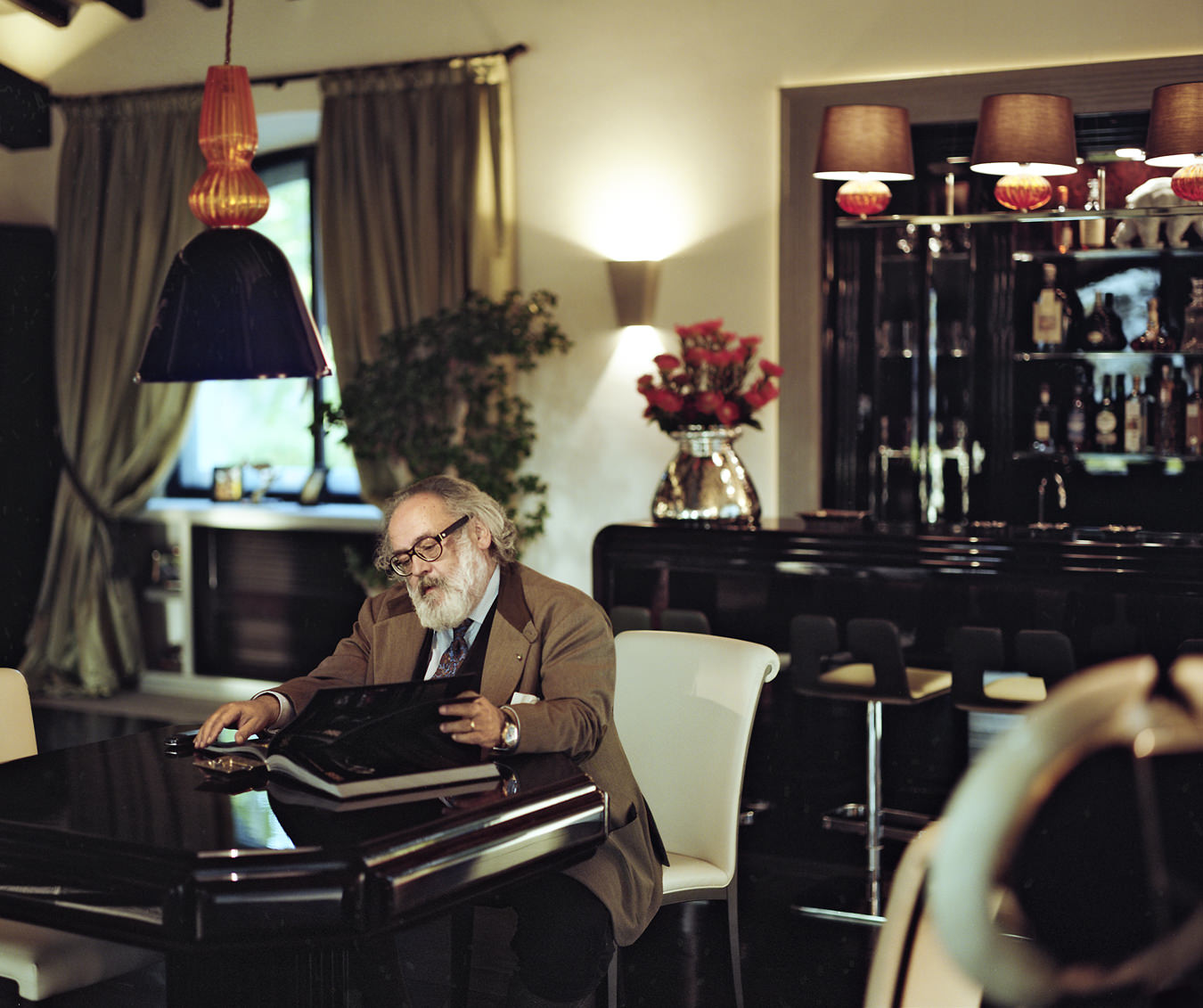 It's hours after the first hunt of the season, and Stefano Ricci is seated at the end of a grand farmhouse table on his sprawling country estate in Tuscany, a congenial patriarch presiding over the dozens of family members and well-heeled friends that have joined him for this momentous occasion. It feels rather like a modern Italian version of Downton Abbey, but anyone who's spent time with Ricci or is familiar with the Stefano Ricci menswear brand knows this is simply because, for the Riccis, nothing is done by halves.
Lunch is a celebration of the 700 pheasants hunted, whose meat is later donated (to the Misericordia di Firenze) for distribution to the poor. From the bespoke case that houses individual servings of grappa, each engraved with the logo of Ricci's country estate, Poggio ai Segugi, to the matching hunter-green Range Rovers parked outside, every last detail has been carefully considered.
And that, perhaps, is what makes Stefano Ricci unique. Founded in 1972 as a tie company, its creator has spent the past 44 years building the brand into a full high-end lifestyle offering, with menswear and boys' collections, shoes and bags, home decor items including hand-engraved crystal wine glasses, and bespoke interiors for both homes and yachts. "My family was in the ladies' clothing business," he recalls after we've moved from the farmhouse to a grand living room that would rival most hotel lobbies. "But I was in love with tailoring, so I started with the tie—an accessory that is so small, but so important. Then I moved into shirts, and shortly after I turned the company into the Stefano Ricci company, and slowly I added new items and new categories, from leather goods to sport jackets. By the time I opened the first boutique [in Shanghai], I was doing suits, shoes, bags—everything."
In the early '70s, Ricci showed one of his first collections at Pitti Uomo. "At that moment, I was very young, maybe 23 or 24 years old," he says, "and having so many important names come to me, interested in getting the collection in their stores and windows—I knew this was going to be the profession of my life." Was he nervous? "No, I was so, so excited! Back then, I could even jump up and down," he chuckles. "I might have done that."
Founded in 1972 as a tie company, Stefano Ricci's creator has spent the past 44 years building the brand into a full high-end lifestyle offering.
This sense of aplomb is evident in everything Ricci does. In the company's 44-year history, it has guided him in making game-changing decisions that have defined and propelled the business forward. Case in point: that first stand-alone boutique he opened, in Shanghai—a move that might have seemed prescient, but was a bold, even risky move back in 1993. "Opening in China was a challenge," Ricci admits. "The China of those days was nothing like the China of today—in those years, it was unbelievable. Young people would be crossing the road, walking fast, and you could see their eyes full of hope. And honestly, I miss some of the atmosphere, the smells of the food cooking in certain areas. But now look—China is conquering the world, and I am very happy."
When Ricci opened in China, there was a mild frenzy in the media. "I was the most expensive brand with the most expensive items in China in those days," he explains. "One of my ties was the same as four months' salary of a well-positioned Chinese, and I had a crocodile jacket that was more expensive than a car. The media in China—they really made the brand."
Today, there are 12 Stefano Ricci boutiques in China, and another 50 locations around the world, in places such as Moscow, Beverly Hills, New York, and Milan. Russia and the Middle East are key markets for the brand, and this fall it will open stores in London's tony Mayfair and Vancouver's "luxury zone". Miami's Design District will follow in early 2017.
The Stefano Ricci brand is somewhat of a niche one, appreciated and loved by those who know it—which is exactly how its proprietor likes things. "It's difficult to become a brand today," he acknowledges, "but when you have a certain kind of shop or boutique, you become a destination, and normally [our] customers are quite loyal." His stores are elegant destinations, with custom walnut fittings housing shirts, suits, silk ties, crocodile shoes, cufflinks, wallets, and briefcases. "I'm quite classic," he says. "My collections are not for 20- to 25-year-olds who want to be trendy."
In some ways, Ricci says, catering to men is easier than catering to women, as men tend to become more loyal customers to particular brands. On the other hand, it's harder. "You have to have a legitimate product," he explains. "I never mention the word luxury because in the old days, it was about quality, quality, quality, and today it's all about branding, branding, branding, which is not right." To him, it's about understanding the difference. As an example, "Leather goods have to be nicer on the inside than on the outside. The lining, the pocket, the edges that we finish five times: the consumer might not know it's been done five times, but he understands the difference and that it needs to be done properly. He knows that if you don't know about crocodile—and after so many years, I know a little bit about crocodile—you find yourself with a beautiful product that's of poor quality."
The Stefano Ricci brand is somewhat of a niche one, appreciated and loved by those who know it—which is exactly how its proprietor likes things.
Ricci never name-drops the celebrities who wear his clothes (they include Robert De Niro, Tom Cruise, and Andrea Bocelli), but he does take pride in his relationships with people like Nelson Mandela and Deng Xiaoping. "I've had the opportunity to meet incredible people," he says. "He was a close friend for many years," he continues, pointing at a photo of him with Mandela before recounting how he used to send Deng videotapes of Italian soccer matches after learning about the Chinese leader's father's love of the sport.
Indeed, for Ricci, relationships matter. Some of his collections might imply a more opulent, new-money approach (diamond-embellished ties, solid gold belt buckles, and anything made from crocodile are among his signatures), but he's a traditional family man at heart. He doesn't use a smartphone; instead, he roams the halls of his estate with an old mobile phone that dates back to the '90s. "I don't want to make photos or receive e-mails," he says. "I just want to make calls."
It helps that his family is deeply involved in the Stefano Ricci business. While he continues to oversee the design of the collections, his wife, Claudia, and his eldest son, Niccolò, share CEO duties; his younger son, Filippo, is creative director of the brand. "I don't know where my private life ends and my brand life starts, because this is all my life, my work," he says. "When we are all together at the office, then we are the board; when we are at home, we never speak about business. We race cars together; we hunt."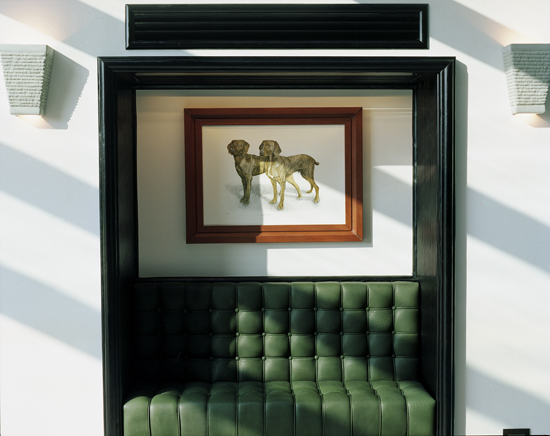 Their office, located in the Florentine hills, displays evidence of how they spend their downtime. It contains some of the family's prized classic cars, which they race at Italy's Mille Miglia—Claudia is apparently the most competitive in the family—as well as some of the taxidermied animals from their hunting trips. Hunting, he says, serves as inspiration for him. "I cannot stay away from the forest or the bush for too long—when I'm there, I see things in front of me in the right way. I designed some of my most successful collections while in Africa on safari."
The Stefano Ricci business is a family affair, but the founder has never pushed his sons to work there. "It was their choice," Ricci says, "but they grew up with me and my wife working all the time." Both sons spent time at Neiman Marcus—"a master's degree in marketing, budgeting, products," Ricci has said of their time at the Dallas-based retailer—but ultimately, "Most of their childhood was spent between my office and the factory. They breathed in silk and cashmere."
"When we are all together at the office, then we are the board; when we are at home, we never speak about business."
In fact, one of those factories now belongs to the Ricci family, after they purchased it from the Pucci family in 2010. Antico Setificio Fiorentino, a silk mill in Florence's historic Oltrarno district, has been weaving silks and brocades since 1786, using patterns and machines dating back to the Renaissance. Walking through the space, in one corner you'll see a woman creating a warp on a large machine designed by Leonardo da Vinci; in another lies a loom responsible for a particularly delicate silk brocade—it takes an entire day to produce just one metre of the fabric. "We decided to acquire the Setificio because it was going to close," says Ricci, "and we cannot afford to lose this work and those antiquities of [almost] 250 years."
This idea of preserving "Made in Italy" is important to Ricci—nearly as much as the recognition of Florence's importance in the fashion industry. "Have you ever asked yourself, how did it happen that a small town like Florence, with just 350,000 people and only a few kilometres across in size, could be where Gucci is from—as well as Pucci, Ferragamo, Scervino, Cavalli?" he asks. "I like this question," he continues. "I believe it's strictly connected to the atmosphere, the culture, the heart of the city. If you look around, you absorb the sense of the harmony of design here, and if you do it when you're young, it stays with you when you are old. I always have the influence of my city and my surroundings with me."
And from his estate in the Tuscan countryside to his office and silk factory in Florence, it's clear that this is what defines Stefano Ricci: pure Italian heart and soul.
_________
Never miss a story. Sign up for NUVO's weekly newsletter.