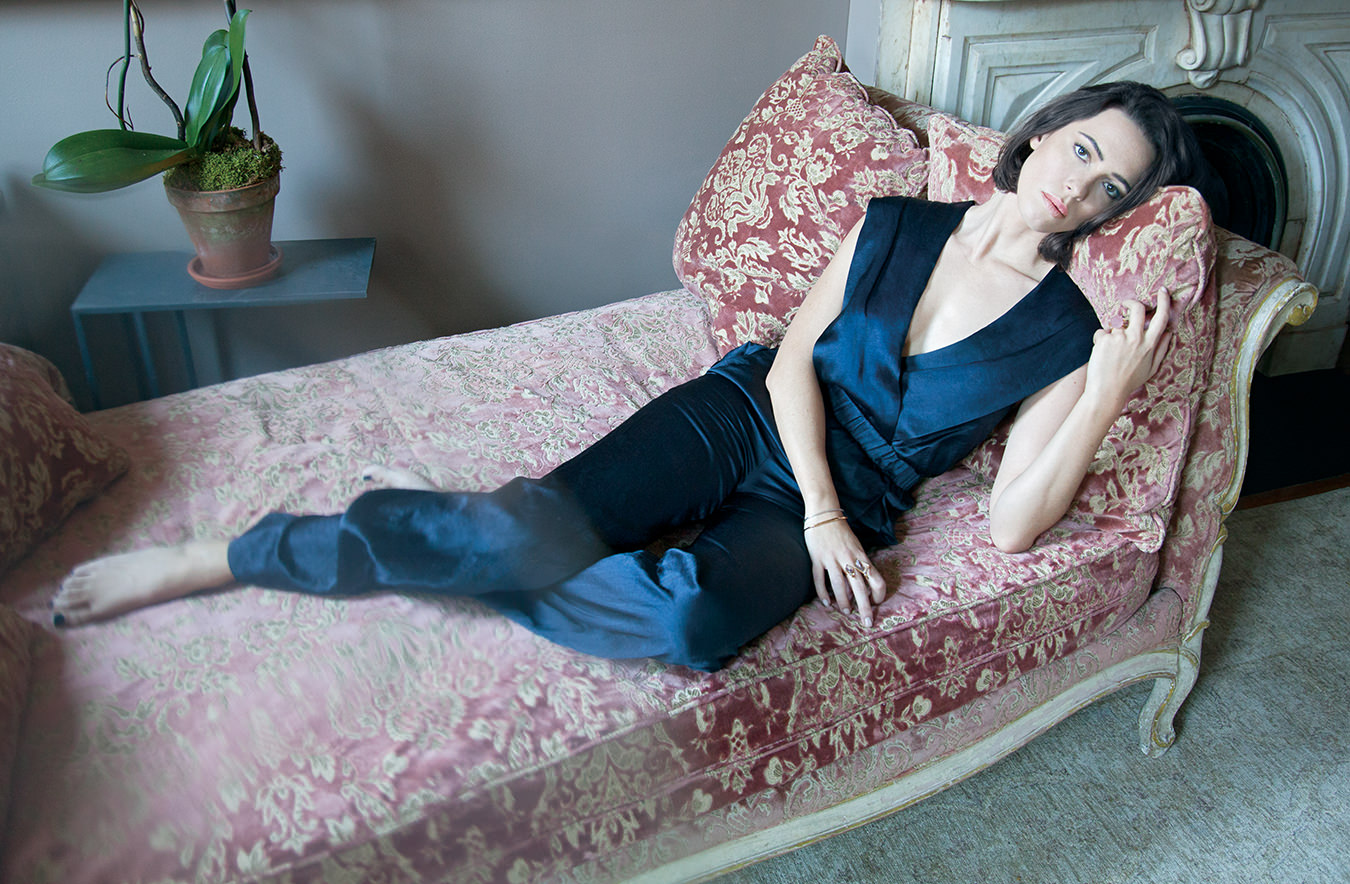 Strapped into an electric chair isn't a scenario most actors would envisage when planning their Broadway debut, so it's a testament to Rebecca Hall's drive that she is "electrocuted" onstage six evenings and two matinees a week for Machinal.
The drama tackles a controversial and much-sensationalized case surrounding the trial and execution of Ruth Snyder in the 1920s, the first woman to be condemned to the electric chair in the state of New York. Hall plays the Young Woman (metaphorically the Everywoman), an unfulfilled stenographer. Throughout the show's run, the actress has had to stay focused on a difficult script written with a poetic cadence that would drive the most seasoned thespian up the wall. "[When I first] tried to learn one of the verses, I hurled the play across the room," Hall says with a straight face, before pretending to throw an imaginary script and crumbling into laughter.
And that—bursting into laughter, not slinging screenplays—is something Hall does often, which makes another of her tendencies, taking on challenges, that much easier. The 31-year-old Brit has logged 10 plays (especially slanting toward the Shakespeare sort) and 15 films, including Woody Allen's 2008 film Vicky Cristina Barcelona, her breakout role, and more recently, director Shane Black's blockbuster Iron Man 3, where Hall shared the screen with Gwyneth Paltrow and Robert Downey Jr. This April, she will appear in Wally Pfister's directorial debut Transcendence, a science-fiction blockbuster, proving that the steadily growing spotlight on Hall has been set to a full-strength glow. For an actress who once guided her career choices using a three-to-one movie-to-play ratio, she admits that's a plan of the past. "I got offered movie roles that kept getting better and better," she says. "I couldn't say no." Still, her ability to seamlessly transition from stage to silver screen remains, as does a craving for variety and substance. And that's what brings her to New York.
Hall is only running on two hours of sleep after having flown in from London the evening before, but she appears anything but exhausted; her sense of humour is sharp and her eyes are alive. With a mug of Earl Grey in hand (she is British), the actress contemplates her six-month stretch in the city, and the play she's here to star in.
"It's bold. It's not realism," says Hall of Machinal. "It's episodic—it's not linear." Originally a 1928 work by Sophie Treadwell, the play was revived for a Broadway run (from January through March) by the Roundabout Theatre Company and directed by Lyndsey Turner. With its dark subject matter and dense dialogue the script "terrified" Hall upon first read, but she still signed up enthusiastically. "It's incredibly emotional and impressionistic, and the language is like poetry most of the time—it reads like a piece by Samuel Beckett," she says. "But the effect is that it makes you feel like you're being strangled." And again, Hall's charming intellect combines with a trenchant wit and all at once you know that if anybody can tackle the tricky lines, it's her.
Is the preparation or experience of acting in a Broadway play different from acting on a Shakespearian stage? "No, my perspective would be all squiffy and wrong if I started thinking that with Broadway I had to adapt myself differently than any other job," says Hall. "I'm still on a stage doing a play, and the play's the thing, you know." Her hand flies to her mouth. "I just quoted Shakespeare—I didn't mean to say that. 'The play's the thing'—it's from Hamlet. I feel like one of those crazy actors quoting Shakespeare," she says, laughing.
To hear Hall cite the Bard is really no surprise, because she grew up among British theatre royalty; she's the only child of director Peter Hall, who also founded the Royal Shakespeare Company, and Maria Ewing, the Detroit-born opera singer. Hall attended Roedean, a private girls' school in Sussex, before immersing herself in English literature at Cambridge University. After her second year, Hall dropped out, believing that she had accomplished all she'd set out to do there and was ready for the next step.
Her path to acting was influenced but not driven by her parents; their experience and talents served as both a preparation and a warning. "My dad was very impassioned, but he's also a great thinker and he's very faithful to the text," says Hall. "I think that I learned from him the balance of analysis and instinct. That's important, because I suppose my way of acting is a combination of instinct and brains. I think if you have too much of one, you get imbalanced." Hall's parents divorced when she was young, but as she grew up in the midst of five half-siblings, she developed a strong independence, which Ewing, her primary childhood caregiver, influenced greatly. "There's a spine of truth that runs through my mother. She never does anything that isn't true to herself, and she's so sure of who she is," says Hall. "[During my childhood] she was so passionate, instinctive. She was a force."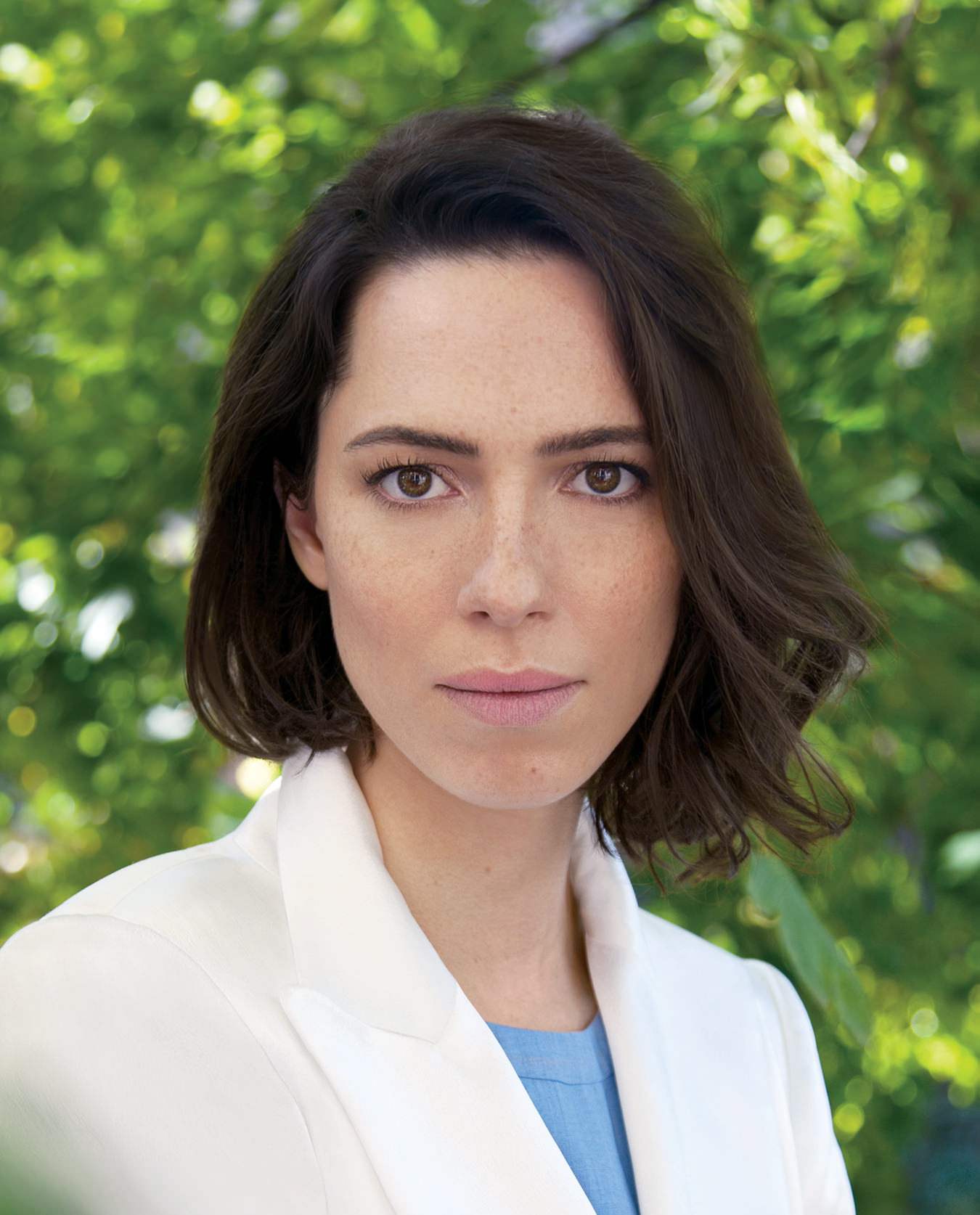 Having two artistic-powerhouse parents with keen eyes for performance talent meant that, while entirely loving, Hall's guardians were also amongst her best professional critics. "I had to be properly good enough—not just good enough," Hall says. "I had to be good."
As tends to happen for those growing up with such prominent individuals, Hall experienced some frustration in her teen years. "I thought about changing my name, or getting into a path completely separate from my father," she says. "And then I realized that whatever I did, the press—the British press especially—would love to make a story out of that." Thus, self-awareness was fixed in Hall's blood. "I am my parents' child, and why would I pretend anything else? If I'm good enough to do this for the rest of my life, then [the critics] will let me. And if I'm not, then I guess I'll stop now."
She has proven that without any doubt, both on stages and on screens big and small. Hall's first professional role was at the age of 10 in her father's television adaptation of Mary Wesley's The Camomile Lawn. Since then, her theatrical roles include the likes of Twelfth Night, as Viola, in London's National Theatre; Chekhov's The Cherry Orchard, as Varya; and The Winter's Tale, as Hermione. The last two were in 2009 for the ambitious Bridge Project, for which a transatlantic company of actors performs in seven cities, and also tapped the talents of Hollywood heavyweights such as Kevin Spacey and Ethan Hawke. Hall was praised by British television audiences for her portrayal of Sylvia Tietjens in Parade's End, the 2012 HBO/BBC costume drama (Hall won a Broadcasting Press Guild Award as well as BAFTA and Critics Choice Television Award nominations for the performance).
The 2006 comedy-drama Starter for 10 marked Hall's feature film debut, paving the way for A-list credits to start rolling. In the inventive period piece The Prestige, Christopher Nolan cast her as Sarah Borden, a loyal and stoic wife to the troubled magician Alfred, played by Christian Bale. ("I've only actually ever seen it once. It's sort of meta on some level," Hall says, laughing. "That film tweaks the nerd in people.") She donned splashy seventies frocks and a confident subtlety for the role of Caroline Cushing in Ron Howard's Frost/Nixon, then embodied a Boston bank manager for Ben Affleck's The Town, which featured a cast that included Affleck, Jeremy Renner, and Jon Hamm; it's still the role for which she's most recognized in the United States. "It used to be Vicky Cristina in coffee shops in the West Village," she says. "And now it's more The Town."
Rebecca Hall's characters receive sensory personas: she wears specific fragrances for each role. On the set of Frost/Nixon, it was a rich patchouli scent to capture the heady vibe of the psychedelic seventies.
Her fastidious acting training—as well as the ability to pull off a convincing American accent—has caused U.S. directors to choose Hall among seas of talented options. Though she's far from an uptight New Yorker, Woody Allen was convinced she could play one and cast her in Vicky Cristina Barcelona alongside Penelope Cruz, Javier Bardem, and Scarlett Johansson. (Hall and Johansson were later reunited in The Prestige.) It was a role that brought the then-25-year-old Hall widespread recognition in America, not to mention acclaim in the form of Golden Globe, BAFTA Orange Rising Star, London Critics' Circle Film, and Gotham Independent Film Award nominations. It was a filming process she greatly treasures.
"I was kind of prepared for [Woody] to never speak with me and not give me any direction," she says of the filming process, before stopping and shaking her head. "That's a very terrible generalization. I suppose what I expected in a kind of optimistic way was that he wouldn't give me any direction because he trusts actors to do their own thing and then somehow manages to guide you within that. He was everything I could have possibly hoped Woody Allen could be. I adored him."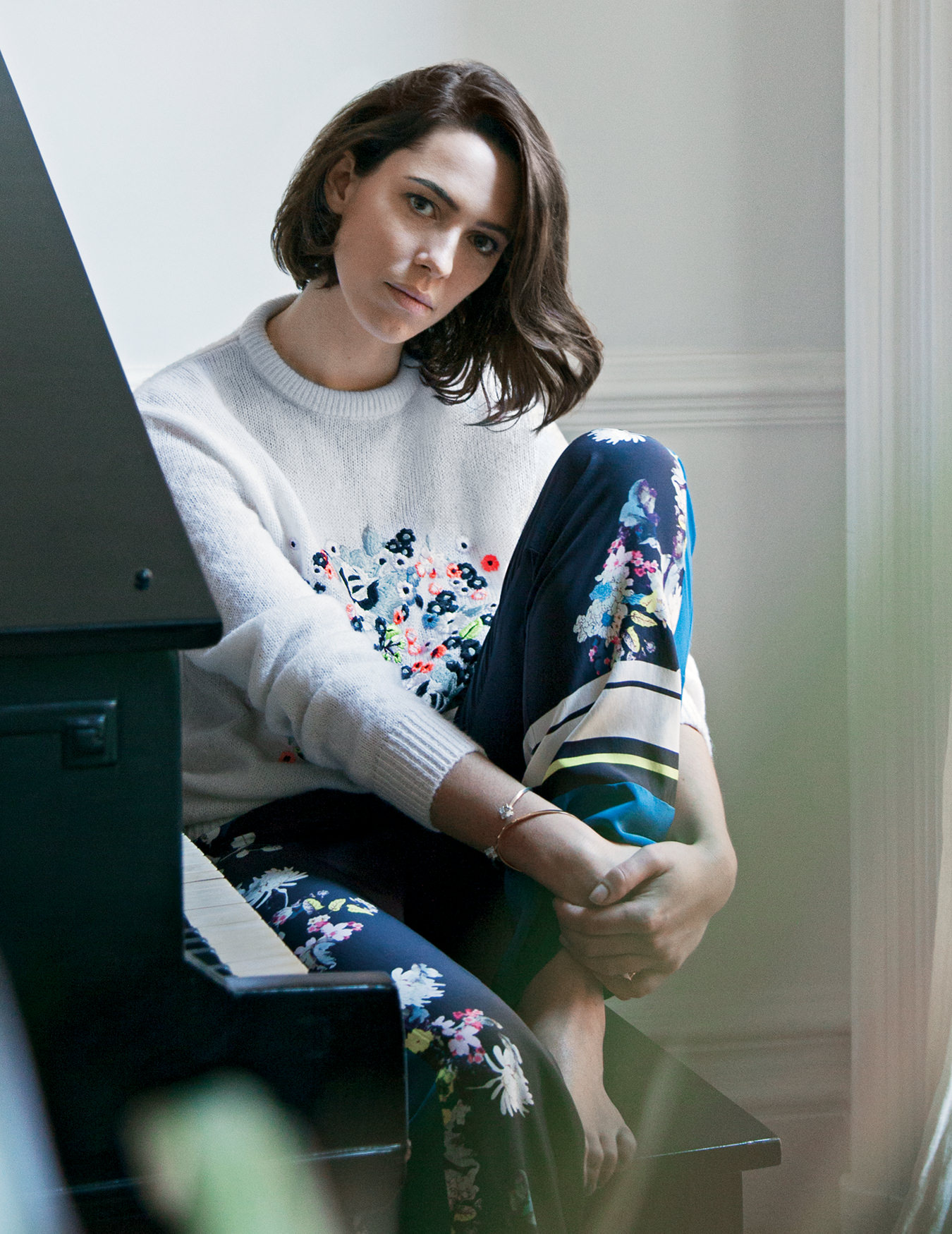 A future role will find Hall starring in Patrice Leconte's romantic drama A Promise, set in 1912 Germany and slated for release later this spring. Also forthcoming is Transcendence, as previously mentioned, in which Hall plays neurologist Evelyn alongside Johnny Depp's Dr. Will Caster—who are partners "in science and in life," as Evelyn puts it—and together endeavour to unlock fundamental secrets of the universe. (Warner Bros. will release the film in North America on April 18, 2014.) Depp's Will is an artificial intelligence researcher, working to create a machine that can perceive and feel human senses and emotions, and that also possesses the collective intelligence of everything ever known. When anti-technology extremists enter the picture, fellow researchers Evelyn and Max Waters (Paul Bettany) help Will participate in his own transcendence—with a questionable outcome. The sci-fi plot provided both a new genre for Hall's resumé and an opportunity to participate in a unique project with an exciting, stylized look.
"Artsy films like 2001: A Space Odyssey and, more recently, Gravity fit into that. I thought [Transcendence] was the sort of film that could be innovative in many ways," she says. "There's an aspect of the narrative that deals with consciousness that was enticing, in terms of acting. Also it's Depp, Morgan Freeman, Cillian Murphy, Kate Mara—those were all people I've always wanted to work with."
The draw of working on Pfister's first film as a director was also compelling, as she'd worked alongside him on The Prestige, for which he was cinematographer. The Transcendence experience was markedly different, Hall says, and also very fun. "He had all the wide-eyed optimism of a first-time director—that driven perfectionism—but he had all the knowledge, and all the grounding, as someone who's made as many films as he has. It was a dream situation in terms of the atmosphere that he created on set."
For Pfister, the feeling was mutual. "There is a vulnerability and a sensitivity that Rebecca has portrayed in other films that perfectly fit my notion of Evelyn," says Pfister. "Her focused understanding of the character elevated the quality of what ultimately ended up in the film." Transcendence entertains the notion of a possible symbiosis between the human brain and a near-eternal life. "What we call the 'upload sequence' was challenging for us all," says Pfister, alluding to a scene where Depp's dying body is hooked up to a device that might—or might not—sustain his existence in another realm. "Credibility in the performance was essential to sell a lofty concept to the audience. Rebecca pulled it off beautifully."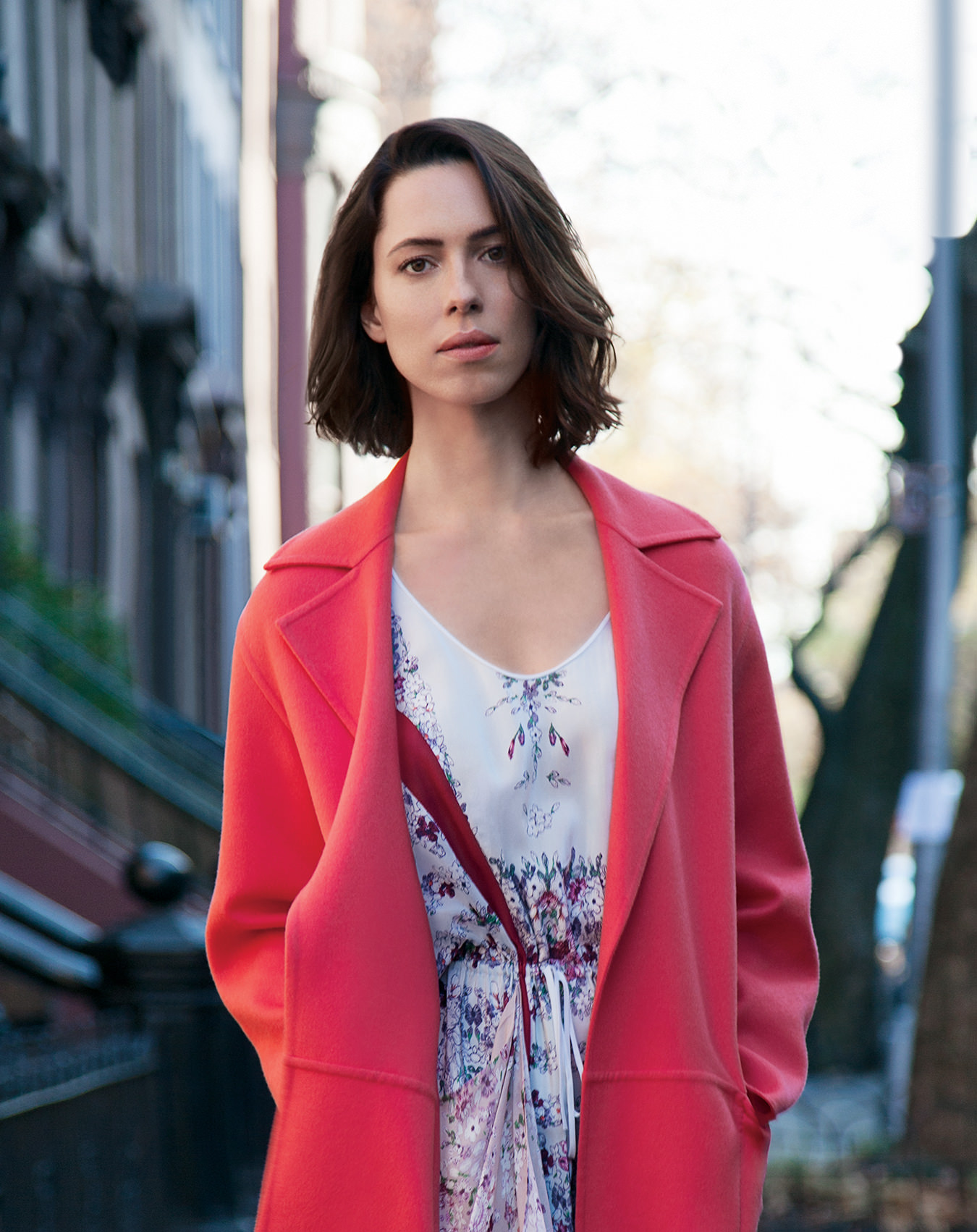 For background, Hall schooled herself with a crash course on neuroscience and the advancement of technology (Ray Kurzweil, the Futurists) and considers the research process, with any role, to be the fun part. "It is a huge reason why I do it, and it makes my life that much richer," she says. "There's no other profession that I can think of where every aspect of living feeds it, and the two just inform each other all the time. That's a very creative and rewarding way to live." Working with Depp wasn't intimidating, either. "He's completely fabulous. He's Johnny Depp, he's maybe the biggest movie star around, and he couldn't be more personable and charming and well read and funny and erudite."
Those adjectives could also apply to the speaker. When asked a question, Hall has a tendency to roll it around in her head before coming back with an answer she's sure of. Her characters are often intrinsically sensitive, cerebral, and grounded—not dissimilar to the woman herself, who acts older than her age. Put Hall in a room with a piano and she may take to it, her fingers moving deftly across the keys; it's one way she clears a busy mind through the balancing act of work and life. (She is quiet about her private life in London with her partner, director Sam Mendes.)
With a composed intensity, she has come to embrace the methodical as a means to better embody her roles, such as creating musical playlists for each of them, and drafting massive plot charts ("More like chart-webs—like a brain map," she says) that detail her character's specific emotional states through the progression of the story, scene by scene. "I'll do it in emotional bullet points so I can look back and see what we did before."
Hall's characters also receive sensory personas: she wears specific fragrances of her own selection for each role. On the set of Frost/Nixon, it was a rich patchouli scent to capture the heady vibe of the psychedelic seventies. In Vicky Cristina Barcelona, it was an elegant French fig perfume. As it turned out, Hall enjoyed figs as much as Vicky seemed to, so she tried to wear it after wrapping filming—but the character and the scent proved impossible to untwine. "I thought, 'I don't want to be that uptight person.' I never could be."
No matter the perfume she wears, Hall is comfortable in her own skin. With a candid openness and an ability to analyze herself as easily as she might one of her fictitious characters, she has a natural, effortless charm. "You know, I've never been that shy or nervous when acting," she muses. "I get nerves like everyone else gets nerves. But I get out of myself when acting, because it's about the text, or the play, or the film, or the other actor—if you concentrate on that, it's way bigger than you. And then you have a focus.
"Everything I do every day—whether it's getting on the subway, or brushing my teeth, or playing piano, or reading a book, or drawing a picture, or talking to somebody—it all informs acting in some element because it's all just life, it's all part of it." She pauses, and then says, "And I like that, because I like my life."
Stylist: Emily Barnes for the Wall Group. Makeup: Itsuki for the Wall Group. Hair: Ben Skervin for the Magnet Agency using Vidal Sassoon Pro Series. Stylist's Assistant: Caroline Kornreich. Photographer's Assistant: JP Bevins. Digital Technician: Mario Torres.
_________
Never miss a story. Sign up for NUVO's weekly newsletter, here.