Fendi's Roman Restoration
Fendi fans Rome's splendour.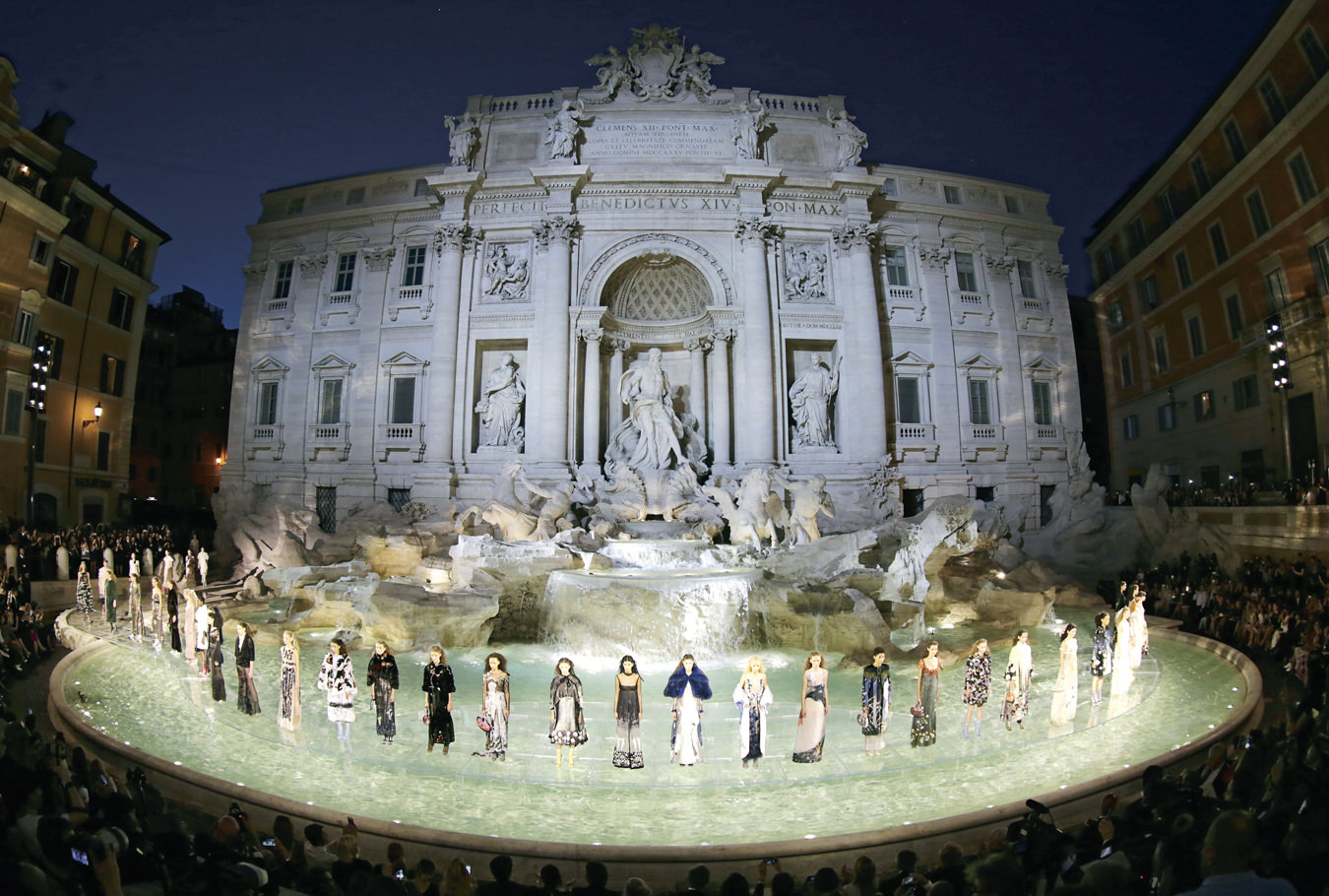 Since its founding in Rome in 1925, Fendi's deep bond with the Eternal City has spawned a long-lasting love between the Italian fashion house and one of the most transcendent travel destinations in the world. "We always say that Fendi is Rome and Rome is Fendi," explains company CEO Pietro Beccari, who in July celebrated the brand's 90th anniversary by overseeing its Legends and Fairy Tales runway show at Rome's newly restored Trevi Fountain.
Filled with flowing nymph dresses, swaggering capes, and models who appeared to walk on water, the spectacle was a "crowning moment" for Beccari and his company, which, since January 2013, has spent more than 2-million euros (nearly $3-million Canadian) restoring the crumbling Trevi as part of its ambitious Fendi for Fountains project. "When we presented our couture collection atop this iconic fountain in July, it was unlike anything ever done before," says Beccari. "This event and collection were proof that nothing is impossible for us, which is our motto at Fendi."
Indeed, Fendi is the first fashion brand to host a runway show at this landmark that has been immortalized in films like Roman Holiday and La Dolce Vita, in which actor Anita Ekberg steps into the Trevi's cooling waters in a black strapless gown for a sensuous late-night dance. Yet with the Trevi now a fait accompli, Fendi is pushing forward with its restoration of Rome's other important fountains. "The next phase will involve us supporting the restoration of another four iconic Roman fountains," says Beccari.
That list includes the monumental Fontana dell'Acqua Paola, which filmgoers will remember from the opening of Paolo Sorrentino's 2013 Oscar-winning film The Great Beauty. Also known as Il Fontanone, it sits atop the Janiculum Hill at the San Pancrazio gate and is the terminus of the Acqua Paola aqueduct.
Fendi will also finance the restoration of the Fountain of the Nymph on the Pincian Hill, created by Italian neo-classical architect Giuseppe Valadier (1762–1839); the Fountain of Moses in the Piazza San Bernardo, commissioned by Pope Sixtus V (1521–1590); and the Peschiera Fountain in Rome's Piazzale degli Eroi, which was built in 1949. Beccari views these investments, which will cost a reported 300,000 euros ($450,000 Canadian), as an act of love for a city that has inspired Fendi for nine decades. "The funding of these restoration projects was very important, not just as an act of philanthropy, but as a way to thank our great city for all that we have been given in these years," says Beccari.
That attitude also enlivens Fendi's upcoming travel guide Your Seven Ways to Rome: Arts, Parks, Food & Beverage, Shopping, Body & Soul, which hits stores in February 2017. Navigated by Fendi's fashion and culture experts, Rome is seen with an eye on art, history, shopping, food, music, and secret haunts known only to Romans. As Beccari explains, "Fendi is rooted in a great history and heritage, but is always looking forward. I want to give people the opportunity to experience our story, history, and aesthetic in a different way."
_________
Never miss a story. Sign up for NUVO's weekly newsletter.