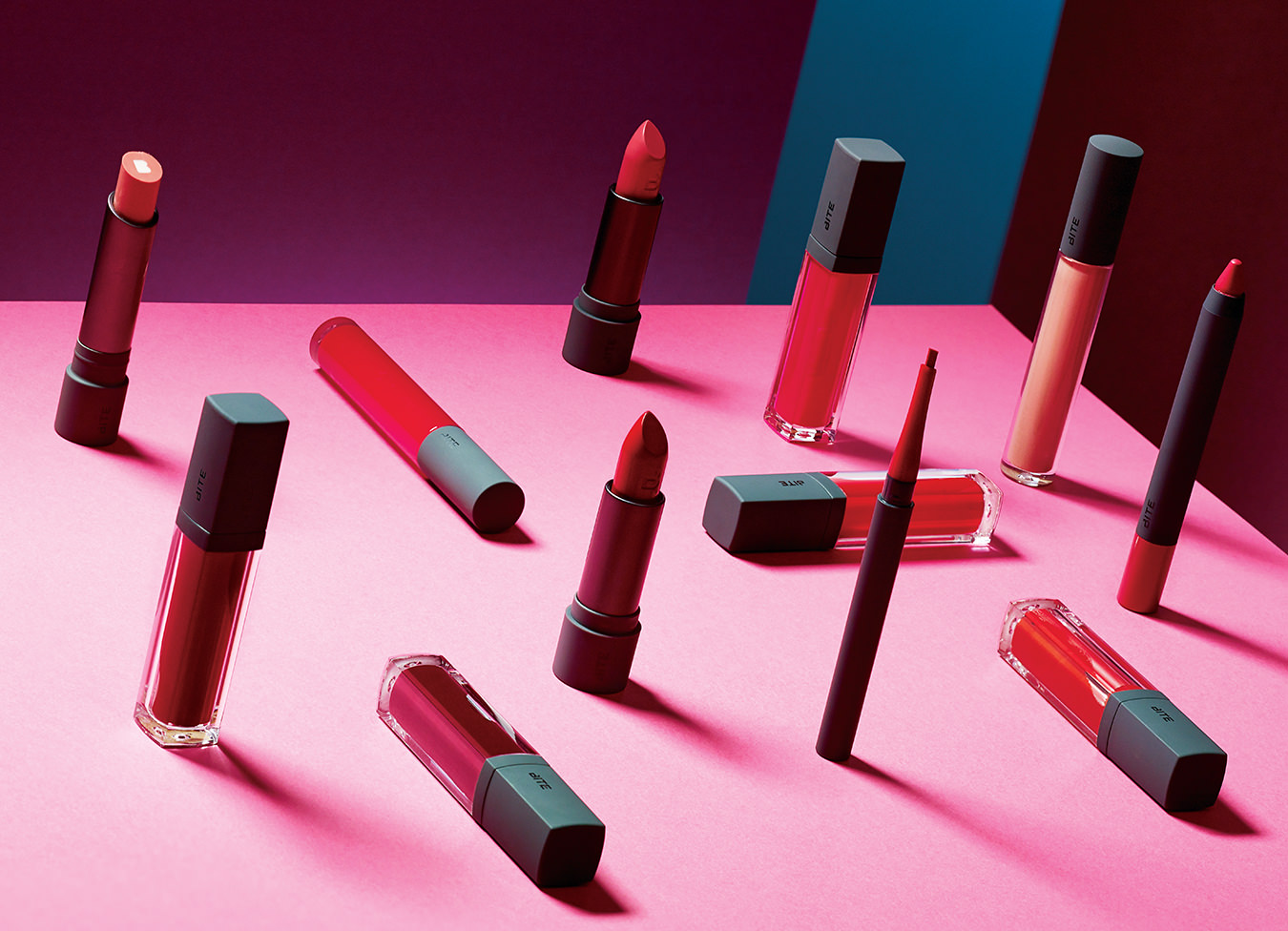 "I've always had a great lipstick. My first was a classic Dior—it was a beautiful matte red," says Susanne Langmuir, founder and CEO of Toronto-based lipstick company Bite Beauty. "I was a bit of a tomboy, and I discovered lipstick when I was 12 years old when my mother brought home an Avon catalogue. I started peddling the products in high school to people I was babysitting for, and at family gatherings. It became quite a business."
Fast-forward 30-plus years and the tomboy has turned beauty entrepreneur with the creation of Bite. Headquartered on Geary Avenue in Toronto, the two-and-a-half-year-old company's focus is lips—healthy ones. All of Bite's products offer anti-aging properties and are all-natural, formulated with food-grade ingredients, and free from parabens, polybutenes, sulfates, and petroleum byproducts. Bite is also the first lipstick line to be infused with red wine resveratrol, said to deliver a microdose of antioxidants. Each tube of Bite lipstick delivers the antioxidant equivalent of five glasses of wine; you won't get tipsy, but you will have younger, wrinkle-free lips. "Lipstick is like high heels for your lips. It instantly changes the way you look," Langmuir says. "There are so many wonderful associations with classic, notable women of our time, all of whom have had beautiful red lips."
Aside from adoring the universal aspect a lipstick represents, Langmuir loves how transformational it is. "It unites all of our different trends, styles, and personalities," says the married, 45-year-old mother of two. "There's a sensual, textural aspect to it as well."
Langmuir's first foray into the cosmetics business left an indelible mark. In her early 20s, she started Nature's Essence Aromatherapy. Sourcing essential oils led to formulating fragrances for Susanne Lang Fragrance, which launched within Barneys New York. By the time she was in her early 40s, Langmuir was sharing the business with her husband, whom she convinced to leave his banking job of 19 years. "I was running a $2.8-million-per-year company, and six months after my husband teamed up with me, I decided I didn't want to do fragrances anymore," she says. "I wanted to make lipsticks. Natural ones that were rich in texture and deep in pigment."
According to the lipstick lover, the average adult wears four-and-a-half kilograms of personal care products yearly. "And since lips don't have moisture glands like the rest of your body, and most lipsticks are made with large molecules [petroleum], your lips can't absorb the product in order for the colour to stay on longer," says Langmuir. "It doesn't penetrate the lips but tricks them into thinking they need to produce moisture." Bite products are made with 100 per cent natural and organic oils such as jojoba and argan, which penetrate lips and provide lasting hydration below the surface.
Bite Beauty is the first lipstick line to be infused with red wine resveratrol, said to deliver a microdose of antioxidants.
Initially Bite was sold exclusively at Sephora, but this past October, New Yorkers were able to experience the lip-centric company first-hand in SoHo with the opening of its first boutique. Conceptualized in collaboration with Austrian-based design team EOOS, the 500-square-foot shop is painted in washes of the brand's signature palette of red and soft greys. The location incorporates Bite's eco-conscious mantra with organic wood floors juxtaposed against sleek stainless-steel countertops to complete the minimalist design.
Here, Bite offers a behind-the-scenes look into how lipstick is made with a colour play station (where mixing pigments is performed) and a lipstick bar (where the melting, moulding, and extraction process occurs). Customers become makeup mixologists, customizing lipsticks in less than 10 minutes. (These customization activities originally debuted as an event at the Yorkdale Sephora in Toronto.)
"The unmoulding is really a fascinating process. It's magical to see what people create," Langmuir says. "It's really a win-win for everyone. Customers love being educated and making their own product, and we get the opportunity to see incredible combinations people are creating. It's as much of a lab for us as it is for the customers."
If customizing isn't your thing, fear not. Bite has 11 different lines offering over 70 products, including Lush Fruit Lip Glosses, which infuse coconuts, mangoes, and strawberries with seven nourishing fruit oils and pure pigments; Lush Lip Tint, sheer balms that offer a double dose of resveratrol; Cashmere Lip Cream, a cream-to-powder matte lip colour that contains a high concentration of Japanese silica powder that primes and prevents feathering; and Contour Lip Liners, which are retractable, slanted-tip lip pencils that offer artistic lip definition.
Because everything is done in-house, Bite can be speedily reactive, capitalizing on trends as they happen. "If we see something we like on the runway, or if an artist has done something that resonates for us, we can go into production right away," explains Langmuir. "Most beauty brands take six to 12 months to produce a product. We can have something on the shelves and online in eight weeks." It also allows for creating a number of limited editions. A typical lipstick line that's machine operated can produce 120,000 pieces a day, while Bite's production line can be as large as 600 pieces or as low as 100. "There's an artisan nature to what we do," she adds. "We use a handmade process, whether it's mixing, milling, heating, or pouring, and that requires technique and teamwork."
Bite is sinking its teeth into the $2-billion lipstick industry (the U.S. figure for 2012), and you can bet it's creating a high-pigment lipstick that's long lasting and good enough to eat.