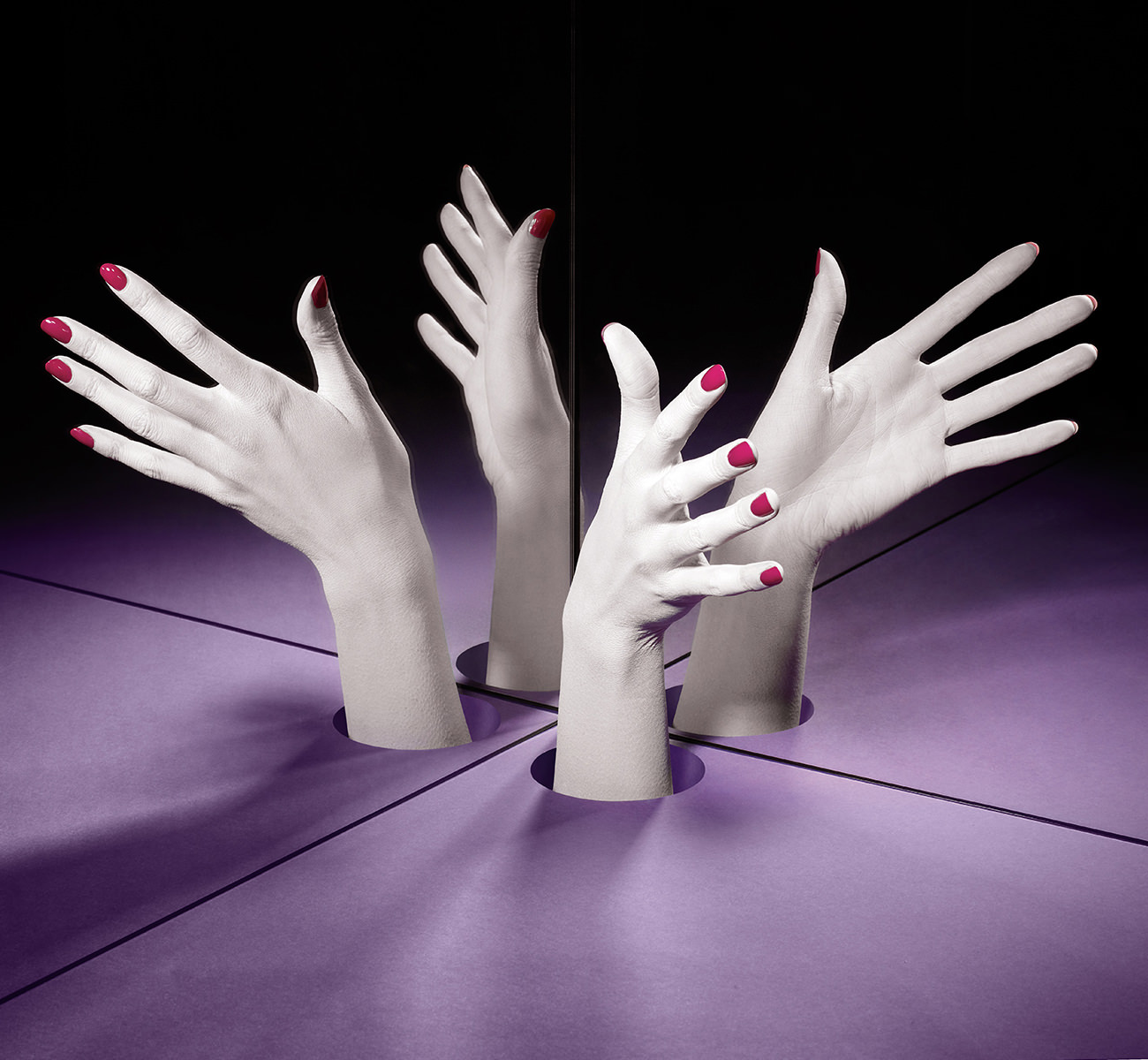 A woman's nails often act as visual shorthand, offering clues to her character through length, colour, and shape. Think of Humbert Humbert delicately daubing scarlet polish on Lolita's toes in the opening scene of Stanley Kubrick's film, or of Joan Crawford's femme fatale fingernails—long, crimson, and razor-sharp. Those tiny daggers are a far cry from the gleaming baby-pink ovals favoured by traditional "good girls" like Doris Day and Audrey Hepburn. It's safe to say that contemporary women of Crawford's ilk won't be trading manicure tips with Taylor Swift.
But as evocative as they may be, nails have long been a cult beauty category, content to drum their fingers while lipstick and liner get most of the ink. Until recently, that is. Over the last few years, nails have blossomed into a blockbuster beauty essential. The fashion world has propelled the momentum, as designers increasingly call upon star manicurists like Sophy Robson and Nonie Crème to translate their clothing visions onto models' fingertips. The spring/summer 2012 runways featured everything from Lucite tips (at Alexandre Herchcovitch) to two-tone checkerboards (at Nicole Miller) to safety pins (at Betsey Johnson). Zooey Deschanel brought the trend to the red carpet, sporting tuxedo-printed nails at the 69th Annual Golden Globe Awards this year. And it's not just the glitterati buying into the trend. According to market research firm NPD Group, sales of nail-related products in 2011 skyrocketed almost 60 per cent from 2010. Nails have clawed their way to beauty world dominance.
But how? Modern nail art may offer a new canvas for creativity, but it's the science behind recent innovations that is the true masterpiece. Gel lacquers—a combination of gel and enamel technology—tick all the boxes on a manicure wish list, with high-shine colour, zero drying time, and a chip-free guarantee for definitely two, sometimes even three, weeks. More than handy, gels have transformed the nail landscape—they're the waterproof mascara of the 21st century.
OPI started the revolution back in 2009 with Axxium gel lacquer, which—in a boon to beauty junkies—is available in the brand's iconic shades including You Don't Know Jacques! "I literally called OPI on a daily basis asking for the Canadian release date, and I pretty much drove them half-crazy," says Leeanne Colley, nail artist and owner of Tips Nail Bar & Spa in Toronto, and now a spokesperson for Revlon Nail Enamel. "I knew my clients would love having glossy colour on their nails for two weeks. And I would have glossy nails for two or more weeks! Before, manicurists could never have coloured nails." With the new formula, aestheticians use special brushes to apply a base coat, two colour coats, and a topcoat, while a UV or LED lamp cures them between each step. Once the 45-minute process is complete, you could go surfing, wash a sink full of dishes, or even take nail polish remover to your nails—that colour is staying put for at least two weeks.
Since Axxium's ascent, several companies have challenged OPI's claim to gel supremacy. In April 2010, Creative Nail Design (CND) launched Shellac, a gel hybrid "power polish" that combines the solvents of polish with the monomers and polymers of gel. Its thinner formula and patent-pending UV3 technology promises extreme lustre. "Within one month of its introduction, Shellac sold out four times over," says Jan Arnold, the co-founder of CND, describing the wait-lists as "the beauty equivalent of the iPad." Last fall, OPI countered with GelColor, a thinner gel that requires only 30 seconds per coat to cure, and soaks off in 10 minutes.
That soak-off removal process is one of the unique characteristics of gel lacquers. Gels must be removed by an aesthetician using acetone to dissolve the formula, an "absolutely essential" step, according to Colley. "Removing the lacquer yourself by peeling removes layers of your natural nail and weakens them," she explains. In other words: hands-off.
As for skin cancer fears stemming from the UV light in the drying lamps? It's still too early for independent study results, but CND's Arnold is adamant that the resulting UV exposure is equal to spending an extra 30 seconds in the sun every day for the 14 days or so between appointments. (As a precaution, dermatologists recommend adding a generous layer of sunscreen to your hands an hour before your appointment.) And all of the CND and OPI formulas are free of the toxic trio—formaldehyde, toluene, and dibutyl phthalate (DBP).
Creativity may have sparked the gel craze, but it's the convenience factor that's inspired women worldwide to pledge their beauty allegiance. As Colley points out, "Women are so busy these days that these long-wear formulas fit seamlessly into their lives."
But perhaps the most interesting consequence of the gel craze is how it has transformed women's relationships with their nails. "I had clients who would never wear polish on their nails, or they'd wear a clear coat so no one would be able to notice their chips," explains Susan Nam, the co-owner of Polished Beauty Bar in New York. "Now they come in excited about putting colour on their nails." Nails have become accessories, a personality showcase writ across 10 digits. If this is the era of nail freedom, we've only scratched the surface.