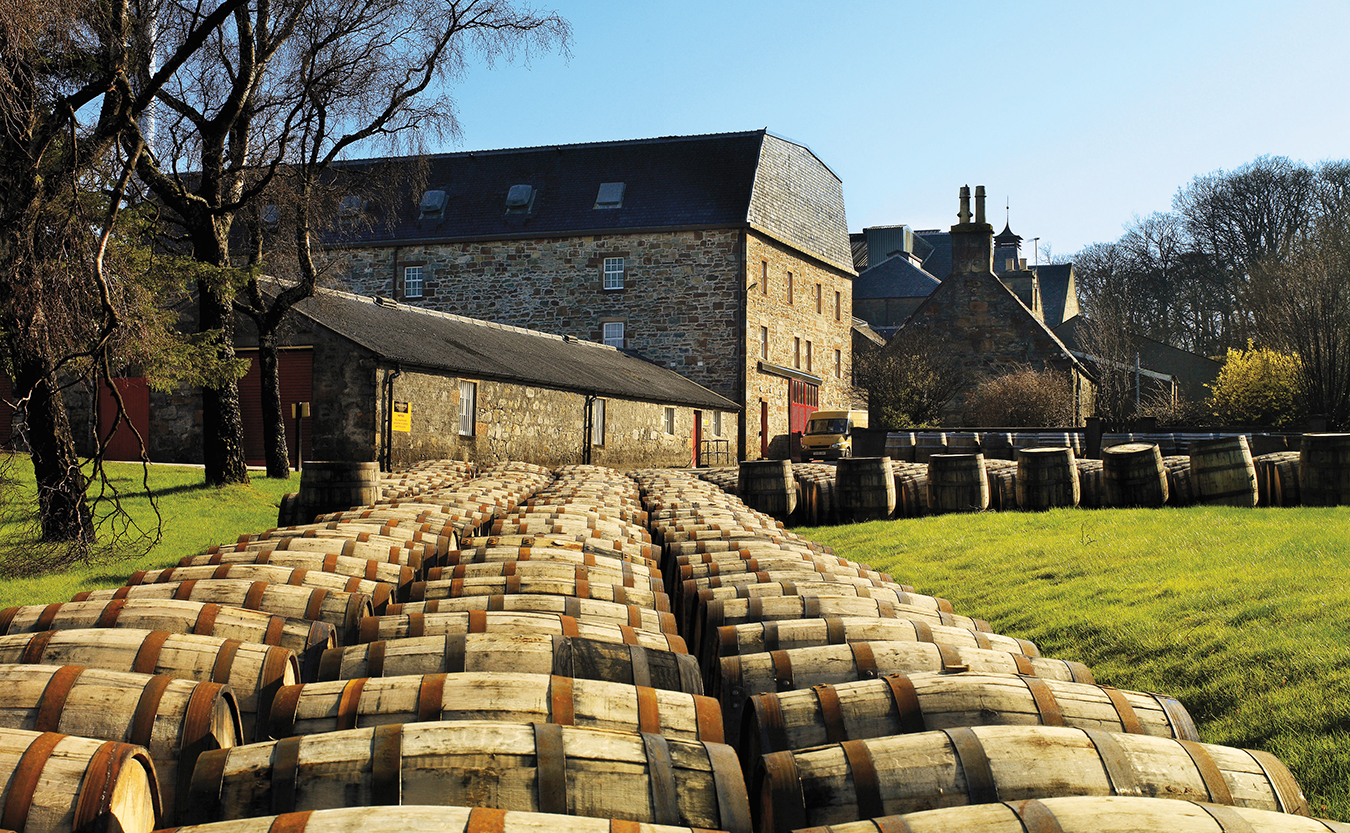 Whisky. Scotch. Liquid gold. Aqua vitae. However one says it, the world is looking at this age-old spirit with new eyes—and a thirsty curiosity. The origins of this hard-nosed drink can be traced to the 15th century, and although Glenmorangie was exporting its single malt product (which is unblended and distilled at a single distillery) in casks since the 19th century, it wasn't until the 1960s that the company began bottling their spirit.
Established in 1843 by William Matheson, the Glenmorangie Distillery makes its home in the lush greenery of the northern Tain peninsula, Ross-shire, next to the Dornoch Firth, which is approximately four and a half scenic hours by train northbound from Edinburgh, located in a fairy-tale setting in the Scottish Highlands.
To concoct his brew, Matheson originally purchased second-hand copper gin stills, which are tall and slim and quite different from the squat, onion shape of traditional whisky stills. Glenmorangie's signature citrus taste is frequently attributed to this anomalous machinery, which is often compared to the neck of a giraffe or swan. Standing at 5.14 metres, the stills' height allows only the lightest vapours to condense inside the shaft and sink back (a process that is known as "reflux"), essentially redistilling the whisky several times. It all results in a clean, smooth final product—one that has consistently ranked as one of Scotland's top-selling whiskies.
In 2007, despite its hometown popularity, Glenmorangie underwent a relaunch. It was a move that Annabel Meikle, who currently holds the position of sensory whisky creator, explains forayed the company into the "New World"; the purpose was not to fix what wasn't broke, but to improve and expand upon it. The tab for the expensive revamp was picked up by French luxury goods company LVMH Moët Hennessy Louis Vuitton, who acquired Glenmorangie from the Macdonald family (one of Matheson's main customers, who eventually took over the distillery in 1918) in 2004 in a £300-million ($685-million Canadian at the time) buyout, making it the first whisky in an impressive portfolio that includes juggernauts such as Moët & Chandon and Château d'Yquem.
As a result, says Meikle, "it was necessary to update the look of the bottle in order to fit in with the others." The makeover bid adieu to the classic, squarish shape and, with the help of Tayburn design firm, introduced a sexier, more voluptuous silhouette. The new label also showcased the intricate labyrinth-looking pattern that's lifted from the Hilton of Cadboll Stone, a towering sandstone Pictish artifact believed to date back to AD 800. Although the original sits in the National Museum of Scotland in Edinburgh, Glenmorangie arranged for artist Barry Grove to re-create a replica of the 2.34-metre, 1,900-kilogram original; it took more than four years to complete, and now sits where the original was found, in a field overlooking the North Sea on the Glenmorangie property.
Aesthetics aside, connoisseurs will likely have noticed a new taste in the whisky itself. Following suit with the world of perfume, the recipe used for older batches of Glenmorangie weighs more heavily on sweetness than the old-world scents that tend toward floral notes. "We noticed that people's [preferences in aromas] were moving toward vanilla, away from rose," says Meikle. "Bill [Lumsden] was also working on the coffee culture, a concept he has carried from his university days. That brought in new ideas for Signet." Dr. Bill Lumsden is Glenmorangie's resident mad scientist, or, more formally, the head of distilling and whisky creation, who did his doctorate in biochemistry; and Signet is one of his latest creations, a much belaboured permutation that is prized by collectors for its novel concept of roasted barley, and, consequently, a rich mocha mouth, and carefully combines the single malts of different decades, from the 1970s, '80s, and '90s.
If much of this fragrance and taste rhetoric appears to have more of a feminine perspective, Meikle admits that it was not by accident that Glenmorangie hired her, a woman. With a fine arts background (in sculpting, no less), Meikle challenges the stereotype of a typical whisky drinker; she admits that her background in whisky is "purely hedonistic". LVMH's trajectory into global markets taps into a generational shift that is resonating with younger drinkers and, in particular, more female drinkers. Although Meikle admits that it is difficult to trace whether whisky drinkers are male or female (since women often buy whisky for men), she confirms that there has been a new interest amongst women. And she adds, "Women aren't afraid to communicate their feelings, [observing that] it smells like geraniums or it tastes like roasted chestnuts."
This booming female whisky-drinking trend is also happening on an international level. In Taiwan, for example, it is not unheard of to see young women drinking whisky—not in cocktails, but neat. Asia in general is a burgeoning consumer, and it's no secret that LVMH is bracing to meet the growing demand, particularly in China.
In the laboratory, Dr. Lumsden has also considered this new drinker. "I am well aware of the Chinese proclivity for enjoying their whiskies with various mixers [such as cold green tea]. I take a very pragmatic view on this, and while part of me so does not like the idea—especially if it is with Glenmorangie 25 Years Old—it is of course entirely up to the individual to enjoy their whisky in whatever way they desire. I have, however, developed some new products which I felt would appeal to the Chinese palate, such as Signet and Sonnalta PX, and I also tweaked the recipe for Lasanta to give more rich, sweet, spicy flavours, with the Chinese and Taiwanese markets very much in mind."
Dr. Lumsden is also credited as the pioneer of the oft-imitated and highly coveted cask finishings, to which 60 per cent of taste is owed (the other 40 per cent to production). Although whisky traditionally matures in ex-bourbon or ex-sherry oak casks, Glenmorangie was one of the first to experiment with alternatives, such as the Sauternes wine casks that flavour the Nectar D'Or label with lemon, white chocolate, and honey; and the port pipes for the Quinta Ruban that provide notes of dark chocolate, mint, and orange. Such barrel manipulations were also masterminded to fine-tune the original recipe; at Glenmorangie, a barrel is used only twice. The "first fill" produces a more rich vanilla taste, and the "second fill" lends a floral aspect. The New World version that's been produced since the revamp sits longer in a first fill barrel, giving it a more prominent vanilla nuance. Even the warehouse in which the casks are stored is believed to affect taste; Glenmorangie created a special edition whisky, Cellar 13, from barrels that matured closest to the sea.
But whisky purists shall not be disappointed. The soon-to-be-launched Finealta, which means "elegant" in Gaelic, is a return to the more medicinal, peaty nose of the good old days in 1903, when whisky was the drink of the moment overflowing at discriminating addresses such as the Savoy Hotel in London. It appears, then, that whisky has come full circle, with such retro concoctions making a significant splash on the scene.
"A wee dram", as one so often hears in Scotland, means "a little glass of whisky"—although the measurement of "wee" depends entirely who is holding the bottle. These three words ripple off a Scot's tongue like the purr of a happy cat. Considering the fact that whisky is made of only three ingredients—barley, yeast, and water—it can be quite staggering to realize the multitudes of permutations that bring so much joy. Glenmorangie has made an art of this ancient practice, proving that distilled waters truly run deep.