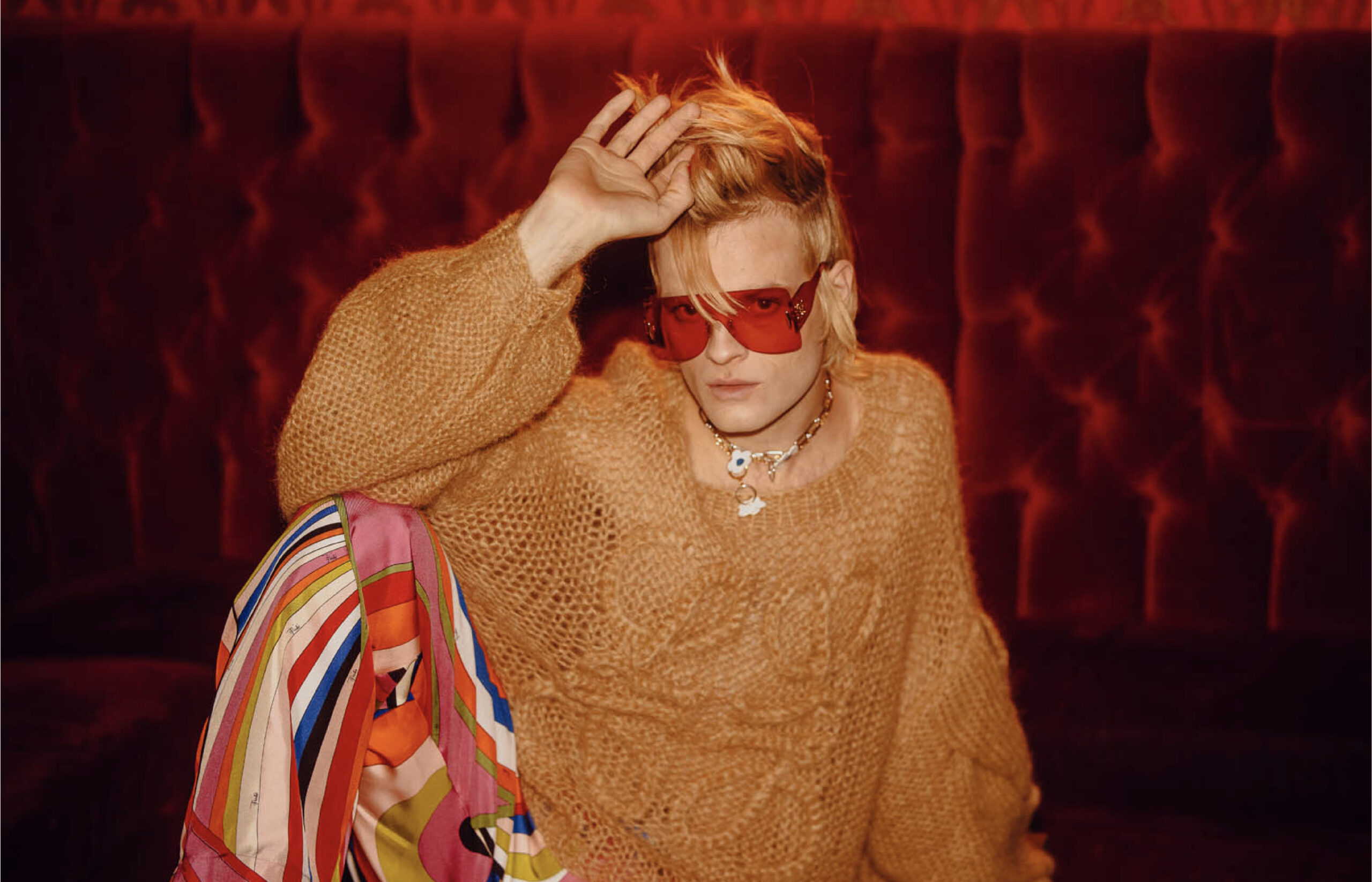 Singer-songwriter Jake Wesley Rogers Reckons with His Past for a Future of Queer Liberation
"I was born in the Bible Belt," Jake Wesley Rogers rasps from the stage. His lips curl into a smile. His voice is low, seductive. "I like to think I was a little rhinestone on the belt buckle," he croons before the drums kick into an electrifyingly licentious song called "Hot Gospel."
The Missouri-born singer-songwriter is about halfway through his first headlining tour, Peace Love & Pluto, and tonight in the low-ceilinged, dimly lit basement of Vancouver's Biltmore Cabaret, a platform-heeled Rogers is larger than life. The room feels too small for his presence, physically (at well over six feet tall, his fingers brush against the electrical wiring above him) and musically. Rousing crescendos and power ballads burst at the seams of the stage. Between each song, he speaks to the crowd in a sultry voice, his words tumbling out like spoken poetry. The room is rapt with attention. Even at his quietest, Jake Wesley Rogers is loud.
"The show kind of feels like—I hate to use the word 'church' because that word is very loaded, but it does feel like a collective experience," he tells me a few days before his Vancouver concert—a precursor to what sort of experience I should expect. I can understand his hesitance to commit to a church-like comparison. As an openly queer artist, Rogers centres his musicality on the freedom to be who you are, a freedom that could be at odds with the restrictive values of some churches. His fans don't fit into a single demographic—the Biltmore crowd ranged from a giggling group of middle-aged women to Gen Z lovers clad in leather jackets and green eyeshadow—but listeners are particularly moved by the themes of queer love and acceptance in his music.
In the piano-forward ballad "Momentary," off his 2021 EP Pluto, he eulogizes past gay figures, singing, "Rest in peace, Marsha P., Harvey Milk, Oscar Wilde / Sorry that you can't grow old / Such a fucking tragedy." The track is a bittersweet reflection of gay liberation, both celebrating the strides taken and recognizing how much further the movement still needs to go. "It's beautiful because I write a lot of these songs to help me express something. So when other people are having a similar experience with a song at the same time, it's more than I could hope for," Rogers says of the effect his songs have on queer audiences.
Still, it's clear the church plays a complex role in his life and work, where he often reckons with who he is and the Christian environment he was raised in.  In "Pluto," a track propelled to mainstream fame via TikTok, he sings, "I could buy me a rainbow / I'm a little afraid though / It won't look good with my halo."
In performing for an audience, sharing his message of love and acceptance and safety, Rogers has swapped the rigidity of religion he grew up around for a faith more fluid. One that he can mould himself. "It's all the parts I wish the church was like. I took out all the parts that I didn't like," he says of his stage presence.
That messy push and pull of love and religion working together and at odds with each other is a throughline of Rogers's music. His breakout 2019 single "Jacob From the Bible" is like a "Missouri Call Me by Your Name," Rogers jokes on stage as he introduces the track. The song details his relationship with a man also named Jacob, a love he describes as "terrible, beautiful, tumultuous." Through mountainous vocal harmonies and a gospel choir backing, the song evokes biblical imagery with the pain of Rogers's first love. "My first lover / Shared my name," it goes. "My holy secrets / Enabled Cain."
"It ended like all young love," he continues on the Biltmore stage. "About a year ago, I got a call from his sister that Jacob passed away." While he doesn't reveal how Jacob died, there is an understanding in the room, a shared pain. The singer takes a moment to stand still, watching over the audience. "It feels important to say if you're feeling darkness, in case you feel like you don't want to go on, you are supposed to be here," he says with resolution before transitioning into the song.
Jake Wesley Rogers commands the stage with a charisma that, while limited to smaller venues for now, could enrapture a stadium. Effortlessly, he flows between storyteller, power vocalist, comedian, and therapist throughout his performance.
The pain is palpable in his voice as he sings with haunting emotion. It occasionally breaks, betraying a sob. In the darkened crowd, I hear soft sniffles; I see heads lying gently on shoulders, hands holding tightly to each other. Behind me, someone whispers to their friend, "I think he's one of my new favourites."
The son of a radio host, Rogers grew up attending more concerts than most kids. "I grew up in a very musical household," he says, noting that he started writing songs around the age of 11 and hasn't stopped. "I naturally took to playing instruments," he says. "I just always felt an urge to be up [on stage]."
Rogers was nourished on a steady diet of powerful female vocalists with a dash of emo seasoning: Adele, Lady Gaga, Joni Mitchell, and My Chemical Romance were his early influences. "Singer-songwriter women are what I want to be at the end of the day. They hold a lot of power in my mind," he says. (When asked, he immediately names Stevie Nicks as his dream collaborator.)
He had his first brush with fame and the thrill of the stage at 15, when he competed in the seventh season of America's Got Talent, making it to the quarterfinals and the wild card level. "It was probably the largest learning experience of my life," he recalls of his time with the reality TV show. "Because at a young age, I just loved making music and singing. I thought this is probably the best thing I could do to get myself out there, and I ended up making it pretty far on the show." On being eliminated, he says, "I think I realized in that moment, if I'm going to do this, it's going to be much deeper than performing on some TV show where they don't even care about you and what you're saying. It made me become an artist in a way."
Rogers is indeed an artist in his own right. In 2021, he signed with Facet Records, an imprint at Warner Records helmed by famed songwriter and queer activist Justin Tranter, who writes for pop stars like Justin Bieber and Selena Gomez. Right now, Rogers is working on a long-awaited debut album while also writing longer-form literary projects, which could be either a book or a stage production ("There's a lot going on in my brain," he says with a laugh).
As a front man, he commands the stage with a charisma that, while limited to smaller venues for now, could enrapture a stadium. Effortlessly, he flows between storyteller, power vocalist, comedian, and therapist throughout his performance. A lot of this energy is an instinctual part of his personality, but his statement-making fashion choices certainly add to the character and confidence on stage. "When you put on a costume, it changes your whole energy. And so I do try to wear things that put me in the right mindset place to perform," he explains. But he's clear to say his clothes are still an extension of his true self. "Life is really, really, really funny. It's so seemingly meaningless but also full of meaning. Why not just do what you want and wear what you want?"
For his headline tour, he worked with Georgia-based indie designer Troy Dylan Allen to create custom looks to match the moods of the set list, from a yellow jumpsuit with fluffy tulle sleeves and flared pant legs to an ABBA-esque deep V-cut silk outfit with a draping cape and flowing sleeves.
"Life is really, really, really, funny. It's so seemingly meaningless but also full of meaning. Why not just do what you want and wear what you want?" —Jake Wesley Rogers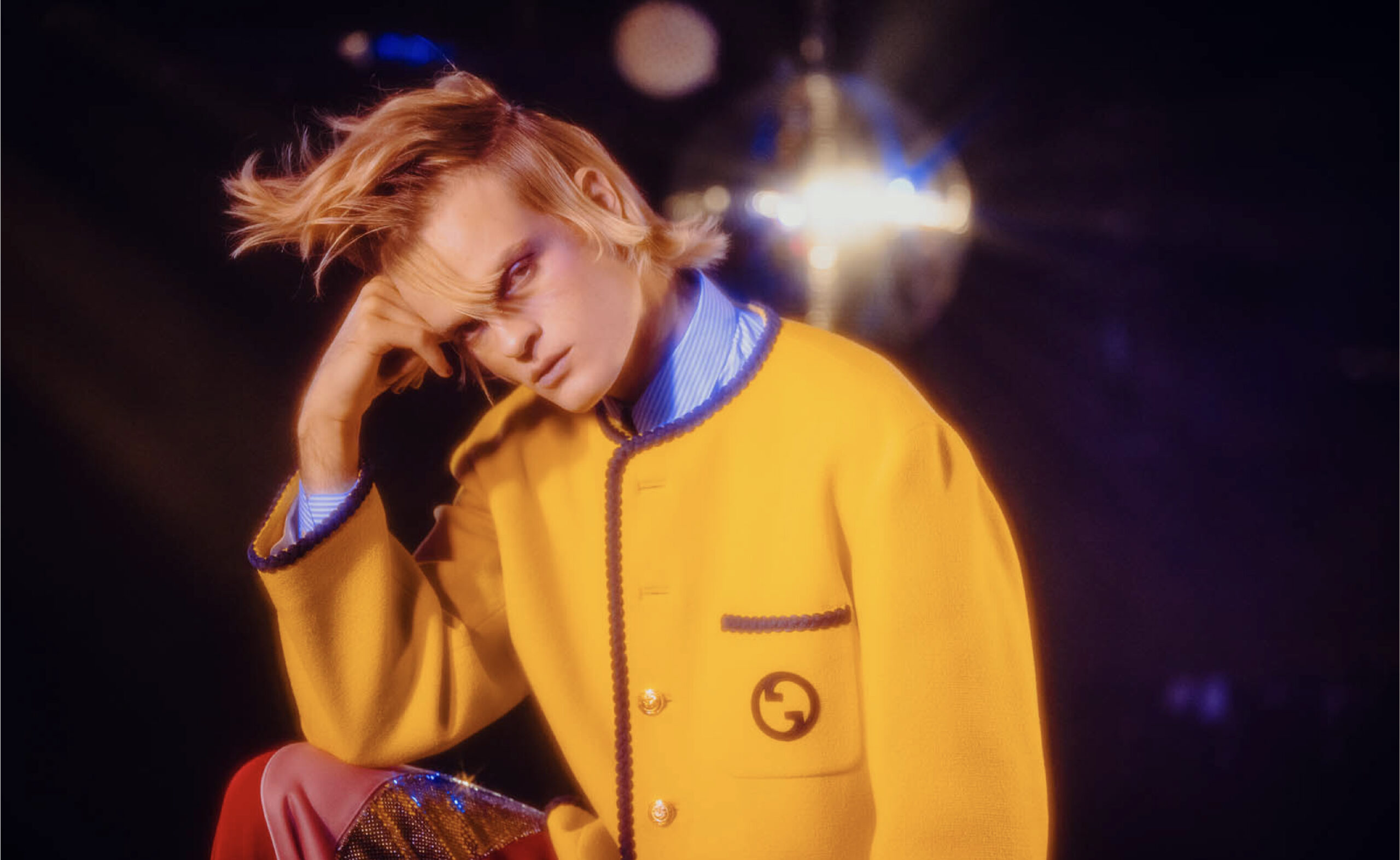 Watching Rogers sit behind a piano, wearing a giant pair of yellow sunglasses, it's difficult to not compare the 26-year-old to a young Elton John. They are both piano-playing ballad singers with a propensity for oversized sunglasses, glitter, and primary colours. The fact that, on his podcast Rocket Hour, John himself said Rogers reminded the British icon of himself in the '70s only seals the deal. "It's definitely not a bad thing to be compared to. And now that I know Elton and have his approval, it's cool," Rogers says. "I feel like people, they see someone in glasses, being androgynous, and they draw lines to things. And that's okay. I don't feel in any way like I'm doing anything that's not me, so I have a lot of peace with whatever people want to say."
How would Rogers hope people perceive him? "I'm someone who is highly sensitive and has been through a fair share of feeling like I can't be myself. And so I think the music I make rings of that feeling of wanting freedom," he says.
His older listeners may be reminded of his similarity to Elton John, but for his younger fans, it's this yearning for liberation—free of fear and judgement—that is particularly evocative. It's no surprise that his most viral song to date is "Pluto," with lyrics that pair well with the audio-snippet format of TikTok: "Hate on me / Hate on me / Hate on me / You might as well hate the sun / For shining just a little too bright." The song has become an anthem for queer social media users to be proud of who they are, particularly in the early stages of their identity journey.
Rogers says he often gets messages from fans thanking him for helping them learn to love themselves, but one online interaction made him consider his own music more deeply. Hearing Rogers's song "Jacob From the Bible," a gay love story through a biblical lens, was a turning point for the fan, who had an evangelical, fundamental background. "I guess it changed everything for him in regards to who he thought he was supposed to hate. It sounds like it gave him a lot of freedom," Rogers says. "That message has always stuck with me. Yes, I'm making music for people who need it, but perhaps also for people who don't even know that they might need it." 
Styling by Toyo Tsuchiya. Hair by Tania Becker. Makeup by Paula Lanzador. Photographer's assistance by Shane Gallagher.