Red Barn Winery at Jagged Rock
The winery forging the Okanagan Valley's future by embracing its past.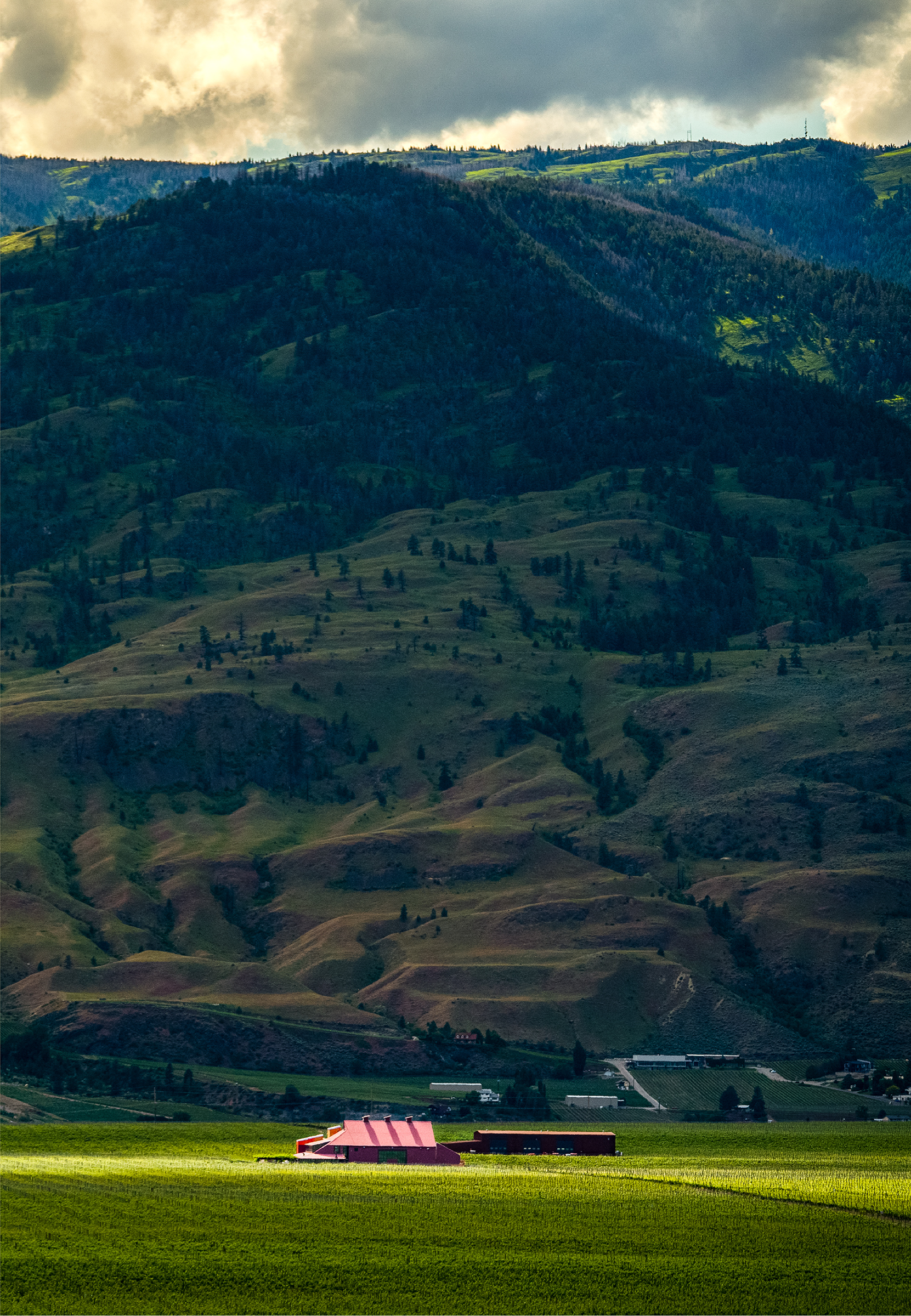 High up on the Black Sage Bench, in almost 400 acres of vineyard, there is a barn so red that it can be seen clearly from the other side of the Okanagan Valley. Framed by a towering, jagged outcropping of rock to its east, the barn looks austere and alone, a remnant of the valley's pioneer past. Get closer by driving down the dirt road running through the vineyard, though, and you'll find the opposite is true. Inside and out, Red Barn Winery at Jagged Rock is as futuristic as they come, where the team led by winemaker Kaylee Barss has just started crafting some of the most forward-thinking wines to come out of the Okanagan in years.
The existing 22-year-old structure, a working barn also used for equipment storage, was always earmarked for wine production, but it required significant alterations to become the stunning facility it is today. Tom Kundig of Seattle's Olson Kundig was called upon to incorporate the clean, contemporary lines that categorize his work into the Okanagan's workmanlike, agricultural landscape. His diverse designs already dot the region, and having grown up in Eastern Washington with many family friends in the Okanagan, he says being able to work there is a bit like going home. "I've always had high expectations for the wonderful landscape, and the opportunity to engage with craftspeople and the culture there, and have never been disappointed."
Maintaining the shape of the original structure—a classic barn silhouette marked by a gabled roof, multiple cupolas, and massive sliding doors—Kundig turned the building into a welcoming production/tasting facility. The major discernable alteration to the exterior is the quirky zigzagging yellow-and-black paint pattern on sliding doors beside the parking lot. Inside, however, Kundig flexed his design muscle. To accommodate a tasting room in the loft, the steeply angled ceiling was lifted, making room for a quaint space to savour both wine and the vineyards outside the windows. Adjacent to this space, a private tasting room was cantilevered above the edge of the building's production facility, its glass wall giving guests the opportunity to see how the wine in their glasses is made.
"The functional needs of the winery were major drivers for this remodel," Kundig says. "The visitor experience is very attuned to an authentic view of how wine is made." The building tells the whole story of winemaking, he notes, from the vines to production to tasting, and even pairing with food that comes from that landscape.
On the production side of the building, three custom purple Lasi fermenters line one wall, while a pair of concrete egg fermenters, each filled with 700 litres of maturing semillon, reside at the precipice between the production and hospitality areas. Devoid of ornamentation unrelated to the production process, the space frames winemaking in a way that makes it beautiful to visitors by incorporating it into the interior architecture.
Similarly, Red Barn embraces its place deep in the Jagged Rock vineyard, where visitors can watch workers mere feet away prune the vines or pick the grapes, depending on the season. While regional stalwarts such as chardonnay, cabernet sauvignon, merlot, and syrah dominate the organically farmed plantings, the vineyard is also home to varietals still experimental in the Okanagan, including nebbiolo, vermentino, and tempranillo. All of which are put to good use by Red Barn's equally experimental winemaker.
A graduate of Brock University's grape and wine technology certificate program, winemaker Kaylee Barss brings experience from Niagara's Fielding Estate Winery and the Okanagan's CheckMate Artisanal Winery to the table at Red Barn, where she is given rein to experiment. "It's a cool project in the sense that we don't have to make anything any given year," Barss says. "Every year is going to be completely different as far as varieties and what kind of blending we're going to do. I think the most exciting part is that we can plant new varieties in the area and see what works. It's an ever-changing project."
Favouring modern production techniques, aging the wines in concrete, and crafting idiosyncratic blends, Barss creates wines that tend to show bright acidity, medium tannins, and pure fruit qualities that make them ideal for consuming young or aging three to five years. A particular standout is Parts Unknown, a red blend from the 2021 vintage made of 60 per cent barbera, 20 per cent cabernet franc, 15 per cent syrah, and 5 per cent viognier. This wine eschews the oak aging of barbera in places like Piedmont in favour of concrete, letting the high-acid varietal shine in a way distinctive to the Okanagan. As for the whites, no wine better exemplifies Barss's approach than Discordian, an unusual blend of 70 per cent chardonnay and 30 per cent sauvignon blanc from 2021. By blending herbaceous sauvignon blanc with the famously neutral chardonnay, Barss creates a complexity unlike standard oak-aged chardonnays. The result is a zingy, tropical, chablis-esque wine that benefits from the pleasing, palate-coating richness chardonnays from the Okanagan's warmer pockets have become known for.
Each Red Barn bottle features a label designed by up-and-coming and established Canadian and international artists, including Vancouver painter Kathy Ager, whose modern take on baroque style features on Lost Art, the 2021 semillon; Sébastien Del Grosso, a French graphic designer whose stark image of a ship is on the aforementioned Parts Unknown; and photographer Wayne Levin of Hawaii, known for his underwater photography, including of a single red fish swimming against a school of black-and-white ones on Discordian. The only commonality is the jagged top and bottom edges that mimic the ancient rock after which the vineyard is named.
Although Red Barn Winery at Jagged Rock had its grand opening this past April, its history runs deep. Its two-decade-old facility and vineyard feel like a little bit of the old Okanagan, while its elegant modernization, youthful wines often made with heretofore underutilized grapes, and artful packaging mark it as entirely new. This stunning new Okanagan winery is forging a new and exciting future by honouring its past.
Photos courtesy of Red Barn Winery at Jagged Rock.