Sonora Resort in B.C.'s Discovery Islands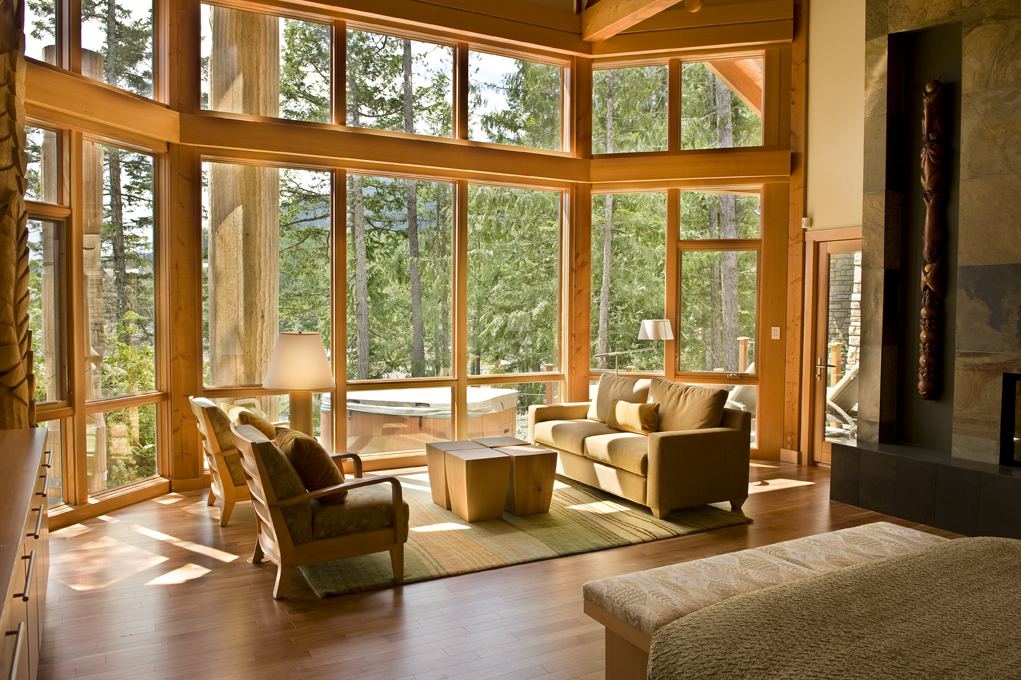 No roads lead to Sonora Resort, but that's all part of the adventure. The easiest way to access the wilderness retreat is to hop in a helicopter for a 50-minute ride due northwest from Vancouver to the remote Discovery Islands. Immediately after takeoff, you begin transitioning into a new world, observing from above an unmistakably West Coast ecosystem laced with reflective lakes, swaths of logged trees patched with saplings, and cabins secreted away on mountainsides. It's a scenic rite of passage for all visitors, and by the time the helicopter touches down 190 kilometres away from the big city, they are fully immersed in a wilderness-scape of the deepest blues and greens.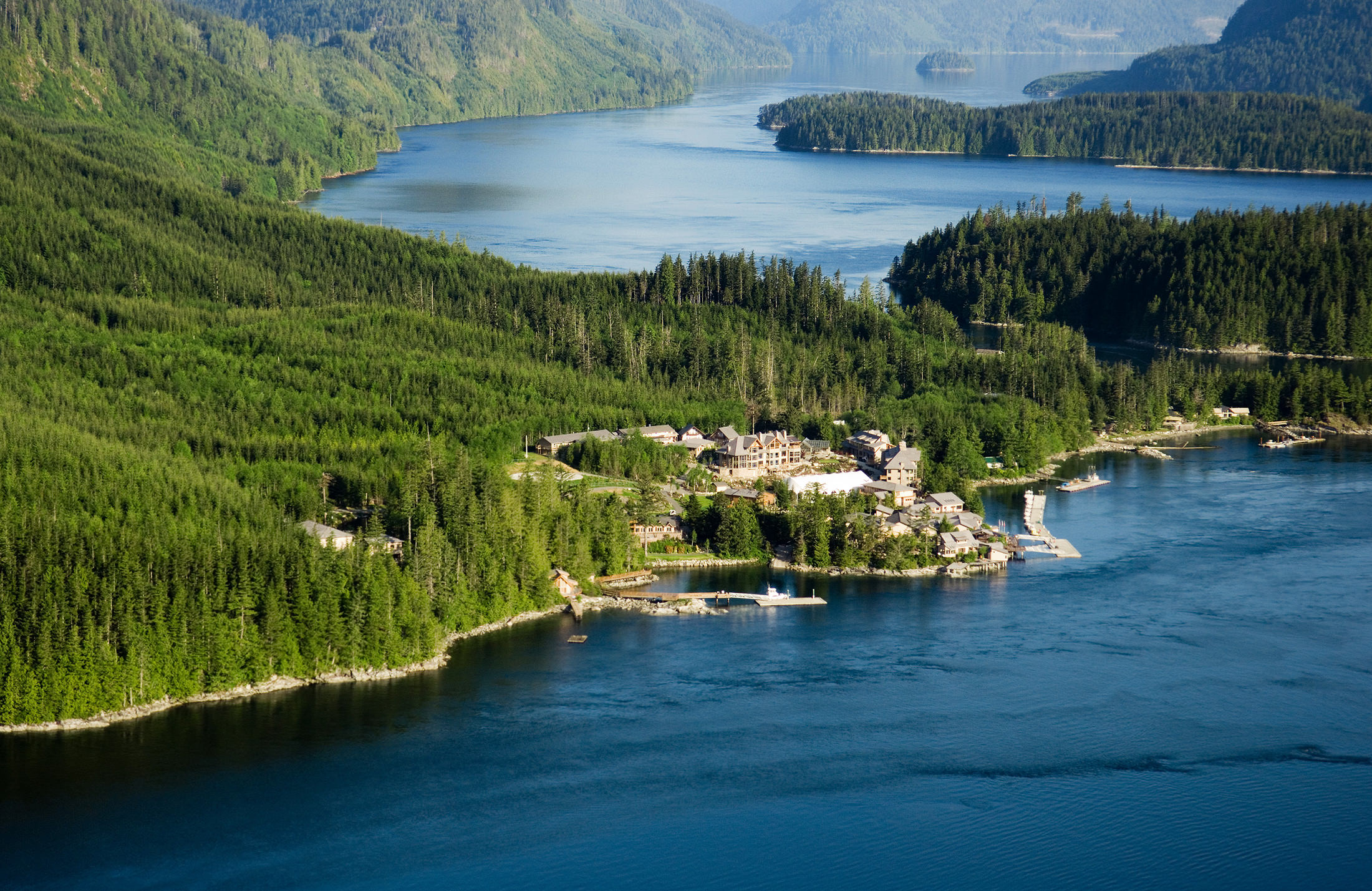 To arrive at the resort, on the east side of Sonora Island, is to be invigorated by cedar-scented air and possibly a greeting by a wild welcoming squad: Steller's jays, bald eagles, and perhaps a blacktail deer or two. The Yuculta Rapids, a patch of churning water populated by seals and giant sea lions, roil in front of the property. "Just don't swim in the ocean here," cautions general manager Donna James during an orientation, nodding to the huge mammals cavorting in the currents.
Sonora Resort is owned by Vancouver's Louie family; Brandt Louie, CEO of H.Y. Louie Co. and chairman of London Drugs, used to visit back when it was a basic fishing lodge. After purchasing the property in 2002, he spearheaded its development and expansion, transforming it into a luxury destination retreat, and in January 2009 the resort achieved Relais & Châteaux status. Today, fishing enthusiasts flock to it for world-famous guided salmon-fishing excursions, taking home the most Canadian souvenir of all: their catch. The fish can be smoked, loxed, or canned in nearby Nanaimo, or vacuum packed and frozen on-site. (It was a Sonora Resort guest who, in 2010, set a record in the area for a 72-pound Chinook salmon catch.)
To arrive at the resort, on the east side of Sonora Island, is to be invigorated by cedar-scented air.
For non-fishers, a Canadian sort of safari is the draw, with excursions suitable for every style of adventurer. Spotting whales, grizzly bears, deer, and coastal birds—great blue herons, belted kingfishers, yellow Western tanagers—can be as easy as a fast boat ride to a bear-dotted shoreline, or as challenging as a five-hour hike beneath tree canopies of cedar and Sitka spruce. Adrenaline junkies can book river-rafting adventures or glacier helicopter excursions to snow-capped peaks, while laid-back types can walk to nearby Florence Lake equipped with a chilled bottle of Calliope Sonora Reserve sauvignon blanc and a picnic basket of Salt Spring Island cheeses and gourmet salmon burgers. (It's all prepared by Victoria-born Lukas Gurtner, who, at age 29, is one of Relais & Châteaux's youngest executive chefs.)
One morning, I gear up in a red flotation jacket and take to the waves in a zodiac-style boat for an eco-tour in hopes of spotting some whales. Transient orcas are always on the move, so can be hard to find. "We know more about space than our own oceans," observes our guide, Ryan Eisen, as we jet through the waves. Orcas soon appear before us and we follow their route in silent awe, but the real action occurs as we turn to head back toward Sonora. Eisen points toward a distant splash; we reroute to get closer, turning off our engine to watch as two humpbacks breach majestically out of the blue.
Many activities at Sonora are guided by the season—autumn signals the start of grizzly bear watching. Excursions whisk guests up Bute Inlet and over to glacier-fed Orford Bay to join forces with locally based Homalco Wildlife Tours, run by the region's Homalco First Nation. Extreme caution is exercised, but the beautiful bears are never regarded as the enemy. "Our people believe that our ancestors live in the grizzlies," explains guide Cheyanne Hackett. "And we have lived alongside them for thousands of years." Attuned to the bears' habits and patterns, our guides find us 13 grizzlies to watch from varying viewpoints and we leave with a feeling of great privilege.
Back at "camp", luxury abounds in the 12 chalet-like lodges, but the two private villas that lie a stone's throw away make for the chicest version of wilderness living. One of which, Sea Lion Pointe, is where owner Louie stays when he visits. The exposed-timber-and-glass home has high ceilings, is decorated with West Coast art and totem poles, and boasts a games room outfitted with a pool table; multiple hot tubs also beckon.
If you're booked into the lodge-style accommodations, digital golf, foosball, and a movie theatre are available, but don't be surprised if you lift off the island having skipped them all. At Sonora, a comfortable communion with nature is the golden rule—and too entertaining to ignore.
Photos provided by Sonora Resort.
_________
Never miss a story. Sign up for NUVO's weekly newsletter, here.