Restorers, artisans, and the Palazzo Venart hotel.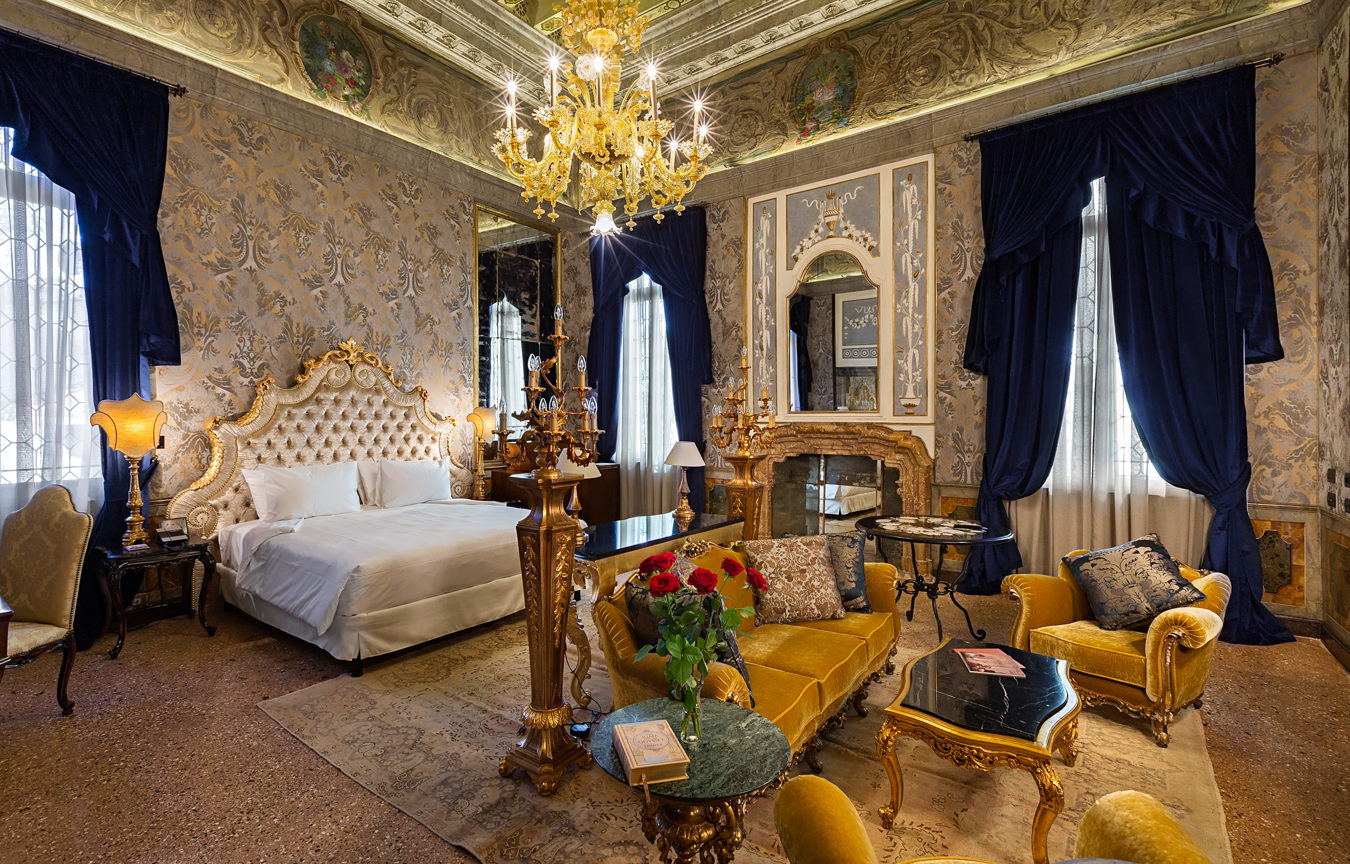 I love the cool, damp haze of dawn in Venice: those hours before the city is properly awake, and sightseers throng St. Mark's Square only in their dreams. I throw open the shutters to let in the clang of church bells and the slow chug of traffic along the city's main artery. My hotel, the recently opened Palazzo Venart, is at the quiet, residential end of the Grand Canal. Opposite lies Ca' Vendramin Calergi, the palazzo where Franz Liszt composed "La lugubre gondola" and, a couple of months later, his son-in-law, Richard Wagner, breathed his last.
For all its ethereal beauty, Venice exudes the sorrow of impermanence, its contradictions of light and dark, stone and water, grist for the mill of the romantic imagination. Melancholy resonates in the sound of footsteps receding down narrow, ill-lit alleyways as this glorious floating world sinks relentlessly into the lagoon. And where noble families, such as the Mocenigos and Contarinis, once owned multiple palaces on the world's most beautiful waterway, today many such buildings—too expensive to maintain—are left to crumble with neglect.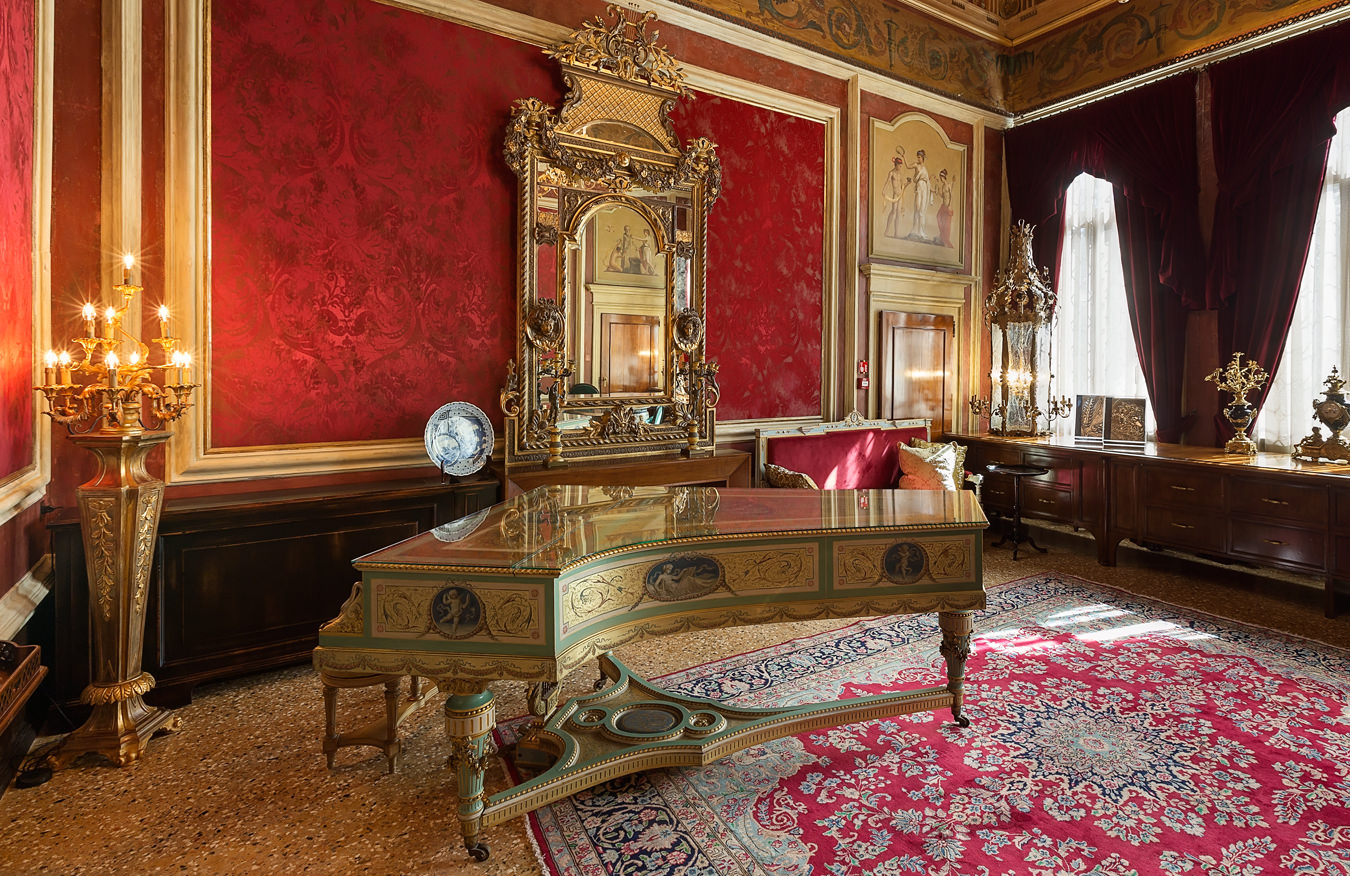 Such was the fate of the Palazzo Venart, formerly the Palazzo Bacchini delle Palme, whose illustrious owners included a scion of the Malatesta family, immortalized in Dante's Inferno. Originally from the 15th century, and largely rebuilt after a fire in 1845, the building stood abandoned for 50 years, until it was purchased and restored by the Taiwan-based LDC Group and resurrected as an 18-room hotel. "There was water seeping through the roof," says Elisabetta Ghittino, who oversaw the two-year restoration project—along with a number of Venetian artisans and historians—while also working upstream, rejuvenating the now-unveiled Rialto Bridge. "We had to stabilize and restore ceilings, woodwork, plasterwork—everything—using original materials and techniques. The greatest challenge was the frescoes, which were badly damaged by the damp."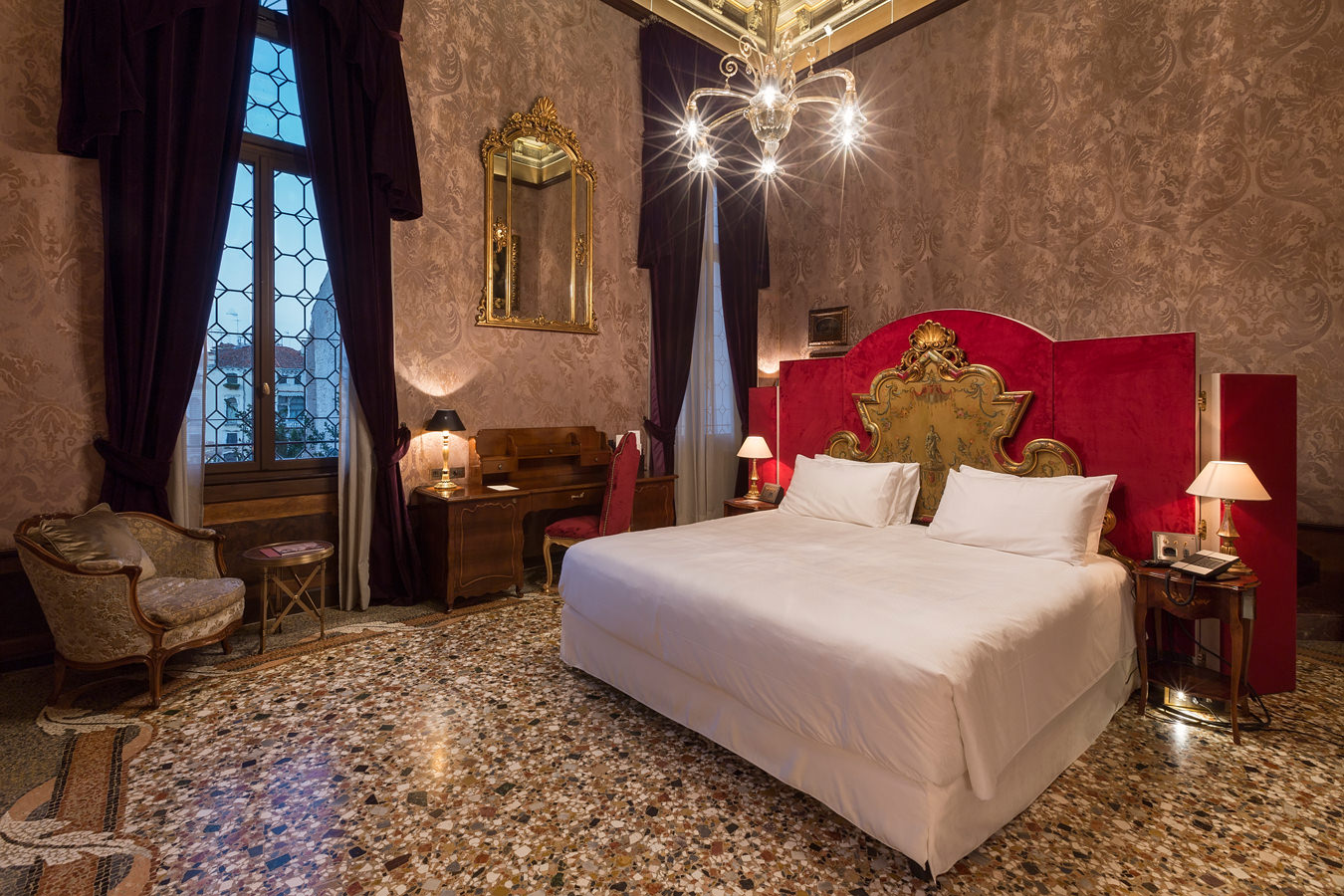 We are sitting on the first floor, cosseted within crimson Rubelli-silk–clad walls, beneath six-metre-high painted wood beams decorated with gold leaf. Frieze-like frescoes surround the room just below the ceiling; underfoot is the magnificent terrazzo marble flooring typical of Venice. Draconian planning regulations prohibited any structural alterations. Were it not for the somewhat eccentric decoration, you could imagine yourself in the heyday of the Venetian republic, when every grand home had its resident gondolier, and wearing a mask in public, to conceal one's identity and social status, was part of daily life.
Originally from the 15th century, and largely rebuilt after a fire in 1845, Palazzo Venart stood abandoned for 50 years, until it was purchased, restored, and resurrected as an 18-room hotel.
Today, masks are confined to the annual Carnival, while the position of gondoliere de casada has long been redundant. Peggy Guggenheim and Winnaretta Singer, the Princesse de Polignac, were among the last owners of private gondolas. Incidentally, Singer—sewing-machine heiress and patron of the arts who hosted Ravel, Stravinsky, and de Falla, among others, at her Palazzo Contarini Polignac—received a five-octave portable piano as a gift. Celebrated composer Gabriel Fauré used to load it onto de Polignac's gondola and play while being rowed down the Grand Canal.
Yet within the labyrinthine recesses of Venice, a small rearguard of restorers and artisans still toils, determined to keep its traditional skills alive. Not merely the creators of commedia dell'arte masks, handmade in defiance of cheap copies, nor the famed glassmakers, first mentioned in 982, who were moved in 1291 to Murano due to their propensity to burn down their neighbourhood. Other crafts, less commercialized, are more arcane and are practised out of sight.
Kirker Holidays, a cultural tours specialist, is the turnkey to visiting the restorers and artisans of Europe. The clickety-clack of early 19th-century jacquard looms heralds my arrival at Tessitura Luigi Bevilacqua, makers of the finest silk velvets in the world. Half a dozen women are at work at Heath Robinson-esque wooden structures, rigged up like infernal cat's cradles. Silks glimmer in the gloom. "This loom," says CEO Alberto Bevilacqua, indicating one from which a gorgeous red cut-and-looped pattern is emerging, "is creating a particularly complex design. It took six months just to set it up, with 15,000 threads. When the fabric reaches the maximum 20 metres length, each of those threads must be cut and reattached to 15,000 more, using gum arabic." One woman, with intense concentration, is throwing the shuttle, while another plucks vertical strings as though playing a harp, to produce just 30 centimetres a day. The tension, moreover, must be uniform, or the pattern will not match up. I begin to understand why a 60-centimetre length of fabric costs €2,000 ($3,000 Canadian) per metre, and why Bevilacqua's customers range from the Kremlin and the White House to some of the world's most iconic high fashion labels. "There were 6,000 looms for velvet in Venice in the 16th century," says Bevilacqua. Today, the company's 15 looms are among the last left in Europe.
Within the labyrinthine recesses of Venice, a small rearguard of restorers and artisans still toils, determined to keep its traditional skills alive.
My next port of call is the 104-year-old Valese brass and bronze foundry, where three men are ladling molten metal from a furnace and pouring it into small moulds of compacted earth, using the ancient and labour-intensive a tassello technique to make door handles. From brass, I progress to gold and the workshop of Mario Berta Battiloro, the last artisanal gold-beater in Europe—nearly impossible to find and, thrillingly, located in the palazzo where Titian lived and worked for 45 years. Here, I watch Marino Menegazzo, like a latter-day Nibelung, melt, laminate, and then beat a 24-karat ingot into gossamer-light sheets of gold with the aid of a hammer, rhythmically wielded with one hand. The final step of this five-hour process is cutting the leaf into four-by-four-centimetre squares, destined for gilding the salons of Venice and even adorning the temples of the East, from which the merchants of Venice once made their fortunes.
But nothing, perhaps, is as emblematic of Venice as our "lugubrious gondola" or, as Shelley referred to these craft, "Moths of which coffins might have been the chrysalis." Painted black since a decree in 1562, gondolas were first mentioned in a document in 1094. Of the 14,000-odd gondolas that once plied the canals, some 400 remain, sustained, ironically, by the tourist dollar. As for the traditional squeri (boatyards), only four still exist. Master craftsmen hand carve, bend, and nail a gondola's 280 constituent parts, made of eight types of wood, into the distinctive and precisely 10.87-metre-long vessel, before specialist oar lock sculptors, gilders, metalworkers, and upholsterers are invited to complete the craft. Roberto Tramontin, whose squero can be seen on a 1500 map of Venice by Jacopo de' Barbari, is pessimistic about the future. "It takes about 15 years to become a competent gondola builder," he says. "No one, these days, wants to invest the time and effort required."
These happy anachronisms in our age of robotic efficiency are as threatened as the very stones of La Serenissima. Byron—who wrote part of Don Juan in this city of Casanova and who, during his stay in 1816, would take a gondola each day to study Armenian with the monks of San Lazzaro—was already lamenting the day Venice would sink into the lagoon. Meantime, acqua alta continues to bathe the cobblestones of St. Mark's Square, its reflected colonnades shimmering like will-o'-the-wisp in the moonlight.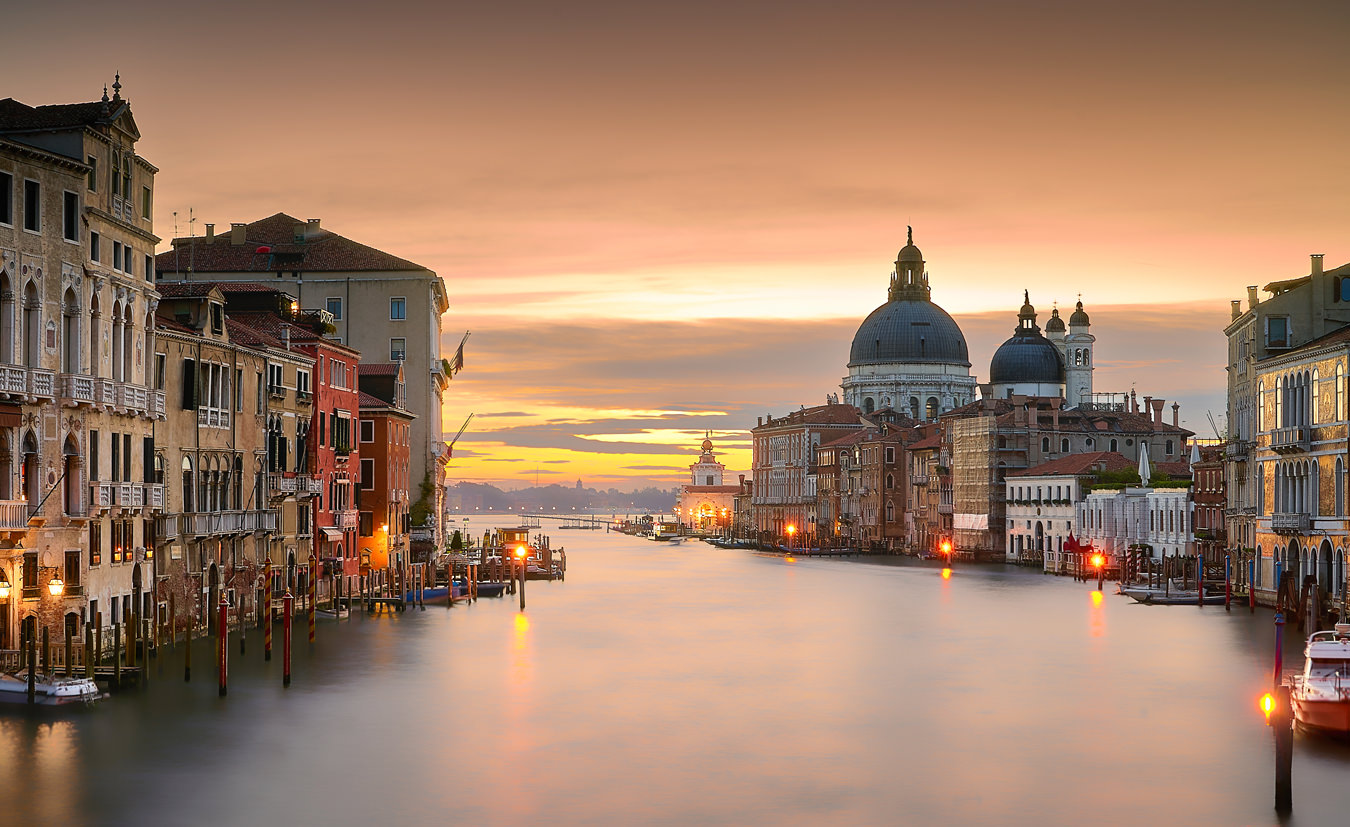 Never miss a story, sign up for NUVO's weekly newsletter, here.