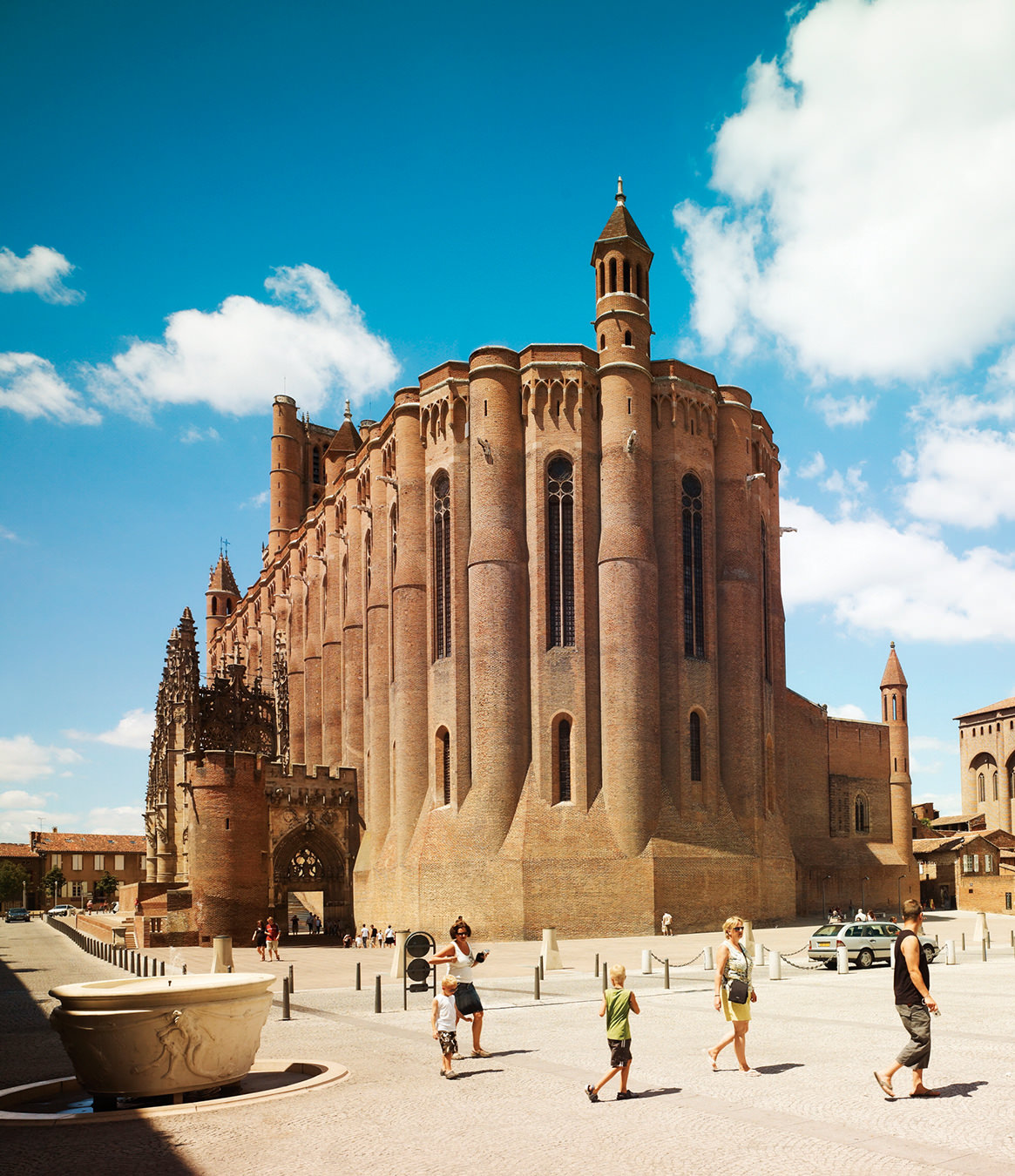 An hour's drive from Toulouse in southwest France is Albi. It's called "the Red Town" for a reason, and it has nothing to do with politics. If you were to install yourself at an open-air restaurant in Albi for the day—perhaps starting with coffee, then moving to wine, then pastis, and back to wine, and drink each with an appropriate regional food—you could watch the sunlight run through its repertoire of intensity on the red brick walls of the 13th-century Palais de la Berbie. The dark-red bricks of dawn turn to bright red, then orange in the heat of the day. As the sun sets, the walls turn dusky pink and dark red again. Albi, it can be said, emerged from the ground: the bricks used for most of the buildings in the medieval commune were made from the clay banks of the Tarn River, which Albi straddles.
The forms of the buildings were forged from the town's violent past. In the 13th century, Albi was home to a heresy that was viciously suppressed, and the Catholic Church, determined to impress its power and permanence, constructed a massive cathedral to dominate the town. At 114 metres long and 78 metres high, the Cathédrale Sainte-Cécile d'Albi is one of the biggest brick buildings in the world and looks more like a fortress than a cathedral. Inside, it is richly decorated with late-medieval and Renaissance paintings, frescoes, and statuary. This cathedral is a refreshing experience for visitors who have reached that point where all churches start to look the same.
The Palais de la Berbie houses the Toulouse-Lautrec Museum. Henri de Toulouse-Lautrec was born near Albi in 1864, and the museum holds more than a thousand of his drawings and paintings—the largest public collection in the world. When you've had your fill of Toulouse-Lautrec's images of bar and brothel life in late-19th-century Paris, escape to the outer walls of the palace for a striking view of the river.
The Saint-Salvi quarter, with its buildings dating back to the 10th century, is an unparalleled concentration of medieval structures. They have miraculously escaped decay, demolition, and redevelopment, and in 2010 won Albi its UNESCO World Heritage site status. It now houses shops, cafés, restaurants, and galleries, with buildings lining the maze of narrow, winding streets that are named in both French and the regional Occitan language—a reminder of the fierce sense of regional identity here, and of the heresy that transformed the face of the community. Few towns manage to pack quite so much visual beauty and history into a small area—just 44.26 square kilometres—as Albi does.