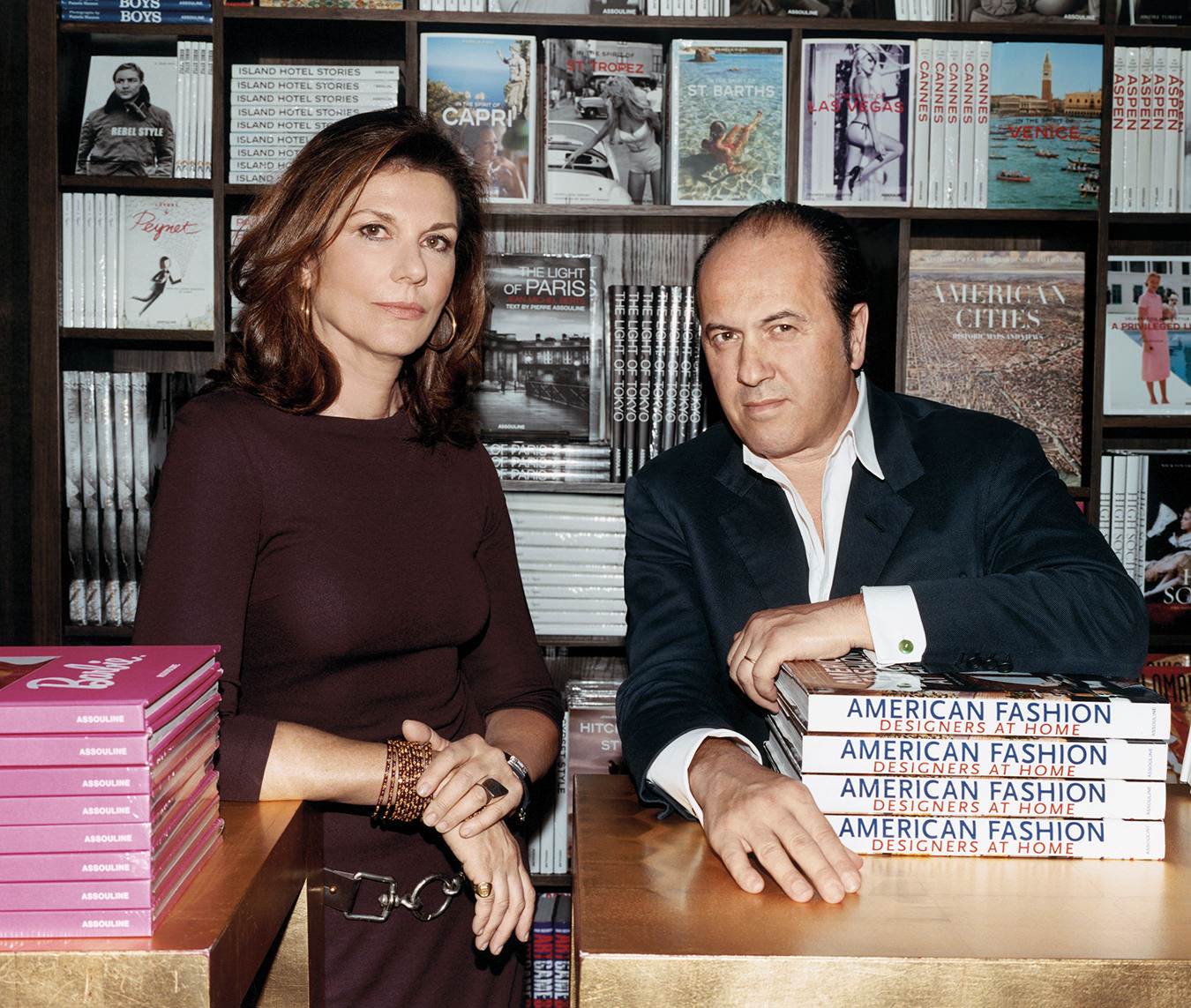 Gazing out over the soaring Manhattan skyline with the warm afternoon sunlight streaming into the office, Prosper and Martine Assouline are like a tale of two cities. Prosper is a bundle of restless energy, chatting avidly, while Martine has a poised Parisienne elegance. Together, the co-founders of Assouline Publishing exude warmth and wit, with a joie de vivre that is all-encompassing. "This May [2011] was our 20th wedding anniversary," says Martine, sporting a RED (Romantic Eccentric Dress) Valentino black lace dress and looking effortlessly chic. "We are together all the time. A friend of mine said, 'Oh, I cannot believe that you even go together to buy tomatoes!' " she says, laughing as she flips through one of their lavish volumes. "It's becoming a little funny because we think things at the same moment."
Powered by their exquisite taste, this meeting of minds has proved a winning synergy. While Prosper is the "motor" driving the creative vision, Martine ensures his ideas become reality. "I am not an entrepreneur," she coos in a lilting French accent, surrounded by objets d'art from around the world. "I am ambitious, and when I do something, I like to be successful—but I don't run like Prosper." Their roles are fluid, but Martine tends to take care of the books that they publish, while Prosper manages the art direction and brand development. "We have a good balance," says Martine, who lives with her husband in New York. (They also maintain a Paris pied-à-terre.)
In the 18th-floor headquarters in Chelsea, the phrase "Culture is not a luxury but a necessity" is painted across a bookshelf by the door. This seems to perfectly sum up the Assouline philosophy. Since publishing their first book, La Colombe d'Or, in the summer of 1995 about one of their dearest hotels in the south of France ("I took the photos and Martine wrote the text," says Prosper), the couple has utilized culture as their medium. Celebrating the finer things in life, the iconic, illustrated tomes are coveted by the world's most discerning clientele, with subjects spanning art, architecture, design, fashion, photography, gastronomy, spirituality, travel, and lifestyle.
The style connoisseurs credit much of their global mindset to their upbringings. The son of Moroccan immigrants, Prosper lived in Marrakesh until he was 10. "They were the most important years of my life. You have the first senses from the eyes, the smell, the touch," says the charismatic impresario, 54, who in January was made a Chevalier des Arts et des Lettres (the French equivalent of a knighthood). Martine was born on the Ivory Coast, and raised in both France and Peru. "We are used to travelling and living in different parts of the world," she muses. "We are very curious, and so it is easy to go to new places." For Prosper, his passion in life is "to see everything, to try to discover everything, to be surrounded like a sponge with culture."
In the company's 18th-floor headquarters in Chelsea, the phrase "Culture is not a luxury but a necessity" is painted across a bookshelf by the door. This seems to perfectly sum up the Assouline philosophy.
It is this gusto that first captivated Martine when she met Prosper in Paris 30 years ago. "I thought he was very tenacious," she says, smiling coyly. "I was curious and interested in what he was doing. He had so many ideas all the time and enthusiasm. We had discussions about a lot of things." At that point, they were just friends. "I had my boyfriend for nine years and I was going with Prosper to have lunch, just to talk," she reminisces fondly.
Twelve years later, Prosper and Martine were happily married with a new baby, Alexandre. "In the first year, I wanted to have more time with him [Alexandre], so I said, 'Okay, I'm going to start making books,' " says Martine. Prior to that, she was communications director for Rochas in Paris. "I was dealing with advertising and magazines, and things like that, but I had a little bit of a lack of freedom," she says.
The couple's original vision, when they launched back in 1994, "was to make good books," says Prosper. Martine continues, "To create books in our style—because, you know, the books that we were finding were very classical or specialized." Rather than include everything on a topic (which for Martine can be "banal and sometimes boring"), they wanted people "to discover places with another angle," she says. "We try to tempt people and bring them with us with our same appetite." In their vibrant travel books (the subject of one of the most recent is their favourite hotel in Marrakesh, La Mamounia), you can almost smell, hear, and taste the location.
Since the birth of Assouline, the purveyors of culture have believed that less is more. "The most important thing in the world today is the editing," says Prosper, sitting upright in his chair. "We don't publish books on everything—we publish books on small subjects." He uses a culinary metaphor to describe the brand: "Everything is made in the kitchen, and the philosophy is the choice of ingredients." This concept of quality over quantity runs through both their professional and personal lives. "We decided very early that when we chose to have a moment, we would make it the best possible," says Martine.
Much of their time is spent globe-trotting, and they always meld business with pleasure. "When I'm not working, I'm still working," Martine says, explaining that they constantly hunt for inspiration. One of their most-loved destinations is the subject of their new book, In The Spirit of St. Barths (published April 2011). Featured homes include those of fashion photographer Patrick Demarchelier and his wife, Mia, and late designer Liz Claiborne and her husband, Art Ortenberg. How much is the book a reflection of the Assouline's lives? "Yes, it's what we live," says Martine. "The people, the places, where to go, the anecdotes." When they visit, the Assoulines stay in a private home on the island and hang out with friends such as Diane von Furstenberg and fashion photographers Pamela Hanson and Gilles Bensimon.
Since their son Alexandre, now 18, began studying business at Concordia University in Montreal, they have delighted in spending time in Canada. Is he showing any signs of wanting to step into the family business? "Oh yes," says Prosper. Martine interjects, "He's an entrepreneur like his father, and also it seems a little bit creative, less than him [Prosper] but he seems to have that." Meanwhile, their older son, Sebastien Ratto-Viviani, is an architect in South America. "He is the opposite," says Martine of the 35-year-old. "We wanted him to be with us and he preferred to go on his own."
"We try to tempt people and bring them with us with our same appetite," says Martine. In their vibrant travel books (the subject of one of the most recent is their favourite hotel in Marrakesh, La Mamounia), you can almost smell, hear, and taste the location.
One book that has fuelled Prosper's imagination is Gaia, by Guy Laliberté (the founder of Cirque du Soleil), to be published by Assouline this coming July. Photographs taken by the Canadian entrepreneur capture the rich colours and textures of the Earth during an 11-day voyage as a private space explorer. "It's a point of view from 220 miles away," says Prosper. "It's a fantastic book about life."
Canada is an important market for the publishing house. They have two Canadian corners: Librissime in Montreal, opened in 2006, and Teatro Verde in Toronto, opened in 2008. This fall, Assouline will release Hudson's Bay Company, a tome that pays tribute to Canadiana. The pages are filled with images delving into the past and present of the trading-turned-shopping empire. In fact, some of the original interest in Assouline's upscale libraries—custom, personal libraries that are tailored to individual customer requests—was from Canada. These start at $100,000 (U.S.) and often include furniture, lighting, and Assouline accoutrements. "The first one who really bought the library with all the books, and for many of her homes, because she has several, was Celine Dion," says Martine. "That was like four or five years ago." Since then, the libraries have become hot property from Los Angeles to Saudi Arabia. "We have more and more people with big houses asking us to make a complete library," says Prosper. "We add some culture, buy furniture, antique objects—even right down to choosing the carpet."
Martine describes the milieu of their own homes as "very different. Paris, we built that with time." Their Palais Royal apartment is filled with "things that we love" from the legendary Marchés aux Puces flea markets in the French capital and far-flung jaunts to places like China. "I'm attached to Palais Royal because it all has a significance," she says. Meanwhile, their Upper East Side home, where they've lived for three years, is poles apart. "We took something very comfortable and easy, you know. It's a modern townhouse with a lot of light." What unites the residences is that in both, books hold court. "First come the books, and after, the furniture," says Martine, who recently brought back piles of tomes from Brazil Fashion Week. "I need them to feel at home."
The future looks bright, and busy, for the company, as it is expanding rapidly. In addition to the eight Assouline boutiques and 20 corners around the world, three more boutiques are opening this year (in New York, Los Angeles, and Seoul, South Korea), and then a minimum of four will open every year, with the aim of 50 worldwide within the next 10 years. Many shop-in-shops will open in department stores, and a literary lounge at Liberty of London in England just opened this past April. On the digital side (which "we take very seriously," asserts Prosper), they are creating an iPad app for Coca-Cola to accompany the book that was just published mid-May on the company's 125th anniversary. "We are in the beginning," says Prosper, talking earnestly about his dream of creating an international brand of culture. "We really want to do something very big and very strong. We have a huge amount of work these next two or three years."
The challenge is to fashion a global identity for Assouline while retaining its exclusivity. "We don't want to put too much water in the wine," says Prosper. Until now, he has believed that the secret to their success is, "We've never changed the road." Martine agrees. "It's true that sometimes we've had the possibility to publish a book knowing that it's going to make a lot of money, [but] it's not Assouline—so we didn't do it." Given that they have been approached by several publishers and luxury brands, how determined are they to stay independent? "Very, very determined," says Martine without hesitation. "It can cost us whatever today. If we have the possibility to open the capital, we will go much further and quicker, but we don't want that." Why is that? "We want to control it," says Prosper. "It's a small baby, like a bottega."
"We work a lot," Martine says, as the sun slips behind the glinting skyscrapers outside. "But we prefer to put money into enjoying the moment than money in the bank. It's our way to live." With that, Prosper jumps up from his seat, "I am just upset to have to sleep six hours a night," he says. "There is so much to do. I am upset to lose all of this time."
Prosper and Martine Assouline were photographed at the Assouline Boutique in the Plaza Hotel, New York. Grooming by Martha Friedlander using Mac Cosmetics.