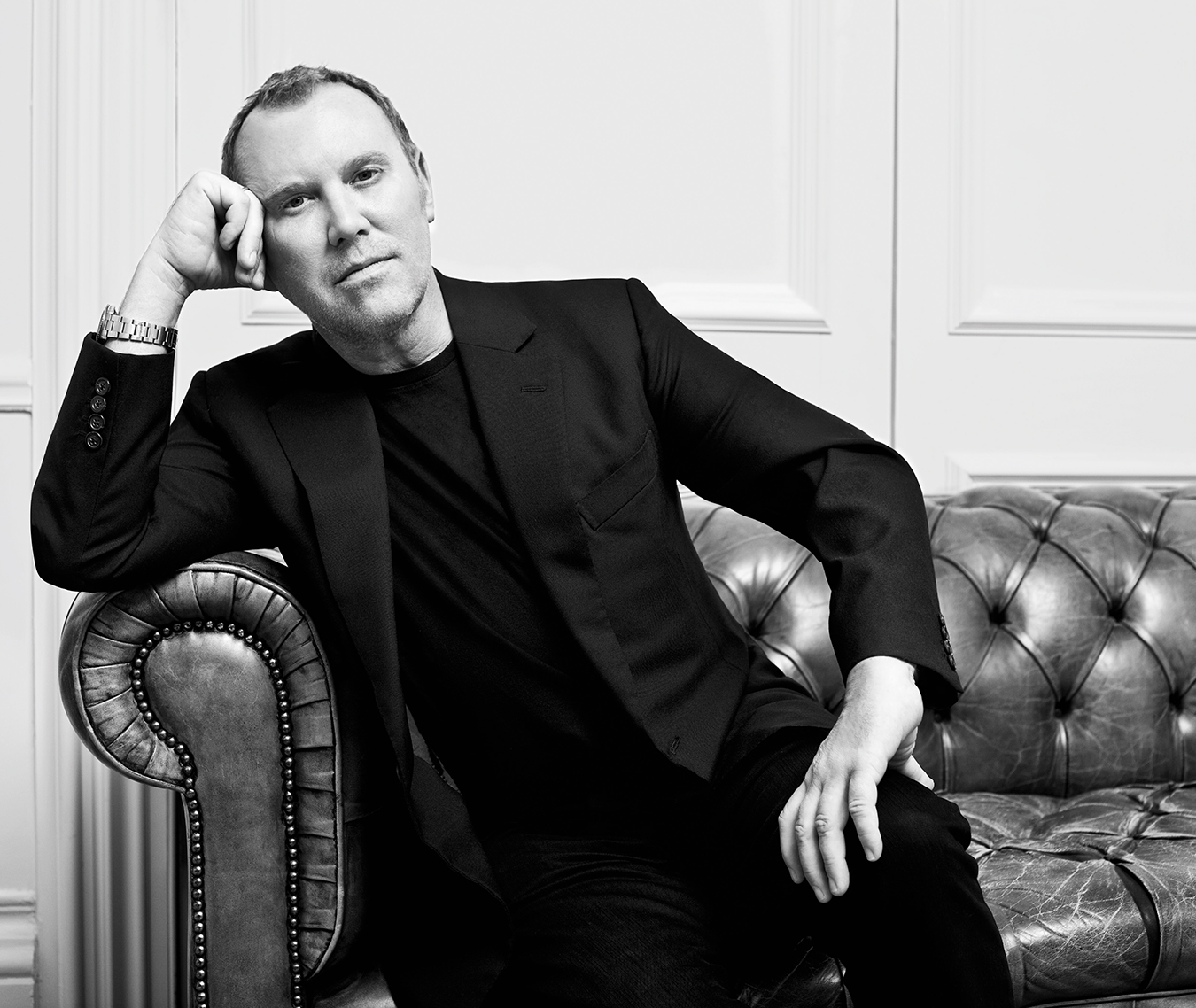 Michael Kors gets cosy on a chic, window-side settee. One hand holding a highball glass of iced tea, the other hand subtitling his sentences with flair. Clad in an all-black uniform—sports jacket, shirt, slacks, and swank driving shoes—he casts a dark silhouette that poses a stark contrast to the otherwise light and airy Victorian mansion in Montreal's posh Golden Square Mile that serves as his Canadian headquarters.
Looking as content as a cat curled up in the sun, the New York–based fashion designer sips intermittently as he waxes comedic over astrology. "I'm very Leo," he says proudly. (Kors turns 51 on August 9.) Closely identifying with the feline aspects of his zodiac sign, he purrs, "We're either on the prowl or we're asleep. So the crazy fashion cycle works."
Moon and stars aside, something is clearly working for Kors, who admits he has always been "driven for success" but never imagined he'd be where he is now: at the helm of 69 boutiques (eight in Canada), and points of retail in an ever-growing list of countries including China, Russia, and the Middle East. The Long Island–born Jewish son of a former Revlon model (his mother), Kors started his fashion career in the Big Apple at the tender age of 19. After 30 years spent building and honing his namesake brand (and a concurrent eight-year stint as creative director at Céline in Paris), Kors now oversees three eponymous collections that run the lifestyle gamut and include womenswear, menswear, eyewear, accessories, shoes, timepieces, and fragrances.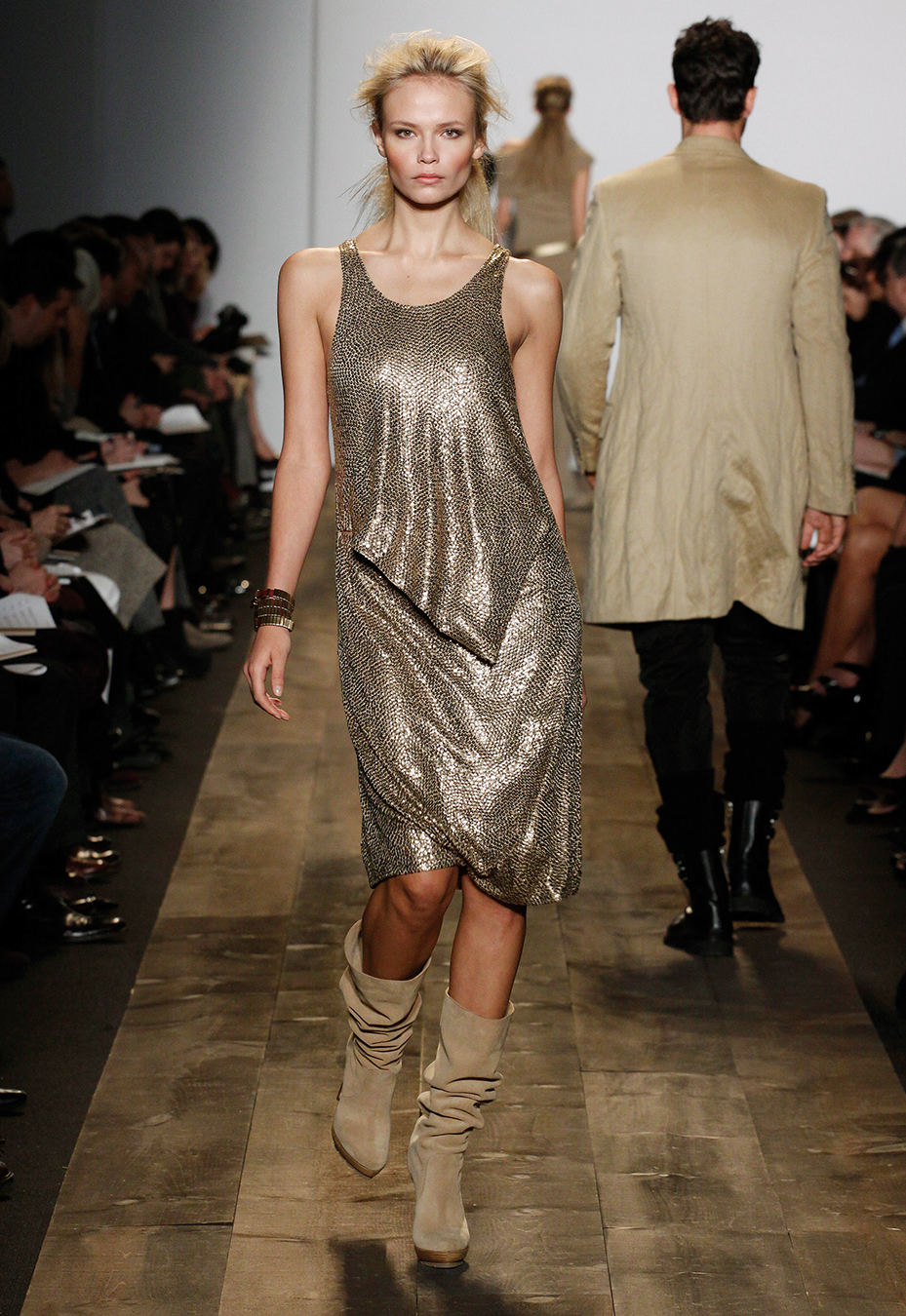 The marketing wisdom to this global empire is often linked to Kors's jet-set vision, a glamified manifestation of the American Dream. Recent advertising campaigns have showcased an enviable-looking couple (Estonian supermodel Carmen Kass sporting California-blond locks, and her sidekick of late, the not-so-shabby Noah Mills) in various posh scenarios: on a yacht, on a tarmac (presumably for that private plane), and on safari in Africa, all the while looking "fabulous"—one of Kors's rotating adjectives.
Says Kors, "When we were launching Very Hollywood, the fragrance, we thought about it and we said, we've shown this jet-setting couple all around the world, but no one could ever figure out who are they. Very Hollywood was the answer to that."
The advertisement depicts the couple walking a red carpet. "You realize this is my idea of a modern Hollywood couple on the go, whether it's Brad and Angie or Ben and Jennifer," he says. "We started then playing with the idea. Okay, now we know who they are, we know they travel. [The campaign] was really about peeking into their life in Los Angeles, waiting for the car at the valet or having a cup of coffee on a sunny day in Santa Monica."
Depending on one's personal interpretation—or vested interest, really—the paparazzi-style promotional images offer commentary on the public's celebrity obsession, if not the guilty pleasure for tabloid gossip. Similarly, in this second-millennium generation, designers are celebrities too. Of his recurring role as one of the key judges on the wildly successful reality show Project Runway, Kors says, "I think it humanizes fashion. It's nice to know that there's a face that goes with the name in your closet. That it's not just a label, that there's a person with a personality and an opinion."
And even though he was often criticized for being "snarky" (Kors's word), the designer insists he only wants to bring out the best from the competitors. "We had one beautiful young actress as a guest judge, and there was a particular dress that I thought was just terrible, and Heidi [Klum] thought it was terrible and Nina [Garcia] thought it was terrible. And then they got to her, and she was like, 'Well, it's interesting.' Then we took a break and I said to her, 'Let me ask you a question. Have you gotten great reviews for every film you've ever made?' And she said, 'No, of course not.' So I said, 'Well you're not helping. You don't have to be mean—but you have to be honest.' " Kors, who also used to mentor the senior class at Parsons School of Design, says, "To be honest with you, I never say anything to any of the designers on the show that hasn't been said to me."
Fortunately for Kors, kind words have not been scarce. When Anna Wintour first reviewed Kors in 1981 for New York magazine, she praised his American sportswear for its "pared-down luxury"—an image the Michael Kors line still projects today.
"The last decade's been two extreme things: over-the-top, ridiculous glamour or disposable fashion," says Kors. "And I think that people are probably going to repent for their sins."
Regarding his longevity, Kors credits it to practicality. "It's funny—here in Canada, everyone will automatically say, oh, you totally understand life here in Canada," he says. "And then I get to Florida and they're like, you're so great at understanding the Florida lifestyle. I think what it boils down to is what I design actually works in life—it's not just an abstract idea. I'm interested to see—when you put on a dress, how does it work when you sit? When we design a handbag, we think, well, it looks great, but once you put your stuff in it, how much does it weigh?"
As the economy comes out of a recession, Kors foresees a new era of sportswear and a wider appreciation for quality. "The last decade's been two extreme things: over-the-top, ridiculous glamour or disposable fashion. And I think that people are probably going to repent for their sins. We'll see a return to simplicity in design and the idea of something that lasts."
And despite his Very Hollywood moment, Kors's interests focus far from the red carpet. "I'm just as excited to dress Angelina Jolie when she takes her kids to buy art supplies. I like the idea that you can look fabulous in real life. I don't think reality is such a bad thing." Like many designers of his generation, he was strongly influenced by Jacqueline Kennedy Onassis. "But when Jackie was in the White House, women were far more, I don't know—they were hothouse flowers. It's this prim perfection. My favourite Jackie moments are when she moved to New York and she was raising her kids and she was going to work at Doubleday as an editor. Because I like seeing people in life, in motion."
Did 2009 ring in a new fashion intelligence? First Lady Michelle Obama chose to wear Michael Kors for the official White House portrait. "I think that she's really probably the first woman in the political world who is showing you, just because you love fashion doesn't mean you're not smart."
Beyond Washington, Kors's reach resonates on a global scale, and he insists that collections don't vary much from country to country. "The customers are this international caravan of women, and somehow, what's hot is hot everywhere," he says. "If a dress is sold out in Hong Kong, it's sold out in London, it's sold out in L.A., it's sold out in Montreal. It doesn't matter where it is."
After all his jet-set rhetoric, you can bet Kors walks the talk. For Kors, jet-setting is not simply a mindset, but the reason and result of his international demand. Case in point: before Kors sees the bottom of that glass of iced tea, it's off to the adjacent room where a photographer awaits to shoot his portrait. And before he boards the Los Angeles–bound plane that evening to shoot the fall and winter ads with Mario Testino, Kors will have done a whole round of interviews, a personal-appearance luncheon and trunk show for a group of VIP ladies at Holt Renfrew, and countless photos sandwiched in between posing with admirers—all the while keeping up his Michael Kors energy.
Kors's silent motivation is perhaps his partner and soulmate, Lance Le Pere, executive vice-president and creative director of women's design, who surveys the entourage from its periphery. With long dirty-blond hair, Le Pere is taller, more casual (he is dressed down in jeans, a hoodie, and similar shoes to Kors's—except in brown), and shyly calls himself Kors's "right arm". And Kors says openly about Le Pere, whom he has known for 20 years, "We are a perfect counterbalance to each other. It is true—opposites attract." (Le Pere is, indeed, a Virgo.)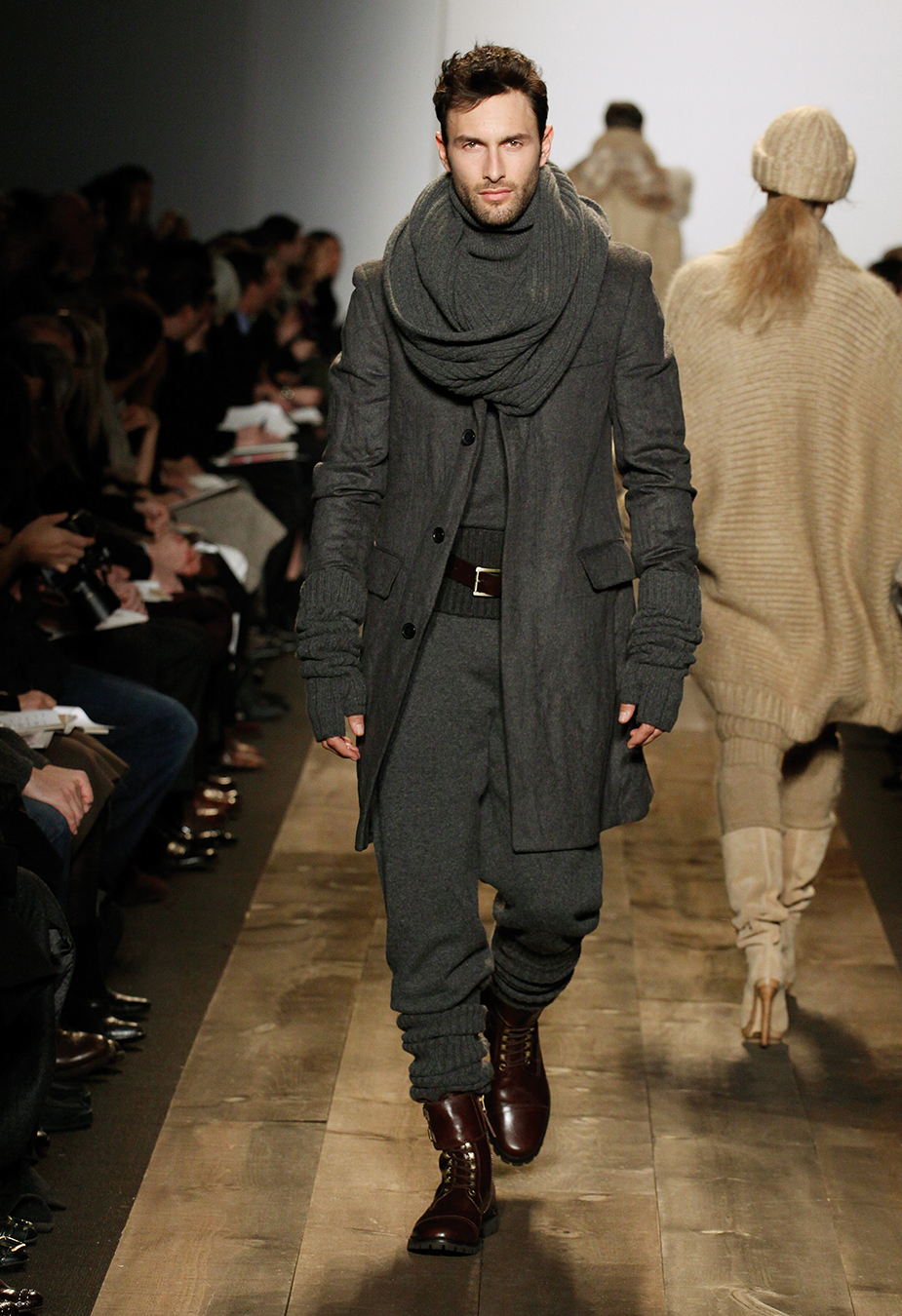 In the morning light that's quickly fading, Kors's blond eyebrows are camouflaged by his golden complexion, tanned to perfection, most of his expression emanating from his blue eyes, which light up when he mentions Lo Scoglio, a rustic eatery on the Amalfi Coast (a region where Kors makes yearly pilgrimages). "It's on a pier that comes out in the middle of the water. They have the most amazing food, with a little beach club nearby … There we were in the most beautiful setting in the world. We pull up and sit down and the owner's daughter comes to the table and says, 'I cannot believe that Michael Kors is here in our restaurant.' So I said to her, 'Do you love fashion?' And she said, 'I do, but I have nowhere to wear it.' "
From one corner of the world where fashion is off the radar to another where it's royalty. The Council of Fashion Designers of America (CFDA) in New York will honour Kors this June with the highest distinction of the Geoffrey Beene Lifetime Achievement Award. Kors is quick to point out, "I'm the youngest ever to win." Recalling his first CFDA award (considered the Oscar of fashion) in 1999 for womenswear designer of the year (he would later win the men's category in 2003), Kors remembers, "[Yves] Saint Laurent was winning a special award that night. And oh my God, I couldn't believe he was actually there—and up and functioning. But you know, in those days, people that won a lifetime achievement award were 75 years old. And unfortunately, it was the hottest night of the year. There was Anjelica Huston and Rene Russo with us, and Anjelica was like, 'I have to take a cigarette break or I'm gonna faint. When is your award?' I said, 'I'm second to last before Yves Saint Laurent!' And by the time poor Saint Laurent got up there, the audience was just… [Kors pretends to sleep]. CocoChanel could've come back from the dead and no one would've cared! And I said, 'Wake up people! It's Yves Saint Laurent!' I always think that it was kind of an amazing night, to win the same night with him. He was a Leo. And so was Chanel and Andy Warhol and Jackie Kennedy and Madonna." He pauses for dramatic effect. "And Castro and Napoleon." Kors roars indulgently, and tilts his head back as if to drink in his own joke. "What can I say? A bunch of wallflowers."
Runway photos provided by Michael Kors.
June 1, 2010
Updated: February 18, 2015