Bill Harlan shares the land and its liquid bounty.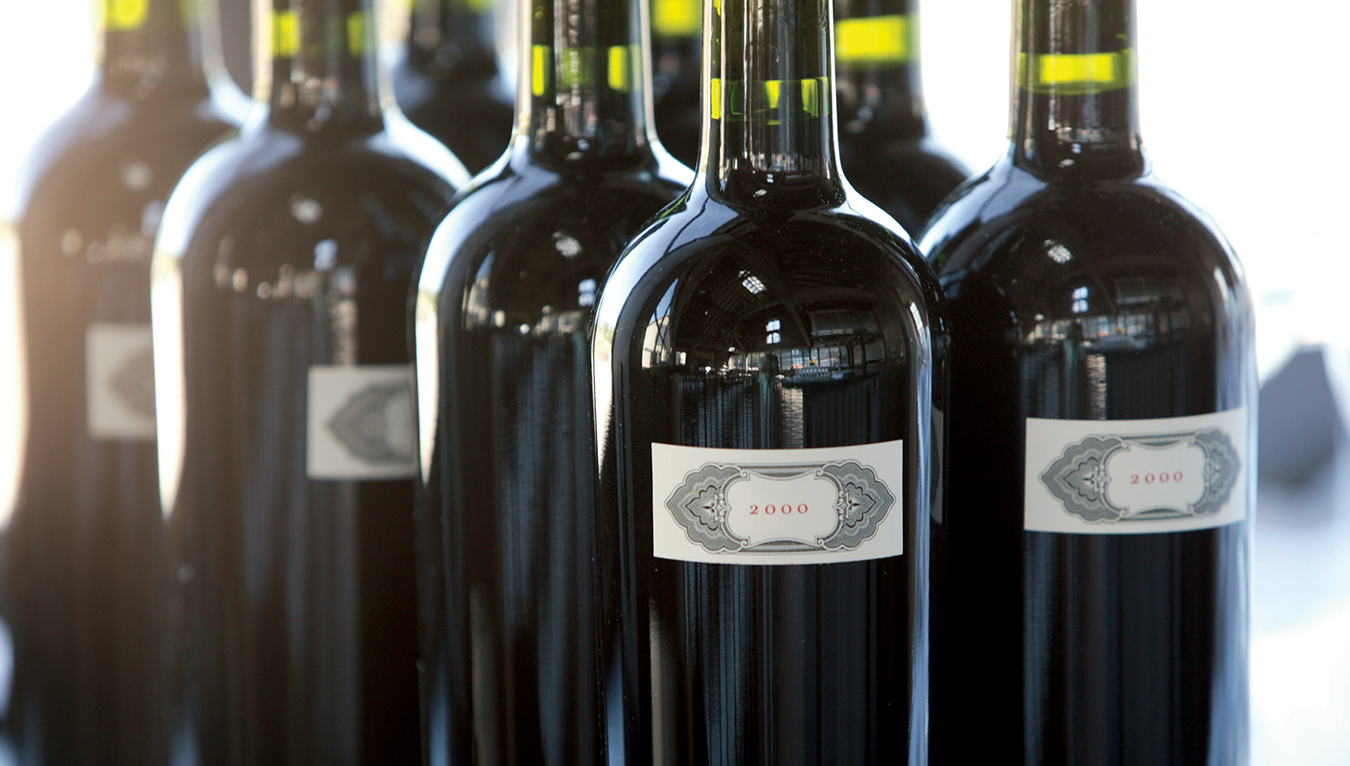 Driving through the Napa Valley, with its highly evolved visitor and viniculture scene, its haute cuisine and softly stated but fabulous resorts, it is difficult indeed to imagine what it was like in the late 1950s, when Bill Harlan was first acquainting himself with the area, while still a student at Berkeley. Robert Mondavi was still a half-dozen years away from opening his winery, and Harlan's own career (co-founding the San Francisco Pacific Union) was not much on his mind as he explored what had yet to be understood in any significant sense as wine country.
That the region had potential was not an overwhelmingly obvious fact, in the sense of international acclaim and status. Wine was still a basic product, for everyday consumption among mainly European immigrants who were continuing to weave California's fabric. But, by 1979, when Harlan first envisioned building the marvelous Meadowood (the land was initially purchased as potential vineyard, and he wisely had a Plan B) nestled nearly invisibly into a cranny in the valley not far off the Silverado Trail, things, as Bob Dylan sings, well things had changed. Two wineries, Stag's Leap and Chateau Montelena, had turned the international wine community on its head earlier that decade, by winning top honours in blind tastings in Cabernet Sauvignon and Chardonnay, respectively, in Paris, going against the very best Bordeaux and Burgundy had to offer. It confirmed in a glaring spotlight what a few dedicated individuals had known all along; that proper stewardship and knowledgeable management would yield fruit that would make wines that were as fine as any in the world, right there in laid back Napa Valley.
Meadowood, an idyllic, luxurious compound of rooms, suites, cottages small and large, existed before real demand for such fine accommodation existed, but people were not overlong in discovering it, as they discovered the region and its liquid bounty. It now looks like a typical bit of Harlan prescience, but as is usual in such cases, he actually worked hard and worked smart, as Meadowood became the home of the Napa Valley Wine Auction in 1981, thereby creating relationships and connections that would make the resort an integral part of Napa culture. It has never really looked back.
Harlan's career in wine began with Merryvale, in which he entered a fruitful partnership. Eventually, though, he came to believe that wine is best done as a single proprietorship, and Harlan Estate was him putting his money where his wine glass was. The first vintage, 1990, was spectacular, and the property has released an unbroken string of fine vintages ever since. Prices now reach into the $350 range on release, and can hit the stratosphere on auction: Harlan Estate is one of those legendary "California Cult Cabs" everyone hears about but seldom tastes. "We could sell all our wine through our subscriber list," says Harlan. "But from the beginning we made a commitment to ensure our wines were available in fine restaurants and bottle shops in most key markets in the world." The winery's production can top 2,000 cases per year, much higher than any of its rivals on the Spectator and Advocate points charts, although none of this seems to concern Harlan over much.
None of this came about by accident: "From the time I bought the first parcel at Harlan Estate to the time I sold the first bottle, was 12 years." He pauses at the thought, and then continues, tracing the history of the very spot we are standing on: "The three mile strip from Oakville to Rutherford, with its alluvial soils, great for wine. For Harlan, I wanted to be off the valley floor, but in that area. And the Reserve vineyards have all the quality we wanted as well." Robert Mondavi gave a young Harlan letters of introduction to some of the finest wine estates in Europe, and Harlan made the most of it, meeting and discussing, studying, and learning from the best. He brought all of that to bear on his own viticultural practises in Napa.
The original winery was supplanted not long ago, although it is still used to produce Bond, itself a consistently high achiever. (For that matter, two second-label wines, The Maiden and Matriarch, are also consistently stellar.) The newer winery is nestled invisibly in the hills on the west side of the valley, and it cannot be seen until you are virtually upon it. None of the highly visible statement architecture here, but an impeccable and highly practical winery. The vineyards, some on slopes as steep as 45 degrees, are impeccable as well, ecologically sound and responsible, from which yields tend to hover around two tons per acre. Harlan owns much more land than he has planted to vines (15 percent of the property is planted), and intends to keep it that way.
Harlan is youthfully, gracefully into his mid-60s, clearly at ease as he gazes from the upper level of the Napa Valley Reserve's main building. He smiles at the very large dog who is making his way through vineyards just below. He is mindful of the history, certainly: "We want to honour and respect the last 150 years here, the beauty, the values, the work ethic of an agricultural community. But education is the main point of the Reserve. America is somewhat of an egalitarian country. So we don't have a built-in apparatus for the "finishing school" aspects that Europeans are born with, so to speak."
And what, exactly, is the Napa Valley Reserve? It is a kind of private club, complete with an entry fee (at present, $135,000.00 USD, for a non-equity membership with refundable deposit) and a ceiling of, likely, 375 members. Members receive the ability to purchase wines made on the Estate, by the Harlan team, directly supervised by winemaker Bob Levy, who has been with Harlan from day one. Members can be as hands-on in the process as they wish, up to and including deciding the final blend for the wines they will bottle. They can obtain anywhere from half a barrel to three barrels of the wine (roughly 150-900 bottles, at approximately $50.00 per bottle), with a built-in potential to trade within a very exclusive circle of Napa cult wines. From the perspective of a wine aficionado, this is very much like heaven.
But, it is not, at its heart, about owning cult Cabs. Philip Norfleet is Director of the Reserve. His career up to now was in developing private golf clubs for Mr. Jack Nicklaus. "I met Bill at a golf event here in Napa, and he reminded me a lot of Jack. For Jack, the level of expertise and passion was unequalled in the golf business. The same level of commitment is there with Harlan. That's what makes this such a pleasure. I'm applying all the expertise in private clubs I developed with Jack over the years, and I'm able to learn, as well, about wine." Membership now stands at just over 200, and a dozen or so of those are Canadians. "The velocity of issuing memberships is well ahead of our projections. It can take a while for people to understand what we are doing here, but when the light bulb goes on, they are really excited. At this point, member referrals are building the club. We are able to encourage on geographic and professional areas, to create an exciting and healthy diversity here. Enjoyment and fulfillment are always reflected in a particular subject; golfers are able to share the expertise and ideas reflected in Jack Nicklaus golf designs, and thus get heightened enjoyment. At the Reserve, wine aficionados can get access to the best aspects of the art of wine making, and share food and wine experiences at the highest level. They have access to something they would normally never have access to."
Harlan leads the way on this. "The Reserve is really the most exciting thing I've ever done, other than my family of course. I hope Harlan Estate will remain in the family for generations. I'm very happy with it. But the synergy here at the Reserve makes it very special. The people, the inter-generational perspective, it is so healthy." Education is the key. There are cooking classes, world-class chefs, etiquette classes, Georg Riedl has shared his passion for wine while doing one of his classic tasting seminars using the wine glasses he is so famous for. There is the opportunity to tend the vines, help in the harvest, observe and participate in cellar management, barrels, blending. And all with the skill set of one of the world's most accomplished winemaking teams behind you.
Meadowood itself is walking distance away, so the entire experience becomes a heady refuge from the normal diurnal round. "If we're not on a growth path, willing to take risks in order to learn, we're not really living", Harlan muses as he continues to look out over the vineyards spread below. "When you net it all out, you need to improve yourself, your family, and try to improve the world." Netting it all out is a telling phrase. While Harlan did very well in his real estate career, nothing in his wine career has ever seemed obvious, until taken retrospectively. Meadowood, now busy on even slow early spring weekends, was built before the demand existed for such a high quality place. The winery, its tenacious vineyard management, placing ecology and sustainability above yields and profit, took many years to justify itself financially. The Reserve, with its initial outlay of in excess of $15 million, is relying on a select membership group to understand and buy into Harlan's notion of stewardship, education, and lifestyle.
He looks toward the river, and notes that he first optioned first right of purchase to the Reserve property back in 1979. "I didn't want this place to ever become a shopping mall, or anything like that. It represents the past, but it represents a sustainable future, as well, and I felt it was important to keep it natural. It wouldn't surprise me at all if the Napa Valley looked very much in a 100 years as it looks today. And that would be a good thing, I think." When he did in fact buy it, in 1991, he put the wheels in motion, and now, in 2005, the project is fully realized, save for the remaining memberships available.
Philip Norfleet is proud of the fact that "we have an interesting and diverse group of people here." The goal is to complement the 200-plus members a bit further, and then encourage a legacy situation for members' families. As the evening settles in over the vineyards, as Harlan takes his leave and heads over to the temporary office building for a discussion with some of his team, it seems that this spot has existed for a long time, vineyards and all. In a way, it has. But at the beginning, it was a thought in his head, a gesture towards posterity and a handing down from one generation to the next not only the physical property, and the ability to capture the essence of each season in a bottle, but the understanding and appreciation of it all. It seems to be true, what they say. Membership has its unique privileges.
Photos courtesy of Napa Valley Reserve.