From SI to L1, a lot has changed in 38 years.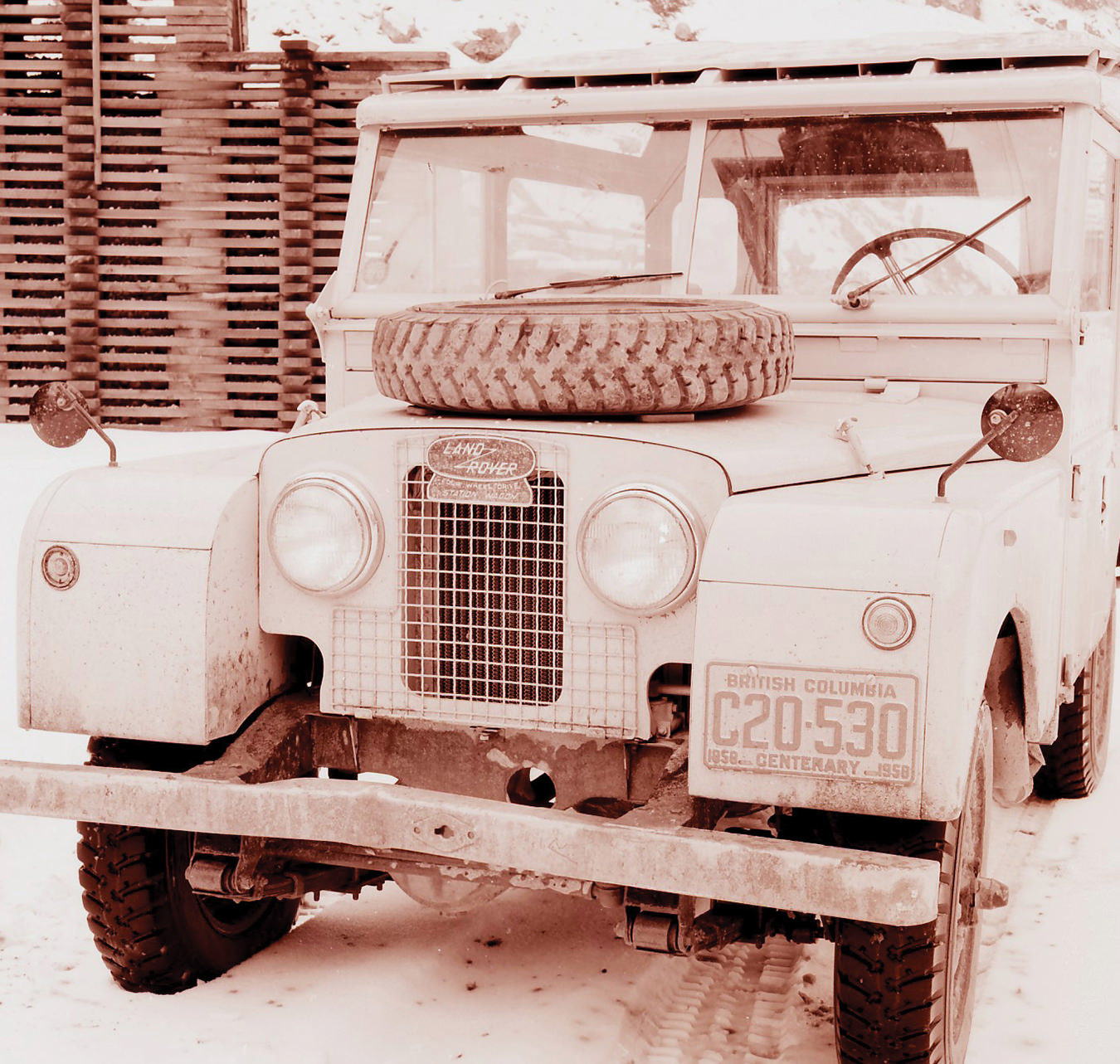 The fully optioned Land Rover LR3 HSE model in MCL Motor Cars' Vancouver showroom, more or less identical to one in Woodbridge, is tagged at $74,300. Add Ottawa and Victoria's tithes and the dealer-delivery fee, and you'll need $86,318.50 to get its 19-inch alloy wheels turning.
The SI-model Land Rover I sometimes jockeyed probably cost $2,000 in 1957. Of course, it didn't have the modern version's $600 Java Black Pearl paint job, stadium-volume Harmon Kardon audio system and 'driver intelligence package.' Not even an intelligent driver.
Seven seats were standard; not one of them was designed for comfort, though. World War II paratroops huddled in uninsulated Dakota aircraft enjoyed more shoulder, hip and legroom (not to mention convenience of exit) than those hunched round-shouldered in that old Land Rover's four inward-facing jump seats.
The seven seats should have been called six, anyway. That's because the front row's centre perch required occupants to straddle a long, dog-leg lever that came all the way back to engage fourth and (unsynchronized) second gear.
If the brutally handsome LR3 had a pressed-steel wheel and Dunlop Rock Grip tire mounted horizontally on its hood, it might distantly resemble its more feminine-looking forebear. Gone is the aluminum long employed in Land Rover body panels. Well before it vanished, though, buyers had discounted the promotional baloney about it being there to resist corrosion and lower the vehicles' centres of gravity. The real reason was that the preferred material, steel, was hen's-teeth scarce in 1947, when the prototype British Land Rover was built on the chassis of an ex-American-army Jeep. But cancelled military-aircraft orders had freed thousands of tons of the lighter metal, so Rover car company managers made do with a slab-sided alloy body shaped with the simplest tools.
What ensued after a showroom-ready Land Rover appeared in 1948 was the last thing Rover brass expected: a huge success. Designed principally for British farmers, Land Rovers soon outsold the automaker's rather staid sedans at home and around the world. This included Canada. The B.C. Electric Co. bought a half-dozen SI models for staff use at the Mission Dam hydro-electric scheme then under way on the Bridge River.
No right-minded public utility today would put a 20-year-old at the wheel of a 330-horsepower, air-suspended, leather-seated LR3 while bulldozers and huge mining trucks wrestled boulders around it. Back then, though, they told me off-handedly: "Take 1610. It's out there somewhere."
True enough. A dowdy, buff-yellow SI Land Rover had that number painted in red on its door. Below it, the like-coloured B.C. Electric logo featured a thunderbird-headed totem sprouting from a flattened circle containing the script letters BCE. Folk called it the "squashed tomato".
As agile in the bush as a goat on amphetamines, 1610 showed its want of power once it negotiated 50 km of precipitous gravel road to hit blacktop. Fully wound out it might reach 88 kph. Since 88 was also the tall and aerodynamically laughable vehicle's wheelbase in inches, that speed occurred in anything but a crow-like straight line.
Credit the velocity to correspondingly low gearing and a two-litre engine with a valve configuration most manufacturers had abandoned by 1930. Known in North America as an F-Head and in Britain as ioe, it featured inlet valves in the cylinder head and exhaust valves in the side of the block. Some were as perplexed by this oddity as British Prime Minister Winston Churchill was by a man named Bossom. 'Neither one thing nor the other,' he growled.
For wintertime journeys, my cold-sensitive boss, Yves Lacroix, would wrap himself in several layers before climbing into 1610's passenger seat. Since he was raised in Paris's hoity-toity Le Vesinet suburb, his onion's outer skin was a peculiarly French parka featuring all sorts of loop-fasteners, zippers, buttons, straps, leather patches and outcroppings of brown corduroy. This took some getting in and out of, which, given his querulous bladder, was a fairly frequent undertaking. Of somewhat Napoleonic mien, Lacroix usually signaled his need with the elegant command: "Meester Parry, stop at a nice place for a nice piss." By this, he meant a commanding viewpoint from which to contemplate nature at large while answering its more intimate call. One 15-below morning, though, we were in a valley bottom with little for the soul but a steep bank on one side and a hard-frozen river on the other.
Finally, Lacroix spun his Champs Elysée parka's combination locks, unbuttoned his matching corduroy trousers, took himself literally in hand and cried: "Stop ee-meediately"' Land Rovers' wafer-thin aluminum doors often froze shut in such weather. But it looked like Lacroix's lucky day when what appeared to be a British garden-shed door catch turned obediently in his other hand and, in a trice, he was gone. Literally.
The door, with its drafty, sliding windows swung back and forth on exposed hinges. But no Lacroix. No sound of snow being yellowed, either. Only a faint, muffled whining. Winter winds form deceptively smooth powder snowdrifts in the Bridge River valley. It was Lacroix's mischance to dive into one of these with no insulation where it was most needed. "Now I cannot go," he said woefully, clambering back aboard with demonstrably less than he'd brandished on leaving.
He wasn't the only one to bail out. Manuel Goncalves did it at least twice.
A picador in his native Portugal, Goncalves earned a lifetime of bad karma from thrusting tendon-severing bandoleros into the necks of fighting bulls. Part of his atonement entailed riding in an SI model Land Rover "usually in one of those torture-chamber rear jump seats" with me at the wheel.
One truly horrid day, we were fighting our way up 1,000 vertical metres of switchback road to Mission Pass. We had chains on all four wheels, but 1610's wimpy little individual wipers and aforementioned heater-defroster couldn't begin to clear snow from the flat, two-piece windscreen. The first option was to peer through a protractor-sized clear arc below the blades. The second was to slide open the window and, like a steam-locomotive engineer, stick one's head out into the blinding blizzard. There was, after all, the possibility that we might meet 1611 (or a heavier vehicle) skidding down the same narrow, snow-choked and near invisible road.
Emplaced for once in the front passenger seat, Goncalves weighed these discouraging portents in his warm-climate mind. Then, although we were making a snaky sort of headway at the time, he leaped Lacroix-like into the unknown. One thing worse than driving up a mountainside in a howling snowstorm is reversing down it to collect a passenger in an animated state of mind and with a very sore knee. I let loose the blistering obscenities that are the lingua franca of the young and unmarried. Goncalves, who was neither, nor born to the language, had to ponder his response. Finally, he had it.
"You," he said with the flicker of a mischievous grin, "are a prickle."
A phlegmatic older fellow named Bob Dick was in the catbird seat another time; we were bowling over hard-packed snow and glare ice at maybe 80 kph. Dick was telling the tale of a since-deceased relative who had not only murdered her husband but cut him into very small pieces, excepting only a part that had once been a bond between them.
When a police detective called on her, my passenger said, his first words were: "How could you, Mrs. Dick?" Perhaps I twitched. Whatever, 1610 suddenly began spinning on its short wheelbase, its narrow-set headlights tracing a crazed kaleidoscope of snow bank, bare trees, road ahead and behind and, more worrisomely, a no-shoulder drop-off to a valley bottom far below.
Three doughnuts? Four? Who knows? When the rotation ceased, Dick was still calmly asserting that his story was true (Douglas Rodger's subsequent play of that name confirmed it) but Goncalves had hit the tail-door ejector button and insisted on walking until reminded we still had 20 lonely kilometres to go and the temperature was 10 below.
Summertimes entailed different dramas. Carrying axes, saws, shovels and come-along winches, we learned that SI Land Rovers could thread almost imperceptible trails to high above the treeline. A handful of off-duty guys risked firing by driving company vehicles across the Chilcotin plateau to saltwater Bella Coola and back again.
Then, in 1958, a Series II model arrived at our jobsite. It was the limo version, with a marginally more stylish body, five doors, two rows of three forward-facing seats, those same four agony pads in the back, and a 2.25-litre engine giving it almost as much (or as little) jam as our three-door SIs.
Too many of us crammed into it once for the sweaty ride to Lytton, which is routinely Canada's hot spot. The SII had the earlier model's same horizontal vents below the windshield that opened to admit a natural rush of air. But at 440C, this didn't come close to the dual-control, three-row air-conditioning of today's LR3. So we were all more or less poached when we parked beside the Lytton Hotel's beer-parlour door.
Like Clinton to the north, Lytton had a reputation for pugnacity. But the chap who approached our two tables a half-hour later looked harmless enough. All he wanted was to bet us 25 cents each he could upend an empty glass on a full glass of beer, then, with hands clasped behind his back, drink the brew and set the empty glass back without it touching anything else.
Naturally, we staked quarters, which he held. Leaning forward, he tucked the top glass beneath his chin, grabbed the lower one between his teeth, tilted it and began quaffing.
So far, so good. Then things went haywire. Maybe a fault in the lower glass made it break into sharp shards. With blood and beer spouting from his mouth, the trickster leaped up, knocked over the table, spilled all the other beer on it, and ran out of the pub and our lives.
Swiftly buying three-dozen take-outs, we hit only the hot and dusty road. Five kilometres had ticked away before a guy in one of the jump seats yelled: "Hey! That sumbitch still has our money."
I would pay at least our combined wager to drive an SI around that neck of the woods again. Just for the weekend, though. Any longer, and it would be the full-load LR3 every time.
Photo: The author's 1957 SI Land Rover. Photography by Malcolm Parry.