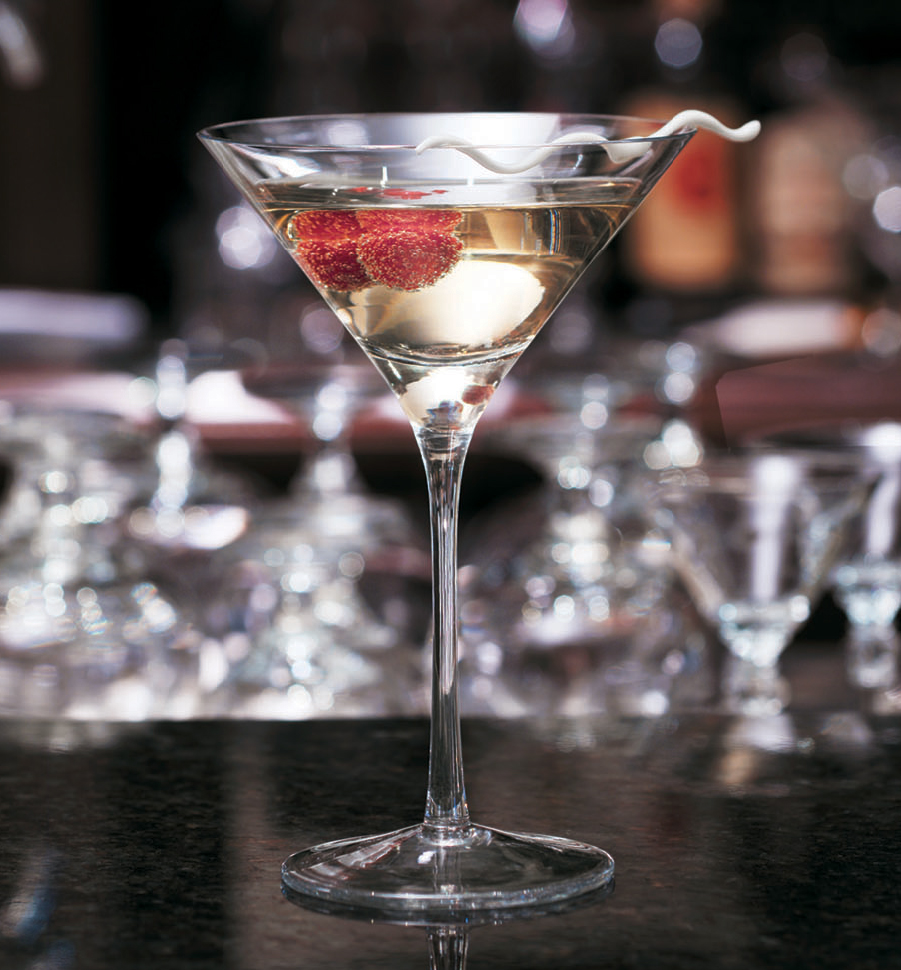 Last issue, we told you about Jonathan Chilvers' Oceanwood Country Inn Gimlet. Here's the remainder of his cocktail list, with editorial commentary: First comes The Martini (the undisputed king of cocktails: seven parts gin, one part vermouth, straight up); the Manhattan (the whisky drinker's answer to the martini and first runner-up in the Classic Stakes. Three to one, whisky to sweet vermouth).
Then, the Whisky Sour (whisky and sweetened lemon juice; rye whisky in Canada, eh?); the classic Margarita (not that blended concoction that's 90 percent crushed ice; the original, invented by Carlos Herrera in 1939, for the beautiful Margarita Sames; one third each tequila, Cointreau and lime juice, shaken over ice and strained into a martini glass. Ole!) There's the Daiquiri, of course (the demon rum with lime juice and a little sugar; Caribbean sunshine in a glass) and finally the Old-Fashioned (bitters and fruit helped disguise the taste of Prohibition moonshine but we prefer bourbon since moonshine is hard to come by). Or, to experience the recipes below, drop in to any Fairmont Hotel, anywhere in the world.
While we maintain a fondness (some might say that is too mild a word) for ultra premium pours (Tito's, Grey Goose, Absolut's Level, Belvedere, Chopin, and truly the list could go on), a fondness I say, the above recipes and the special concoctions listed below do not rigourously demand such products. I have had many sublime experiences, sometimes with John Tanqueray himself, all of which prove that a good premium vodka or gin serves the purpose extremely well. Name names? Sure, but the list is not exhaustive: Bombay Sapphire, Plymouth, Absolut, Smirnoff, Ketel One. I say try 'em all.
Classic Champagne Cocktail
Moët & Chandon, 1/3 oz Hennessy Cognac, 2 dashes Angostura Bitters, 1 sugar cube, lemon peel
The Oriental Cocktail
1 oz blended whisky, 1/2 oz sweet vermouth, 1/2 oz Triple Sec, 1/2 oz lime juice
The Blond Bombshell
Moët & Chandon, 1 oz raspberry vodka, splash of Grand Marnier, 2 frozen raspberries
Blue Paradise
2 oz Belvedere Vodka, dash coconut cream, dash Blue Curacao, dash apple liqueur
Million Dollar Legs Martini
1 1/2 oz Malibu Rum, 1/2 oz Chambord, 1 oz pinapple juice
The Red Rose Martini
1 oz Remy Red, 1/2 oz white rum, 1/2 oz Grand Marnier, splash of cranberry juice
The Grand Cosmo
2 oz Belvedere Cytrus, 1/2 oz Grand Marnier, 1/4 oz Galliano, 1 1/2 oz cranberry juice, splash Rose's Lime Juice
The Cable Car
Cinnamon, sugar, 1 1/2 oz spiced rum, 3/4 oz Grand Marnier, 1 oz fresh lemon juice, 1/2 oz simple syrup, 1 orange twist
Jadeed
3/4 oz Blue Curacao, 3/4 oz Peach Schnapps, 3/4 oz gin, 3/4 oz orange juice, 1/4 oz pineapple juice, lime squeeze
Oak Bar Enigma
4 oz Moët & Chandon, 1/2 oz Belevedere Vodka, dash of Chambord (for colour)